These Keto Cheesecake Bites are an easy, single-serve no-bake keto dessert perfect to fix a sweet craving on your keto journey with only 2.3 grams of net carbs per bite.
Plus, these no-bake cheesecake bites are a great recipe to meal prep a week of keto snacks in the freezer.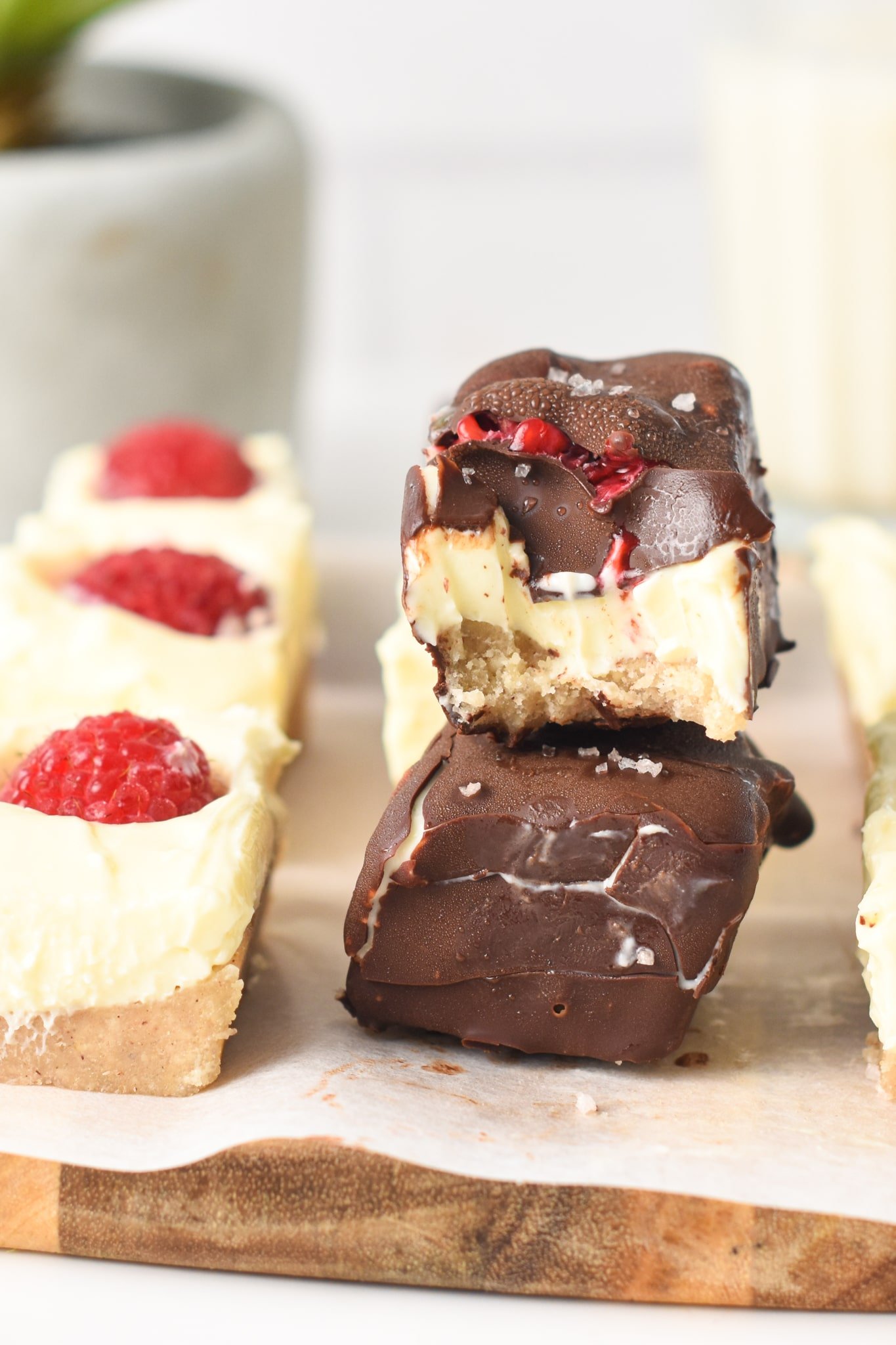 I love keto desserts but even more keto cheesecake. Cheesecake is one of these popular desserts that we all crave at some point and the good news is that keto cheesecake recipes are very easy to make.
I already shared three keto no-bake keto cheesecake recipes:
So time for my vanilla raspberry cheesecake bites.
What Are Low-carb Cheesecake Bites?
They are sugar-free, gluten-free keto-friendly bite-size cheesecake bites perfect to serve as a snack or single-serve dessert.
They can be eaten as keto fat bombs for fixing your sweet tooth on your keto diet.
How To Make Keto Cheesecake Bites
It's very easy to make no-bake keto cheesecake bites with only a few ingredients.
All you need is a 9-inch x 5-inch loaf pan lined with a long piece of oiled parchment paper and a few ingredients.
Cheesecake Crust Ingredients
For the sugar-free cheesecake crust, you need:
You can also replace the amount of almond flour with the same amount of crushed homemade keto graham crackers.
If so, skip the sweetener and cinnamon in the crust ingredient.
Keto Cheesecake Filling
For the filling, you need the ingredients below:
Cream cheese – softened at room temperature for 30 minutes. Cream cheese is one of the keto-friendly dairy products.
Sour cream
Lemon juice
Vanilla extract
Powdered sweetener of choice – I like allulose or powdered erythritol as a keto sweetener
Raspberries – fresh or frozen
Making The Low-Carb Cheesecake Crust
First, mix the crust ingredients in a bowl until it's wet and crumbly.
You should be able to stick the ingredient together when squeezed in your hands. If not, add a bit more melted butter until it comes together.
Press the crumble at the bottom of the prepared loaf pan and spread evenly into a thin crust.
Pop the loaf pan in the freezer while making the cheesecake filling.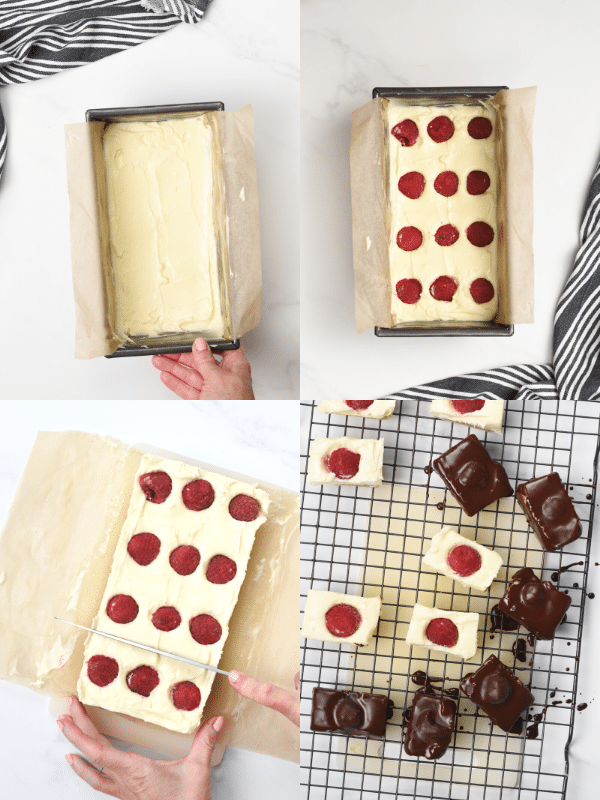 Keto No-bake Cheesecake Vanilla Filling
This is a simple cheesecake filling, not as fluffy as regular cheesecake because it doesn't contain whipped cream.
All you need is to beat the cream cheese, sour cream, lemon juice, vanilla, and sweetener in a bowl.
Beat until creamy and well combined – it takes about 1 minute.
Then, spread the cheesecake batter onto the cheesecake crust.
Spread evenly and add 12 raspberries – 3 per row over 4 rows.
Freezing
Freeze the cheesecake for 1 to 2 hours – until the filling is less soft but still easy to cut through.
Tip: Cutting Into Cheesecake Bites
Release the cheesecake bar from the loaf pan pulling onto the hanging pieces of parchment paper from the sides of the pan.
Place the bar on a chopping board.
Oil a long sharp knife blade with olive oil and cut the cheesecake bar into 9 bites.
Serving Chocolate Covered Cheesecake Bites
If you don't mind an extra 1 gram of net carbs per serving, try covering the cheesecake bites into sugar-free chocolate.
You can serve the cheesecake bites plain, or chocolate covered.
To make a chocolate shell, place sugar-free chocolate chips and coconut oil in a bowl.
Microwave in 30-second bursts, stirring between each until the chocolate is fully melted.
Using two forks, dip each cheesecake bite gently onto the melted chocolate.
Place the chocolate-covered cheesecake bites onto an oiled piece of parchment paper.
Pop the plate with the chocolate-dipped cheesecake into the freezer to set the chocolate shell.
Storage Instructions
These keto mini cheesecakes store very well in the fridge for up to 3 days in an airtight container.
You can store cheesecake for up to 3 months in the freezer. Thaw at room temperature for 1 hour before eating or overnight in the fridge.
Frequently Asked Questions
Below I listed the answers to your most common questions about this no-bake cheesecake recipe.
Can I Use A Mini-Muffin Pan?
Sure, you can divide this recipe into a 12-hole mini-muffin pan. Cover each muffin hole with muffin liners, lightly oil the liners with an oil spray before filling with the crust.
Can I Use Silicone Muffin Cups?
Yes, you can also use silicone cups to make mini cheesecake, oil the cases before filling, and divide the recipe into 12 mini muffins cups or 9 large cups.
Allergy Swaps
This recipe has some options if you have lactose allergy or nut allergy.
For example, you can replace:
Almond flour – replace the almond flour with sunflower seed flour or sesame flour for a nut-free cheesecake crust.
Cream cheese – swap for lactose-free cream cheese.
Sour cream – replace with dairy-free, no sugar added coconut yogurt.
Nutrition Information
The nutrition panel provided below is for one bite without the chocolate shell.
If you decide to add the chocolate shell, this adds about 1 gram of net carbs per bite depending on the sugar-free chocolate you are using to dip the bites.
It will also add about 40-55 kcal extra per serving.
More Healthy Dessert Recipes
I love healthy dessert recipes and below are my other favorite desserts for you to try:
Have you made these low-carb cheesecake bites? Share a comment or review below to connect with me,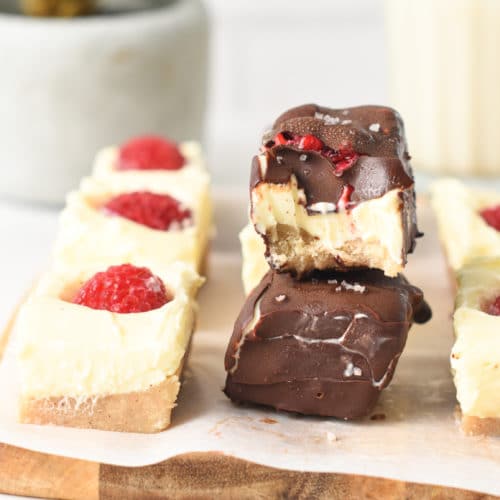 Keto Cheesecake Bites
These Keto Cheesecake Bites are perfect for a quick, single-serve keto dessert when you crave cheesecake but don't feel like baking a whole batch of keto cheesecake.
Serving Size:
1
bite (plain/no chocolate shell)
Nutrition Snapshot
Want My Kitchen Equipment?
Ingredients
Chocolate shell – optional
Instructions
Cheesecake crust
Cover the bottom of a 9-inch x 5-inch loaf pan with a piece of lightly oiled parchment paper keeping the sides hanging out for easier removal later.

In a large mixing bowl, combine almond flour, melted butter, erythritol, vanilla, cinnamon, and salt. Stir with a spatula to combine and form a sandy mixture that sticks together if pressed in your hands. If too dry, add 1 teaspoon extra melted butter or water.

Pour the crust mixture into the prepared pan and press firmly into the bottom of the pan. Use your fingers or the back of a spoon to smooth the surface. Refrigerate while making the filling.
No-bake Cheesecake Filling
In a large mixing bowl, beat with a handheld whisk the softened cream cheese, sour cream for a maximum of 1 minute.

Stop the beater, add in powdered erythritol, lemon juice, and vanilla extract. Keep beating until everything comes together. Taste the filling and add an extra 1-2 tablespoons of powdered erythritol if not sweet to your liking. Set aside at room temperature.

Transfer the cheesecake batter onto the loaf pan covered with the cheesecake crust.

Use a spoon to distribute the cheesecake filling evenly all over the pan.

Press down the 12 raspberries on top – the recipe makes 12 bites, so you will have 3 raspberries per row over 4 rows – see picture above to help you.

Freeze 1-2 hours to slightly firm up the cheesecake filling.

When the cheesecake filling is firm enough but still soft enough to cut through, remove the pan from the freezer.

Use the hanging pieces of parchment paper to transfer the cheesecake bar onto a chopping board and cut it into 12 small rectangles.

Optional – (this adds about 1g of net carb per bite) Melt chocolate chips and coconut oil in a mixing bowl in the microwave. It takes about 60 seconds to melt.

Then use two forks to dip each cheesecake bite into the melted chocolate, wait a few seconds above the bowl to let the excess chocolate run out into the bowl.

Place each bite on a lightly oiled wire rack and freeze again to set the chocolate shell.
Storage
Store leftovers in an airtight container in the fridge for up to 3 days, or freeze individual slices of cheesecake and thaw them in the fridge the day before serving.
My Recipe Notes
Nutrition
Serving Size:
1
bite (plain/no chocolate shell)
Serving:
1
bite (plain/no chocolate shell)
Calories:
177.3
kcal
(9%)
Carbohydrates:
3.8
g
(1%)
Fiber:
1.5
g
(6%)
Net Carbs:
2.3
g
Protein:
3.6
g
(7%)
Fat:
17.3
g
(27%)
Saturated Fat:
6.3
g
(39%)
Polyunsaturated Fat:
1.3
g
Monounsaturated Fat:
4.2
g
Trans Fat:
0.1
g
Cholesterol:
29.4
mg
(10%)
Sodium:
87.3
mg
(4%)
Potassium:
50.7
mg
(1%)
Sugar:
1.3
g
(1%)
Vitamin A:
356.7
IU
(7%)
Vitamin B12:
0.1
µg
(2%)
Vitamin C:
0.8
mg
(1%)
Vitamin D:
0.2
µg
(1%)
Calcium:
44.9
mg
(4%)
Iron:
0.5
mg
(3%)
Magnesium:
7.4
mg
(2%)
Zinc:
0.3
mg
(2%)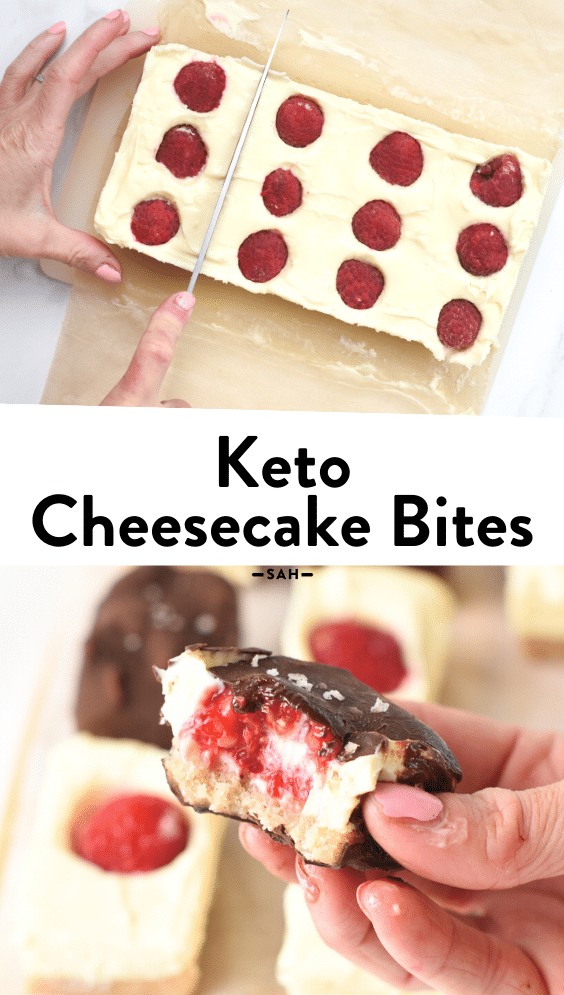 Posted In: