Keto Carrot Cake Muffins with Cream Cheese Frosting
These keto carrot cake muffins are incredibly moist with a flavorsome crumb filled with crunchy pieces of pecans.
Bonus, each of these keto muffins only contains 4.5 grams of net carbs per serving, and they are dairy-free if you don't add the cream cheese frosting.
Is Classic Carrot Cake Keto-Friendly?
No, a classic carrot cake recipe is not keto-approved, and it's not because it contains carrots!
But don't worry this Carrot Cake Muffins recipe is 100% Keto-friendly!
Surprisingly, 100 grams of raw carrots contain only 6.8 grams of net carbs – keep in mind that broccoli, a popular keto vegetable contains 4 grams of net carbs per 100 grams.
So the issue with a regular carrot cake recipe is the carbs from the wheat flour and sugar!
In fact, each muffin will only get a small amount of carrot, resulting in only 3.9 grams of net carbs per serving.
How To Make Keto Carrot Cake Muffins
These are gluten-free almond flour carrot cake muffins made with only a few dairy-free ingredients. No coconut flour needed!
Ingredients
Almond flour – use ultra-fine almond flour for the best texture. Almond meal adds a gritty texture to the crumb.
Large eggs – at room temperature. This recipe doesn't work with egg replacer like flax eggs.
Melted coconut oil – or melted butter, but I prefer the texture with coconut oil. It's lighter.
Unsweetened almond milk – you can use any keto milk like hemp milk, cashew milk.
Baking powder – if you prefer to use baking soda, use only 1 teaspoon in the recipe below.
Vanilla extract
Erythritol -you can use a combination of brown sugar-free erythritol and regular erythritol to increase the moist crumb of these carrot cake almond flour muffins.
Shredded carrots – finely shredded with a hand grater or food processor.
Cinnamon
Nutmeg
Ginger
Chopped pecans or chopped walnuts or macadamias
Salt
Preparing Ingredients
There are quite a few simple ingredients involved in this recipe.
First, measure each of them using small bowls, so you don't forget any of them while making the recipe.
Start with shredding the peeled carrots in a food processor.
Then, measure the remaining ingredients into small individual bowls.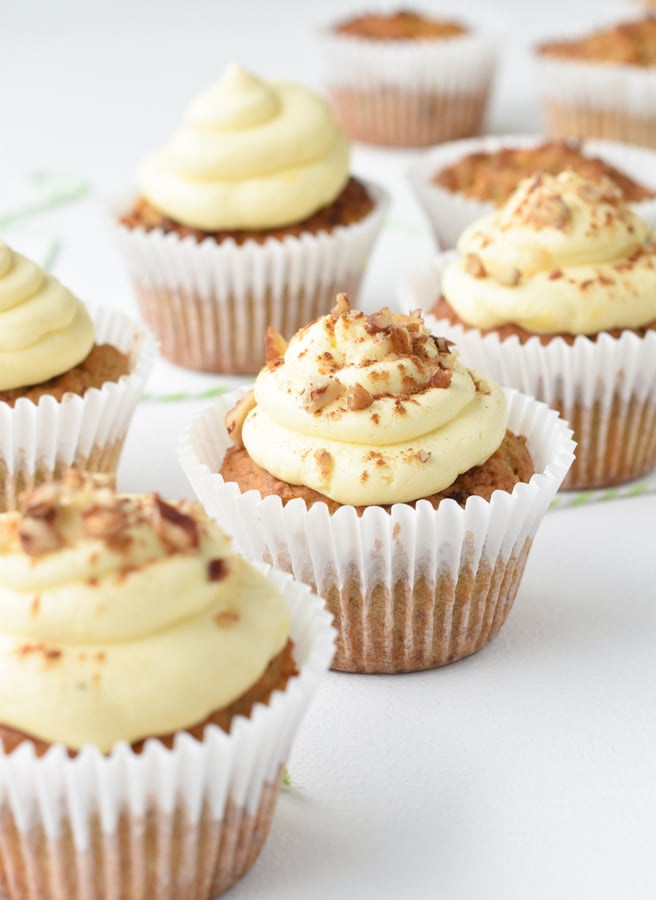 Combining Ingredients
In a large bowl, beat the eggs with sweetener, vanilla, almond milk, and coconut oil.
In another bowl, combine the dry ingredients: almond flour, cinnamon, nutmeg, salt, baking powder.
Then, gradually add the flour mix into the wet ingredients and stir until the batter is smooth.
Finally, stir in shredded carrots and chopped pecans and fill evenly a 12-muffin tin filled with a paper liner.
Baking
Bake the carrot cake muffins in the center rack of your oven for 25-35 minutes.
You know they are ready when the top is golden brown and a skewer inserted in the center of the muffin comes out clean.
Cooling
Transfer the baked muffins to a cooling rack and wait for a few hours before frosting. The muffins get their best texture after 2 hours.
If you want to turn these carrot cake muffins with almond flour into cupcakes, add my cream cheese frosting on top! But first, make sure the muffins are cool, or the frosting will melt.
Pipe your frosting on top of each muffin using a piping bag.
For a different perspective on this recipe, watch my story: making the 1-bowl keto carrot cake muffins.
Making The Frosting
All you need to make a keto vanilla cream cheese frosting are:
Cream cheese – cream cheese is an excellent keto-friendly dairy product.
Unsalted butter
Vanilla extract
Powdered sweetener – you can use powdered erythritol or allulose or any keto powdered sweetener you love
In a large mixing bowl or the bowl of your stand mixer, add softened butter and cream along with vanilla and powdered sweetener.
Using the whisk attachment, beat the ingredients together on medium/high speed until light and fluffy.
Pipe the frosting on top of each muffin.
Decorating
You can't add too many sprinkles to keto cupcakes because they are made of sugar.
But there are many toppings that you can sprinkle on top of your keto cupcakes to add color, texture and make cute keto cupcakes.
The best keto cupcakes toppings are:
Chopped nuts – finely chopped walnuts, pecans, macadamia, or peanuts.
Shredded coconut – even better, add toasted coconut flakes. It tastes delicious with the moist crumb of these keto carrot cupcakes.
Spices – a pinch of cinnamon, ginger, all spices, or unsweetened cocoa powder!
Storage Instructions
These muffins store well for up to 4 days in a sealed box in the fridge.
You can also freeze these muffins in an airtight container and thaw the mat room temperature the day before.
Frequently Asked Questions
Can I Add Extra Toppings?
You can customize this keto carrot cupcake recipe by adding some lovely ingredients in the batter, like 1/2 cup of:
shredded coconut
chopped walnuts instead of the pecans
You can't add crushed pineapple or sultanas to this recipe. These are not keto-approved fruits, and it would too much raise the sugar and carbs amount per muffin.
How Many Keto Carrot Cake Cupcakes Can I Eat?
Luckily you can make keto-friendly carrot cake muffins using a combination of:
A small number of carrots – yes, you can eat a small number of carrots on your keto journey!
Of course, carrots are not the best keto vegetables to eat daily or in large quantities, because they contain 6.8g of net carbs/100 grams.
But we are not talking about eating 1 cup of carrots for a meal!
On a keto diet, you limit your intake to roughly 25 grams of net carbs per day, so eating 100 grams of carrot will quickly add up to 6.8 grams of net carbs that are not fulfilling. But, using 1 cup (128 grams) of raw carrots to make 12 carrot cake keto muffins is totally fine!
More Keto Muffin Recipes
If you love baking keto muffins, I have plenty of other low-carb keto recipes for you to try.
Below I listed my favorite keto muffins and cupcakes recipe for you:
Have you made these keto carrot muffins? Share a comment or review below. I love to hear your feedback on my recipes.
XOXO Carine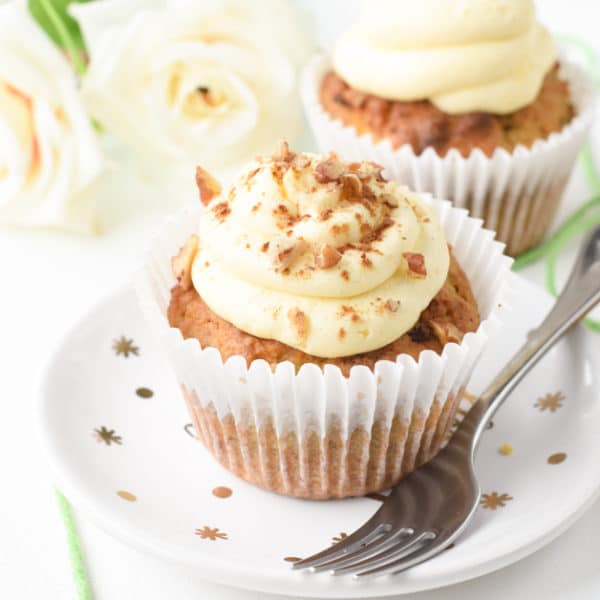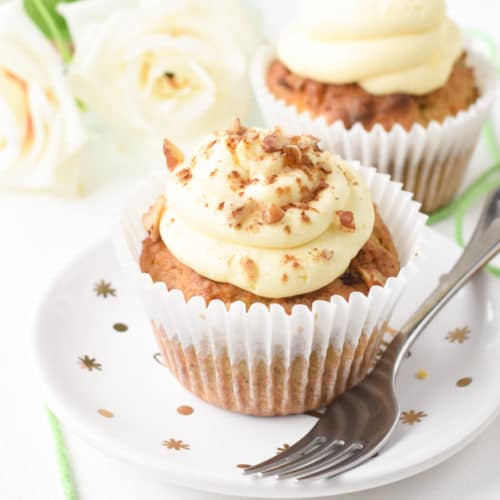 Keto Carrot Cake Muffins
Keto carrot cake muffins, an easy 1-bowl almond flour carrot cake muffin recipe with only 4.5 grams of net carbs per serving
Serving Size:
1
muffin (with frosting)
Nutrition Snapshot
Want My Kitchen Equipment?
Instructions
Preheat oven to 350°F (180°C). Line a 12-hole muffin pan with muffin paper or grease with an oil spray if preferred. Set aside.

Before you start, make sure all the ingredients are at room temperature. If you are using cold eggs straight out of the fridge, they will solidify the coconut oil creating oil lumps. Otherwise, use butter to prevent this from happening.

In a medium-sized mixing bowl, whisk together eggs, erythritol, unsweetened almond milk, melted coconut oil, and vanilla extract. Set aside

In another bowl, combine almond flour, baking powder, nutmeg, ginger, cinnamon, and salt.

Stir in the dry ingredients into the wet ingredients gradually, adding 1/2 cup at a time, stirring between each addition to gently incorporate the flour and avoid lumps.

When the batter is thick and consistent, stir in the grated carrots and finely chopped pecans.

Transfer the muffin batter evenly into the 12-muffin case. I used a mechanical ice cream scoop to be accurate and ensure that each muffin has the same size (and so the same amount of carbs per serving).

Bake for

25

–

35 minutes

or until a toothpick inserted in the middle of the muffins comes out clean or with few to no crumbs on it.

Cool for

10 minutes

in the muffin pan, then gently transfer onto a cooling rack and cool for

30 minutes

to 1 hour before eating. Be patient. They get the best texture at room temperature.
Cream cheese frosting
In a large bowl, add soft cream cheese, butter, powdered erythritol, and vanilla. Beat with an electric beater on medium speed at first to prevent the powder sweetener from bursting out of the bowl. Then, increase to high speed until the frosting is fluffy and whiter in color – about 2 minutes.

Use this frosting on top of cooled muffins. Sprinkle chopped nuts on top of the frosting to decorate and a pinch of ground cinnamon
Storage
Store in an airtight muffin box for up to 4 days at room temperature.

Can be frozen in airtight ziplock bags, preferably without the paper cup. Defrost the day before at room temperature. Can be toasted or rewarmed in an oven at 100°C/210°F.
How to serve your muffins?
Eat plain or top with unsweetened whipped coconut cream (or heavy cream) or unsweetened coconut yogurt.
Notes
The nutrition panel includes the frosting, one muffin without frosting contains only 3.9 grams of net carbs.
My Recipe Notes
Nutrition
Serving Size:
1
muffin (with frosting)
Serving:
1
muffin (with frosting)
Calories:
351.6
kcal
(18%)
Carbohydrates:
7.8
g
(3%)
Fiber:
3.3
g
(14%)
Net Carbs:
4.5
g
Protein:
8.5
g
(17%)
Fat:
33.9
g
(52%)
Saturated Fat:
13.8
g
(86%)
Trans Fat:
0.1
g
Cholesterol:
77.9
mg
(26%)
Sodium:
169.1
mg
(7%)
Potassium:
103.2
mg
(3%)
Sugar:
2.2
g
(2%)
Vitamin A:
2276.2
IU
(46%)
Vitamin C:
0.7
mg
(1%)
Calcium:
135.8
mg
(14%)
Iron:
1.5
mg
(8%)
Posted In: