Healthy raspberry muffins anyone? yep! No processed ingredients or refined sugar here. These moist raspberry muffins are made with simple dairy-free ingredients including honey and coconut oil. Keep reading for the recipe !
Healthy raspberry muffins : easy + low sugar for kids
Those are the BEST clean eating muffin recipe I ever made ! Another successful tasty clean food recipes for my blog, very much inspired by my wholewheat blueberry muffins recipe. So, if you are looking for healthy muffins for your kids those healthy raspberry muffins with whole wheat flour are the best baby led weaning recipe ever. They are moist raspberry muffins, easy to eat by toddlers and they contain less than a teaspoon of sugar per muffin!
All you need to make them are few delicious healthy ingredients :
Whole wheat flour or a combo of white wheat and whole wheat will work too ! I tested 1 cup whitewheat + 3/4 cup whole wheat, delicious too, slightly less healthy though
Coconut oil or any liquid vegetable oil you have on hand
Eggs,
Honey – I prefer to use brown rice syrup to decrease the sugar amount by 50%
Almond Milk or any milk you like, I tested cow milk, oat milk all work well
Frozen of fresh raspberries – I use frozen raspberry in winter but fresh raspberry in summer. If you are not very into raspberry you can replace them by blueberries or strawberries.
Why making baby size raspberry muffins ?
This weekend I am going on a family trip to the mountain. I prepared lots of muffins to eat in the car and this quick batch of baby size healthy Raspberry Muffins are perfect for my 17 months baby girl as a 'on-the-go snack'.
Easy to eat by small hands – the baby size is perfect for a mess free snack for kids
Less baking time – a maximum of 15 minutes for a batch of 36 baby muffins !
Rise better – whole-wheat flour contains lots of fiber that is why it is healthy for you BUT it tends to flatten baked goods. If you bake your muffins in a baby size muffin pan they will be fluffy and moist ! That is my trick !
Defrost fast – I freeze them all the time in zip bags. Their small baby size makes them fast to defrost. I put them frozen in my kids lunchbox in the morning and 4 hours later they are good to eat!
Recipe post update 24/11/2017 : This recipe has been UNCHANGED FOR 4 YEARS. It is an all time favorite in my house. I simply refresh the post with extra steps-by-steps photography and pictures to guide you through this simple recipe. The first photography I made 4 years ago are still below as a reminder.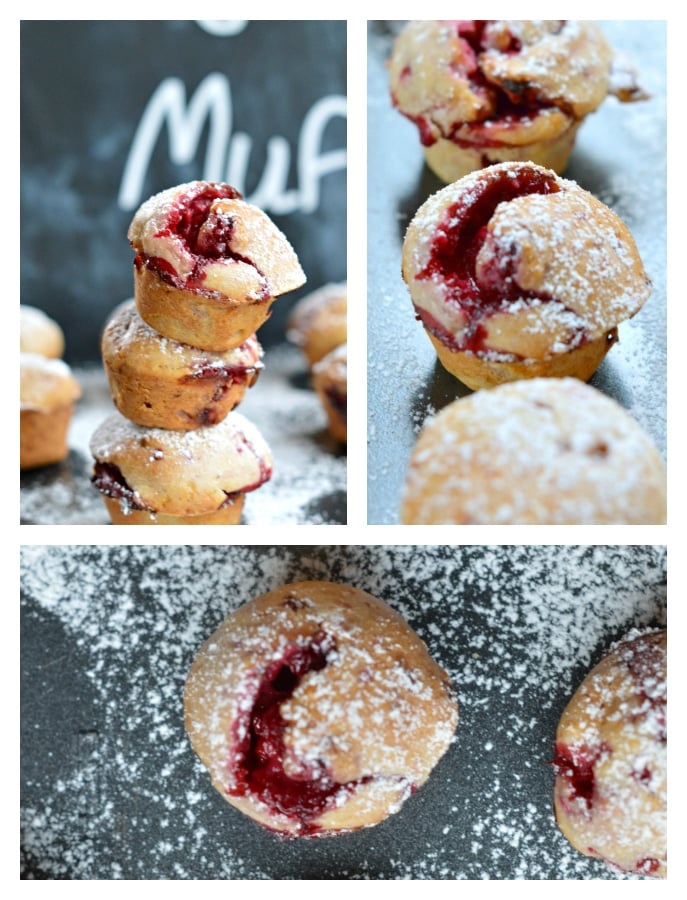 Customize them !
Feel free to flavor these healthy raspberry muffins with ground cinnamon and/or vanilla extract. I did add both in my batch and Emma – my 17 months little girl – loves them. It is her below eating the bigger version of this recipe that I made with blueberries. Look at her face she seriously makes me laugh any time she eat them! I can't wait to be in the car and indulge on these muffins – I also made a batch of healthy chocolate banana muffins for me and my husband ! I love chocolate but I am trying to keep Emma away from it before she turns 2.

I made 36 baby raspberry muffins with this recipe – I used 3 pans of 12 cup Mini Muffin Pan.
As you can see these are moist raspberry muffins loaded with raspberries ! Yum.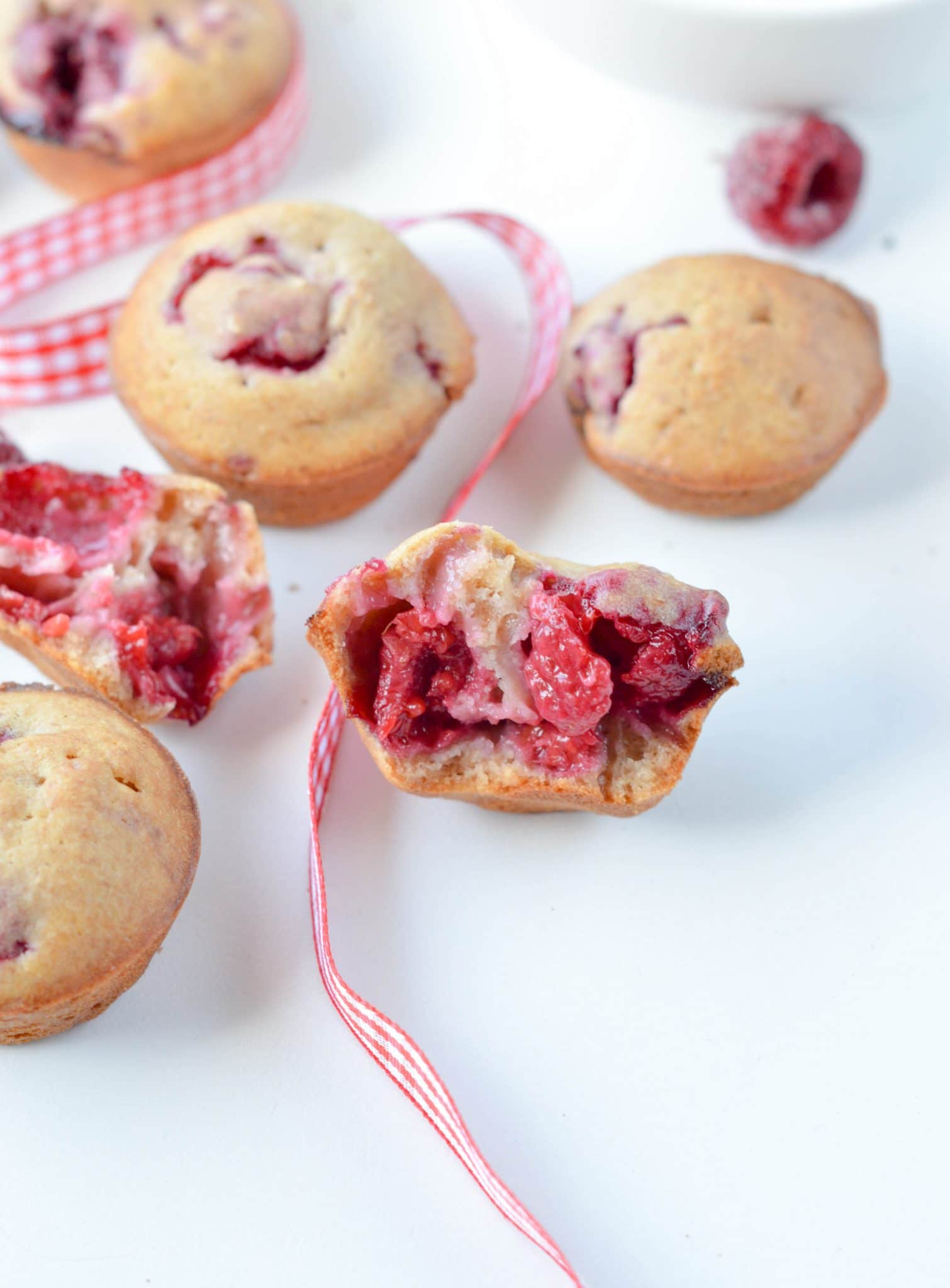 Enjoy the recipe. See you soon on the blog!
WATCH THE HEALTHY RASPBERRY MUFFINS VIDEO and make them now !
Healthy Raspberry Muffins
Healthy raspberry muffins easy clean eating muffins, a moist raspberry muffins, dairy free with coconut oil and honey.
36 mini muffins
Print The Recipe
1 3/4 cup Spelt flour orwhite wheat flour
1 1/2 teaspoon Baking powder
1/2 teaspoon Ground cinnamon optional
2 Egg
1 cup Unsweetened almond milk or milk of your choice
1/3 cup Coconut oil melted, or vegetable oil of your choice
1/2 cup honey or liquid sweetener of your choice
1/2 teaspoon Vanilla extract optional
1 cup Frozen Raspberries or berries of your choice
Preheat the oven at 350 F (180 C)

Spray a 24 holes mini muffin tray with oil. Set aside.

In a large mixing bowl, combine the wholemeal flour, baking powder and ground cinnamon.

In another bowl, whisk the eggs with milk, melted coconut oil, honey and vanilla extract.

Combine the wet ingredients with the dry ingredients. Stir until a muffin batter forms with no lump.

Stir in the frozen raspberry. Fill in the mini muffin tray with the muffin batter. Fill up to 3/4

Bake 15 minutes at 350F (180 C) or until golden brown on the sides.

Cool down for a few minutes on the tray then transfer to a cookie rack to fully cool down.
Muffin tray size: This recipe makes 36 mini muffins - I am using 3 trays with 12 holes for mini muffins - or 12 regular size muffins. Sweetener/low sugar option: I am using brown rice syrup instead of honey to decrease the amount of sugar in my muffin. A mini muffin will contain only 2g sugar using brown rice syrup - half a teaspoon. Storage: store up to 5 days in an airtight container in your pantry. Berries: you can use any frozen or fresh berries or four choice in this recipe like blueberries, raspberries or a combo of both. Freezing: freeze the muffins in large zip plastic bag. Defrost 6-7 hours before eating at room temperature. I usually place the frozen muffin in my girl's lunchbox in the morning and it's perfectly defrosted for her afternoon tea. Gluten-free alternative: you can make these gluten-free, replace the 1 3/4 cup of whole-wheat flour by 1 3/4 cup brown rice flour + 1/4 cup buckwheat flour.
Nutrition Facts
Healthy Raspberry Muffins
Amount Per Serving (1 mini muffins)
Calories 67 Calories from Fat 23
% Daily Value*
Fat 2.5g4%
Carbohydrates 10.6g4%
Fiber 1g4%
Sugar 4.1g5%
Protein 1.4g3%
Net Carbs 9.6g
* Percent Daily Values are based on a 2000 calorie diet.
Nutrition Panel is for one mini muffin. This recipe makes 24 mini muffins.