Keto Raspberry Muffins (1g Of Net Carbs)
These easy keto raspberry muffins with almond flour are the best low-carb muffins with moist crumbs and juicy raspberries.
Bonus, these are gluten-free muffins, and one mini muffin only contains 1 gram of net carbs!
How To Make Keto Raspberry Muffins
Raspberries are the lowest-carb fruits, and therefore, they are ideal for making keto muffins.
These keto raspberry muffins are very easy to make with fresh or frozen raspberries. All you need are a few simple ingredients.
Ingredients
Almond flour – use ultra-fine almond flour, not an almond meal, or your keto muffins will be grainy or darker in color. Don't know how to choose your keto flour? Read my keto flour guide!
Erythritol – or any keto crystal sweetener you love like allulose. Read how to choose your keto sweeteners.
Vanilla extract
Salt
Baking powder
Eggs – at room temperature. Note that you can't use egg replacers in this keto recipe.
Melted coconut oil – melt the oil and measure melted. You can also use avocado oil. Melted butter is another option, but the crumb is much denser, so I recommend a keto-friendly oil for the low-carb muffin recipe.
Cinnamon – this is optional, but I love the flavor it adds to the batter.
Raspberries – fresh or frozen, don't thaw the berries before adding to the batter.
Storage Instructions
These muffins can be stored for up to 5 days in the fridge in an airtight container.
You can also freeze them and thaw them a few hours before serving at room temperature.
Frequently Asked Questions
Can I use frozen berries?
Yes, you can use frozen raspberries in this keto raspberry muffin recipe. Actually, frozen berries are better because they won't sink to the bottom of the muffin pan.
If you want to use fresh raspberries, roll 1 cup of raspberries into 1 tablespoon of coconut flour before adding to the batter. This prevents the berries from sinking to the bottom of the muffin hole.
What Muffin Tin Should I Choose?
You can bake these muffins in a regular 12-hole muffin pan or 3 batches, each baked in a 12-mini muffin pan.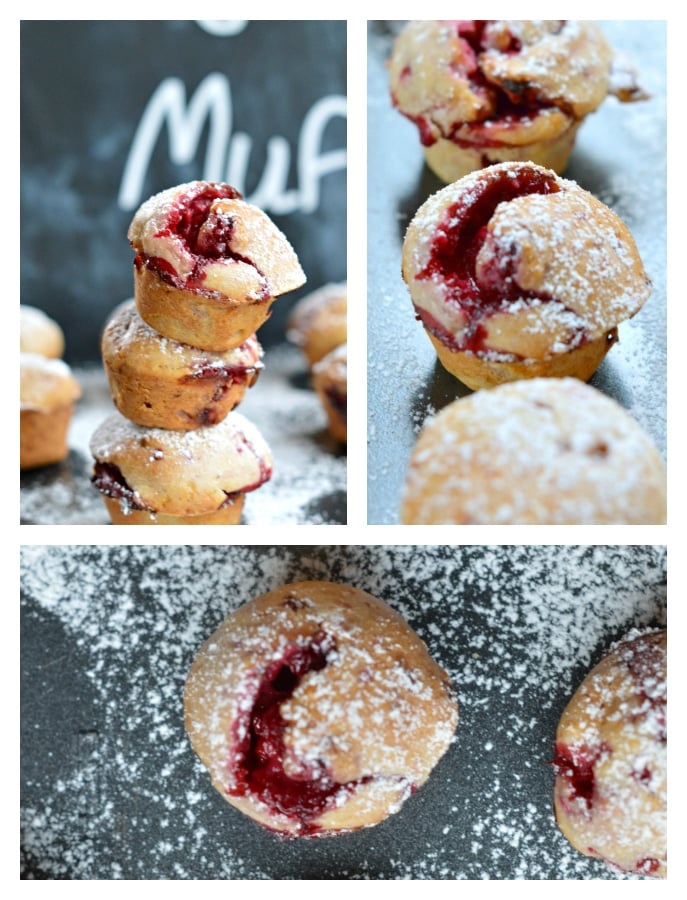 Why make baby-size raspberry muffins?
On a keto diet, we limit our carbs intake, so sometimes baking smaller sizes of your favorite food is a great way to limit the amount you eat. If you are starting the keto diet, read my article on starting the keto diet!
Also, some of the main reasons why I like to bake mini keto muffins are:
Less baking time – a maximum of 15 minutes for a batch of 36 baby muffins!
Rise better – when you bake with almond flour, you should expect to flatter baked goods. In fact, almond flour is heavier than wheat-based flour, and therefore the muffins won't rise as much. That's why baking your keto muffins in a mini muffin pan is a trick to help them raise a bit more and increase their fluffy texture.
Easy to eat with small hands – kids love them!
Defrost fast – if you freeze them, they get back to room temperature in only 3 hours to fix your sweet cravings in no time.
How Should I Serve Raspberry Muffins?
Raspberries are slightly sour, so you can top your muffins with a few adds-on to increase their sweetness, including:
Powdered erythritol – sieve some sugar-free powdered sweetener onto the muffins.
Cream cheese – add a dollop of 1 teaspoon cream cheese per regular muffin in the center of the muffin before baking. A keto raspberry cream cheese muffin is less sour as cream cheese balances very well the sourness of raspberries.
Sugar-free chocolate chips – add 1/4 cup of sugar-free white chocolate chips into the batter to make keto raspberry chocolate muffins.
How many servings per recipe?
In the picture, I baked mini muffins, but the recipe bakes very well in a regular muffin pan.
This keto muffin recipe serves:
12 regular size muffins – use a 12-hole muffin pan filled with silicone cases or non-stick paper cases.
36 mini muffins – bake the recipe in 3 mini muffin pan of 12 holes, line with mini muffin paper cups, or lightly oil the muffin holes with coconut oil.
How Many Carbs Are In Keto Raspberry Muffins?
The net carbs below are for both muffin sizes.
For 1 regular-size muffin from a 12-hole muffin pan – you will get 3.3 grams of net carbs per muffin.
For 1 mini muffin, as in the picture – you will get 1.1 grams of net carbs per mini muffin.
How Do Raspberry Muffins Taste?
These muffins are moist almond flour muffins with juicy pieces of raspberries bursting in the center.
Since it's an almond flour recipe, it has a light almond flavor. The smaller they are, the moister and fluffier they will be!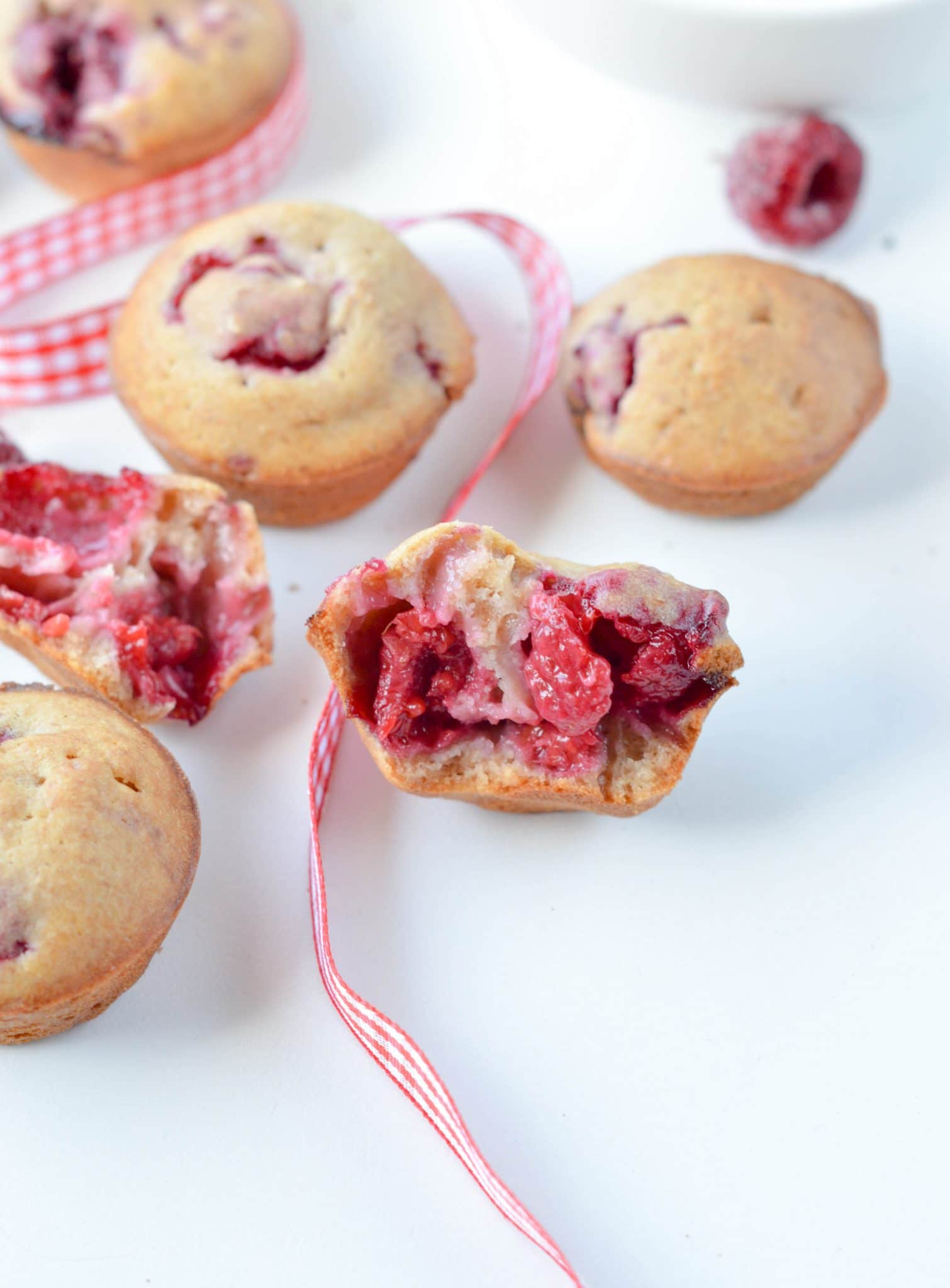 More Keto Muffin Recipes
I love creating keto muffin recipes with different flavors. Below are my favorite keto muffin recipes for you to try:
Made these easy low-carb raspberry muffins? Share a review below or join me on Pinterest for more keto recipe inspiration.
Keto Raspberry Muffins
Keto raspberry muffins are easy healthy raspberry muffins, with a moist almond flour crumb and juicy low-carb raspberries.
Yield:
mini muffins (or 12 large muffins)
Serving Size:
1
mini muffin (recipe makes 36)
Ingredients
2 ½

cups

Almond Flour

½

cup

Erythritol

1 ½

teaspoon

Baking Powder

¼

teaspoon

Salt

½

teaspoon

Ground Cinnamon

optional

3

large

Eggs

at room temperature

1

cup

Unsweetened Almond Milk

or milk of your choice

⅓

cup

Coconut Oil

measure melted, or avocado oil or melted butter

½

teaspoon

Vanilla Extract

optional

1

cup

Frozen Raspberries

or fresh
This recipe may contain Amazon or other affiliate links. As an Amazon Associate I earn from qualifying purchases.
Instructions
Preheat the oven at 350°F (180°C).

Line a 12-hole muffin tray with paper cups (or use line 3 tray of 12 mini muffins for 36 mini muffins). Set aside.

In a large mixing bowl, combine the almond flour, erythritol, baking powder, salt, and ground cinnamon.

In another bowl, whisk the eggs with almond milk, melted coconut oil, and vanilla extract.

Combine the wet ingredients with the dry ingredients. Stir until a muffin batter forms with no lumps.

Stir in the raspberries. Fill the muffin tray evenly with the batter – the recipe makes 12 regular muffins or 36 mini muffins.

Bake for 20-25 minutes or until golden brown on the sides and a toothpick inserted in the center comes out clean.

Cool them down for a few minutes on the tray, then transfer to a cooling rack to cool completely for 1 hour.
Storage
Store in the fridge for up to 5 days in a sealed container or freeze.
Want My Kitchen Equipment?
Serving Size:
1
mini muffin (recipe makes 36)
Yield:
mini muffins (or 12 large muffins)
Serving:
1
mini muffin (recipe makes 36)
Calories:
69.7
kcal
(3%)
Carbohydrates:
2.2
g
(1%)
Fiber:
1.1
g
(5%)
Net Carbs:
1.1
g
Protein:
2.2
g
(4%)
Fat:
6.4
g
(10%)
Saturated Fat:
2.1
g
(13%)
Polyunsaturated Fat:
0.2
g
Monounsaturated Fat:
0.3
g
Trans Fat:
0.1
g
Cholesterol:
15.5
mg
(5%)
Sodium:
48.8
mg
(2%)
Potassium:
11
mg
Sugar:
0.4
g
Vitamin A:
23.7
IU
Vitamin B12:
0.1
µg
(2%)
Vitamin C:
0.9
mg
(1%)
Vitamin D:
0.1
µg
(1%)
Calcium:
37.9
mg
(4%)
Iron:
0.4
mg
(2%)
Magnesium:
1.3
mg
Zinc:
0.1
mg
(1%)
Posted In: