Keto zucchini muffins or almond flour zucchini muffins call them as you like they are the most delicious moist sweet breakfast muffins!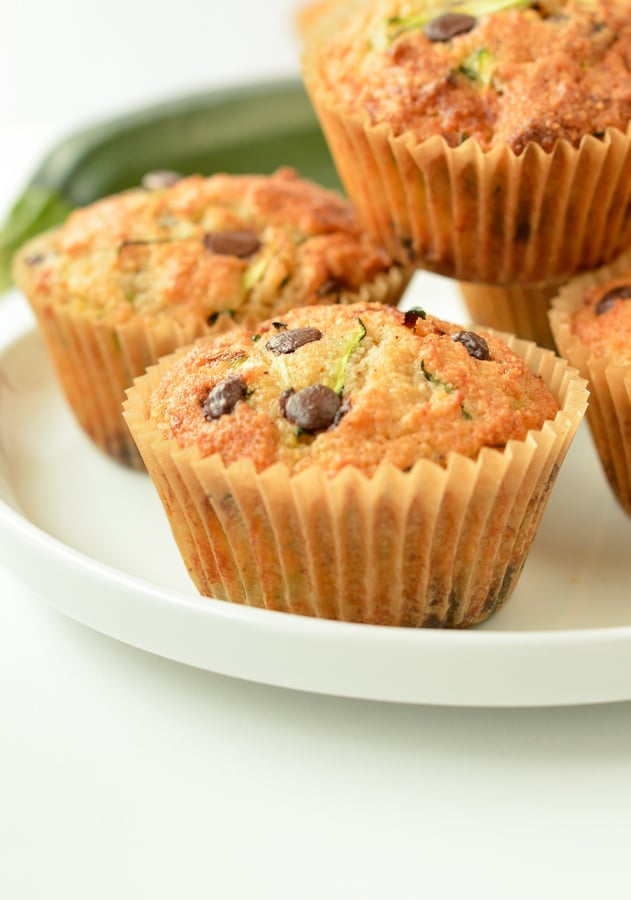 I am having busy mornings right now with the kids and those keto zucchini muffins are total lifesavers. It is so handy to grab-n-go a muffin in the mornings with a cup of coffee. I always like my breakfast sweet and those almond flour zucchini muffins are perfect to starts the day with an extra boost of greens!
What are keto zucchini muffins ?
Keto zucchini muffins are sweet, moist almond flour zucchini muffins. They includes grated zucchini that adds a delicious moist texture to the muffins while helping you reach your 5-a-day. They are perfect for breakfast on the go or as a quick snack with only 4.5 g net carb per serve. All you need to make zucchini muffins paleo and keto are those wholesome ingredients:
Grated zucchini – make sure you squeeze out all their water before measuring
Almond flour
Large eggs – at room temperature
Coconut cream if you want to make dairy free zucchini muffins otherwise heavy cream works too
Coconut oil or melted butter – at room temperature
Baking powder
Cinnamon
Sugar free crystal sweetener – I like Monk fruit stevia blend but you can also use erythritol or crystal sweetener of your choice like coconut sugar if you want to make zucchini muffins paleo
Xantham gum – this is optional but it prevent overly moist zucchini chocolate chips muffins, especially if you din't squeeze out well the zucchini water
Sugar free chocolate chips – or cocoa nibs or crushed pecan, walnuts if preferred
Are zucchini keto ?
Yes, zucchini are one of the best vegetable to add to your keto diet. In fact, 100 grams of zucchini contains only 2.1 grams net carbs and 17 calories. It means you can safely eat a good amount of zucchini to add fiber and nutrient to your day and keeping your macro right. Now you probably wonder why adding zucchini into a muffin recipe right? Well, there is two main reason. First, zucchini add the most delicious moist texture to muffins, cupcakes and bread. You may have already try my keto zucchini bread and if you love this, you will love those zucchini muffins too. Next, I like to sneak extra greens to my kids lunchbox. Kids loves muffins and this almond flour zucchini muffin recipe is a great one to sneak extra greens to their day. Actually, I like to use them as a zucchini cupcake base as well with a cream cheese frosting. Finally, I grow zucchini in my garden and they grow like crazy. This recipe is great to use those extra zucchini and make ahead some keto breakfast on the go for the next months.
Can I make savory zucchini muffins almond flour?
Great news, this recipe is easily adaptable to a savory zucchini muffin recipe too! All you have to do to make delicious savory almond flour muffins is to make those 3 simple swaps:
Sweetener: replace by 1/2 cup grated cheese of your choice like cheddar or mozzarella or Parmesan
Chocolate chip : replace by 1/3 cup diced ham or bacon
Add 1 teaspoon garlic salt and 1 teaspoon of dried Italian herbs
How to store almond flour muffins ?
Those almond flour zucchini muffins freeze very well, like regular wheat muffins. In order to keep those delicious and fresh I recommend to freeze them in an airtight box, not stacked. It is easy to defrost the muffins at room temperature, preferably on a cooling rack for 3 hours or overnight.
More zucchini baking recipes
I love baking with zucchini and I created a collection of delicious easy keto recipes with zucchini for you. I recommend you also have a look at my :
If you try those zucchini muffins with almond flour don't forget to leave me a review below or share a picture with me on Instagram!
xoxo Carine
Keto zucchini muffins
Keto zucchini muffins moist, sweet breakfast almond flour zucchini muffins with chocolate chips.
Prep Time: 15 mins
Cook Time: 25 mins
cool 1 hr
12 muffins
Print The Recipe
Prepare the zucchini
Remove the ends of the zucchini, keep skin on and grate finely.

Place the grated zucchini onto a clean towel, wrap the zucchini firmly into the towel and squeeze to extract all the zucchini water. Discard water or keep for a different recipe.

Measure the grated zucchini to reach 3/4 cup. Set aside in a bowl.
Prepare the zucchini muffin batter
In a medium size mixing bowl whisk eggs and sugar free crystal sweetener until fully combined. It should take 40 seconds max. Set aside.

In a large mixing bowl add almond flour, cinnamon, xantham gum and baking powder. Whisk to combine all dry ingredients together.

Pour the beaten egg mixture, melted coconut oil and coconut cream onto the bowl with almond flour. Make sure the oil is not burning hot or it will 'cook' your eggs. Otherwise cold eggs will solidify coconut oil so make sure all ingredients are at similar temperature.

Combine with a spoon until a thick muffin batter form. The batter is grainy because of the use of almond flour and it is normal.

Stir in grated zucchini and sugar free chocolate chips.

Fill the 12 muffin paper cups evenly with the zucchini muffin batter. I used a mechanical ice cream scoop to precisely measure the same quantity of batter for each muffins.

Bake for 20-25 minutes at 180 C (350F) or until a skewer inserted in the center of one muffin come out clean.

Cool the muffins 10 minutes in the tray then trasnfer on a cooling rack.

Cool at least 1 hour before eating. The longer you wait the better the texture will be. I recommend you wait until they reach room temperature, can take 4 hours or overnight.
Sugar free chocolate chips swap : you can use chopped pecan, walnuts or cocoa nibs if preferred.
Nutrition Facts
Keto zucchini muffins
Amount Per Serving (1 muffin)
Calories 229 Calories from Fat 118
% Daily Value*
Fat 13.1g20%
Carbohydrates 6.7g2%
Fiber 2.2g9%
Sugar 0.9g1%
Protein 5.5g11%
Net Carbs 4.5g
* Percent Daily Values are based on a 2000 calorie diet.