Almond Flour Lemon Poppy Seed Muffins
These moist Almond Flour Lemon Poppy Seed Muffins are delicious low-carb keto lemon muffins perfect as a snack in the afternoon.
Plus, with only 3.3 grams of net carbs each, there's no guilt about enjoying this treat!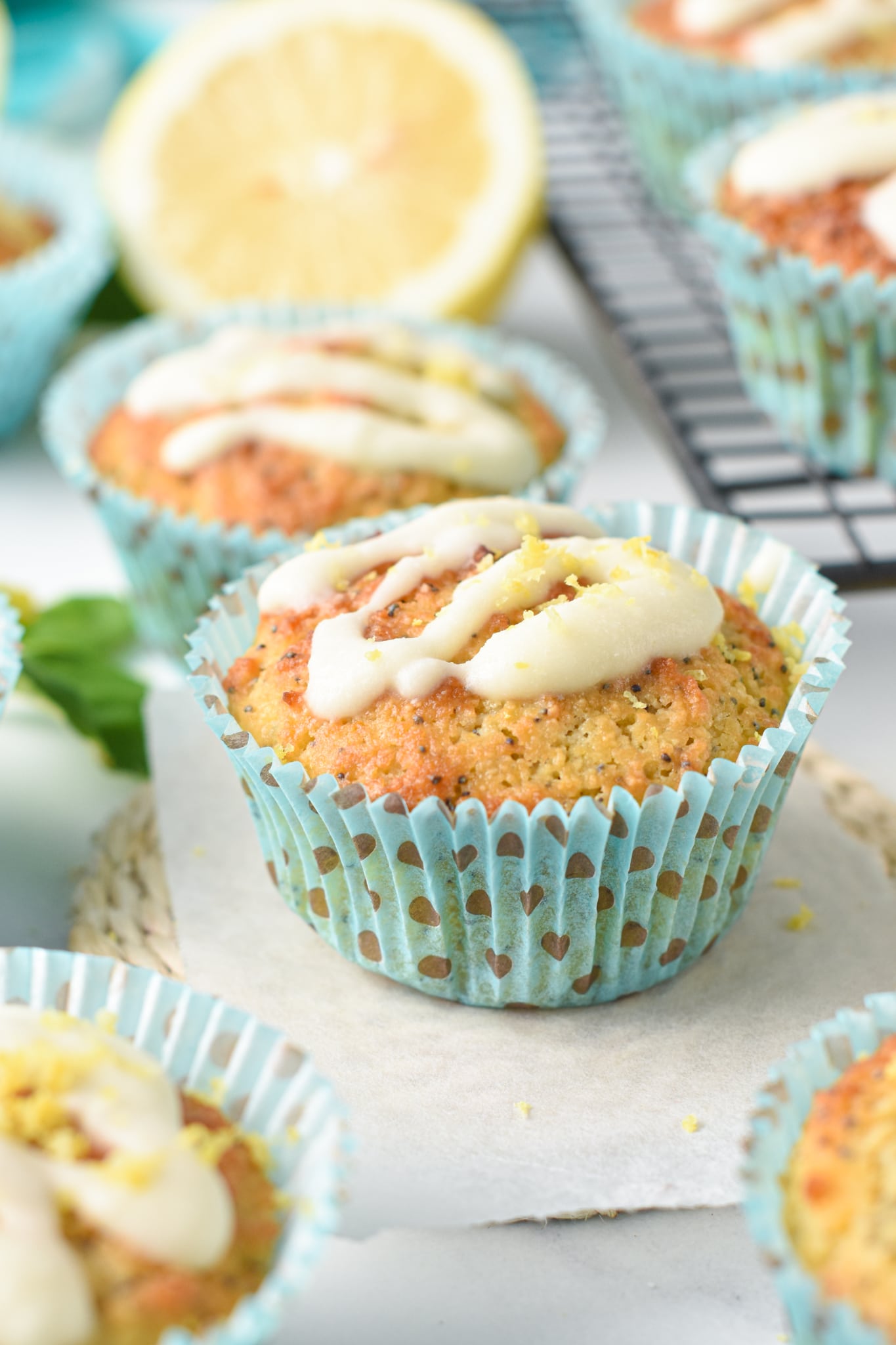 I love muffins more than everything, especially almond flour muffins because they are so nourishing, fulfilling, and moist!
Almond flour is essential for making moist recipes.
But the key is a perfect ratio of dry ingredients to liquid and ultra-fine almond flour.
Why You'll Love These Muffins
These poppy seed lemon muffins are:
Gluten-free
Dairy-free
Keto-friendly
Paleo approved
Let me share my tips and secret to making the best lemon almond flour muffins below.
How To Make Almond Flour Lemon Poppy Seed Muffins
This is the easiest keto muffin recipe ever with the best lemon flavors.
Ingredients
To make these dairy-free gluten-free muffins, you need:
Ultra-fine almond flour – avoid almond meal. It's often coarse and makes your muffins dark and dry. Learn how to pick your keto flours.
Baking powder
Coconut oil
Lemon juice
Lemon zest
Large eggs
Almond milk
Granulated sweetener of choice – I love sugar-free keto sweeteners, particularly granulated erythritol, but allulose works fine as well, or coconut sugar if paleo. Use my Sweetener Converter to convert from one sweetener to another.
Muffin Batter
First, in a large mixing bowl, whisk the liquid ingredients with the sweetener: eggs, almond milk, lemon juice, vanilla extract, and melted coconut oil with erythritol.
Set it aside.
In another bowl, whisk all the dry ingredients: almond flour, baking powder, salt, poppy seeds, and lemon zest.
Combine the wet ingredients into the dry ingredients. Stir until a slightly thick batter forms.
Preheat the oven to 350°F (180°C). Line a 12-hole muffin tray with paper cases and slightly oil the cases with oil spray.
Fill each muffin cup with about 1/4 cup of muffin batter.
Bake in the center rack of the oven for 20-25 minutes or until a pick inserted in the center of the muffins comes out clean.
Cool down on the muffin pan for 10 minutes, then transfer to a cooling rack.
Lemon Glazing
Lemon poppyseeds muffins are so much tastier with a sweet lemon glaze! To make a sugar-free keto-friendly lemon glaze, you need:
Powdered sugar-free sweetener
Lemon juice
Melted coconut oil or melted butter
Whisk all ingredients together until creamy and thick. If too runny – this can happen depending on sugar0free sweetener brands – stir in more powdered sweetener until it reaches your favorite consistency.
On the other hand, if too thick, add more lemon juice, one teaspoon at a time.
Wait for the muffins to fully cool down and reach room temperature before glazing with a tablespoon of lemon glaze.
The glaze sets in the fridge or overnight at room temperature.
For extra flavor, sprinkle some extra fresh lemon zest on top of your muffins.
Storage
These lemon muffins store very well in an airtight cake box in the fridge for up to 3-4 days.
You can also freeze the muffins in zip lock bags and thaw the muffins the day before eating.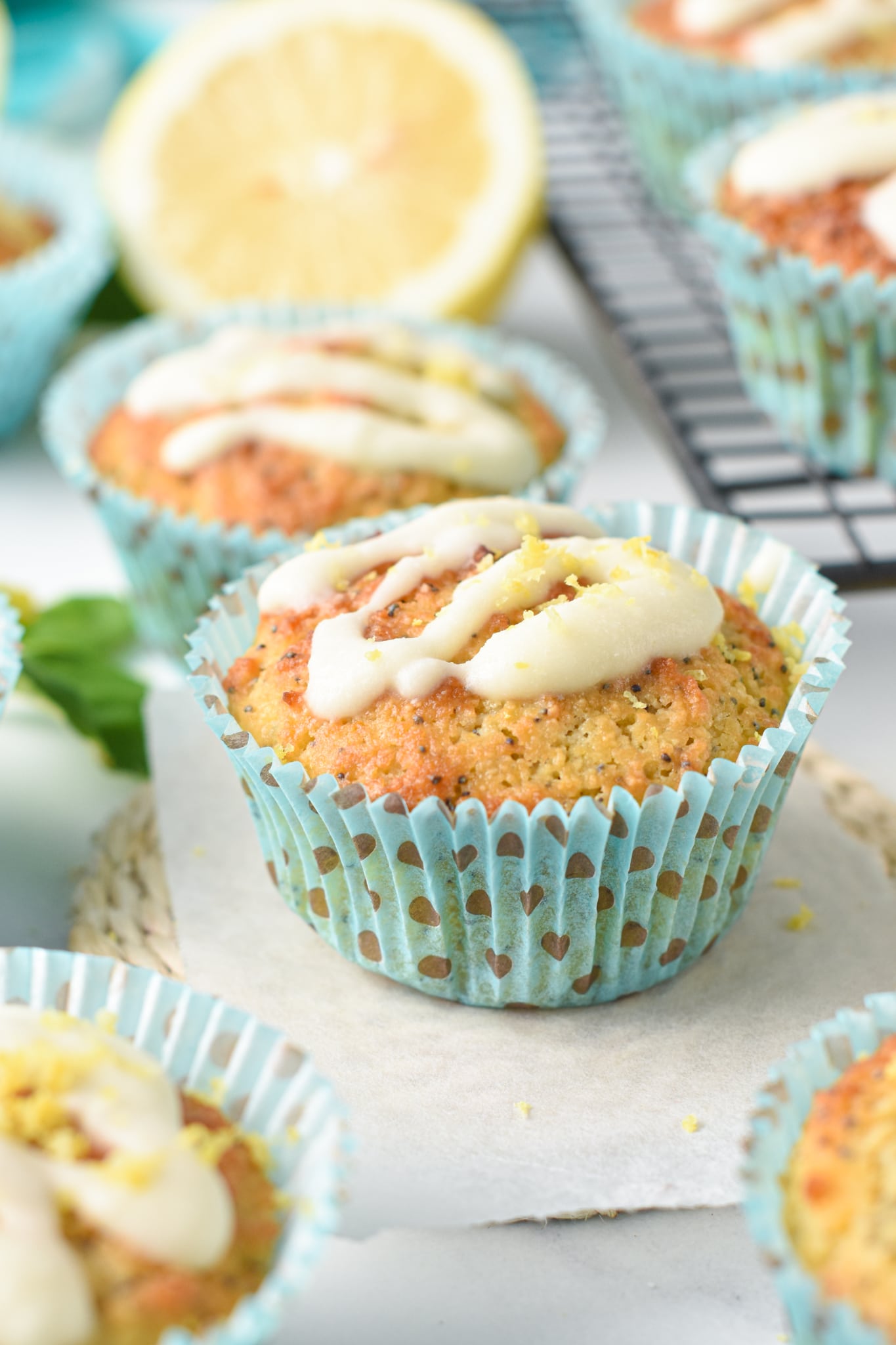 Frequently Asked Questions
Can I Swap Almond Flour For Coconut Flour?
No, you can't swap both flours in keto baking recipes. Almond flour has less fiber than coconut flour, requiring less liquid.
For coconut flour muffins, try my coconut flour blueberry muffins.
Can I Make The Recipe Egg-Free?
I haven't had success using flax eggs or chia eggs in this muffin recipe, so I don't recommend these options.
For a simple keto egg-free muffin, try my Chocolate Avocado Muffins.
Can I Add Blueberries?
Absolutely, blueberries are keto-friendly fruits delicious with lemon and poppyseeds.
Fold in 1/3 cup at the end and sprinkle extra fresh blueberries on top of each muffin before baking.
If your blueberries are frozen, don't thaw them. Fold in the frozen berries in the batter.
More Almond Flour Baked Recipes
I love baking with almond flour, and if you do too, you may want to try some of the recipes below:
Have you made these almond flour lemon muffins? Share a comment or review below to connect with me.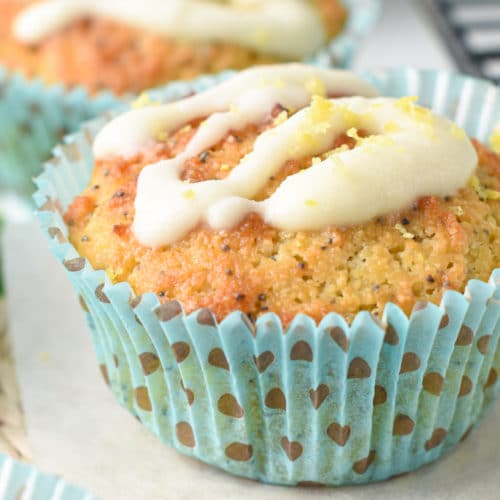 Almond Flour Lemon Poppy Seed Muffins
These moist Almond Flour Lemon Poppy Seed Muffins are delicious low-carb keto lemon muffins perfect as a snack in the afternoon. Plus, with only 3.3 grams of net carbs each, there's no guilt about enjoying this treat!
Nutrition Snapshot
Want My Kitchen Equipment?
Instructions
Preheat oven to 350°F (180°C). Line a 12-hole muffin pan with muffin paper cases or grease mold with an oil spray if preferred. Set aside.

In a medium-sized mixing bowl, whisk together eggs, sugar-free sweetener of your choice, unsweetened almond milk, lemon juice, melted coconut oil, and vanilla extract. Make sure all the ingredients are at room temperature. If you are using cold eggs straight out of the fridge, they will solidify the coconut oil creating oil lumps. Otherwise, use butter to prevent this from happening.

Stir in baking powder, almond flour, poppy seeds, lemon zest, salt, and stir gently to incorporate the flour to avoid lumps.

Transfer the lemon muffin batter evenly into the 12-muffin cases – about 1/4 cup batter each.

Bake for

22

–

25 minutes

or until a toothpick inserted in the middle of the muffins comes out clean or with few to no crumbs on it.

Cool for

10 minutes

in the pan, then gently transfer onto a cooling rack and cool for

30 minutes

to 1 hour before eating. Be patient. They get the best texture at room temperature.
Glazing
When the muffins reach room temperature, prepare the glazing.

Whisk all the glazing ingredients together in a mixing bowl, adding more powdered sweetener to thicken up or more lemon juice to loosen up the glazing.

Drizzle on top of each muffin with extra lemon zest on top if desired.
Storage
Store in an airtight box for up to 4 days at room temperature.

Can be frozen in airtight zip lock bags. Defrost the day before at room temperature. Can be toasted or rewarmed in an oven at 100°C/210°F.
Notes
Note 1: Any granulated sweetener works in this recipe. To make keto muffins, I used sugar-free erythritol but if you are not on a keto diet, coconut sugar is a healthy swap. Note 2: Melted butter or melted ghee works as well.
My Recipe Notes
Nutrition
Serving:
1
muffin
Calories:
218.3
kcal
(11%)
Carbohydrates:
6.2
g
(2%)
Fiber:
2.9
g
(12%)
Net Carbs:
3.3
g
Protein:
6.8
g
(14%)
Fat:
19.8
g
(30%)
Saturated Fat:
6.6
g
(41%)
Polyunsaturated Fat:
0.9
g
Monounsaturated Fat:
1.1
g
Trans Fat:
0.1
g
Cholesterol:
46.5
mg
(16%)
Sodium:
99.7
mg
(4%)
Potassium:
35.4
mg
(1%)
Sugar:
1.2
g
(1%)
Vitamin A:
83.1
IU
(2%)
Vitamin B12:
0.1
µg
(2%)
Vitamin C:
2.8
mg
(3%)
Vitamin D:
0.3
µg
(2%)
Calcium:
124.8
mg
(12%)
Iron:
1.3
mg
(7%)
Magnesium:
7.4
mg
(2%)
Zinc:
0.3
mg
(2%)
Posted In: