Chocolate Avocado Muffins (5 Ingredients, Keto)
These Chocolate Avocado Muffins are healthy fudgy low-carb chocolate muffins with only 3.5 grams of net carbs per serving.
They are 100% Vegan, Paleo, and Gluten-free, and you can make them easily with 5 simple, wholesome ingredients.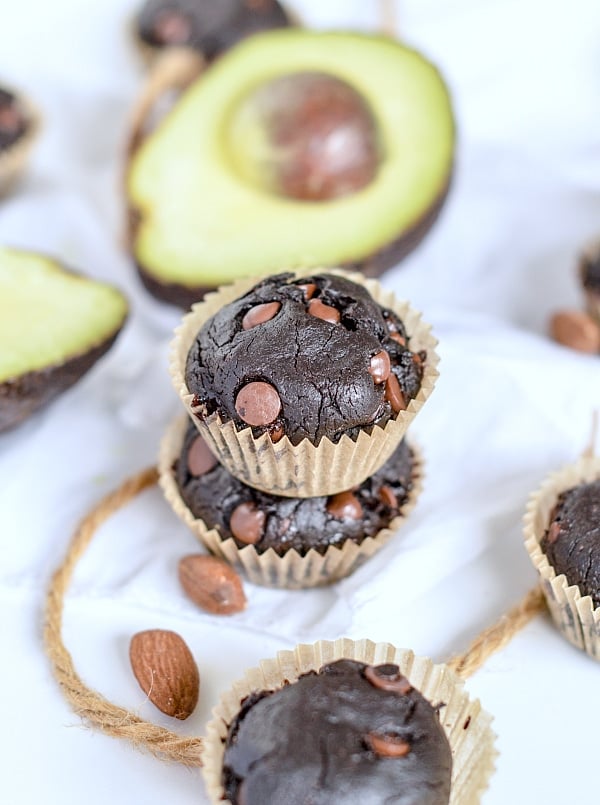 What Are Chocolate Avocado Muffins?
Chocolate Avocado Muffins are super simple, healthy, low-carb muffins that use the creaminess of avocados to create a rich chocolate batter.
They are keto-friendly muffins with no avocado taste, but all its goodness.
Why You'll Love This Recipe
Avocado and Chocolate make the best combination for Keto recipes! This secret chocolate avocado muffin recipe is a delicious treat for a keto dessert or keto snack.
There are 3 main reasons to make them!
An easy healthy muffin recipe. 5 simple, wholesome ingredients that we all have in our kitchen.
A chocolate treat with no guilt. This recipe contains very few calories, only healthy fats from avocado and no sugar, provided you are using sugar-free maple syrup as I do. If not, it is still refined-sugar-free, so it is still a good healthy choice.
An allergy-friendly muffin recipe. These keto muffins tick all the diet boxes, gluten-free, dairy-free, vegan, paleo, and keto. Of course, they are not nut-free because they use Almond flour, but if you really can't have nuts, go for oat flour instead of almond meal.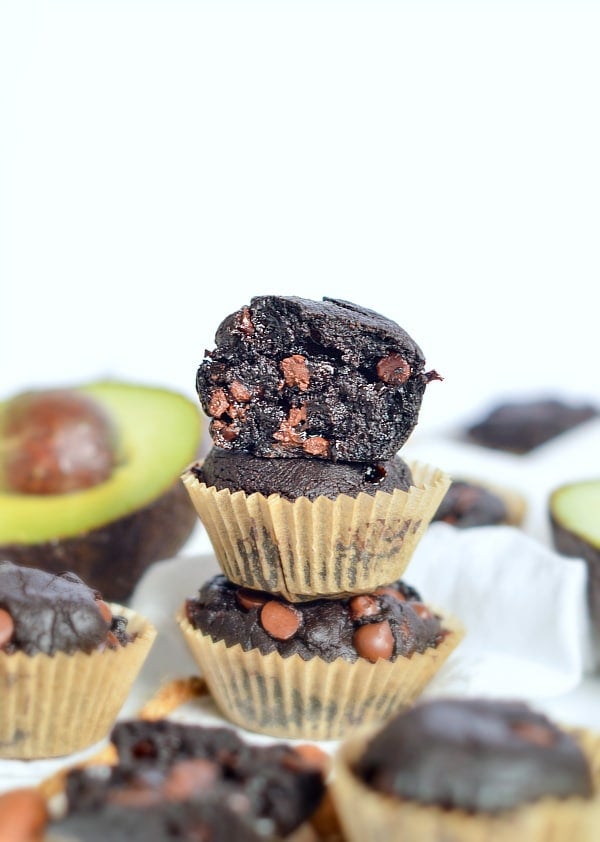 How To Make Avocado Chocolate Muffins
All you need is 5 simple ingredients, plus 2 optional ingredients.
Ingredients
Avocado – choose soft, ripe avocados and remove any dark spots if needed.
Unsweetened cocoa powder
Almond meal – or almond flour. The difference between almond meal and almond flour is that almond flour is made with peeled almonds while an almond meal is made with whole almonds. Both will work in this recipe. To learn more about keto-friendly flours, read my article on keto flours!
Liquid sweetener – use your favorite! I love sugar-free maple-flavored syrup from Lakanto. If you are not on a keto diet, other options work, like brown rice syrup or regular maple syrup, but carbs will be much higher!
Baking soda – This is optional. It works without it, but the texture is slightly dryer and less 'fluffy,' so I highly recommend it.
Sugar-free chocolate chips – you can use fewer chocolate chips – 1/3 cup is enough, but I used 1/2 cup to fully cover the avocado flavor. The less you are using, the more you will taste the avocado! I am using vegan sugar-free chocolate chips to make this recipe vegan-friendly. You can make the recipe with the chips you love.
Vanilla – again the recipe would work without vanilla, but that is a nice addition to the chocolate flavor!
Instructions
There are two options for making this recipe, either with a food processor only or with a bowl.
Option 1. Food Processor
It works, but the batter is thick and sticky, so it is not the best option – a lot of clean-up later on!
The batter sticks to the S blade attachment of the food processor, and it is a nightmare to clean. It requires soaking in hot water and rubbing the jug.
Options 2: Food Processor + Bowl
You can also make the avocado cream in the food processor, then combine it with the rest of the dry ingredients into a bowl.
You will have two bowls to clean up, but you will avoid the cleaning of a food processor blade covered with sticky chocolate muffin batter!
Trust me. It is not fun. I was making the recipe this way at first, and it was too messy. So follow the recipe below for success with no mess.
More Keto Chocolate Avocado Recipes
I recommend you try my other chocolate avocado desserts like:
Chocolate Avocado Muffins
These Chocolate Avocado Muffins are healthy fudgy chocolate muffins 100% Vegan, Paleo, Gluten-free, and Keto-approved!
Serving Size:
1
mini muffin
Ingredients
½

cup

Avocado

(usually 1 avocado)

¼

cup

Sugar-Free Maple Syrup

or liquid sweetener or your choice

2

teaspoons

Vanilla Extract

½

cup

Unsweetened Cocoa Powder

⅓

cup

Almond Flour

½

teaspoon

Baking Soda
This recipe may contain Amazon or other affiliate links. As an Amazon Associate I earn from qualifying purchases.
Instructions
Preheat oven to 350°F (180°C). Line a mini muffin tray with muffin paper cups. Set aside.

In a food processor, add the avocado, liquid sweetener, and vanilla extract.

Blend at high speed until it forms a cream. It should take about 30 seconds. Feel free to stop the food processor every 15 seconds, scrape down the side of the bowl and repeat until a creamy shiny green avocado batter forms with no lumps.

Transfer the avocado cream into a clean bowl, add almond meal, unsweetened cocoa powder, and baking soda.

Combine with a spatula until all the ingredients come together into a thick, sticky, and shiny chocolate batter. It usually takes less than a minute to form the batter.

Stir in the chocolate chips of your choice, then scoop one tablespoon of batter and form a ball with your hands. The batter is a bit sticky, so you can rub your hands with a tiny bit of vegetable oil, like coconut oil, before rolling to keep your hands clean.

Add each ball of muffin batter to the prepared muffin tin – I highly recommend using muffin paper cups for this recipe. It is much easier to unmold the muffins when baked.

Bake for 12-15 minutes max at 350°F (180°C). It is ready when the top of the muffins are cooked.

Cool them down in the muffin pan for 10 minutes. I set up a clock to make sure it is cooling down for 10 minutes. This process will firm up the muffins and keep the fudgy texture in the middle.

Transfer to a cookie rack to fully cool down.

Store well in the pantry for up to 3 days or even in the fridge for an extra fudgy texture.
Notes
Liquid sweetener: if you are on a low-carb diet, use sugar-free maple-flavored liquid sweetener. If not, any liquid sweetener like maple syrup, agave, or brown rice syrup would work well. Chocolate chips: you can use fewer chips, 1/3 cup is great, but I recommend 1/2 cup to fully hide the avocado flavor. You can use sugar-free vegan chocolate chips or the ones you like. Size: Mini muffins work better with this recipe. Nutrition panel is calculated for one mini muffin using sugar-free vegan chocolate chips and sugar-free maple syrup. Net carbs per muffin are total carbs minus fiber: 3.5 grams.
Want My Kitchen Equipment?
Serving Size:
1
mini muffin
Serving:
1
mini muffin
Calories:
84
kcal
(4%)
Carbohydrates:
7.5
g
(3%)
Fiber:
4
g
(17%)
Net Carbs:
3.5
g
Protein:
3
g
(6%)
Fat:
6
g
(9%)
Sugar:
0.7
g
(1%)
Posted In: