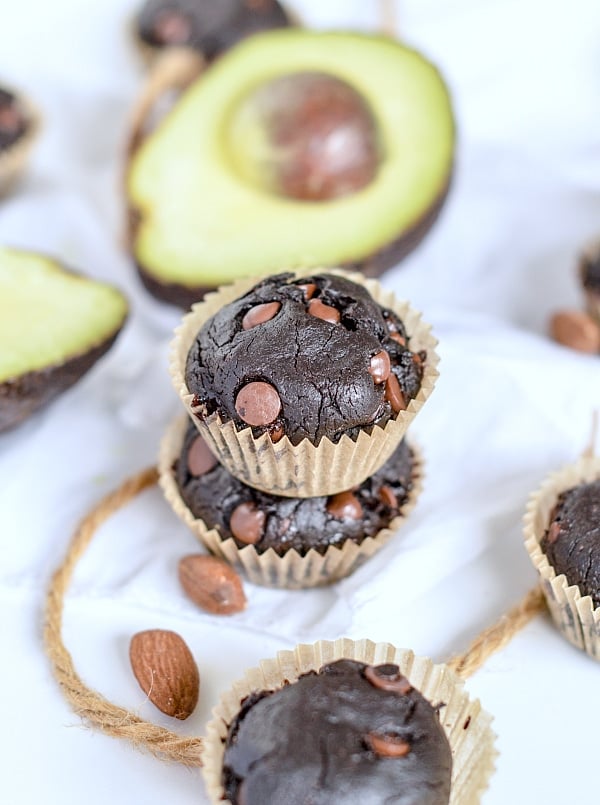 Keto chocolate avocado muffins are healthy fudgy low carb chocolate muffins with only 3.5 g net carb per serve. 100 % Vegan + Paleo + Gluten free and easy to make with 5 simple ingredients.
Chocolate avocado muffins – healthy avocado muffins
You know my passion for avocado and chocolate right? I shared SO many avocado desserts recipe on this blog, unbelievable ! You loved my low carb chocolate avocado cookies so much that I thought I should share my secret mini chocolate avocado muffins recipe too. You really need to make those if you are looking for :
an easy healthy muffin recipe. 5 simple ingredients that we all have in our kitchen – well, 7 ingredients if you add the baking soda and chocolate chips but both are optional if you run out !
a chocolate treat with no guilt. This recipe contains few calories, only healthy fats from avocado and NO sugar – if your using sugar free maple syrup as I do. If not, it is still unrefined sugar free so it is a good healthy choice.
an allergy friendly muffin recipe – those tick all the diet boxes, gluten free + dairy free + vegan + paleo + keto. Of course, those are not nut free, but if you really can't have nut go for oat flour instead of almond meal.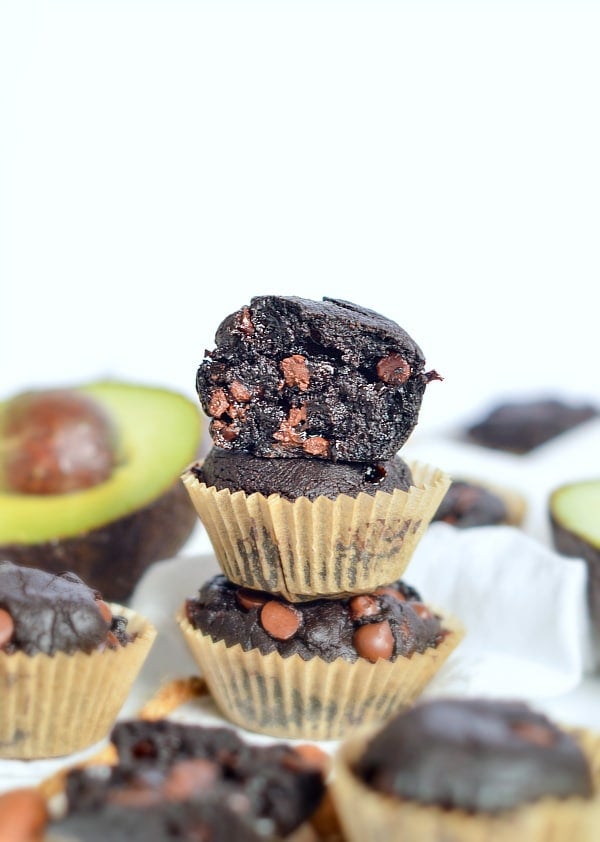 Easy 5 ingredients muffin recipe – ready in 20 minutes
All you need is 5 main ingredients, 2 ingredients are optional but recommended which means the recipe will work without them but it taste better with it !
Avocado – choose a soft, ripe avocado and remove any dark spot if needed
Unsweetened cocoa powder
Almond meal also known as almond flour or ground almond. All of those will work in this recipe.
Liquid sweetener – use your favorite I love sugar free maple flavored syrup from Lakanto . If you are not on keto diet as I do, other options work like brown rice syrup or regular maple syrup.
Baking soda – this is optional! It works without it but the texture is dryer and less 'fluffy' so I highly recommend it
Sugar free chocolate chips – you can use less chips – 1/3 cup is enough but I used 1/2 cup to fully hide the avocado flavor. The less you are using the more you will taste the avocado of course ! I am using vegan sugar free chocolate chips as always. You can make the recipe with the chips you love.
Vanilla – again the recipe will work without vanilla if you run out of it ! but that is a nice addition to the chocolate flavors!
Easy preparation
You have two option to make this reciepe
1. Add all the ingredients into the food processor = more cleaning ! It works but the batter is thick and sticky so it is not the best option – lots of clean up later on! The batter stick to the S blade attachment of the food processor and it is a nightmare to clean, lots of soaking in hot water, rubbing. Well, you get it , I hate cleaning dishes !
2. Make the avocado cream in the food processor, then combine with the rest of the dry ingredients into a bowl. You will have two bowls to clean BUT you will avoid a the cleaning of a food processor blade covered with sticky chocolate muffin batter! trust me, it is not fun. I was making the recipe this way at first and it is too messy. So follow the recipe below for success with no mess.
More keto chocolate avocado recipe
I recommend you try my others chocolate avocado desserts like :
XOXO Carine