The keto chocolate avocado cookies with chocolate chips are healthy 5-ingredient avocado peanut butter cookies with only 5g net carb per serve!
Those EASY keto chocolate cookies are healthy 5-ingredient cookies with only 5.5g of net carbs per serve to satisfy your sweet tooth on a keto diet. Bonus, they are also vegan! Therefore, they can be included in a vegan keto diet, read more about the egg-replacement options below.
What do you need to make keto chocolate avocado cookies?
As I mentioned before, those avocado cookies are EASY to make! – you will need a food processor or blender in this recipe to pulse the ripe avocado along with the liquid sweetener into a creamy smooth puree. Mashing the avocado with a fork will leave avocado lumps in the cookie batter and it won't taste good. Let's see the 5 basics ingredients you need to make these delicious keto chocolate cookies.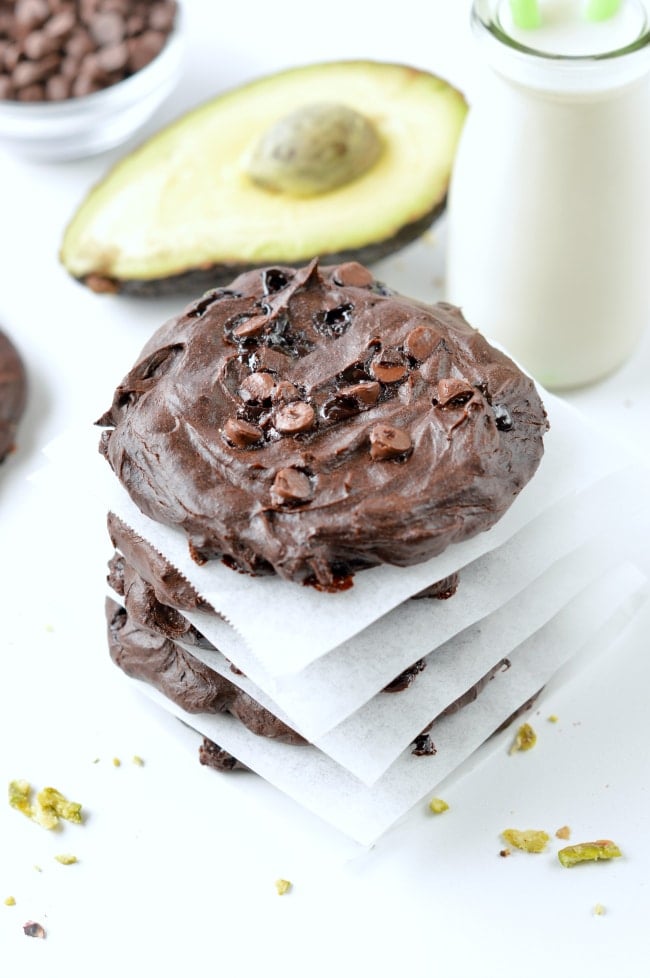 1. Ripe avocado – how can you tell if your avocado is ripe?
An easy way to check if your avocado is ripe is to remove the top stem or cap of the avocado. A ripe avocado has an easy to remove cap with a light green color underneath. Other way to check avocado ripeness are the skin color, ripe avocado has a darker skin or the texture. give a gentle pressure on the fruit, it should be firm and slightly tender. If too soft, your avocado is too ripe and will show dark spots.
2. Peanut Butter – those are avocado peanut butter cookies
Should we call those avocado peanut butter cookies? because yes, those are the most delicious fudgy keto chocolate cookies with peanut butter. While any other nut butter or seed butter works in this avocado chocolate cookies recipe, I highly recommend using peanut butter. Make sure you are using fresh runny nut butter. Old nut butter gets hard and makes recipe fail because it does not add enough healthy fat from the nuts.
3. Eggs – or learn how to make chia egg for vegan avocado chocolate chip cookies
To make a chia egg you need to combine 1 tablespoon of chia seed with 3 tablespoons of water. Set aside for 10 minutes until an egg-like texture form. Use as an egg in this  recipe to create vegan avocado cookies. You see, vegan can do the keto diet too. I originally use one egg in this recipe but as my husband is vegan, I like to test a keto vegan options for most of my recipes. The texture of the vegan avocado chocolate chip cookies is less fudgy but as delicious.
4. Liquid sugar-free sweetener, what is the best sweetener for diabetics ?
Monk fruit syrup are made of pure Monk fruit, vegetable gum and stevia. It contains no carbs; no calories and it is natural. Therefore, this option is the best liquid sugar-free sweetener for diabetics or anyone on a keto diet. Others great sweetener for diabetics are sugar-free crystal sweeteners made of combo of stevia and erythritol (or monk fruit) or stevia drops.
5. Unsweetened cocoa powder
6. Sugar-free chocolate chips
This is optional but if you love chocolate chips cookies adding a handful of sugar-free chocolate chips in your avocado cookies will makes those even better. You can make your own sugar-free chocolate chips easily following my recipe or simply buy some from the store. Make sure they are made with diabetic friendly sugar free sweetener like Monk fruit or erythritol – not Maltitol or xylitol.
Can you eat avocados on low carb diet?
Avocado is a very healthy keto vegetable. It contains a high amount of healthy fats and a few net carbs. Avocado is a great way to reach your fat macro while adding fiber to your keto diet. It is also a great dairy-free option to great keto vegan recipes like keto chocolate avocado mousse. So don't hesitate to make those avocado chocolate cookies, this is an easy low carb recipe good for you!
How many carbs are in an avocado?
One cup of pureed avocado contains 5g net carbs. Size of avocado varies from their origin. New Zealand avocado are smaller, about ½ cup, while Florida and California avocado are about 1 cup of pureed avocado (230 grams or 8 oz). The data below shows the nutriments for 1 cup of pureed avocado. You will get :
34g total fat (27g from mono and polyunsaturated fat)
20g of total carbohydrates
15g of fiber
5g net carbs – total carbs takeaway fibre
5g natural sugar
6g protein
368 calories
On a low carb keto diet you count net carbs, calculated as total carbs takeaway fiber which means that 1 cup of avocado brings you only 5g net carbs. The whole keto avocado cookies recipe contains ½ cup of pureed avocado or 2.5g net carb from avocado.
What do bake avocados taste like?
Baked avocado has less flavor than fresh avocado but a more intense creamy, buttery texture that makes avocado perfect to replace butter in baking. It makes delicious keto desserts like  chocolate avocado brownies, chocolate avocado muffins or those gluten free chocolate avocado cookies. That is the recipe you want if you can't choose between a brownie or a cookie. Those chocolate avocado cookies are the most delicious fudgy keto chocolate cookie EVER! It has a slight avocado taste that you can easily cover by adding few extra drops of liquid stevia – see recipe notes. My kids love them even with not adding any extra stevia drops. The texture is just amazing!
How do you keep the cookie dough from sticking to the scoop? 
For moist and sticky cookie dough I recommend you use a bowl of warm water. First of all, dip your scoop into the warm water bath. Then, sample out the cookie dough. This will prevent the dough from sticking to the scoop. Another options is to use two silicone spoons. This makes the process even easier. Dip the silicone spoons into hot water, use one of the spoon to push out the batter from one spoon to the cookie tray. Flatten the cookie surface with the back of the silicone spoon to create beautiful cookies.
More keto chocolate avocado recipes
Avocado is an amazing addition to any keto recipes, to add a fudgy texture and avoid dairy. You may also want to try this combo in the recipe below:
xoxo Carine