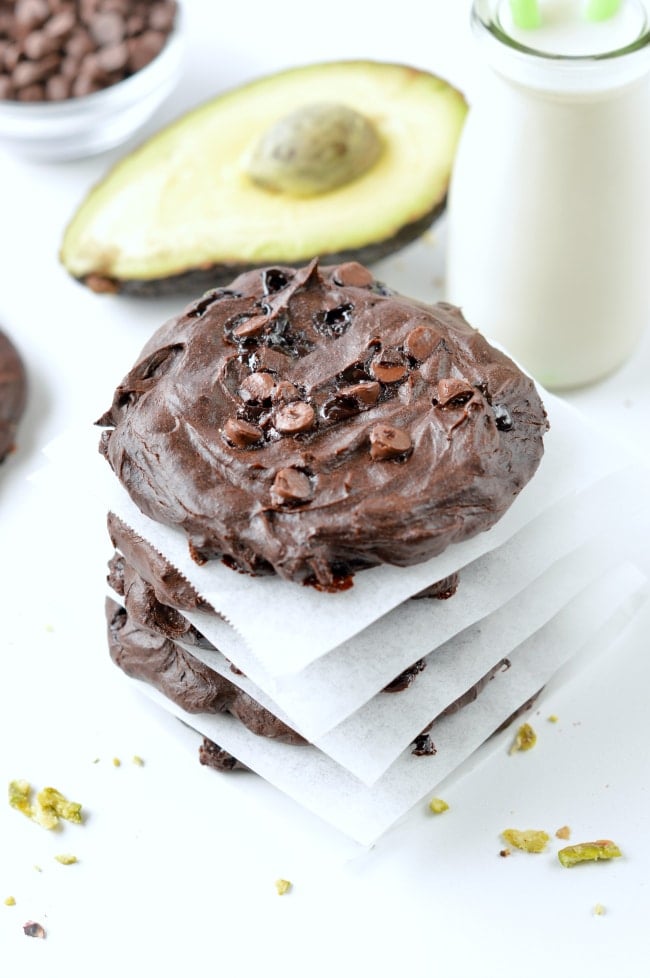 Chocolate avocado cookies are healthy fudgy chocolate cookies made of 5 simple ingredients 100 % gluten free + low carb + paleo + sugar free. Only 5 g net carb per cookie and an amazing 7 g of protein to keep you fuel for longer.
Chocolate avocado cookies – 5 ingredients recipe
Hello! Me again with my addiction for chocolate and avocado in dessert. I love my low carb fudgy avocado chocolate brownies and I thought I could try avocado in cookies for a change! Emma started school 3 weeks ago and she is also asking for a treat in a her lunchbox. Those chocolate avocado cookies are lovely healthy treat for her full of healthy fat and plant based protein. Well, if I don't eat the whole batch by tonight because seriously shooting those chocolate avocado cookies is a pure torture. I can't stop myself eating them. So let see what you need to make those beautiful paleo and gluten free chocolate cookies with avocado.
Avocado – haha what a surprise! always choose ripe avocado and make sure you process it with the liquid sweetener to get a creamy avocado paste and avoid any bites in your cookies
Nut butter – I love my peanut butter but I also make those with almond butter or cashew butter and it is as delicious ! Any nut butter works in this recipe, simply make sure you are using a fresh runny nut butter. Old nut butter gets hard and makes recipe fail because it does not add enough healthy fat from the nuts.
Egg – use a chia egg if you are vegan see recipe note for details
Liquid sweetener – I love my natural sugar free monk fruit syrup but any sweetener will work well like maple syrup, honey, agave
Unsweetened cocoa powder
Optional ingredients I highly recommend : vanilla extract, dark chocolate chips – I used no sugar added chocolate chips and some liquid stevia drops if you want a sweeter cookie !
Moist sticky cookie batter
So yes, that batter is moist and sticky more like brownie batter than regular cookie batter. That is why I recommend to use:
a bowl of warm water – use 2 spoons to sample out the batter and dip the spoons into that bowl of hot water to prevent the batter to stick too much to the spoons
a silicon spoon/spatula – use silicon spoon to flatten the cookie easily into cookie shape. Same slightly dip into hot water before and this will help you create the most beautiful cookies without any problem.
Fudgy as a brownie handy as a cookie !
That is the recipe you want if you can't choose between a brownie or a cookie. Those chocolate avocado cookies are the most delicious fudgy chocolate cookie EVER! It has a slight avocado taste that you can easily cover by adding few extra drops of liquid stevia – see recipe notes. My kids love them even with not adding any extra stevia drops. The texture is just amazing!
 Watch the recipe video and make them now !
Those chocolate avocado cookies perfectly suit a low carb keto diet – check how to start a low carb diet if you want to print your free low carb food list.
Print Recipe
Chocolate Avocado Cookies
Chocolate avocado cookies are healthy fudgy chocolate cookies made of 5 simple ingredients 100 % gluten free + low carb + paleo + sugar free.

Instructions
Preheat oven to 180 C (360F)

Cover a baking sheet with parchment paper. Slightly oil the paper with 1/2 teaspoon of liquid vegetable oil (coconut or peanut oil) . This will prevent the cookies to stick to the paper. Set aside.

In a food processor, with the S blade attachment, add ripe avocado and sugar free maple syrup (or liquid sweetener you like). Process for 30 seconds until it forms a creamy avocado batter with no lumps.

Stop, add egg, nut butter and cocoa powder. Process again for 30 seconds. Scrap down the bottom and side of the bowl and process for an extra 15 seconds to make sure all the batter is combine - no lumps.

Transfer the chocolate cookie batter onto a mixing bowl. It will bit moist and sticky that is what you want. Stir in chocolate chips and vanilla - if used.

Combine with a spatula until the chocolate chips are evenly incorporated. Test the batter and adjust with 2-3 drops of liquid stevia - only if you want a sweeter cookie. I did not add any to mine and my kids love them but if you have a sweet tooth I recommend few drops of stevia to make them sweeter. Add one drop at a time and see how it taste.

Prepare a small bowl with warm water, dip a spoon in the water and use that spoon to sample some chocolate cookie batter from your bowl. The water will prevent the batter to stick too much to your spoon.

Spoon the chocolate batter onto the baking sheet - I used another spoon to push the batter out of the first spoon. Use a silicon spoon or spatula to flatten the cookie into a cookie shape. The batter won't stick onto silicon which makes it easier to spread.

Repeat until you form 6 jumbo cookies. Those cookies won't spread so you don't need to leave more than half thumb space between each.

Sprinkle extra chocolate chips on top of each cookies if you like.

Bake for 12-15 minutes or until the centre is set.

Cool down 5 minutes on the baking sheet then transfer onto a cooling rack to cool down.

Store the cookies in the fridge for up to 5 days in an airtight container.
Notes
Low carb/sugar free:
make sure you are using natural maple Flavored Sugar-Free Syrup and sugar free chocolate chips.
Vegan option:
swap egg for a chia egg. Combine 1 tablespoon of chia seeds with 3 tablespoons of water. Sit for 15 minutes then use as an egg in the cookie batter.
Nut free options:
replace nut butter by
sunflower seed butter here.
Net carbs per cookies (carbs take away fibres):
5.5g
Nutrition
Serving:
1
cookie
|
Calories:
187
kcal
|
Carbohydrates:
10.4
g
|
Protein:
7.1
g
|
Fat:
16.2
g
|
Fiber:
4.9
g
|
Sugar:
1.2
g