Chocolate Avocado Cookies
Chocolate Avocado Cookies are a delicious and healthy dessert option that you can enjoy without any guilt.
These cookies are made with fresh avocados, which are rich in healthy fats and nutrients. The recipe is easy to make and requires only 5 simple ingredients that you probably already have in your pantry.
These cookies are perfect for anyone who loves chocolate but wants to avoid the unhealthy ingredients found in most desserts. So why not give this recipe a try and indulge in some guilt-free chocolate goodness today?
These easy avocado cookies are healthy 5-ingredient cookies with only 5.5 grams of net carbs per serving to satisfy your sweet tooth.
Bonus, they are also vegan-friendly if you use my egg-replacement options below.
What Are Avocado Cookies?
These cookies use avocado as their main ingredient and no flour.
Avocado brings a delicious texture and when it's cooked, it doesn't have a strong avocado taste!
Making avocado cookies allows you to enjoy a delicate and rich flourless chocolate cookie.
How To Make Chocolate Avocado Cookies
As I mentioned before, these avocado cookies are very to make!
You will need a food processor or blender to pulse the ripe avocado along with the liquid sweetener into a creamy smooth puree.
Mashing the avocado with a fork would leave avocado lumps in the cookie batter, and it wouldn't taste good.
Let's see the 5 basic ingredients you need to make these delicious chocolate cookies.
Ingredients
Avocado – pick ripe avocados to make sure they bring a neutral taste. Young avocados can be somewhat bitter and harder to mash. Overripe avocados can have a very unpleasant taste, even just a couple of days past their best. To know if an avocado is ripe, remove the stem and check that the flesh under it is a vibrant green.
Maple Syrup – You can use either classic maple syrup, coconut nectar, or a sugar-free liquid sweetener made with maple flavors.
Peanut Butter – Choose natural peanut butter. Many commercial brands add oil and sugar, but you can also make your own peanut butter with this recipe.
Egg – choose a free-range egg. If vegan, opt for a chia seed egg, it works in this recipe!
Unsweetened Cocoa Powder – Make sure to find pure, unsweetened cocoa powder.
Picking Avocados
Avocado is a good low-carb vegetable. It does contain 9 grams of carbs but 7 grams of fiber. This leaves only 2 grams of net carbs!
An easy way to check if your avocado is ripe is to remove the stem or cap of the avocado. A ripe avocado has an easy-to-remove cap with a light green color underneath.
Another way to check avocado ripeness is the skin color. Ripe avocados have darker skin and a rougher texture.
Give a gentle squeeze to the fruit, and it should be firm and slightly tender. If too soft, your avocado is too ripe and will show dark spots.
Choosing The Peanut Butter
To make these cookies fudgy and soft, use peanut butter – or any other nut or seed butter.
Make sure to choose natural peanut butter. While natural peanut butter made with only peanuts is perfectly keto-friendly, many processed peanut butter brands add sugar and glucose to the jar!
It is also important to use fresh runny nut butter. Old nut butter gets hard and makes recipes fail because it does not add enough fat from the nuts.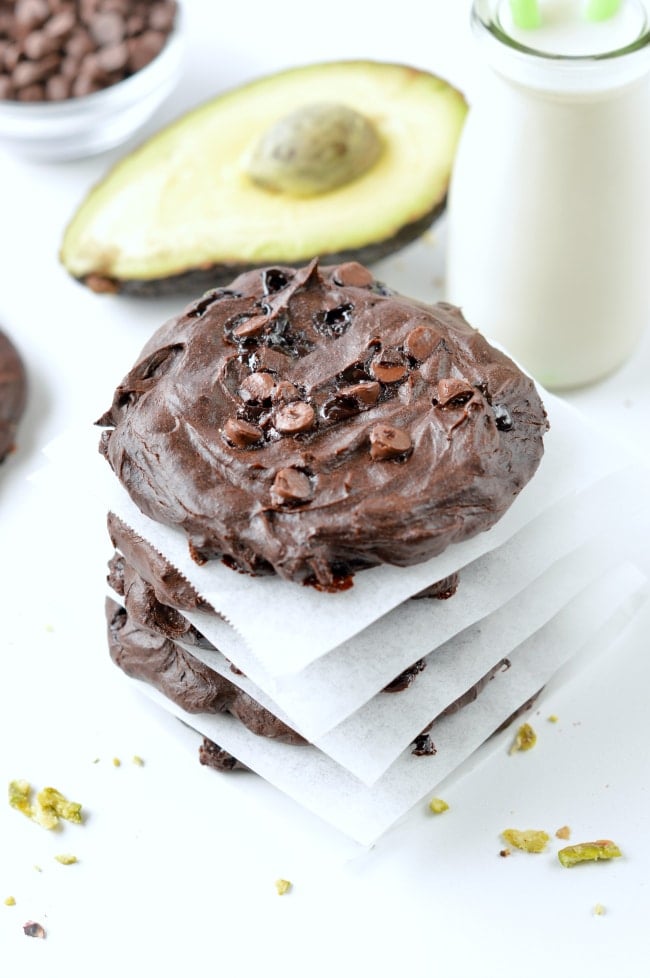 Making A Vegan Chia Egg
To make a chia egg as an alternative to a chicken egg, combine one tablespoon of chia seeds with 3 tablespoons of water.
Set aside for 10 minutes until an egg-like texture forms. Use it as an egg in this recipe to create vegan avocado cookies.
The texture of the vegan avocado chocolate chip cookies is less fudgy but still delicious.
What Is The Best Sweetener For Diabetics?
Sugar-Free Maple Syrup is generally made with Monk fruit extract, stevia, and a dissolved crystal sweetener like erythritol or allulose. It contains no carbs, no calories, and it is natural.
Therefore, this option is the best liquid sugar-free sweetener for people with diabetes.
Other great diabetes-friendly sweeteners are sugar-free crystal sweeteners made of a combo of stevia and erythritol (or monk fruit) or stevia drops.
Adding Chocolate Chips
This is optional, but if you love chocolate chip cookies, adding a handful of sugar-free chocolate chips to your avocado cookies will make them even better.
You can make your own sugar-free chocolate chips easily following my recipe or buy some from the store.
Make sure they are made with a diabetic-friendly sugar-free sweetener.
Making The Cookie Batter
To make the Avocado Cookie batter, combine the avocado pulp with the liquid sweetener in the bowl of a food processor.
Process it for 30 seconds to turn the avocado into a smooth puree with no lumps.
Next, add the egg, peanut butter (or almond butter), and unsweetened cocoa powder, and process the batter again on the high-speed setting.
There might be some unmixed cocoa powder lumps on the sides of the bowl, so use a spatula to scrape the edges.
Add the optional chocolate chips and vanilla at this point and combine it with a silicone spatula.
Adjust the sweetness of the batter with extra liquid sweetener if necessary.
Forming The Cookies
Form the cookies with a pair of tablespoons to scoop out the batter and press it on a cookie sheet lined with lightly oiled parchment paper.
To make the dough stick less to the spoons, dip them in a bowl of hot water.
Flatten the cookies with a spoon or silicone spatula and form 6 jumbo cookies.
Baking
Preheat the oven to 350°F (180°C).
When the oven is at temperature, place the cookie sheet on the middle rack.
Let them bake for 12 to 15 minutes. You know they're ready when they have darkened.
Let them cool down for 5 minutes on the cookie sheet out of the oven before transferring them to a cooling rack for another 20 minutes of cooling.
Allergy Swaps
If you have allergies or dietary restrictions, you can make the following swaps:
Maple Syrup: You can replace it with coconut nectar for a maple-free version, or with sugar-free maple syrup for a low-carb version.
Peanut Butter: You can replace the peanut butter with almond butter or sunflower seed butter for a nut-free alternative.
Egg-Free: The egg can be swapped for a chia egg made with one tablespoon of ground chia seeds in 3 tablespoons of lukewarm water.
Storage Instructions
These Chocolate Avocado Cookies can be stored in the fridge for up to 5 days in an airtight container.
Because they contain avocados, it's better not to keep them at room temperature.
Frequently Asked Questions
I've listed below the answers to the most common questions about this recipe.
How Many Carbs Are In An Avocado?
One cup of pureed avocado contains only 5 grams of net carbs. The size of avocados varies from their origin.
New Zealand avocados are smaller, about ½ cup, while Florida and California avocados are about 1 cup of pureed avocado (230 grams or 8 oz).

The data below shows the nutriments for 1 cup of pureed avocado.

You will get:
– 34g total fat (27g from mono and polyunsaturated fat)
– 20g of total carbohydrates
– 15g of fiber
– 5g net carbs – total carbs takeaway fiber
– 5g natural sugar
– 6g protein
– 368 calories
On a low-carb diet, you count net carbs, calculated as total carbs takeaway fiber, and sugar alcohols, which means that 1 cup of avocado brings you only 5 grams of net carbs.

The whole avocado cookies recipe contains ½ cup of pureed avocado or 2.5 grams of net carbs from the avocado.
What Do Baked Avocados Taste Like?
Baked avocado has less flavor than fresh avocado but a more intense creamy, buttery texture that makes avocado perfect to replace butter in baking.

It makes delicious healthy desserts like chocolate avocado brownies, chocolate avocado muffins, or these gluten-free chocolate avocado cookies.

That is the recipe you want if you can't choose between a brownie or a cookie. These chocolate avocado cookies are the most delicious fudgy chocolate cookie ever!

It has a slight avocado taste that you can easily cover by adding a few extra drops of liquid stevia – see recipe notes.
How do you keep the cookie dough from sticking to the scoop?
For a moist and sticky cookie dough, I recommend using a bowl of warm water.

First of all, dip your scoop into the warm water bath. Then, sample out the cookie dough. This will prevent the dough from sticking to the scoop.

Another option is to use two silicone spoons. This makes the process even easier.

Dip the silicone spoons into hot water, use one of the spoons to push out the batter from one spoon to the cookie tray.

Flatten the cookie surface with the back of the silicone spoon to create beautiful cookies.
More Chocolate Avocado Recipes
Avocado is an amazing addition to any healthy recipe, to add a fudgy texture and avoid dairy. You may also want to try this combo in the recipe below:
Chocolate Avocado Cookies
Chocolate avocado cookies are healthy fudgy chocolate cookies made of 5 simple ingredients 100% gluten-free, low carb, paleo, and sugar-free.
Ingredients
1

Avocado

about 1/2 cup mashed avocado

¼

cup

Sugar-Free Maple Syrup

or maple syrup (if not low carb)

½

cup

Peanut Butter

or almond butter (if paleo)

1

Egg

or chia egg if vegan

½

cup

Unsweetened Cocoa Powder
This recipe may contain Amazon or other affiliate links. As an Amazon Associate I earn from qualifying purchases.
Instructions
Preheat oven to 350°F (180°C).

Cover a baking sheet with parchment paper. Lightly oil the paper with 1/2 teaspoon of liquid vegetable oil (coconut or peanut oil). This will prevent the cookies from sticking to the paper. Set aside.

In a food processor with the S blade attachment, add ripe avocado and sugar-free maple syrup (or liquid sweetener you like). Process for 30 seconds until it forms a creamy avocado batter with no lumps.

Stop, add egg, nut butter, and cocoa powder. Process again for 30 seconds. Scrape the bottom and side of the bowl and process for an extra 15 seconds to make sure all the batter is combined – no lumps.

Transfer the chocolate cookie batter onto a mixing bowl. It will bit moist and sticky. That is what you want. Stir in chocolate chips and vanilla – if used.

Combine with a spatula until the chocolate chips are evenly incorporated. Taste the batter and adjust with 2-3 drops of liquid stevia – only if you want a sweeter cookie. I did not add any to mine, and my kids love them, but if you have a sweet tooth, I recommend adding a few drops of stevia to make them sweeter. Add one drop at a time and see how it tastes.

Prepare a small bowl with warm water, dip a spoon in the water, and use that spoon to sample some chocolate cookie batter from your bowl. The water will prevent the batter from sticking to your spoon.

Spoon the chocolate batter onto the baking sheet – I used another spoon to push the batter out of the first spoon. Use a silicone spoon or spatula to flatten the cookie into a cookie shape. The batter won't stick onto silicone which makes it easier to spread.

Repeat until you form 6 jumbo cookies. Those cookies won't spread, so you don't need to leave more than half a thumb of space between each.

Sprinkle extra chocolate chips on top of each cookie if you like.

Bake for 12-15 minutes or until the center is set.

Cool it down for 5 minutes on the baking sheet, then transfer onto a cooling rack to cool down.

Store the cookies in the fridge for up to 5 days in an airtight container.
Notes
Low-carb/sugar-free: make sure you are using natural maple Flavored Sugar-Free Syrup and sugar-free chocolate chips.
Vegan option: swap the egg for a chia egg. Combine 1 tablespoon of chia seeds with 3 tablespoons of water. Sit for 15 minutes, then use it as an egg in the cookie batter.
Nut-free option: replace nut butter with sunflower seed butter here.
Want My Kitchen Equipment?
Serving:
1
cookie
Calories:
187
kcal
(9%)
Carbohydrates:
10.4
g
(3%)
Fiber:
4.9
g
(20%)
Net Carbs:
5.5
g
Protein:
7.1
g
(14%)
Fat:
16.2
g
(25%)
Sugar:
1.2
g
(1%)
Posted In: