Many people ask me every day how to make a keto bread recipe with no eggs and that tastes like traditional wheat bread! This egg-free keto bread recipe is the answer, and it makes quite frankly the best keto bread.
It takes only 20 minutes to make, and it is ideal for your keto sandwiches with only 3.6 grams of net carbs per slice! As usual, the recipe is at the bottom of the post, but you'll find before it several useful tips to help you make this recipe!
Calling all the bread lovers with this new low-carb coconut flour bread recipe! Wondering how to make low-carb bread without eggs? I hear you. There is nothing worse than an eggy taste in bread.
So this coconut flour bread recipe comes to the rescue! A dense, soft keto and eggless bread recipe!
What is keto bread?
Keto bread is a low-carb diabetes-friendly bread made of low-carb flours and usually requires many eggs. Therefore, keto bread often has an eggy taste that most of us don't appreciate.
The reason why keto bread uses so many eggs is simple. Low-carb flours are high in fibers, wheat-free, and starch-free. Starch and wheat usually bind ingredients in regular bread, forming a bulk.
To hold ingredients together, people often use eggs in keto bread recipes to create a bulky, soft, fluffy bread loaf. However, an egg is not the only solution to make keto bread loaves.
I am so excited to show you how you can actually make keto bread eggless!
ⓧ
Are you new to Keto?
Receive my Keto Quick Start email series to learn all about the Keto diet and kick start your keto journey!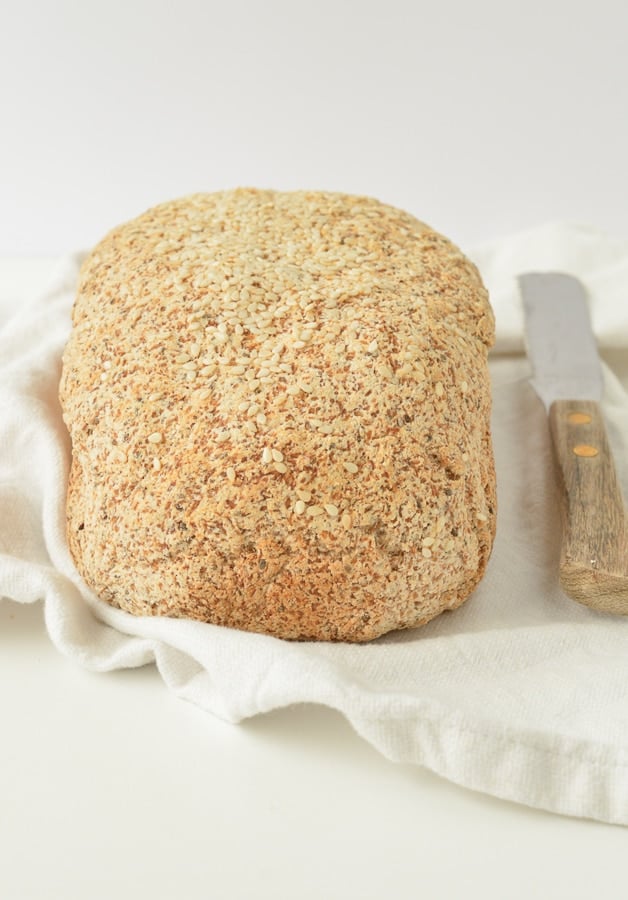 How to make a keto bread loaf without eggs?
As mentioned before, eggs are used in keto bread recipes to hold low-carb flour together. But, I am here going to show you that this is not the only way to make keto bread.
The trick is to use a combo of natural high-fiber ingredients that will act like eggs in your recipe. This coconut-flour-based recipe uses a combo of whole psyllium husk and chia seed, that when in contact with lukewarm water, holds low-carb flour as eggs would do.
It results in the best keto bread recipe, soft, dense with no eggy taste.
If you want to see this recipe differently, watch my web story: making the best keto bread.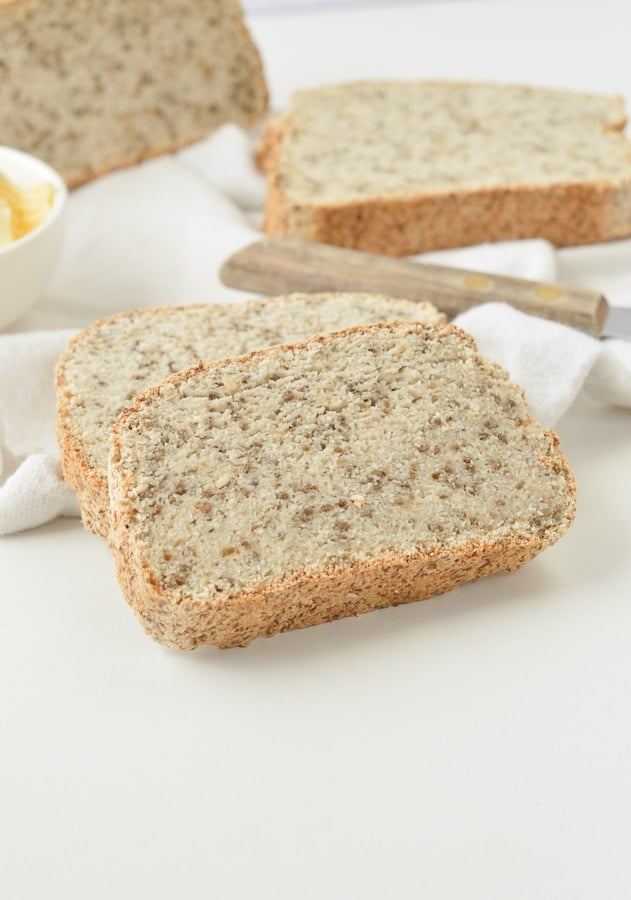 Is egg-free keto baking easy?
It's not difficult to make keto bread without eggs. However, if you are new to the keto diet, there are a few things you must keep in mind.
Stick to the ingredients list – if the recipe calls for fine almond flour, don't replace it with a coarser almond meal. Same for the whole psyllium husk, don't use Metamucil fiber supplements in my recipes. This is not the same product as whole psyllium husk fiber. Metamucil is a husk powder that is not suitable for baking keto bread. It will turn food dry, purple, or blue.
Weigh ingredients – keto baking uses high-fiber flours. Too much or too little of it, even in tiny amounts, will impact the bread texture a lot. Therefore, cups are not precise enough to achieve the best result every time. In fact, when you measure ingredients in cups, it's easy to add a little bit too much of one flour (it would dry out your bread) or miss some flour resulting in moist undercooked bread.
Practice. Keto baking is different from what you used for baking before. You need practice and time to learn how to bake with these new flours. Repeat the recipe, be precise. You will learn each time.
Find your favorite flour brands. Yes, all flour brands are different. For example, some almond flours are finer than others. Experiment with different brands until you find the one that gives the best outcomes for your keto bread. Also, remember that the most expensive brands are not necessarily the best ones. I personally use my supermarket brands to make this recipe at a very low price.

Why is my keto bread doughy or not cooking?
That is probably the question I get the most about egg-free keto baking. Experience shows me that doughy bread is always due to one of 3 things:
You didn't weigh your ingredients – the wrong flour/water ratio makes the dough too moist. Weigh your ingredients, don't use cups!
Your husk or almond flour is too coarse and doesn't absorb moisture. Change brand, experiment until you find your favorite one.
Your oven temperature is wrong/too cold. Old ovens or conventional modes are less powerful than the fan mode. You can try to increase your oven temperature by 20C (meaning bake at 200C/400F) if your oven doesn't cook well enough.
For more tips and tricks on making Keto Bread, check out my Keto Baking Guide ebook as well as my Best Ever Keto Bread Recipes ebook! In them, I reveal to you all my keto baking secrets, including how to bake perfect almond flour bread without eggs!
How to eat keto bread?
This keto bread recipe is delicious to make:
Breakfast toast – add mashed avocado on top or homemade chia seed jam or cream cheese and keto fruits like raspberries if you don't have time to make jam.
Sandwiches – use two slices of this keto bread stuffed with butter, cheese, cured meat, or crunchy raw keto vegetables. You can also toast the sandwich in a sandwich press, butter the outside slices for a crispy sandwich.
French toast – dip the bread slices in beaten eggs and almond milk, then fry in butter. Serve with a pinch of ground cinnamon and sugar-free crystal sweetener.

Which bread texture should I expect?
The slices are soft, with a compact, dense crumb. This is a gluten-free, egg-free keto bread, so it will not rise, will not be fluffy or airy because there are no eggs in the eggless keto bread.
It can be slightly moist if you did not weigh the ingredients properly or if you used coarse flour. But this can be fixed by toasting your bread slices! The taste is very similar to a whole-wheat artisan bread with no eggy taste.
More vegan keto bread recipes
There are many ways to make egg-free keto bread depending on which low-carb flour you want to use. If you love egg-free keto bread, check my other keto bread recipes:
More low carb bread recipes
Some of my best keto recipes are bread recipes! Check out the Sweet As Honey Keto Bread below!
Have you made this keto bread recipe yet? Share a picture with me on Instagram!
XOXO Carine
Recipe Card
Best Keto Bread Recipe Without Eggs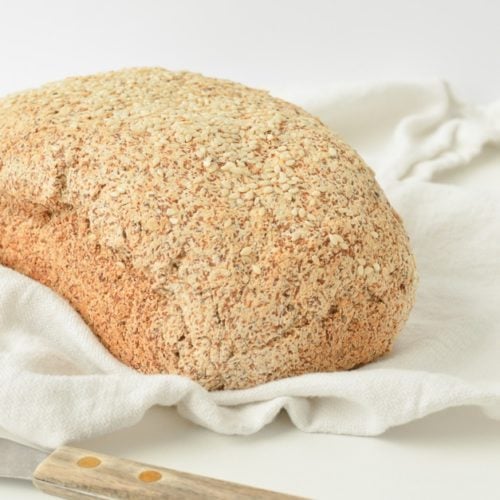 The best keto bread recipe with coconut flour but without eggs!
Ingredients
Liquid ingredients
2 ¼

cups

Lukewarm Water

(18 fl.oz or 530ml)

2

teaspoons

Apple Cider Vinegar
Instructions
Preheat oven 180°C (350°F), fan mode works the best and faster. Otherwise, use conventional baking mode. Line an 8-inch x 5-inch loaf pan with parchment paper. Set aside.

Measure all your ingredients carefully before you start. I highly recommend weighing your ingredients in grams or oz for precision rather than cups. If you use cups, make sure they are packed, leveled up using flour with no lumps.

In a large mixing bowl, whisk together all the dry ingredients.

Add apple cider vinegar and lukewarm water (think hot bath temperature, cold water won't activate the fiber in the flour, and the ingredients won't bind)0

Combine with a spoon at first. It will be very liquid and will dry out as you go. After 30 seconds, the dough is moist, not liquid, and slightly crumbles apart. Knead the dough, press/squeeze with your hands for at least 1 minute, or until you can form a ball.

Form a dough ball and set it aside on the benchtop for 10 minutes to let the fiber absorb all the water and hold the ingredients together.

Now the dough should be soft, elastic, and slightly moist but should hold perfectly together.

Shape a cylinder, bread loaf shape. Don't press the dough too much. It's a gluten-free loaf, it won't rise, and the shape you give will be the shape you get. If you press too much, it will be very dense, doughy.

Another option is to shape 14 small buns to make bread rolls. If so, bake on a cookie sheet covered with parchment paper. It will bake faster - only 35 minutes on the bottom rack.

Place the loaf onto the prepared loaf pan covered with parchment paper.

If cracks appear on top, wet your fingers with water and massage the top of the bread to fix cracks. Sprinkle 1 tablespoon of sesame seeds or poppy seeds to decorate (optional).

Bake on the bottom rack of the oven (first rack from the bottom) for 45 minutes then switch to the middle rack for 15 extra minutes. You can add a piece of foil paper on top of the loaf if the color gets too brown.

Insert a skewer in the middle of the bread to check the texture. It should come out dry with no or very few crumbs on it.

Remove from the oven and cool on a rack for 4 hours or overnight before slicing.
How to serve
The texture is dense, soft, and can be slightly packed or moist at the bottom if you press the dough too much or your husk is too thick (change brand next time for a better result!). If so, toast the bread slices to add some crispiness and dry out. Otherwise, serve directly as a sandwich bread with butter, avocado, spinach, lettuce, chicken, or cheese.
Storage
Store up to 3 days in the pantry or fridge. Slice when needed to keep the bread moist.

Slice into 14 slices and freeze the slices in a ziplock bag.

Defrost the day before and toast before using it.
Net carbs per slice: 3.6g for 14 slices in the loaf (9 inches x 5 inches).
Psyllium husk: don't use Metamucil fiber supplements in this recipe. It's not the same product as whole psyllium husk fiber. Metamucil is a husk powder that is not suitable for baking keto bread. It will turn food dry, purple, or blue.
Troubleshooting?
Bread is undercooked/too doughy: read the blog post above to see why this happens.
My Recipe Notes
Tools
Starting Keto
What Is Keto Diet?
Macro Calculator
Sweetener Converter
Keto Meal Plans
Keto Recipe Ebooks
Intermittent Fasting
Keto Fruits
Keto Vegetables
Keto FLours
Fighting Keto Flu
Keto Sweeteners
Nutrition Facts
Best Keto Bread Recipe Without Eggs
Amount Per Serving (1 slice)
Calories 68
Calories from Fat 19
% Daily Value*
Fat 2.1g3%
Carbohydrates 7.2g2%
Protein 2.6g5%
Net Carbs 3.6g
* Percent Daily Values are based on a 2000 calorie diet.