These sugar-free brownies are simple and healthy diabetics-friendly brownies! A gluten-free brownie recipe with coconut flour and almond flour.
This paleo and diabetic-friendly dessert has a fudgy and very chocolate texture!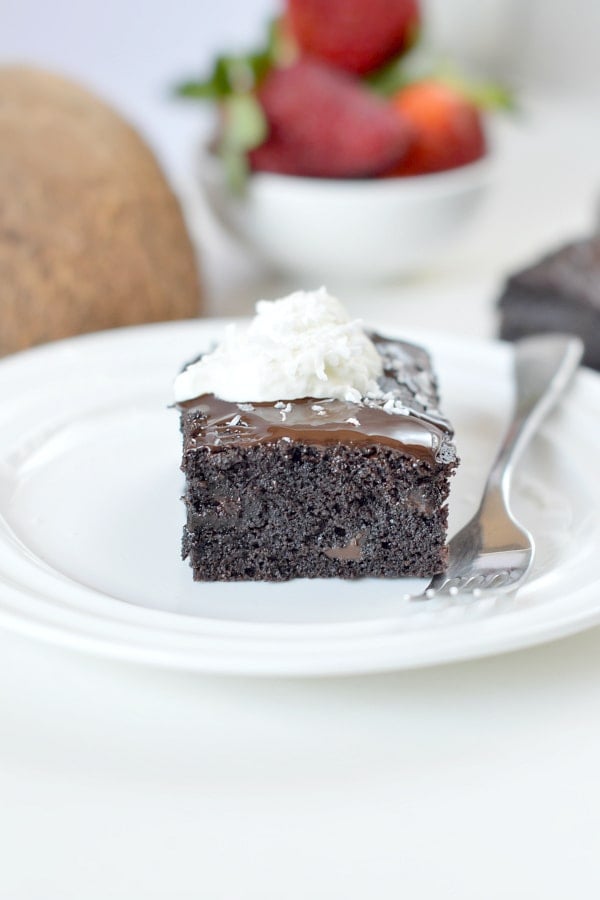 What Are Sugar-Free Brownies?
Sugar-free brownies are the healthier version of classic brownies.
While the traditional brownie recipe is made with refined sugar, high-sugar flour, and sugar-loaded chocolate, this sugar-free brownie recipe is a low-sugar alternative.
It's a great sugar-free dessert made with ingredients void of any added sugar, and they are therefore very low in carbs.
Why You'll Love This Recipe
These sugar-free brownies are:
Sugar-Free
Healthy
Diabetics-Friendly
Keto-Friendly
Dairy-Free
Paleo
How To Make Sugar-Free Brownies
It's a very easy recipe, the batter is ready in 10 minutes, and all you need to make these sugar-free brownies are a few simple ingredients.
This recipe is sweetened with a 100% natural sweetener that is safe for diabetics and keto dieters.
The flours used in this brownie are also 100% gluten-free and low-carb, meaning that this recipe is a diabetes-friendly brownie recipe.
I used coconut oil for a healthier fat option but again any vegetable oil should work well.
I really love this new recipe I developed today because it's simple, doesn't require fancy ingredients and it's quick to bake.
Ingredients
Almond Flour – I prefer to use ultra-fine blanched almond flour. A coarser almond meal would work in this recipe, but the texture of the brownies might get a bit gritty and grainy.
Coconut Flour – coconut flour is another keto-friendly flour. It's very high in fiber, and full of nutrients.
Unsweetened Cocoa Powder
Sugar-free Crystal Sweetener – I used erythritol but allulose or tagatose would also work. Check out my review of keto-friendly sweeteners to learn how to pick the best.
Vanilla Essence – for the taste
Baking Soda – this contributes to making the brownie batter a bit airier.
Sugar-Free Chocolate Chips or chopped nuts – as you prefer or a combo of both. If you don't have sugar-free chocolate chips, you can make my chocolate chips recipe.
Brownies Texture
This recipe reminds me of the texture of a brownie mix. They have a slightly crispy crust and a very fudgy texture.
Many of us grew up eating brownies made from a box, and there's definitely something appealing about their moist, cake texture, and cocoa flavor.
That's what I attempt to reproduce in this sugar-free brownie recipe.
Serving Sugar-Free Brownies
If you like your brownie fudgy, I recommend you store this in the fridge for at least 3 hours.
The texture will get extremely rich, and fudgy when cold. It's absolutely delicious.
I like to serve my slice of brownie with a dollop of coconut cream and unsweetened desiccated coconut.
It definitely brings this simple sugar-free dessert to the next level.
Storage Instructions
Since these sugar-free brownies are dairy-free, they store better than other brownies.
You can keep them in the fridge for up to 5 days or in the pantry for up to 3 days.
I recommend placing the brownie in a cake box to keep them from drying out.
You can also freeze them in individual airtight containers for up to 3 months.
Rewarm your brownies in the oven or in an air fryer for a few minutes.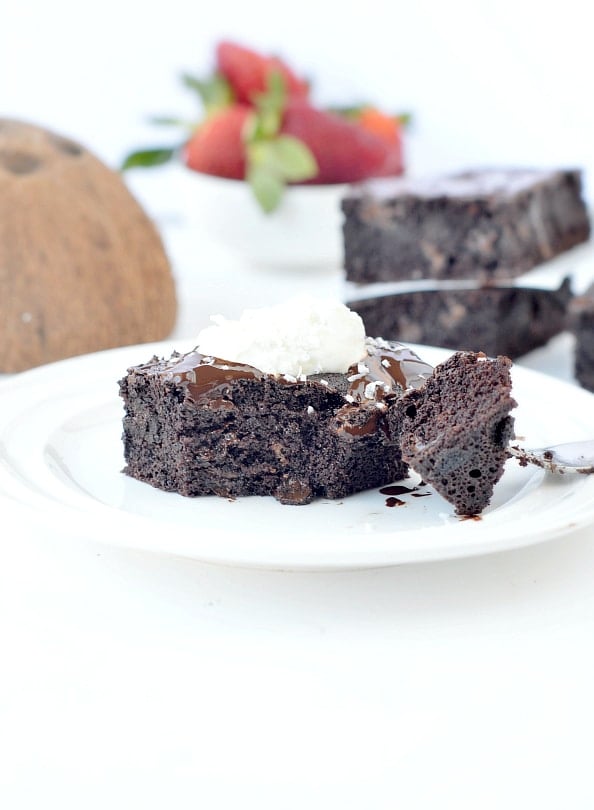 Frequently Asked Questions
Can I Substitute Almond Flour In Sugar-Free Brownies?
Yes, you can swap the almond flour for oat flour, but the recipe will be higher in carbs.
Can I Use Regular Sugar In Healthy Brownies?
Yes, you can replace the crystal sweetener with classic sugar in these low-carb brownies. But opt for coconut sugar as a slightly healthier alternative.
The carbs would be much higher, though.
Can I Replace The Eggs With Chia Eggs?
No, chia eggs wouldn't work in this recipe.
Can I Use Baking Powder Instead Of Baking Soda?
Yes, it's possible, but since baking powder is made of only about 30% baking soda, you need to at least double the amount.
Can I Add Salt To The Recipe?
It's not necessary, but if you like a slightly salty taste, you can add 1/4 of a teaspoon of salt.
What Can Replace Sugar In Brownies?
To make a low-sugar brownie recipe, you can replace the sugar with a crystal sweetener like erythritol, allulose, or tagatose.
Don't use artificial sweeteners like sucralose, acesulphame K, or Aspartame. Sugar in brownies doesn't only add sweetness but also texture, and artificial sweeteners can't bring that.
Are Sugar-Free Brownies OK For Diabetics?
Yes, these sugar-free brownies are very low-GI desserts and are suitable for diabetics.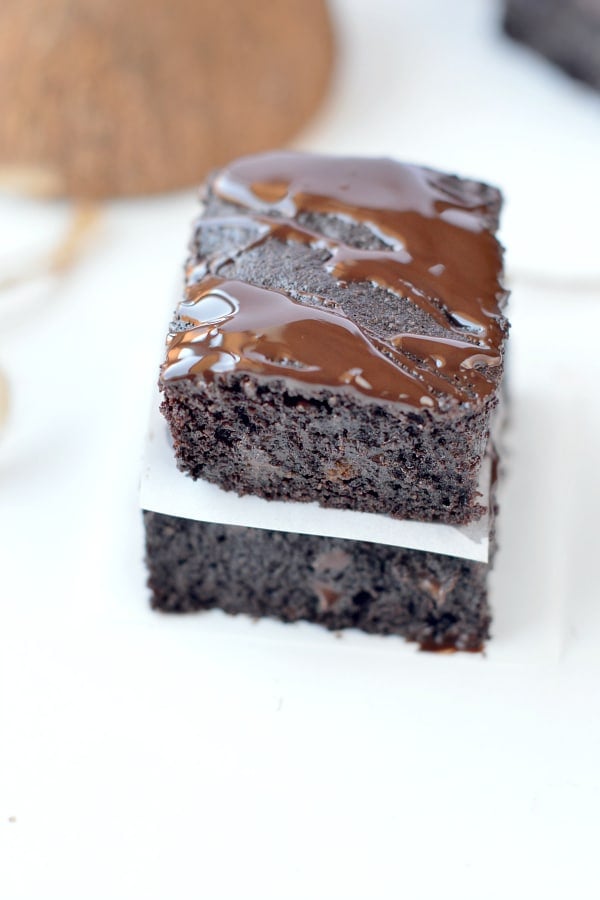 More Healthy Brownies Recipes
If you've enjoyed this sugar-free treat, you'll love my keto brownies recipes below!
Sugar-Free Brownies
These sugar-free brownies are simple and healthy keto-friendly brownies! A gluten-free brownie recipe with coconut flour and almond flour.
Nutrition Snapshot
Want My Kitchen Equipment?
Instructions
Preheat the oven to 350°F (180°C).

Cover a 9-inch brownie square pan with parchment paper. Set aside.

In a mixing bowl, whisk together the eggs, melted coconut oil (make sure it's not hot, or it will cook the eggs!), and vanilla essence. Set aside.

In another bowl, combine coconut flour, almond meal, unsweetened cocoa powder, sugar-free sweetener, and baking soda.

Transfer the wet ingredients into the bowl with the dry ingredients. Stir to evenly combine.

Stir in the sugar-free chocolate chips or chopped nuts.

Transfer the batter to the prepared brownie pan and spread the brownie batter evenly with the back of a spoon.

Bake for 20-25 minutes max. Don't over-bake to keep the brownie moist and fudgy. You know it's cooked when the top of the brownie is set.

Cool down in the pan for 10 minutes then lift out the parchment paper to release the brownie from the pan and transfer onto a cooling rack.

Cool for 20 minutes, then lace your brownie in the fridge for at least 1 hour. This last step is optional, but trust me, you won't regret it, especially if you love extra fudgy brownies. I know it is tempting to eat this brownie hot, but it will get fudgier as it cools down, it tastes more like a chocolate cake when hot, so please wait! Patience is the key.
Chocolate drizzle
In a small mixing bowl, add sugar-free chocolate chips and coconut oil.

Melt in the microwave in 30-second bursts, stir and repeat until fully melted.

Drizzle on top of your brownie.

Store the brownie in the fridge for up to 5 days or in the pantry for up to 3 days. I recommend you place the brownie in a cake box to keep it from drying out.

Serve with coconut cream, unsweetened desiccated coconut, or plain.
My Recipe Notes
Nutrition
Serving:
1
square
Calories:
86.5
kcal
(4%)
Carbohydrates:
3.3
g
(1%)
Fiber:
1.7
g
(7%)
Net Carbs:
1.6
g
Protein:
2.8
g
(6%)
Fat:
7.5
g
(12%)
Saturated Fat:
4.9
g
(31%)
Polyunsaturated Fat:
0.4
g
Monounsaturated Fat:
0.9
g
Trans Fat:
0.1
g
Cholesterol:
51.1
mg
(17%)
Sodium:
59.4
mg
(3%)
Potassium:
47.4
mg
(1%)
Sugar:
0.4
g
Vitamin A:
74.3
IU
(1%)
Vitamin B12:
0.1
µg
(2%)
Vitamin D:
0.3
µg
(2%)
Calcium:
13.8
mg
(1%)
Iron:
0.6
mg
(3%)
Magnesium:
10.7
mg
(3%)
Zinc:
0.3
mg
(2%)
Posted In: