Coconut Flour Brownies (1g Net Carbs)
These Coconut Flour Brownies are easy, gluten-free, and low-sugar brownies perfect as fudgy healthy brownies any time of the day.
Plus, these brownies are also keto-friendly and suitable for anyone following a dairy-free keto diet.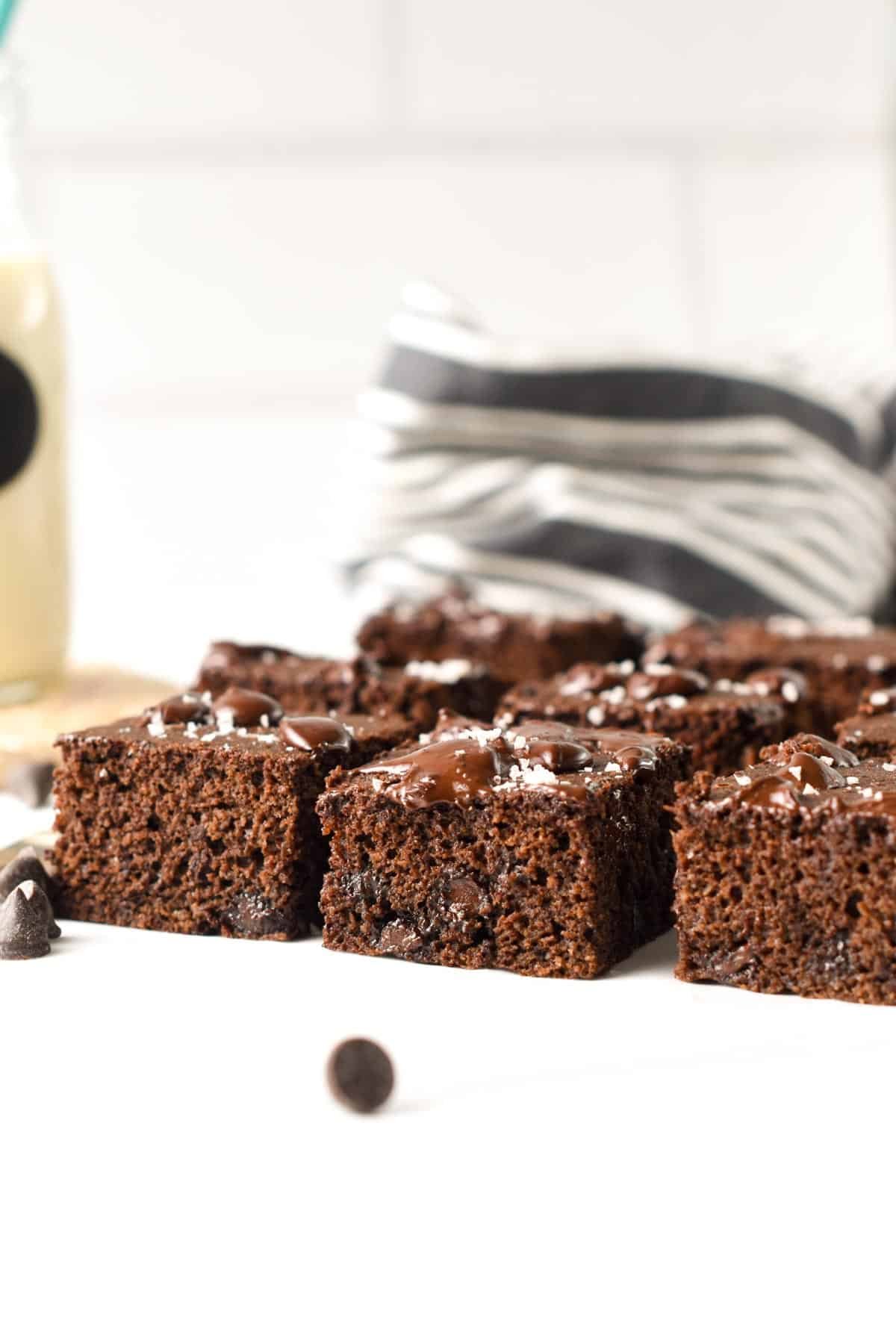 You know how much I love baking with coconut flour, I shared so many recipes with coconut flour in the past starting with my coconut flour pancakes or coconut flour chocolate cake.
So time for its little sister, this coconut flour brownies will blow your tastebuds with chocolate flavor and fudgy texture.
What Are Coconut Flour Brownies?
Coconut flour brownies are a diabetes-friendly brownie recipe made with low-carb coconut flour and sugar-free sweetener.
It has a light coconut flavor and a fudgy texture, and they also are dairy-free gluten-free brownies suitable for people intolerant to gluten.
Why You'll Love This Recipe
Plus I developed this fudgy keto brownies recipe to be suitable for everyone as it's naturally:
Gluten-Free
Dairy-Free
Grain-Free
Paleo
Low-Carb
Diabetes-Friendly
How To Make Coconut Flour Brownies
Let me share with you how you can whip a delicious brownie with coconut flour in less than 30 minutes.
Ingredients
So let's see how to make really fudgy coconut flour brownies. All you need are:
Coconut Flour – Use a fresh bag and use the fill and sweep method to avoid overpacking the cups.
Large Eggs – You need large eggs, or the brownies will be dry. I opt for free-range eggs.
Cocoa Powder – Use unsweetened cocoa powder or cacao powder for a stronger chocolate flavor.
Erythritol – Classic erythritol or any granulated sweetener you love like coconut sugar or soft brown sugar if not low-carb.
Baking Powder
Almond Milk – I like to use unsweetened almond milk, but you can also use any other non-dairy milk like coconut milk, cashew milk, oat milk, or soy milk.
Salt
Melted Coconut Oil or melted butter if you don't like the coconut flavor of coconut oil.
Vanilla Extract – For a boost of taste and flavor.
Sugar-Free Chocolate Chips – You can either buy them in-store or make your own sugar-free chocolate chips.
Preparation
Before you start making the batter for these coconut flour keto brownies, preheat the oven to 325°F (160°C).
Line an 8-inch x 8-inch square pan with lightly oiled parchment paper. Set it aside.
Dry Ingredients
First, whisk all the dry ingredients in a large mixing bowl: coconut flour, unsweetened cocoa powder, erythritol, baking powder, and salt. Set it aside.
Liquid Ingredients
In another bowl, whisk the eggs with almond milk, vanilla extract, and melted coconut oil.
Make sure the oil is at room temperature not piping hot, or it will cook the eggs or make oil lumps as the eggs cold.
Making The Brownie Batter
Stir the wet ingredients into the dry until it comes together into a thick but not dry batter.
Incorporate the sugar-free chocolate chips or halved pecans with a silicone spatula.
Baking The Brownies
Pour the batter into the prepared 8-inch square brownie pan.
Sprinkle some extra chocolate chips on top if desired.
Bake the brownies on the center rack of the oven for about 20 to 25 minutes until a pick inserted in the center comes out with a few crumbs on it.
This means the brownies are cooked but still moist. You don't want the toothpick inserted in the center to come out dry as the brownies would not be fudgy.
Let the brownies cool completely in the pan before releasing them on a wire rack to cool to room temperature.
Serving
Like any low-carb brownies, this gluten-free brownies recipe gets even better if stored in the fridge.
The brownies' texture gets fudgy when popped in the fridge for a few hours.
You can serve the brownies plain or top them up with:
Ice Cream
Whipped Cream
Drizzle of Peanut Butter
Berries
Dust of powdered sugar-free erythritol
Baking Tips
Baking With Coconut Flour
Coconut flour can be overwhelming to bake with at first.
This is ]because coconut flour is one of these low-carb flour that is also high in fiber and fat.
As a result, it's an amazing low-carb keto-friendly flour, but it also sucks up all liquids in recipes.
It means you must be cautious about measuring ingredients with precision when baking with coconut flour.
And most importantly, use eggs and high-fat ingredients like melted butter, heavy cream, or melted coconut oil to keep your baked goods amazingly moist.
Fixing The Batter
If it's super dry, you might have added too much coconut flour or your eggs are too small, or your liquid measurements are wrong.
To fix the mixture, add a splash of almond milk to balance the texture. It should be thick, not dry, see the pictures below.
Storage Instructions
Leftover brownies can be stored in the fridge in a sealed container for up to 5 days.
You can freeze coconut flour brownies as well for up to 3 months. Thaw the brownies at room temperature before serving.
Step-By-Step Video
Allergy Swaps
This coconut flour dessert is a very allergy-friendly treat as it doesn't contain nuts, gluten, or dairy.
However, you may want to substitute some of the ingredients below:
Melted Coconut Oil – You can use melted ghee, melted butter, or light olive oil.
Nut-Free – Replace almond milk with coconut milk.
Sodium-Free – Skip the salt.
Frequently Asked Questions
Below are some answers to your most common questions about baking with coconut flour.
Can I Make This Recipe Egg-Free?
No, coconut flour needs eggs as a binder because it's so high in fiber and liquid absorbent it won't work without eggs.
Don't swap for flax eggs or egg replacer it won't work at all.
Can I Use Melted Butter?
Yes, if you prefer butter, replace the melted coconut oil with melted butter and use the same amount.
Can I Replace Coconut Flour With Almond Flour?
No, you can't replace coconut flour with the same amount of almond flour.
Try my almond flour brownie recipe if you want to bake the brownie with almond flour only.
Can I Use Regular Sugar?
Yes, if you are not on a low-carb diet, you can replace erythritol but any granulated sugar like soft brown sugar, coconut sugar, or unrefined cane sugar.
More Brownie Recipes
If you like brownies for dessert, I have many other brownie recipes:
Did you try these coconut flour brownies? Share a comment or review below to let me know how much you loved it.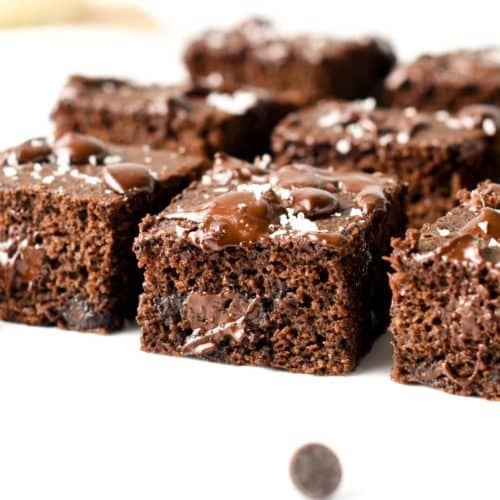 Coconut Flour Brownies
This easy Keto Coconut Flour Brownies Recipe is ready in under 30 minutes with only 1 grams of net carbs per serving
Yield:
brownies (30g/10z)
Serving Size:
1
square with glazing (30g/10z)
Ingredients
⅓

cup

Coconut Flour

½

cup

Unsweetened Cocoa Powder

½

cup

Brown Crystal Sweetener

1

teaspoon

Baking Powder

½

teaspoon

Sea Salt

4

large

Eggs

at room temperature

½

cup

Melted Coconut Oil

2

tablespoons

Almond Milk

1

teaspoon

Vanilla Extract
Optional
This recipe may contain Amazon or other affiliate links. As an Amazon Associate I earn from qualifying purchases.
Instructions
Preheat the oven to 350°F (180°C). Line an 8-inch x 8-inch baking pan with parchment paper. Slightly oil with coconut oil. Set aside.

In a mixing bowl, whisk coconut flour, cocoa powder, sea salt, baking powder, and erythritol. Set aside.

In another bowl, beat eggs, melted coconut oil, almond milk, and vanilla extract.

Pour the liquid ingredients into the dry ingredients and stir to combine.

Stir in 1/3 cup sugar-free dark chocolate chips if you like.

Transfer the batter to the prepared pan, and spread it evenly.

Bake for 20-25 minutes on the center rack, or until a toothpick inserted in the center comes out with a few moist crumbs. You know they are ready when the edges are dry, and the middle still looks moist and soft.

Cool down on a cooling rack and slice into 16 squares.
Storage
Store in the fridge for 3-4 days or freeze in an airtight container. Thaw at room temperature the day before eating.
Notes
Brown Erythritol can be replaced with brown sugar or erythritol
Want My Kitchen Equipment?
Serving Size:
1
square with glazing (30g/10z)
Yield:
brownies (30g/10z)
Serving:
1
square with glazing (30g/10z)
Calories:
73.5
kcal
(4%)
Carbohydrates:
3.2
g
(1%)
Fiber:
1.9
g
(8%)
Net Carbs:
1.3
g
Protein:
2.5
g
(5%)
Fat:
6.4
g
(10%)
Saturated Fat:
4.7
g
(29%)
Polyunsaturated Fat:
0.3
g
Monounsaturated Fat:
0.9
g
Trans Fat:
0.01
g
Cholesterol:
46.5
mg
(16%)
Sodium:
125.2
mg
(5%)
Potassium:
58.5
mg
(2%)
Sugar:
0.3
g
Vitamin A:
67.5
IU
(1%)
Vitamin B12:
0.1
µg
(2%)
Vitamin D:
0.3
µg
(2%)
Calcium:
27.5
mg
(3%)
Iron:
0.7
mg
(4%)
Magnesium:
15
mg
(4%)
Zinc:
0.3
mg
(2%)
Posted In: