Are you ready for THE best fudgy sugar free brownies with dates ?
This Sugar free brownies with dates is the best fudgy date brownies recipe, 100% sweetened with dates – no other sweetener added- gluten free, vegan and paleo. An easy date brownies recipe made in a food processor with only wholesome ingredients.
Sugar free brownies with dates – ultimate fudgy brownies
Let's take a minute to talk about this little beauty. I shared with you plenty sugar free brownie recipe during the past year. I mean 100% sugar. Your two favorite are my sugar free brownie with coconut flour and my fudgy low carb avocado brownie. I agree, both are amazing. But recently I switch to a vegan diet, allowing myself to slightly eat a tiny bit of natural sweetener – like fresh dates – but no more eggs, butter or milk. I scratch my head, look at with vegan brownie recipe online but all used added sweetener with the dates. It was too much sugar for me.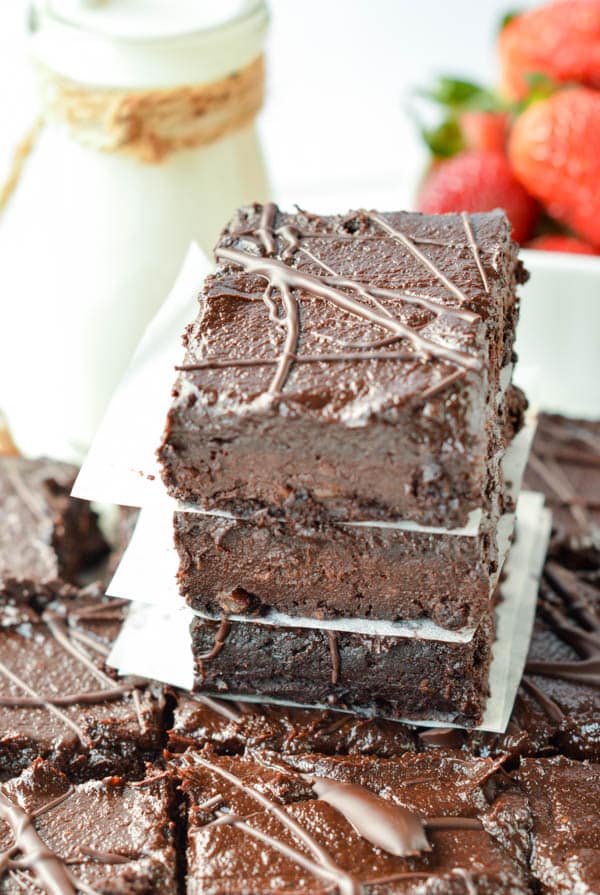 I came up with my own recipe. A sugar free brownies with dates. Dates are great natural sweetener full of nutrient, fibers. Plus, it adds the most delicious fudgy texture to brownies. This is an easy brownie with dates recipe. All you need is a good food processor to pulse the dates into a smooth puree. This recipe is so easy that you don't even need to drain the soaked dates. All the water stay in the food processor to create the most fudgy sugar free brownies with dates. You need:
Dates – I used Tunisian Deglor dates
Unsweetened cocoa powder
Almond meal
Flaxmeal
Baking powder
Almond milk
Salt
Vanilla essence
I soaked the dates in boiling water directly into the food processor. This way, I don't need to clean an extra bowl. HAHAH lazy me ! After 10 minutes, process the dates and water to form a date paste. Honestly, don't go crazy if there pieces of dates left. It is fine ! Then, add all the ingredients EXCEPT your almond milk. Process to combine, barely 30 seconds. You'll get a thick sticky black brownie batter, slightly dry. That is the time to add the almond milk. Blend 10 sec gain. BOOM! you just get the most shiny, creamy fudgy brownie batter with no eggs ! I can't stop eating this batter raw. So good !
But those sugar free brownies with dates won't be as delicious without there date frosting. While baking prepare your quick 3-ingredients date frosting. Again, super easy. You need a blender and:
Dates
Water
Unsweetened cocoa powder
You can add some vanilla essence if you like or salt for a salted caramel flavor.
This dates brownie is EXTREMELY fudgy. It is the kind of brownie that cover your teeth with a creamy dark chocolate fudge. Not the best to seduce on Valentine's day unless you think is cute.
My girl loved this brownie. She was covered with chocolate all over her mouth and hands. She could not believe me when I said there was not real chocolate in the recipe. She usually won't eat raw dates but she loved that sugar free brownies with dates. Enjoy the recipe !
Sugar free brownies with dates
Sugar free brownies with dates. The best fudgy date brownie recipe, 100% vegan, paleo and gluten free with no refined ingredient or added sweetener. Clean eating brownie.
16 brownie squares
Print The Recipe
NEW
My no-fail Keto Baking Recipe ebooks are now available
for a limited time, 50% OFF if you enter the code
INPLNCHOFFER
Preheat oven to 350 F degree (180 C).

Cover a brownie square pan, 8 x 8 inches, with parchment paper. Grease the paper slightly with coconut oil. Set aside.

In a food processor, add the pitted dates and cover with boiling water. Make sure the water cover all the dates, if needed arrange the dates in a thin layer to ensure they soak properly. Close the food processor and let soak in the water for 10-15 minutes, or until the dates are soft.

Process the dates until it forms a date paste - about 1 minute on medium speed. You may have to stop the food processor, every 20 seconds, scrap down the sides of the bowl with a spatula and repeat until a creamy consistent date paste forms. It is ok if there is some tiny pieces of dates left in the batter. It will taste like caramel when baked.

Add unsweetened cocoa powder, ground almond, flaxseed meal, vanilla essence, salt, baking powder.

Process for 20-30 seconds on medium speed. Open the food processor - you should obtain a dark, sticky chocolate brownie batter, slightly 'dry' and that is what you want.

Add almond milk, process again for 20 seconds. Open the food processor, the batter should now be shiny and moist.

Spread the brownie batter into the prepared 8 x 8 inches square pan.

Bake 18-20 minutes or until the top of the brownie is set.

When the brownie is cooked, cool down in the pan for about 20 minutes at room temperature or near an opened window.

Pull the parchment paper to easily un mold your brownie with out breaking. Place the brownie on a square plate, place another plate on top, flip over. Peel the parchment paper and let the brownie fully cool down before adding the frosting.

Spread the date chocolate frosting over the brownie using a spatula. The brownie will be moist at first, it gets super fudgy when totally cool down. I recommend to store your brownie an hour in the fridge to get super dense, fudgy and set the frosting.

Cut the brownie in 16 squares - I found that using a cake plastic knife makes cutting easier.
Date Chocolate Frosting
While the brownie is cooking, prepare the frosting. Add the pitted dates in to a blender. Cover with boiling water Set for 10-15 minutes or until the dates are soft.

Blend until it forms a date paste. Stop the blender. Add the unsweetened cocoa powder.

Blend again until it forms a thick creamy frosting. It is optional, but now you can add 1 teaspoon of vanilla essence or 1/2 teaspoon sea salt to add some extra flavors. Blend again 10 seconds to combine those added ingredients if used.

Spread over the brownie when cool down. I used all my frosting but if you have leftover, store in the pantry and use the date chocolate frosting at breakfast on toast.
Milk: any milk will work in this recipe. I used almond milk but you can use soy milk, oat milk, rice milk or regular milk if not vegan.
Boiling water: the recipe used very hot boiling water straight from the saucepan, not cold water that has been boiled before !
Storage: I recommend to store this brownie in square cake pan with lid in the fridge. The cold will makes the brownie even more fudgy and dense. Plus, it will set the frosting. Store up to 4 days in the fridge.
Cutting: I recommend to use a cake plastic knife to cut the brownie easily. This brownie recipe makes 16 brownie squares
Serving size: nutrition panel is for one brownie square with frosting. This recipe makes 16 brownie squares.
Nutrition Facts
Sugar free brownies with dates
Amount Per Serving (1 slice)
Calories 155 Calories from Fat 41
% Daily Value*
Fat 4.5g7%
Carbohydrates 31.1g10%
Fiber 5.3g22%
Sugar 23.8g26%
Protein 3.4g7%
Net Carbs 25.8g
* Percent Daily Values are based on a 2000 calorie diet.