Keto Cinnamon Coffee Cake
An easy, moist, buttery keto cinnamon coffee cake topped with a sweet, crunchy walnut streusel. The best low-carb breakfast cake to pair with your morning coffee!
Read on to learn how to make this excellent keto cake!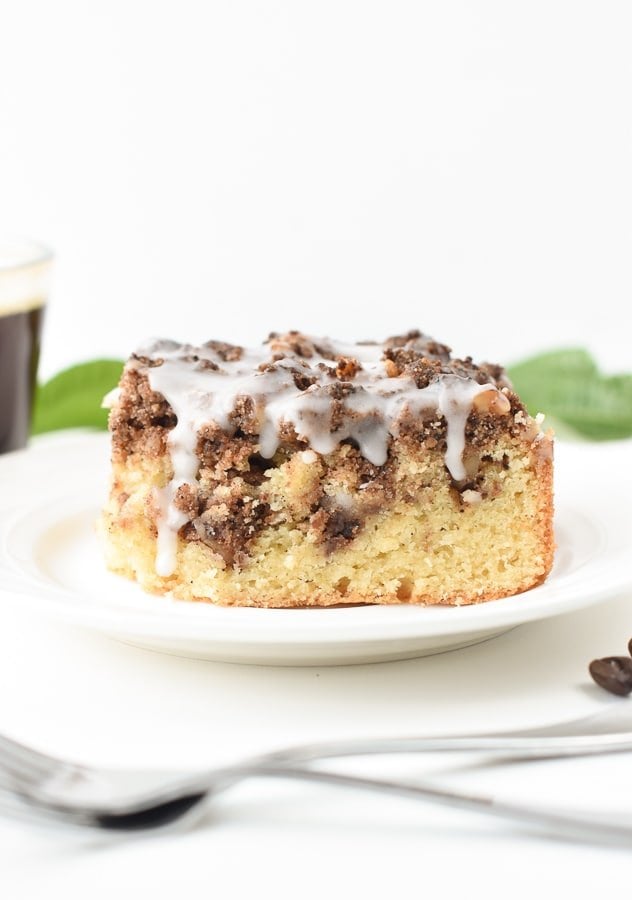 Coffee cake rhymes with cinnamon, and sweet, buttery crumbs because streusel on top of coffee cake is the best part!
What's A Coffee Cake?
A coffee cake is a simple buttery sponge cake typically made of two layers of buttery crumbs, one in the center of the cake and on top of the cake.
A keto coffee cake recipe is about making a keto cake that resembles a coffee cake without carbs!
How To Make Keto Coffe Cake
You can whip up this keto coffee cake with ease, using only simple low-carb ingredients.
Ingredients
Bonus, this gluten-free coffee cake can also be made dairy-free with very few adjustments. Keep reading my tips to make this recipe paleo-friendly too.
Almond flour – fine blanched almond flour provides the best texture. You can also use ground almonds or almond meal, but these options tend to leave a gritty texture to the batter. Learn more about how to choose keto flours!
Coconut flour – while you could make a keto coffee cake with almond flour only, I don't recommend it. Let me explain why. The tiniest amount of coconut flour gives the cake sponge a moist texture. In fact, if you want to swap coconut flour with more almond flour in this healthy coffee cake recipe, you will have to use 4 times more! This means you will use 1 additional cup of almond flour to reach the same texture (compared to 1/4 cup of coconut flour). The result will be a very dense, gritty, and heavy keto cake.
Grass-fed butter or coconut oil if you want to make a dairy-free coffee cake. Is butter keto? Learn about it in my review of dairy products.
Erythritol or other sugar-free crystal sweeteners like allulose or Monk fruit stevia blend
Baking powder – a great substitute for baking powder is baking soda. As a rule of thumbs, always use half amount of baking soda to substitute baking powder in keto cakes recipes. So, here replace the 2 teaspoons of baking powder with 1 teaspoon of baking soda.
Salt – it acts as a flavor enhancer in keto cake recipes, so if you watch your sodium intake, you can make the recipe without salt. It will still work. That said, we need extra sodium on the keto diet, so I always like to add this extra pinch of salt to my keto cakes.
Vanilla extract
Unsweetened almond milk – or if you wonder how to make the coffee cake moister, swap the milk for cream! I recommend heavy cream or coconut cream if you eat dairy-free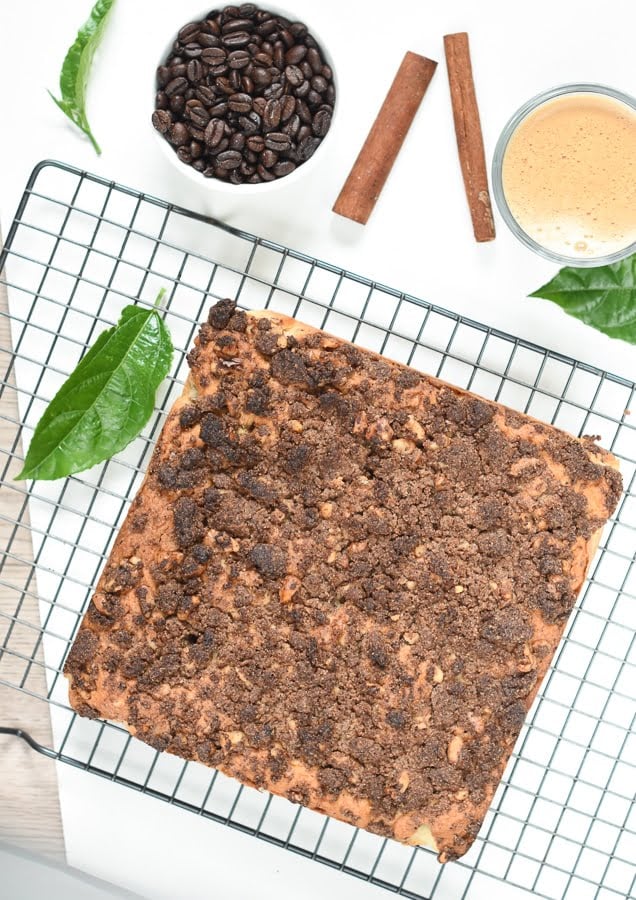 Baking Coffee Cake
You can bake this coffee cake on fan-forced mode or regular mode but whatever the mode you are using, make sure you don't bake over 350°F (180°C).
This is because the recipe uses almond flour, and this low-carb flour browns faster than wheat flour.
Also, for coffee cakes topped with crumbs, it's better to bake the cake on rack 2, counting from the bottom of the oven. It's basically the rack below the center rack.
This is the best option to prevent the cake crumbs from browning too fast.
Makeing The Keto Cake Streusel
I used to love Starbucks coffee cake toppings, and I would eat this with my fingers before even eating the cake.
This said, classic coffee cake crumbs are loaded with carbs, including wheat and sugar, so they are not keto-friendly at all.
Ingredients
To make the keto coffee cake top layer, I use the following ingredients:
Almond flour
Chopped walnuts – you can use any other keto-friendly nuts like almonds, macadamia, pecan, or hazelnuts.
Erythritol
Melted butter or coconut oil
Instant coffee – yes, there is coffee in the old classic coffee cake recipes like the one created in the US back in the 1800s. Nowadays, you will rarely find any coffee in coffee cakes but trust me, that little addition brings out all the cinnamon flavors of this low-carb cake.
A Low-Carb Birthday Cake
The best time to serve coffee cake is for breakfast. It makes a delicious, fulfilling breakfast, and your black coffee will enhance the flavors of this keto cake.
Some delicious diabetic-friendly breakfast toppings to add on the cakes' side or top are full-fat coconut yogurt. This is pure coconut cream, so it doesn't have sugar or lactose.
Other sugar-free toppings ideas are unsweetened whipped cream and sugar-free glazing.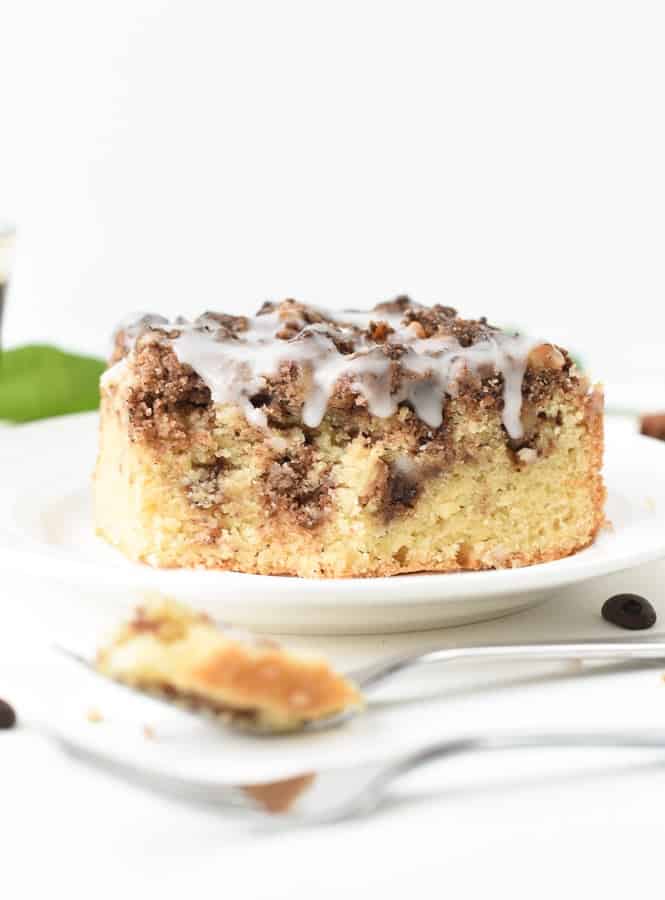 Making The Coffee Cake Batter
First, measure all your ingredients in small bowls, ensuring all the ingredients are at room temperature, especially the eggs.
Make space on your benchtop to split the cake batter ingredients from the streusel toppings ingredients so you won't get confused.
Then, start by making the streusel dough and set it aside while you prepare the cake batter.
This gives some time to the streusel coffee cake ingredients to blend their flavors. Next, prepare the cake batter by combining the wet ingredients with the dry.
Finally, assemble the coffee cake following this layering rule:
Evenly spread 2/3 of the cake batter.
Sprinkle 1/2 of streusel dough all over and slightly press with your finger to stick the streusel to the batter.
Spread the leftover cake batter. It's ok if it mixes up with some of the bottom layer streusels.
Sprinkle leftover walnut streusel toppings.
For another way of viewing this recipe, watch my story: making the Cinnamon Coffee Cake.
How to store your streusel coffee cake?
You can store this easy keto coffee cake in the fridge for up to 3 days. Otherwise, keto cakes are easy to freeze.
Use an airtight container and leave some space between each slice to make sure they don't stick to each other. Defrost on the counter overnight.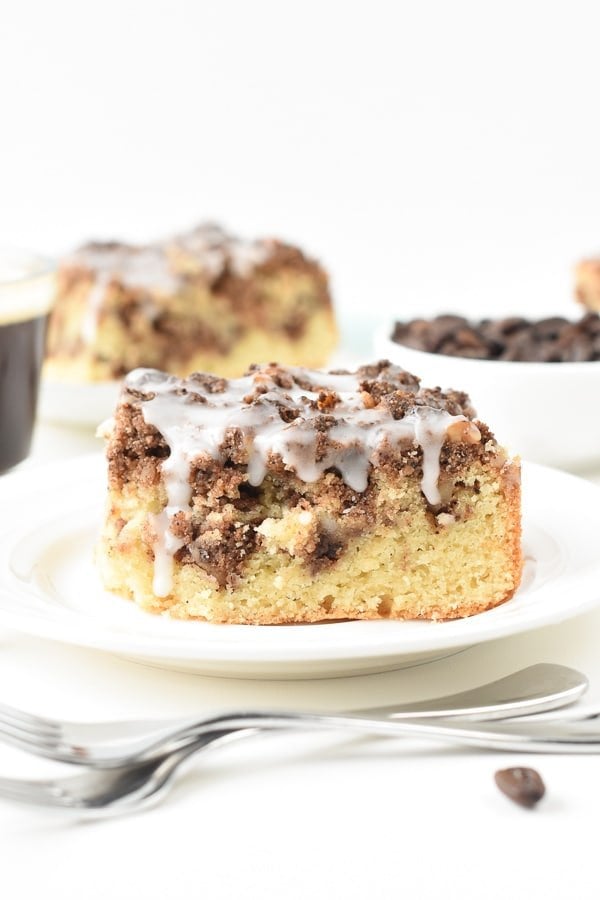 More Keto Cake Recipes
If you love keto cakes or if you are after a keto birthday cake recipe, I recommend you also try my:
Made this diabetic cinnamon coffee cake recipe yet? Share a picture with me on Instagram. I love to see your creations,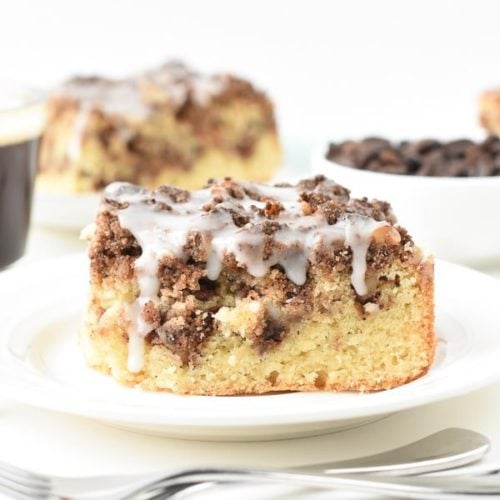 Keto Cinnamon Coffee Cake
An easy keto coffee cake with cinnamon streusel.
Serving Size:
1
piece/square
Ingredients
Keto coffee cake batter
2

cups

Almond Flour

¼

cup

Coconut Flour

⅓

cup + 2 tablespoons

Erythritol

or sugar-free crystal sweetener of choice like xylitol, allulose

2

teaspoons

Baking Powder

¼

teaspoon

salt

3

large

Eggs

at room temperature, not cold

2

teaspoons

Vanilla Extract

at room temperature

½

cup

Unsalted Butter

or melted coconut oil

⅓

cup

Unsweetened Almond Milk

at room temperature, not cold
Cinnamon streusel topping
Sugar-free glazing – optional
This recipe may contain Amazon or other affiliate links. As an Amazon Associate I earn from qualifying purchases.
Instructions
Preheat oven to 350°F (180°C). Line a 9-inch square cake pan with parchment paper. Set aside.
Prepare the cinnamon streusel
In a medium-size mixing bowl, combine all the streusel ingredients. The order doesn't matter until it forms a cinnamon crumble. Set aside at room temperature while you make the cake batter.
Prepare the coffee cake batter
In a large mixing bowl, stir together almond flour, coconut flour, baking powder, erythritol, and salt.

In another medium-size bowl, beat eggs with melted butter (lukewarm not hot, or the butter will 'cook' the eggs), unsweetened almond milk, and vanilla.

Pour the liquid ingredients onto the dry ingredients and combine with a spoon until it forms a thick batter with no lumps. You can also use an electric beater, on low speed if desired.
Fill in the cake pan
First, spread evenly half of the coffee cake batter into the prepared cake pan.

Sprinkle half of the cinnamon streusel on top of the cake batter, then spread the rest of the coffee cake batter on top of the streusel. As you spread the rest of the cake batter, it will mix some of the streusels you added below, and that is ok.

To finish, sprinkle the rest of the cinnamon streusel all over the top of the pan. Slightly press with a spatula to stick the streusel to the cake batter.

Bake 30-40 minutes or until the cake is golden and a skewer inserted in the center of the cake comes out clean.

Cool it down for 10 minutes in the cake pan, pull the parchment paper pieces to lift out the cake from the pan easily, and transfer onto a cooling rack for 1-2 hours or until it reaches room temperature.

When the cake is at room temperature, drizzle the sugar-free glazing on top of the cake. To make the glazing, combine the sugar-free powdered erythritol and unsweetened almond milk into a small bowl until it reaches your desired thickness. Add a bit more powdered erythritol for thicker glazing.

Cut into 16 squares and serve for breakfast or snack, with a dollop of unsweetened whipped cream (or whipped coconut cream, if dairy-free) and a cup of coffee.
Storage
Store in the fridge in a cake box for up to 3 days or freeze for 3 months. Defrost 4 hours before at room temperature.
Want My Kitchen Equipment?
Serving Size:
1
piece/square
Serving:
1
piece/square
Calories:
176
kcal
(9%)
Carbohydrates:
5.3
g
(2%)
Fiber:
1.7
g
(7%)
Net Carbs:
3.6
g
Protein:
4.9
g
(10%)
Fat:
14.7
g
(23%)
Sugar:
1.3
g
(1%)
Posted In: