Keto Strawberry Muffins (Gluten-Free, Dairy-Free)
Keto strawberry muffins are easy, healthy almond flour muffins with only 3.9 grams of net carbs per muffin.
Plus, they are gluten-free, dairy-free, and perfect to pair with a cup of my bulletproof coffee for breakfast.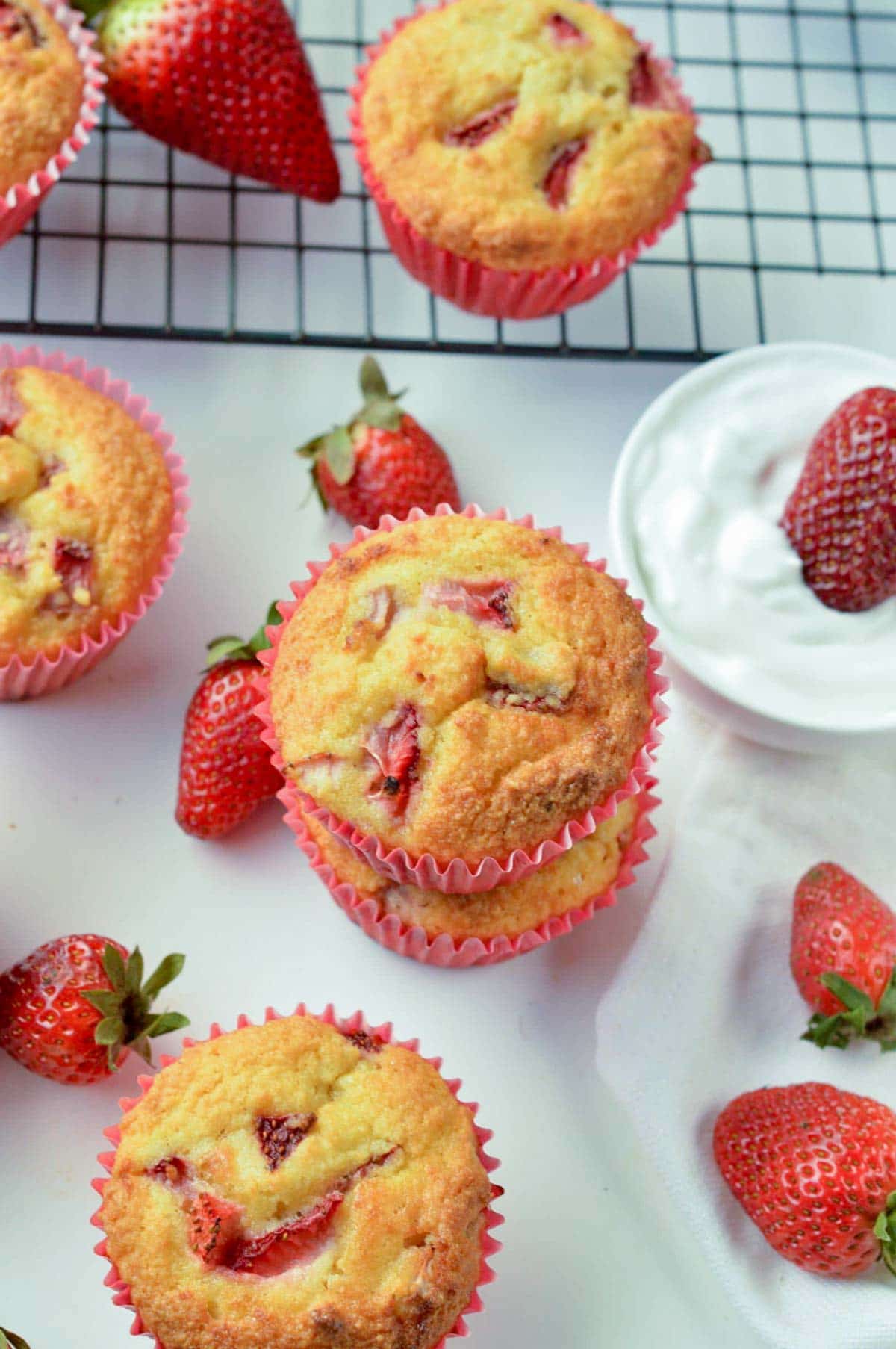 Are Strawberry Muffins Keto?
Classic Strawberry Muffins are made with all-purpose flour and sugar.
One classic strawberry muffin contains an average of 30 grams of net carbs. It's almost 10 times what this recipe below contains!
How To Make Keto Strawberry Muffins
Almond flour is the most delicious keto flour to create moist muffins and cakes.
It contains very few carbs and a lot of fiber which makes it very fulfilling.
Let's see how easy you can make these cute low-carb muffins.
Ingredients
All you need are 7 simple ingredients.
Almond Flour – You can't use coconut flour for this recipe.
Eggs – I used large eggs.
Sugar-free crystal sweetener of your choice – I love Monk fruit crystal but erythritol and xylitol, in the same amount work in this recipe. Read my keto sweetener guide to find out which are my 4 preferred sweeteners!
Coconut oil – or melted butter if you prefer, I love dairy-free baking.
Baking powder – or half the amount of baking soda if preferred.
Diced strawberries – I used fresh strawberries, but frozen strawberries would have worked well too. First, defrost the strawberries, and chop and discard the juice. Frozen strawberries add lots of juice that soften the muffin batter too much. Always defrost before use.
Unsweetened almond milk – almond milk is the best milk on the keto diet. It doesn't contain lactose, the natural sugar from milk. You can also use unsweetened vanilla almond milk in this recipe. It has no sugar and adds a lovely vanilla flavor to the keto strawberry muffins.
Preparation
Preheat your oven to 350°F (180°C) to ensure it's properly heated when you're ready to bake.
Prepare for the baking process by lining a 12-hole muffin pan with muffin paper cups.
Alternatively, you can opt to grease the pan with an oil spray for easier removal of the muffins later on. Set the prepared muffin tin aside as you move forward.
Making The Batter
In a medium-sized mixing bowl, begin by whisking together the eggs and sugar-free sweetener of your choice.
Add the unsweetened almond milk and melted coconut oil, ensuring that all the ingredients are at room temperature.
This is particularly important because if you use cold eggs directly from the fridge, they might cause the melted coconut oil to solidify, resulting in oil lumps within the mixture.
In such a case, you can use butter instead to prevent this undesirable outcome.
Gradually incorporate the baking powder and almond flour into the mixture. To avoid lumps in the batter, add the almond flour in 1/2 cup increments, gently stirring each time to ensure a smooth integration.
If you decide to include diced strawberries in your muffins, fold them into the batter at this point.
If you're using frozen strawberries, it's crucial to defrost them first. This step is necessary to eliminate any excess moisture from the berries, which could otherwise make the muffin batter overly moist.
Forming Muffins
Now, take the prepared muffin batter and evenly distribute it among the 12 muffin liners in the pan.
To ensure consistency in both size and carb content per serving, consider using a mechanical ice cream scoop. This tool will help you achieve accuracy and uniformity in the size of each muffin.
Baking The Muffins
Place the filled muffin pan into the preheated oven. Allow the muffins to bake for a duration of 22 to 25 minutes.
To determine their doneness, insert a toothpick into the center of a muffin. It should come out clean or with minimal crumbs clinging to it.
Cooling Down
After the baking time is complete, let the muffins cool down for about 10 minutes while still in the pan. This short resting period helps the muffins set and makes them easier to handle.
Following this, gently transfer the partially cooled muffins from the pan to a cooling rack. Allow them to cool further for approximately 30 minutes to 1 hour.
It's important to exercise patience during this time, as the muffins achieve their best texture when allowed to cool to room temperature.
By following these detailed instructions and allowing the muffins to cool properly, you'll be able to enjoy a batch of delicious and perfectly textured muffins.
Serving The Muffins
You may wonder when it is appropriate to sneak these 3.9 grams of net carbs into your day? I recommend three options:
Breakfast – this is a very fulfilling muffin delicious with a large almond milk latte. I recommend a large dollop of unsweetened coconut yogurt or whipped cream on top if you are really hungry.
Snack – if you crave sweets, this will fix your sweet tooth in the middle of the day and keep you full until dinner.
Post-workout – these muffins contain 5 grams of protein, which is great to reload your muscle mass while enjoying a sugar-free muffin.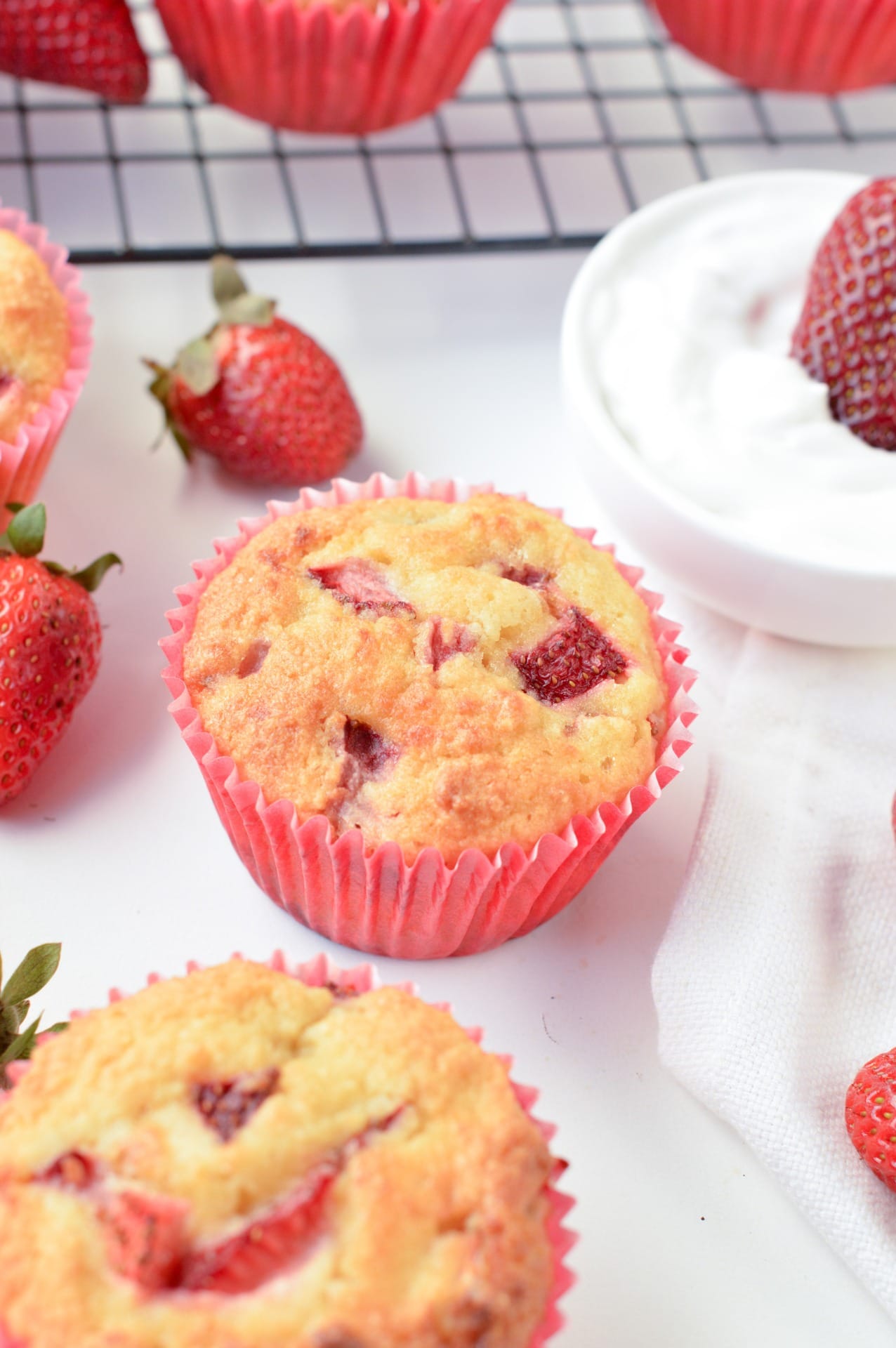 Allergy Swaps
These keto strawberry muffins definitely tick all the diet requirements. Almond flour is gluten-free, which means that they are also delicious gluten-free strawberry muffins.
I recommend checking the ingredient list of your baking powder if you are gluten intolerant. Some may contain added gluten. Otherwise, use half the amount of baking soda.
If you are allergic to coconut, swap the coconut oil for melted butter.
Storage Instructions
It might take you a while to eat 12 of these paleo strawberry muffins. Great news, they freeze perfectly well.
First, place the muffins into a zip-lock bag or airtight container. I recommend freezing the muffins without paper cups.
Next, freeze for up to 3 months. Finally, defrost at room temperature the day before. You can rewarm your keto strawberry muffins into the oven or toaster.
Frequently Asked Questions
Can I Swap The Berries?
Yes, you can replace the strawberries with other berries like blueberries, raspberries, or blackberries. If you don't like berries, you can add vanilla extract, lemon zest, or chocolate chips.
What Fruits Are Allowed On Keto?
There are many low-carb fruits that are keto-friendly such as raspberries, blueberries, or strawberries.
Similar Recipes
If you love good bakery-style muffins with few carbs, I recommend giving a go to my other keto muffins recipe below.
Keto Strawberry Muffins
These Keto Strawberry Muffins and an easy 1-bowl almond flour muffin recipe with fresh strawberries. 100% paleo, gluten-free and dairy-free.
Ingredients
3

large

Eggs

½

cup

Erythritol

Monk fruit or erythritol or xylitol

⅓

cup

Unsweetened Vanilla Almond Milk

⅓

cup

Coconut Oil

melted

2 ½

cups

Almond Flour

2

teaspoons

Baking Powder

1

cup

Fresh Strawberries

fresh or thawed (6 oz)
This recipe may contain Amazon or other affiliate links. As an Amazon Associate I earn from qualifying purchases.
Instructions
Preheat oven to 350°F (180°C). Line a 12-hole muffin pan with muffin paper or grease with an oil spray if preferred. Set aside.

In a medium-sized mixing bowl, whisk together eggs, sugar-free sweetener of your choice, unsweetened almond milk, and melted coconut oil. Make sure all the ingredients are at room temperature. If you are using cold eggs straight out of the fridge, they will solidify the coconut oil creating oil lumps. Otherwise, use butter to prevent this from happening.

Stir in baking powder and almond flour, 1/2 cup at a time, stirring between to gently incorporate the flour to avoid lumps.

Stir in the diced strawberry, if you use frozen strawberries, make sure you defrost them. This eliminates any juice to prevent the muffin batter from getting overly moist.

Transfer the muffin batter evenly into the 12-muffin case. I used a mechanical ice cream scoop to be accurate and ensure that each muffin has the same size (and so the same amount of carbs per serving).

Bake for

22

–

25 minutes

or until a toothpick inserted in the middle of the muffins comes out clean or with few to no crumbs on it.

Cool for

10 minutes

in the muffin pan, then gently transfer onto a cooling rack and cool for

30 minutes

to 1 hour before eating. Be patient. They get the best texture at room temperature.
Storage
Store in an airtight muffin box for up to 4 days at room temperature.

Can be frozen in airtight ziplock bags, preferably without the paper cup. Defrost the day before at room temperature. Can be toasted or rewarmed in an oven at 100°C/210°F.
How to serve your muffins?
Eat plain or top with unsweetened whipped coconut cream (or heavy cream) or unsweetened coconut yogurt.
Want My Kitchen Equipment?
Serving:
1
muffin
Calories:
207.1
kcal
(10%)
Carbohydrates:
6.6
g
(2%)
Fiber:
2.7
g
(11%)
Net Carbs:
3.9
g
Protein:
6.6
g
(13%)
Fat:
18.9
g
(29%)
Saturated Fat:
6.4
g
(40%)
Cholesterol:
46.5
mg
(16%)
Sodium:
97.6
mg
(4%)
Potassium:
35.6
mg
(1%)
Sugar:
1.5
g
(2%)
Vitamin A:
67.5
IU
(1%)
Vitamin C:
7.1
mg
(9%)
Calcium:
105.4
mg
(11%)
Iron:
1.2
mg
(7%)
Posted In: