Keto Lemon Cupcakes with Blueberries
Indulge with no guilt with this sugar-free cupcake recipe! A moist keto lemon cupcake with blueberry and only 4 grams of net carbs per serving.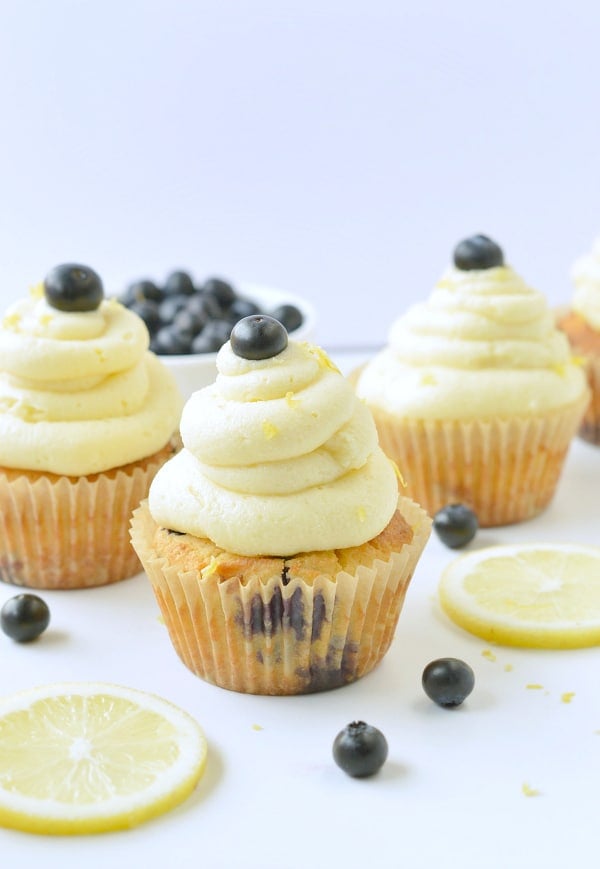 Are Lemon Cupcakes Keto?
Classic Lemon Cupcakes are not keto-friendly because they are made with sugar and all-purpose flour, and the frosting is made with sugar.
But this Keto Lemon Cupcake recipe is very low in carbs!
Is lemon keto?
Of course, lemon is one of the lowest-carb fruits, with only 6 grams of net carbs per 100 grams.
Plus, the great thing about lemon is that you only need a small amount to enhance food flavor.
So it doesn't bring many carbs to your sugar-free recipes.
Why You'll Love These Cupcakes
These Keto Cupcakes with Almond Flour are delicious and they are:
Gluten-Free
Paleo
Low-Carb
Keto-Friendly
Ready In Under 40 Minutes
How To Make Keto Cupcakes With Almond Flour
These almond flour lemon cupcakes are keto-friendly, gluten-free, and sugar-free.
The recipe uses wholesome keto ingredients that we all have in the pantry on the keto diet.
The trick to succeeding with this recipe is to bring all ingredients to room temperature before you start.
In fact, any cold ingredients would harden the butter or create lumps.
Ingredients
Soft unsalted butter – dairy-free butter can be used if you don't tolerate butter but note that most use vegetable oils that are not keto-friendly. Learn why butter is keto-friendly!
Lemon zest – use the zest of your lemon only if they are organic and untreated!
Sugar-free crystal sweetener – monk fruit blends, erythritol, or xylitol. Read my keto sweetener guide and learn how to convert sweeteners!
Lemon juice – at room temperature.
Almond flour, not a coarse almond meal! Read more about choosing your keto flours.
Coconut flour – fresh without lumps.
Eggs – the recipe won't work with flax eggs without changing the sort of flour. It means that if you are vegan, you will have to use higher-carb flour to make this sugar-free cupcakes recipe egg-free. Consequently, the recipe won't be keto anymore.
Baking powder or half the amount in baking soda.
Vanilla
Making Keto Lemon Buttercream Frosting
The best part of those sugar-free lemon cupcakes is the frosting.
This sweet, fluffy keto lemon buttercream frosting can be eaten on top of your cupcakes or on its own.
In fact, it has barely any carbs and makes a delicious fat bomb snack for frosting lovers.
It is a very easy keto buttercream frosting recipe that you can use for any sugar-free cupcake recipe.
The key to success is to use all your ingredients at room temperature.
Butter – make sure it is soft, and unsalted at room temperature for at least 3 hours before using it in this recipe.
Lemon stevia drops or natural lemon extract.
Unsweetened almond milk
Powdered sugar-free sweetener – I love Monk fruit stevia erythritol blends, but pure erythritol or xylitol work as well.
More Keto Lemon Recipes
If you love lemon recipes, I have got plenty of other low carb lemon recipes to try:
I hope you love those simple keto lemon cupcakes and if you prefer a vanilla version, try my keto vanilla cupcakes. Plus, cupcakes are great to pair with a cup of my bulletproof coffee.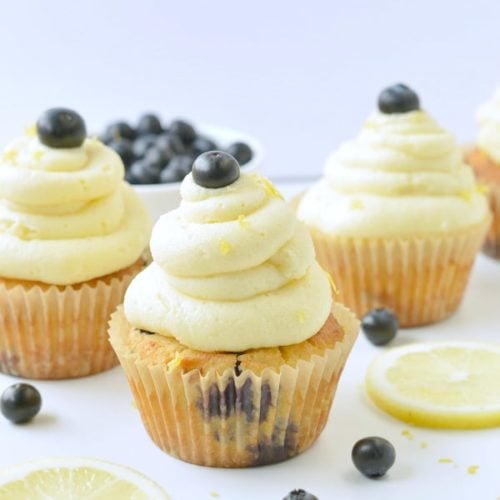 Keto Lemon Cupcakes
Keto lemon cupcakes with blueberries and lemon buttercream frosting.
Nutrition Snapshot
Want My Kitchen Equipment?
Ingredients
Keto lemon buttercream frosting
Instructions
Preheat oven to 350°F (180°C).

Line a 12-hole muffin pan with paper cups. Set aside.

In a large mixing bowl, add the soft butter, sweetener, and lemon zest. Beat with an electric mixer until lighter in color and creamy, about 30 seconds on medium speed.

Add eggs one at a time. Keep beating at medium speed while you add the eggs. You should obtain a liquid yellowish batter after adding the 3 eggs, and it takes about 45 seconds to beat in the 3 large eggs.

Stop the beater, add lemon juice, vanilla, almond flour, coconut flour, baking powder, and almond milk.

Beat again on low speed to combine all the ingredients and form a consistent batter. It should be thick and fluffy.

Using a spatula, stir in the blueberries (fresh or frozen).

Use a mechanical ice cream scoop to transfer the batter from the bowl to the 12 holes muffin pan.

Fill each cupcake hole evenly with the batter until no more left in the bowl.

Bake for 25-35 minutes or until a skewer inserted in the center of the cupcakes comes out clean.

Cool cupcakes on a rack for at least 3 hours before adding the buttercream frosting.

I recommend you bring the cupcakes to the freezer for 10 minutes before frosting them. It will firm up the cupcakes and cool the top to make the frosting hold perfectly.
Keto lemon buttercream frosting
In a stand mixer with the paddle attachment, add soft butter and beat on high speed until it forms a pale, smooth, and fluffy butter. If you don't have a stand mixer, use an electric beater.

Reduce to low speed and add the lemon stevia drops. Then, gradually add the sugar-free powdered sweetener, half a cup at a time. When all the sugar-free sweetener has been added, mix on medium speed for 2 minutes until it forms a fluffy cream.

Add unsweetened almond milk and keep whisking for 1 minute to incorporate.

Pip the buttercream on top of each cupcake. Make sure the cupcakes are at room temperature.

Decorate with lemon zest, a fresh blueberry on top, and some unsweetened desiccated coconut.

Place the cupcakes in the fridge for 2 hours to set the frosting.
Storage
Store the cupcakes in the fridge in an airtight cake box for 3 days.

You can freeze cupcakes without frosting on top. Freeze the frosting separately in a bag. Defrost the day before. Cupcakes can be defrosted at room temperature but place the frozen frosting in the fridge. Decorate cupcakes before serving.
My Recipe Notes
Nutrition
Serving:
1
cupcake
Calories:
183
kcal
(9%)
Carbohydrates:
5.7
g
(2%)
Fiber:
1.6
g
(7%)
Net Carbs:
4.1
g
Protein:
4.8
g
(10%)
Fat:
10
g
(15%)
Sugar:
1.4
g
(2%)
Posted In: