This Keto Lemonade recipe is an easy sugar-free lemonade recipe ready in 10 minutes and made with only 3 ingredients.
Plus, this recipe is diabetes-friendly and vegan.
What's A Keto Lemonade?
A Keto Lemonade is the sugar-free version of the classic lemonade.
The traditional lemonade recipe combines lemon juice with white sugar or simple syrup. They typically contain about 25 grams of net carbs per serving.
So if you are on a keto diet, you need to have a sugar-free, low-carb recipe to enjoy a delicious summer lemonade.
Why You'll Love This Recipe
This Keto Lemonade is a perfect refreshing summer drink without sugar, but it's also:
Gluten-Free
Low-Carb
Keto (2.7g Net Carbs)
Ready in under 10 Minutes
Only 2 Ingredients (and ice)
How To Make Keto Lemonade
Making this lemonade keto version is as easy as the classic lemonade.
Ingredients
All it takes is:
Lemons – you need a few fresh yellow lemons. There are thousands of lemon varieties that exist and most would work for this recipe, but I prefer relatively small egg-sized ones. Lemons are keto-friendly fruits that also bring a lot of Vitamin C and electrolytes.
Powdered Sweetener – while classic lemonade requires powdered sugar, this recipe uses powdered sugar-free sweetener. You can use any powdered sweetener such as powdered erythritol, or powdered allulose. If you need to convert sweeteners to have the right sweetness, use my Sweetener Converter.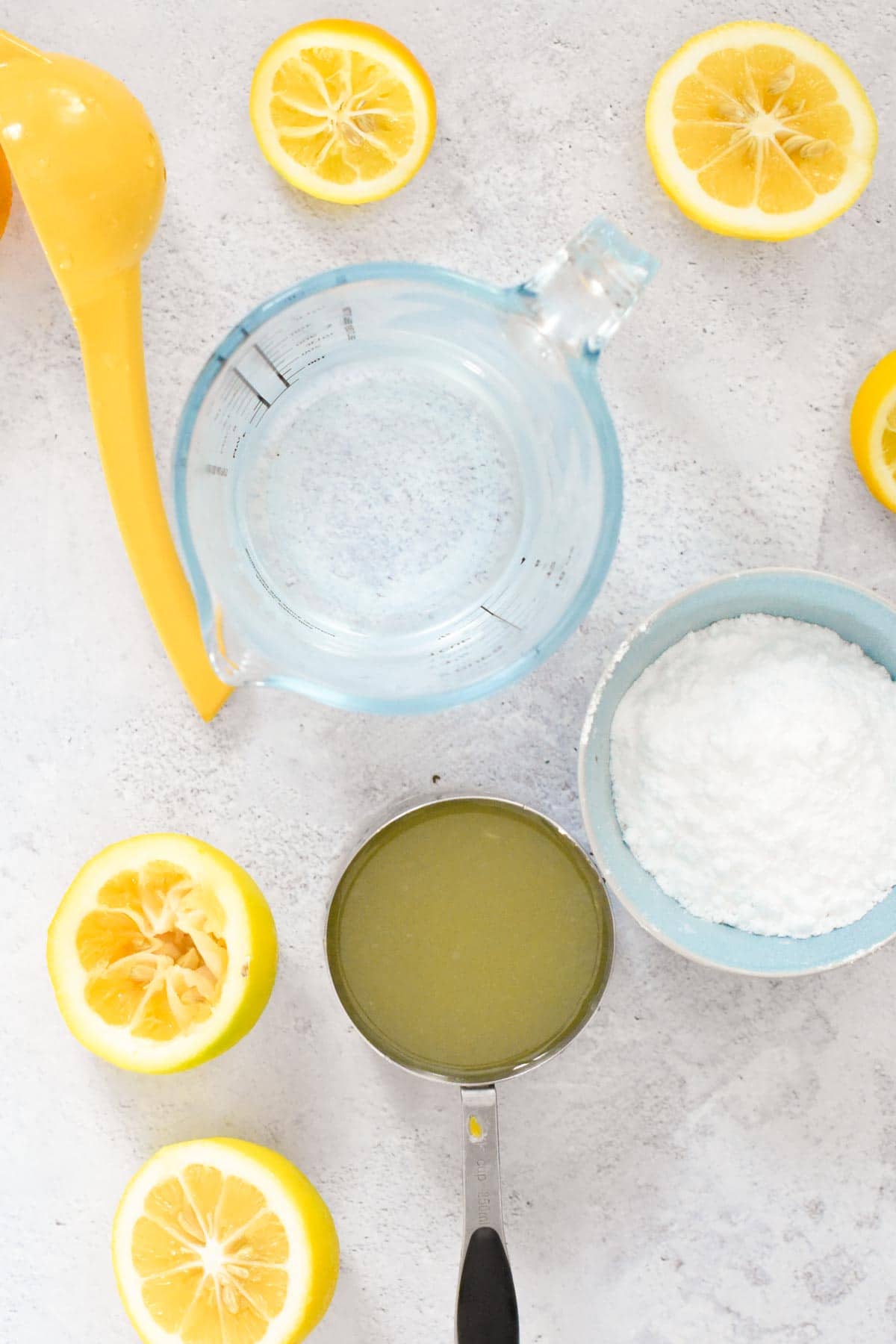 Instructions
The best way to make this cold beverage is to use heat.
The reason I recommend heating water is to make sure the powdered sweetener has fully dissolved and this process works much faster and better at higher temperatures.
Bring one cup of water to a light boil in a pan over medium heat and pour the powdered sweetener. Stir until the sweetener has fully dissolved, meaning you can't see any small grains of sugar.
Remove the saucepan from the heat. Cut the lemons in half and squeeze the juice out with a lemon squeezer or a fork. Read my method to do so without a juicer.
Pour the fresh lemon juice and the rest of the cold water.
Transfer the keto lemonade to a jug pr pitcher and store it in the fridge to cool down.
Decorating
Add about half a dozen of ice cubes into a large tumbler glass and pour the cold homemade lemonade on top of it.
Slice two slices of fresh lemon and garnish the glass to boost the lemon flavor. You can also add fresh mint leaves for a green touch.
Storage Instructions
You can store this low-carb lemonade for up to a week in the fridge.
Frequently Asked Questions
Which Sweeteners Can I Use For Keto Lemonade?
I recommend using powdered sweetener to make dissolving it easier. You can use Swerve, any stevia erythritol blend, or monkfruit erythritol blend.
I don't recommend using liquid stevia, it's much trickier to dose.
Can I Add Other Fruits To Lemonade?
Yes, you can decorate the lemonade with raspberries, blueberries, or strawberries.
Can I Make A Lime-onade?
Yes, you can make a keto lime-onade by using lime juice instead of lemon juice.
More Keto Drinks
If you like this keto drink, you'll love these:
Keto Lemonade
This Keto Lemonade is an easy, sugar-free lemonade recipe perfect to refresh this summer.
Yield:
servings (1/2 cup)
Serving Size:
1
serving (1/2cup)
Ingredients
2

cup

Cold Water

divided

¾

cup

Powdered Erythritol

Powdered erythritol or powdered allulose

1

cup

Lemon Juice

Freshly squeezed
To serve
1

cup

Ice Cubes

2

slices

Lemon
This recipe may contain Amazon or other affiliate links. As an Amazon Associate I earn from qualifying purchases.
Instructions
In a saucepan add 1 cup of cold water and powdered sweetener. Bring to a light boil, stir and cook for a few minutes until the sweetener has dissolved.

Remove from heat, stir lemon juice and remaining cup of water.

Store in a jug in the fridge to cool down before serving.

Serve over ice cubes with fresh lemon slices.
Want My Kitchen Equipment?
Serving Size:
1
serving (1/2cup)
Yield:
servings (1/2 cup)
Serving:
1
serving (1/2cup)
Calories:
8.9
kcal
Carbohydrates:
2.8
g
(1%)
Fiber:
0.1
g
Net Carbs:
2.7
g
Protein:
0.1
g
Fat:
0.1
g
Saturated Fat:
0.1
g
(1%)
Polyunsaturated Fat:
0.1
g
Monounsaturated Fat:
0.1
g
Sodium:
2.4
mg
Potassium:
41.9
mg
(1%)
Sugar:
1
g
(1%)
Vitamin A:
2.4
IU
Vitamin C:
15.7
mg
(19%)
Calcium:
3.6
mg
Iron:
0.1
mg
(1%)
Magnesium:
2.8
mg
(1%)
Zinc:
0.1
mg
(1%)
Posted In: