Keto Matcha Latte with Almond Milk
This keto Matcha latte with almond milk is a creamy, smooth hot drink perfect to start the day with healthy fat and powerful antioxidants from green tea.
This Matcha keto latte is the best swap to the classic keto bulletproof coffee recipe to start the day with only 2.4 grams of net carbs!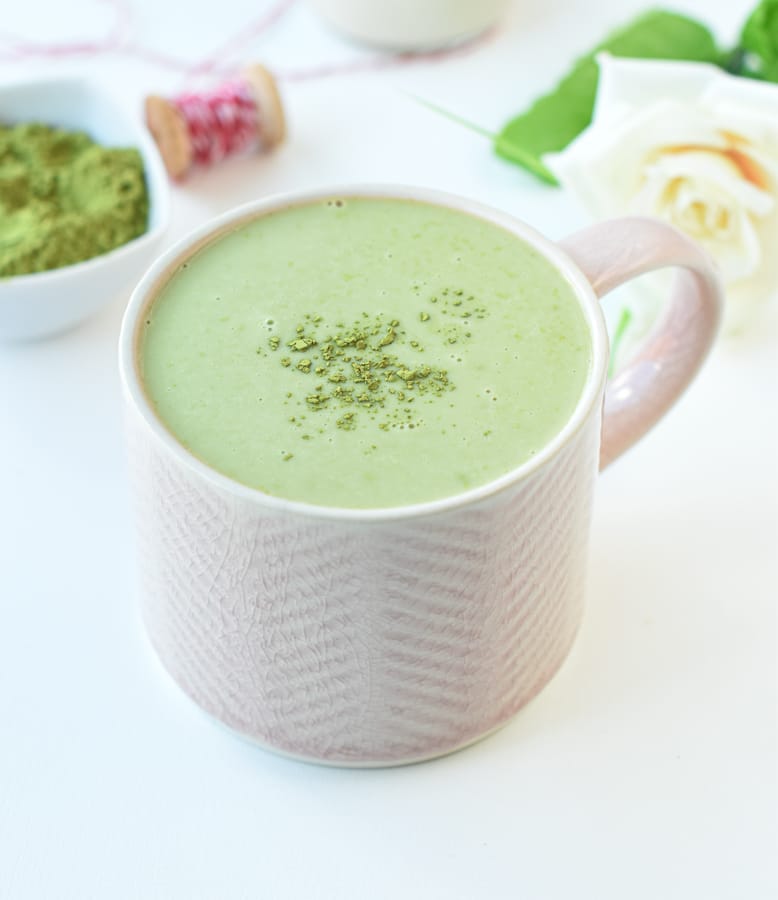 Is The Classic Matcha Latte Keto-Friendly?
No, a classic Matcha latte from your coffee shop is not keto-friendly as it contains sugar and milk.
Milk contains lactose, a milk sugar that can keep you out of ketosis.
If you want to enjoy a keto-friendly Matcha latte at your favorite coffee store, order one with no sugar added and request unsweetened almond milk.
How To Make A Keto Matcha Latte
It only takes 5 minutes to make a creamy, fluffy sugar-free Matcha green tea latte. There are many options to create this delicious Japanese drink.
You can make a keto Matcha latte with heavy cream and almond milk, also called half-half.
Another option consists of adding grass-fed butter or MCT oil into your drink, but these recipes require a blender, so not everyone can make them at home.
I am sharing the easiest low-carb green tea latte recipe, made without fancy tools!
Ingredients
All you need to make this healthy green drink are:
Matcha powder – it's a carb-free keto-friendly ingredient made of dried green tea leaves ground in green tea powder.
Lukewarm water – this is used to dissolve the green tea powder and avoid lumps into your drink.
Heavy cream – if you are on a dairy-free keto diet, use canned coconut milk or canned coconut cream. Heavy cream is a keto-friendly dairy product that will add a coconut flavor to your drink that goes very well with the Matcha tea flavor.
Unsweetened almond milk
Keto-friendly sweeteners – you can sweeten your drink with a few teaspoons of crystal keto-sweetener like erythritol, allulose, or a few drops of stevia extract. I personally love drops of vanilla stevia extract.
Dissolving Matcha powder
First, add the green tea and lukewarm water into a small saucepan. Then, use a small whisk or bamboo whisk to dissolve the Matcha powder into the lukewarm water.
This step is crucial to avoid green tea lumping into your keto drink.
Warming the heavy cream
Next, whisk in the heavy cream and 1/2 cup of unsweetened almond milk into the saucepan. If you don't have a milk frother at home, add the entire amount of almond milk!
Bring the saucepan to medium heat and warm for 2-3 minutes until hot and small bubbles start to form on the side of the saucepan.
Remove from heat and serve.
Frothing the remaining almond milk
This is optional, but if you have a milk frother at home, froth the remaining 1/4 cup of almond milk and serve on top of the drink.
Another option is to serve your latte with a dollop of unsweetened whipped cream!
Decorate the drink with a sprinkle of extra Matcha powder.
Allergy Swaps
Making It Dairy Free
Yes, you can use this recipe to make a vegan keto Matcha latte. Swap the heavy cream with one of the below options:
canned coconut milk
canned coconut cream
macadamia milk
Frequently Asked Questions
Can I make an iced Matcha latte with this recipe?
Yes, add all the ingredients into a blender and blend at high speed. Serve in a tall glass over ice cubes.
Can I add MCT oil to my green tea?
Yes, you can make a bulletproof Matcha latte with MCT oil by adding 1 teaspoon of MCT oil into this recipe.
You can also use coconut oil if you don't have MCT oil. Both have very similar properties.
However, remember that you will have to blend your hot drink to pulse the oil into the remaining ingredients.
If you don't use a high-speed blender, the MCT oil will float on top of your keto green tea Matcha latte.
How many carbs in Matcha powder?
Matcha powder is made from dried green tea leaves. As a result, it has no net carbs. All the carbs in Matcha powder are fibers that are not assimilated carbs. It means that Matcha powder won't impact your ketosis, and it's safe to drink it every day as a swap to bulletproof coffee.
Plus, Matcha green tea adds wonderful health benefits to your body, like antioxidants properties.
When should you drink keto Matcha drink?
A keto Matcha latte should be served in the morning as a fat-burning drink to start the day with healthy fat and caffeine.
Green tea contains caffeine, just like coffee. It's an energizing drink and therefore shouldn't be consumed at night.
What Are The Best Sweeteners To Use?
There are many keto sweeteners that you can add to keto hot drinks. Below I listed my top 3 favorites with their pros and cons:
– Stevia drops – my favorite option for keto drinks! I love the drops because they are easy to dose and come in many flavors. Vanilla stevia drops are amazing with Matcha! Plus, they don't have the cooling effect of other crystal keto sweeteners.
– Monk fruit powder – the pure Monk fruit powder is tough to dose but the most neutral and natural to flavor keto coffee. It doesn't have a cooling effect or bitter aftertaste if used in a tiny amount. For 1 latte, aim for 1/8 teaspoon of pure Monk fruit powder.
– Erythritol – for those who don't like the slight bitter aftertaste of stevia drops, erythritol is a great option. But watch out! It creates an endothermic reaction in the drink, decreasing the temperature of your beverage and also adding a cooling minty effect.
More Keto Hot Drink Recipes
You can enjoy any hot drinks on your keto diet, including coffee latte, milk tea, or hot cocoa!
I've listed below more keto hot drink recipes for you to try:
Keto Matcha Latte
A creamy, fluffy low-carb Matcha latte to start the day with an antioxidant energizing drink.
Ingredients
1

teaspoon

Matcha Powder

3

tablespoons

Lukewarm Water

2-3

teaspoons

Erythritol

or 1-2 drops of liquid stevia

⅓

cup

Heavy Cream

or full-fat coconut cream

¾

cup

Unsweetened Almond Milk
This recipe may contain Amazon or other affiliate links. As an Amazon Associate I earn from qualifying purchases.
Instructions
In a small saucepan, whisk Matcha powder and lukewarm water until no more lumps shows.

Add in heavy cream, sweetener of choice, and 1/2 cup of almond milk – the remaining almond milk is used later in your milk frother. If you don't have a milk frother, add the entire 3/4 cup almond milk in this step.

Warm until medium heat, about 2-3 minutes until hot.

Serve in a coffee mug and top with frothed almond milk on top if desired.

Decorate with a pinch of extra Matcha powder – this doesn't add net carbs.
Want My Kitchen Equipment?
Serving:
1
latte
Calories:
311.9
kcal
(16%)
Carbohydrates:
3
g
(1%)
Fiber:
0.6
g
(3%)
Net Carbs:
2.4
g
Protein:
4.6
g
(9%)
Fat:
31.6
g
(49%)
Saturated Fat:
18.3
g
(114%)
Cholesterol:
108.7
mg
(36%)
Sodium:
273.9
mg
(12%)
Potassium:
59.5
mg
(2%)
Sugar:
0.3
g
Vitamin A:
1366.2
IU
(27%)
Vitamin C:
0.5
mg
(1%)
Calcium:
276.6
mg
(28%)
Iron:
0.7
mg
(4%)
Posted In: