This bulletproof tea recipe is a creamy Zero-carb cup of tea latte to enjoy as a keto breakfast.
It is the perfect keto drink to start the day, it is fulfilling, tasty, and the ideal fat-burning drink for tea lovers!
What Is Bulletproof Tea?
Bulletproof tea is the coffee-free alternative to Bulletproof coffee.
Therefore it is a fat-loaded version of your regular tea, enriched in healthy MCT oil and grass-fed butter.
How To Make Bulletproof Tea
Choose your tea variety
First, prepare your tea. Choose the tea flavor you like. Note the best tea leaves for bulletproof tea are strong tea varieties like black tea or green tea.
However, all tea varieties, if unsweetened, contain zero carbs and will be perfect to create your recipe for bulletproof tea.
So it is safe to use any tea variety, but the best bulletproof tea flavor will be achieved with one of these:
black tea
green tea
rooibos tea
Brew your tea
Once you have picked your tea, you have to brew it in freshly boiled hot water for 2 minutes.
You can make this in a bowl or directly in your cup of tea.
Blend all the ingredients together
This is a must-do. You must blend your bulletproof tea ingredients together at high-speed using either:
a blender – place all the ingredients into the blender and blend on high speed for 20 seconds until creamy.
an immersion blender – place all the ingredients into a tall and wide container or mug and immerge the immersion blender. Blend until creamy,
a milk frother – froth all the ingredients into a tall tea mug until creamy and smooth.
This is the key to combining your MCT oil (or coconut oil) and grass-fed butter (or ghee) together.
If you do not blend the tea and healthy fats at high speed, they will not combine and two layers will form in your drink.
It is honestly the worst both visually and in terms of taste. So, you don't want this to happen.
Flavoring
Use the recipe provided below and adapt it with the recommendations listed here based on your favorite bulletproof tea flavors:
bulletproof black tea – use a black tea bag.
bulletproof matcha tea – using 1/4 teaspoon of matcha powder instead of a tea bag and top your drink with 1 cup of frothed unsweetened coconut milk.
bulletproof green tea – use a green tea bag.
bulletproof chai tea – use a black tea bag, 1/4 teaspoon chai tea spices per cup, and top the drink with 1 cup of frothed unsweetened almond milk.
bulletproof ginger tea – replace the tea bag with a 1-inch fresh ginger slice that you soak in boiling water.
Bulletproof rooibos tea – use a tea bag or rooibos tea, sometimes also called red tea.
Vegan Bulletproof Tea Option
You can adapt this recipe to be dairy-free and therefore suitable for a vegan keto diet.
Simply replace the grass-fed butter with the same amount of either:
cocoa butter
coconut oil
almond butter
MCT oil
Frequently Asked Questions
What does bulletproof tea taste like?
It tastes like a tea latte, it is smooth, creamy, and sweet if you choose to add some sugar-free keto sweeteners to enhance its flavor.
The best keto sweeteners to add to your cup are:
– 1-2 stevia drops
– 1-2 tablespoons of erythritol
You can also try adding my keto pumpkin creamer or keto condensed milk to your bulletproof for extra flavors!
Will Bulletproof Tea Break My Fast?
On a keto diet, the definition of breaking the fast varies from person to person.
Since bulletproof tea has zero carbs or proteins, all it does is add energy from fat to your body.
It is commonly accepted that it is safe to drink one bulletproof tea or coffee during intermittent fasting. It helps you:
– Fast longer without feeling hungry
– Keep your energy levels steady – you will not feel tired
mind clarity and focus
However, if you choose to define intermittent fasting as a period with no calorie intake at all, then you should not drink any bulletproof tea during your intermittent fasting period.
What Are The Potential Benefits Of Bulletproof Tea?
The potential benefits of bulletproof tea are like of a bulletproof coffee.
It brings a decent amount of quality fats that are quickly creating ketones, your favorite source of energy on a keto diet.
So, if your body is in ketosis, meaning your body does not have carbohydrates to produce energy, it will use the fat from MCT oil and butter in your butter tea drink to produce energy.
Since fat slows down digestion, you might feel:
– Fulfilled quickly, no more constant hunger
– Focused
– Energized – bulletproof coffee contains MCT oils that are quickly absorbed by the liver and create ketones for a steady blood sugar level, no more energy crashes.
– Eat less and lose weight
When Should I Drink Bulletproof Tea?
You should not drink bulletproof tea at night simply because tea contains theine.
Like caffeine, theine is a stimulant and it will disturb your sleep.
Also, it is recommended to use bulletproof tea or coffee as a fulfilling drink in the morning to help you fast longer.
More Keto Bulletproof Drinks
If you love to start the day with hot keto drinks I have more for you to try!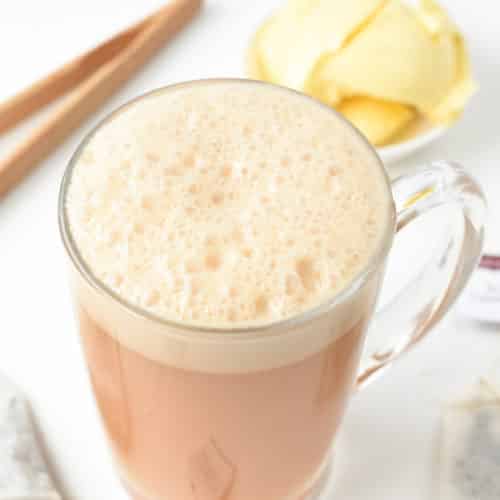 Bulletproof Tea Recipe
A creamy cup of tea perfect for your keto breakfast.
Ingredients
Optional sugar free keto sweetener
This recipe may contain Amazon or other affiliate links. As an Amazon Associate I earn from qualifying purchases.
Instructions
Add 1 cup of freshly boiled water to your tea mug.

Allow the tea bag to brew for 2 minutes.

Transfer the hot brewed tea into a blender with MCT oil and butter.

Blend on high speed until frothy about 20-30 seconds or place all the ingredients into a tall and wide mug and use an immersion blender or milk frother to froth on high speed.
Want My Kitchen Equipment?
Serving:
1
Tea
Calories:
221.4
kcal
(11%)
Carbohydrates:
0.1
g
Net Carbs:
0.1
g
Protein:
0.1
g
Fat:
25.3
g
(39%)
Saturated Fat:
14.4
g
(90%)
Sodium:
132.1
mg
(6%)
Vitamin A:
500.8
IU
(10%)
Posted In: