3-Ingredient Almond Flour Keto Crackers
This easy 3-ingredient keto almond flour cracker recipe with a crunchy texture and only 0.8 grams of net carbs!
Bonus, this gluten-free keto cracker recipe with almond flour is also egg-free, dairy-free and vegan approved!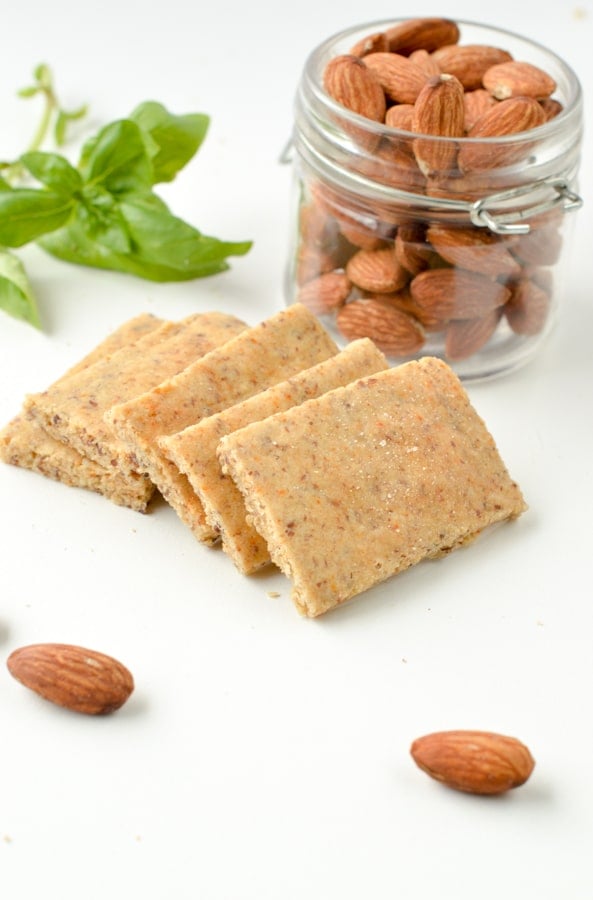 What Are Almond Flour Crackers?
Keto Almond Crackers are delicious crunchy bites with a bread-like texture that makes a delicious savory keto snack or keto low-carb appetizer.
They are easy to make, using only 3 ingredients, and suitable for any healthy diet, including gluten-free, paleo, and vegan.
How To Make Keto Crackers
It's super easy to whip a batch of healthy almond flour crackers using only 3 wholesome pantry ingredients. You don't even need dairy, eggs, or cheese for this recipe which makes it even more versatile.
In fact, it's up to you to flavor these crackers with sweet or savory spices or keep them plain for a delicious keto snack.
Ingredients Almond Flour Crackers
All you need to make this recipe for crackers with almond flour are:
Ultra-fine blanched almond flour – that's one of the best keto-friendly flour to bake crackers. It's fine, white in color, and creates crispy crackers without grainy texture. I don't recommend using an almond meal or ground almonds to avoid a gritty texture in your crackers. These two are the coarse version of almond flour, usually ground almonds with skin on and it results in dry crackers with dark color.
Golden flax meal – also known as ground flax seeds. This is an egg-free cracker recipe, and a flaxseed meal is a binder in the recipe. It holds the almond flour together to create delicious crispy keto crackers without eggy flavor.
Water
Then feel free to flavor the crackers by adding some of the below ingredients into the dough. If you are new to keto almond flour recipes, adding spices is a great way to hide the almond flour.
Sea salt – a pinch of salt or garlic powder or garlic salt adds a great flavor to these crackers.
Spices – ground paprika, curry powder, turmeric, Italian seasonings, or sugar-free sweeteners for a sweet version.
Seeds – bagel seasoning, sesame seeds, or hemp seeds for a boost of proteins.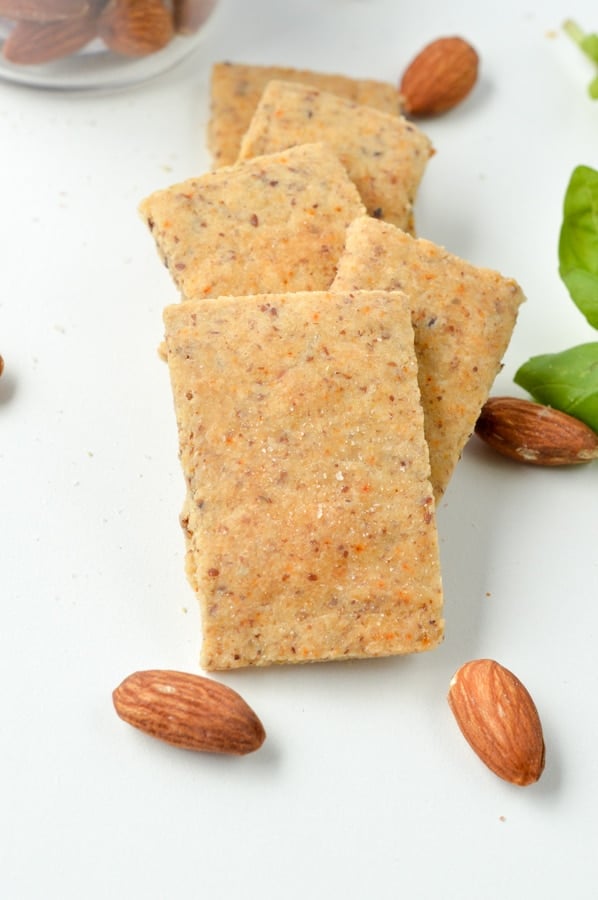 Combine all ingredients
In a large mixing bowl, stir the almond flour, flaxseed meal, any spices or salt you want to add in, and water. Stir the dough until it forms a ball.
Rolling the dough
Then, place the dough ball between two pieces of parchment paper. This prevents the dough from sticking to the rolling pin.
You can also use two silicone mats if preferred. Also, you can lightly oil the benchtop with olive oil if your parchment paper slips onto the surface while rolling.
Roll the dough into a 0.1-inch (3 mm) thickness. Thick crackers thick longer to bake.
You can control the thickness of your crackers by rolling them with pastry rulers. You can also fold your baking paper into a rectangle shape before rolling the dough.
This way, the dough is encased into this shape and can't be rolled thinner on some parts.
Remove the top piece of parchment paper and set it aside to reuse in another recipe.
Cut the dough
Now, use a sharp knife to cut the dough into 14 rectangle shapes.
Baking The Crackers
Preheat the oven to 350°F (180°C).
Finally, slide the sheet of parchment paper with the cut crackers on it onto a baking sheet.
Bake the crackers for 10 minutes, then open the oven and loosen each cracker on the baking sheet using the tip of a knife.
Return in the oven until crackers are golden brown and crispy on the side.
Serving Keto Almond Flour Crackers
On a keto diet, we miss crispy chips and bread, and these keto crackers are perfect as a substitute for chips. Serve your almond flour crackers with keto toppings like:
Cheese – soft cheese like camembert is delicious with crispy almond keto crackers.
Butter
Guacamole or mashed avocado
Cream cheese
Cured meat – salami, ham, chorizo
You can also use this almond flour keto crackers recipe for keto party food platters! First, add keto vegetables like olives, celery sticks, cucumber sticks, cheese, and cured meat to your platter.
Next, arrange your almond flour keto crackers all around.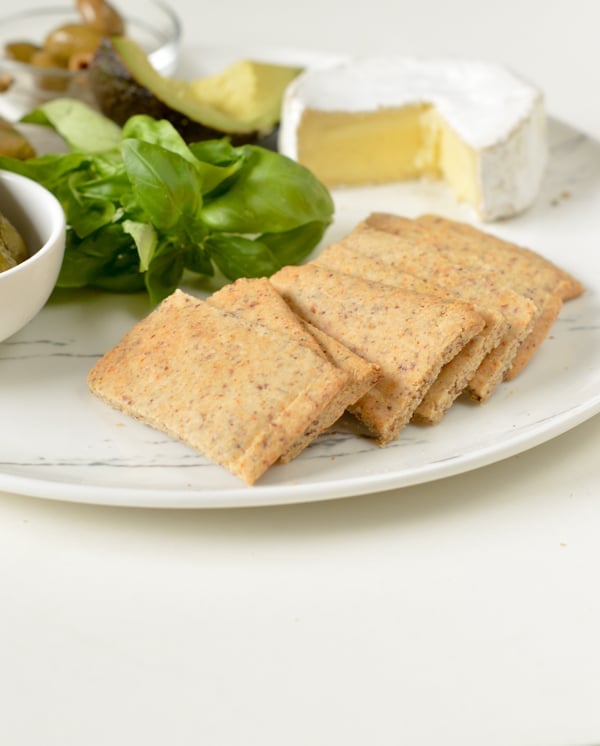 Storage Instructions
You can store the Almond Flour Crackers in a glass jar or airtight container for up to 10 days in the pantry.
Don't store them in the fridge or in a plastic container as they would soften.
Frequently Asked Questions
I've listed below the answers to the most common questions about this cracker recipe.
Is Flaxseed Meal Necessary For Almond Flour Crackers?
Yes, it is! Flaxseeds hold the ingredients together. The crackers would crumble without it.
How Many Carbs Are In Almond Flour Crackers?
Each cracker contains only 0.8 grams of net carbs.
Can I Swap The Flaxseed Meal For Psyllium Husk?
No, psyllium husk would make the crackers chewy, not crispy.
More Keto Cracker Recipes
I love to create a range of recipes for crackers made with almond flour or coconut flour.
Below I listed my favorite keto cracker recipes for you to try.
Keto Almond Flour Crackers
These Keto Almond Flour Crackers are easy low-carb snacks 100% low-carb, vegan, paleo, and grain-free made with 5 simple ingredients.
Ingredients
Spices – optional
¼

teaspoon

Salt

¼

teaspoon

Garlic Powder

¼

teaspoon

Ground Paprika

¼

teaspoon

Onion Powder

or flakes

⅛

teaspoon

Chilli Powder

¼

teaspoon

Cumin
This recipe may contain Amazon or other affiliate links. As an Amazon Associate I earn from qualifying purchases.
Instructions
Preheat oven to 350°F (180°C).

In a medium mixing bowl, combine almond flour, flaxseed meal, and any spices or salt you want to add in.

Stir in water until it forms a dough ball. The dough should not be sticky. If so, read the troubleshooting notes.

Place the dough onto a piece of parchment paper. Place another piece of parchment paper on top of the ball. Slightly press to flatten and then start rolling with a rolling pin into 0.1-inch (3 mm) thickness.

Remove the top parchment paper layer. Dip a knife blade into the water, slightly dry with a towel. This will prevent the blade from sticking to the dough. Cut rectangle shapes – you should be able to make 14 rectangles.

Slide the parchment paper sheet with the cut-out crackers onto a baking tray. Make sure you leave some space between each cracker to ensure a nice crisp on the border. If they are too close to each other, they don't crisp as much.

Bake at 350°F/180°C for 12 minutes, then open the oven and use the tip of a knife to space up the crackers if needed. This helps the sides crisp more.

Return to the oven and keep baking for up to 20 minutes or until golden brown on top and crispy.

Fully cool down on a cooling rack. The crackers will harden as they cool down and get their full crispy texture after 30 minutes at room temperature.

Store in a glass jar or airtight container (careful, plastic box soften the crackers). Store up to 10 days in the pantry. Don't store them in the fridge, or they will soften.
Notes
Tips: For precision, I recommend weighing your ingredients in grams rather than cups. Troubleshooting: Is the dough too sticky? This can happen if you did not weigh the ingredient or use coarse almond flour (almond meal, not recommended!). In this case, sprinkle an extra flaxseed meal, 1 teaspoon at a time, knead the dough for 30 seconds, set aside 5 minutes until the flax fiber absorbs the extra moisture. It should make the dough less sticky.
Want My Kitchen Equipment?
Serving:
1
cracker
Calories:
50
kcal
(3%)
Carbohydrates:
1.9
g
(1%)
Fiber:
1.1
g
(5%)
Net Carbs:
0.8
g
Protein:
1.9
g
(4%)
Fat:
4.3
g
(7%)
Sugar:
0.3
g
Posted In: