Almond flour crackers are easy keto snacks or low carb appetizers made with 5 simple ingredients. If you miss bread on keto low carb diet, these almond flour crackers will solve your bread craving in no time. It's an easy low carb recipe full of healthy fats, fibers and just a few net carbs to keep your macro on track. These keto crackers are gluten-free, low-carb, sugar-free, grain-free and vegan.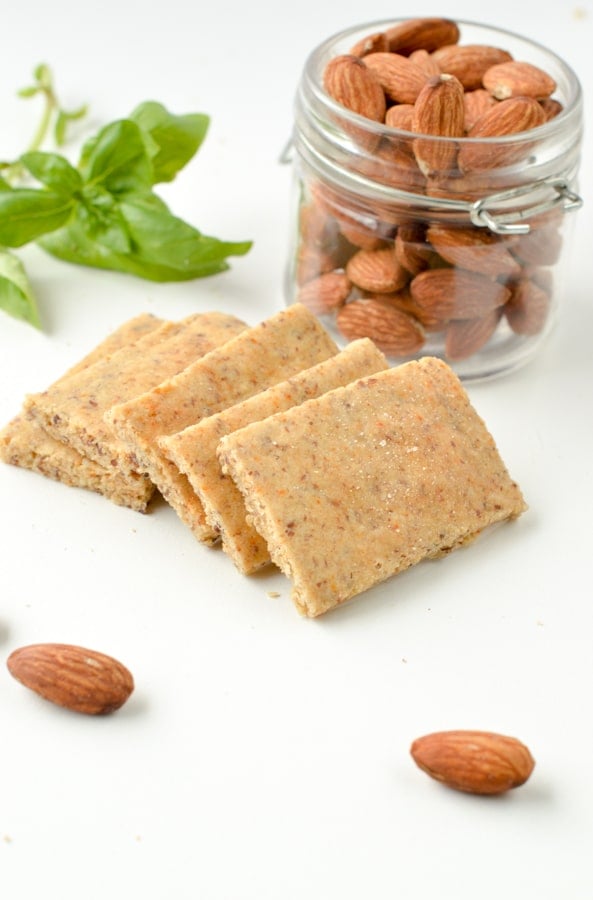 What are almond flour crackers?
Almond flour crackers are delicious crunchy bites with a bread-like texture that makes a delicious savory keto snack or keto low carb appetizer. They are easy to make using only 5 basic ingredients.
All you need is:
Almond flour or ground almond both work the same. I don't recommend almond meal, it's a thicker meal that gets the crackers darker and drier
Flax meal – or ground flax seeds, this adds healthy fats to your crackers and avoid eggs – and the egg flavor that goes with egg-based crackers
Water – use tap water
Sea salt – I love to use salt water with a boost of kelp
Spices – optional, of course the recipe will work perfectly with no spices but I love to use some to add more flavor to these simple crackers. I recommend my favorite combo, a mix of onion flakes, paprika, chili, garlic powder.
How to make your crackers?
Low-carb baking is a bit different from regular baking as you are using nut flour or seed flour that contains lots of fiber. Fibers are water absorbent and makes low-carb doughs a bit more sticky than flour-based ones.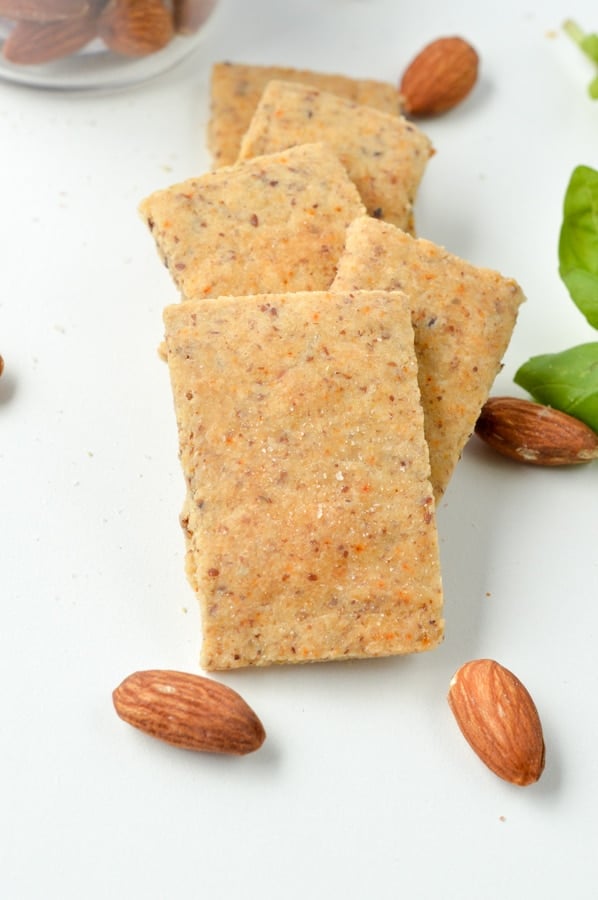 Kitchen tools to bake keto crackers
I always recommend you roll the cracker dough between two pieces of non-stick parchment paper to prevent the dough from sticking to the roller pin or use a silicone roller pin with silicone mat. The thicker you roll the crackers, the longer you need to bake them to be crispy. You can control the thickness of your crackers by rolling them with pastry rulers. I like mine slightly thick and roll them to 3 mm thickness. You can also shape the dough as a rectangle before you start rolling. It will make the cutting much easier if you want to shape beautiful rectangle shapes.
Watch the almond flour cracker video to see the step by step recipe!
I highly recommend you watch my recipe video before you start making this recipe. It will show you the most crucial steps and tools to make the recipe easily in your own kitchen.
Food platter with keto crackers
You can of course eat these almond flour crackers as a healthy snack but I found them amazing on a food platter. On a large plate or cheese board, add your keto crackers in a bowl in the center.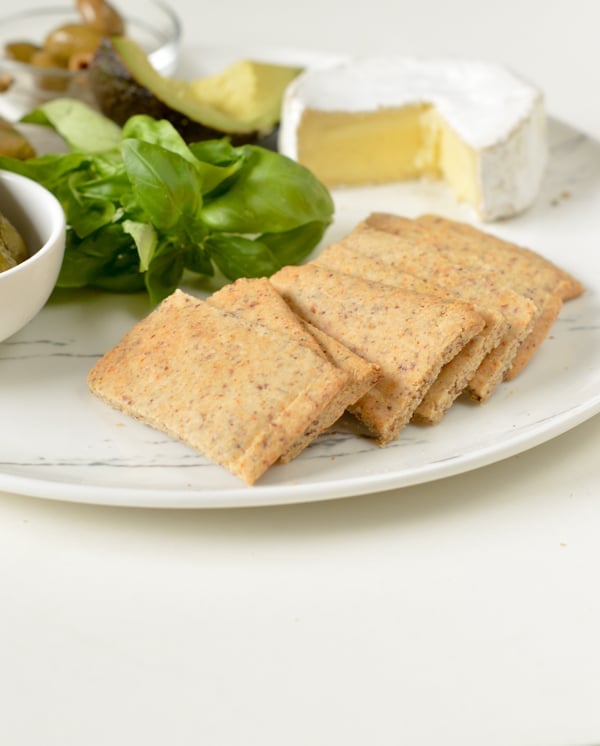 Then arrange your keto low carb food all around. Some delicious food to add on your food platter to go with these almond flour crackers are:
Cheese – use different sorts of cheese – hard cheese like old mature Cheddar, soft cheese like Camembert, or cream cheese like garlic and chives cream cheese
Dips – Avocado dip or spinach dip or cauliflower hummus
Low carb vegetables – cucumber slices, capsicum, roasted asparagus, gherkins, olives
Protein –  cured meat like chorizo, Italian ham, shrimps, boiled eggs
I hope you enjoyed these delicious low-carb crackers. If you make them don't forget to tag me on Instagram I love to see your creations.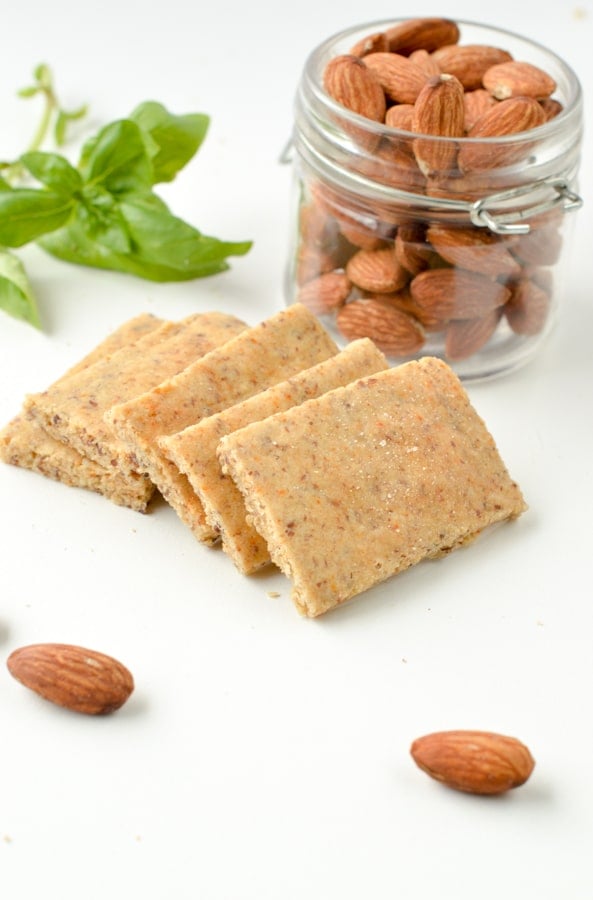 Almond flour crackers
Almond flour crackers are easy keto snacks 100 % low-carb, vegan, paleo and grain-free made with 5 simple ingredients.
14 crackers
Print The Recipe
Spices - optional
1/4 teaspoon Garlic powder
1/4 teaspoon Ground paprika
1/4 teaspoon Onion Powder or flakes
1/8 teaspoon chilli powder
1/4 teaspoon Cumin
Preheat oven to 180 (370F).

In a large mixing bowl, add all the ingredients, order doesn't matter. We recommend weighting the ingredients in grams for full precision.

Stir the ingredients together using a silicone spatula . The dough will be moist at first , drying as you go, keep going until it forms a consistent dough. It should take about 1 minute until the dough comes together and the fiber from the flax meal absorb the water. Shape a ball of dough. Set aside 10 minutes at room temperature.

Place the dough onto a piece of non-stick parchment paper. The dough should not be sticky, if so, read the troubleshooting note. 

Shape the dough as a rectangle with your hands - this is optional, it just make it easier to cut lovely rectangle crackers shapes.

Place another piece of non-stick parchment paper on top of the dough. Press slightly with your hand palm to stick the piece of paper to the dough. 

Start rolling the dough with a roller pin up to 3 mm thickness. Use pastry rulers to guide you with thickness if you like. Note that thicker crackers takes more time to bake and crisp.

Remove the top parchment paper layer. Dip a knife blade into the water, slightly dry with a towel. This will prevent the blade to stick to the dough. Cut rectangle shapes - you should be able to make 14 rectangles. I love to shape rectangles crackers and if you already shaped the dough as a rectangle you won't have leftover dough to re roll and reshape.

Slide the parchment paper sheet with the cut-out crackers onto a baking tray Make sure you leave some space between each crackers to ensure a nice crisp on the border. If they are too close from each others they don't crisp as much.

Bake at 180 C for 20-30 minutes, checking every 5 minutes from 20 minutes baking. The crackers on sides will cook faster, you can remove them first, cool down on a rack and bring back the rest of the crackers in the oven to bake them longer. They are cooked when the sides gets golden and crispy..

If there is leftover dough (some that is not cut-out as beautiful rectangles), gather this dough to reform a dough ball. Repeat the rolling/cutting process again with this dough to form more almond flour crackers.

Fully cool down on a cooling rack. The crackers will harden as they cool down.

Store in a glass jar or airtight container (careful, plastic box soften the crackers) . Store up to 10 days in the pantry. Don't store in the fridge or they will soften.  
Tips: For precision I recommend to weigh your ingredients in grams rather than cups. Troubleshooting: Dough is too sticky? this can happen if you did not weigh the ingredient or you used a thicker almond flour (almond meal, not recommended!). It this case, simply sprinkle extra flax meal, 1 teaspoon at a time, knead the dough for 30 second, set aside 5 minutes until the flax fibre absorb the extra moisture. It should make the dough less sticky. 
Nutrition Facts
Almond flour crackers
Amount Per Serving (1 cracker)
Calories 50 Calories from Fat 39
% Daily Value*
Fat 4.3g7%
Carbohydrates 1.9g1%
Fiber 1.1g5%
Sugar 0.3g0%
Protein 1.9g4%
Net Carbs 0.8g
* Percent Daily Values are based on a 2000 calorie diet.
Nutrition panel is for one keto almond flour crackers. This recipe makes 14 almond flour crackers. Serving size depends on your daily macro goals. 4 crackers as a snack is a fulfilling keto snack. Net carbs for one crackers (Carbs minus fiber) = 0.8 g