This Keto Baba Ganoush recipe is a creamy eggplant dip recipe that will surprise your guests.
It's inspired by the authentic baba ganoush recipe, a healthy dairy-free dip.
It is a terrific combo of garlic, lemon, and roasted eggplant. This version is topped with extra superfood goodness, a combo of crunchy seeds, and goji berries.
It'll bring your next party food night to the next level of healthy.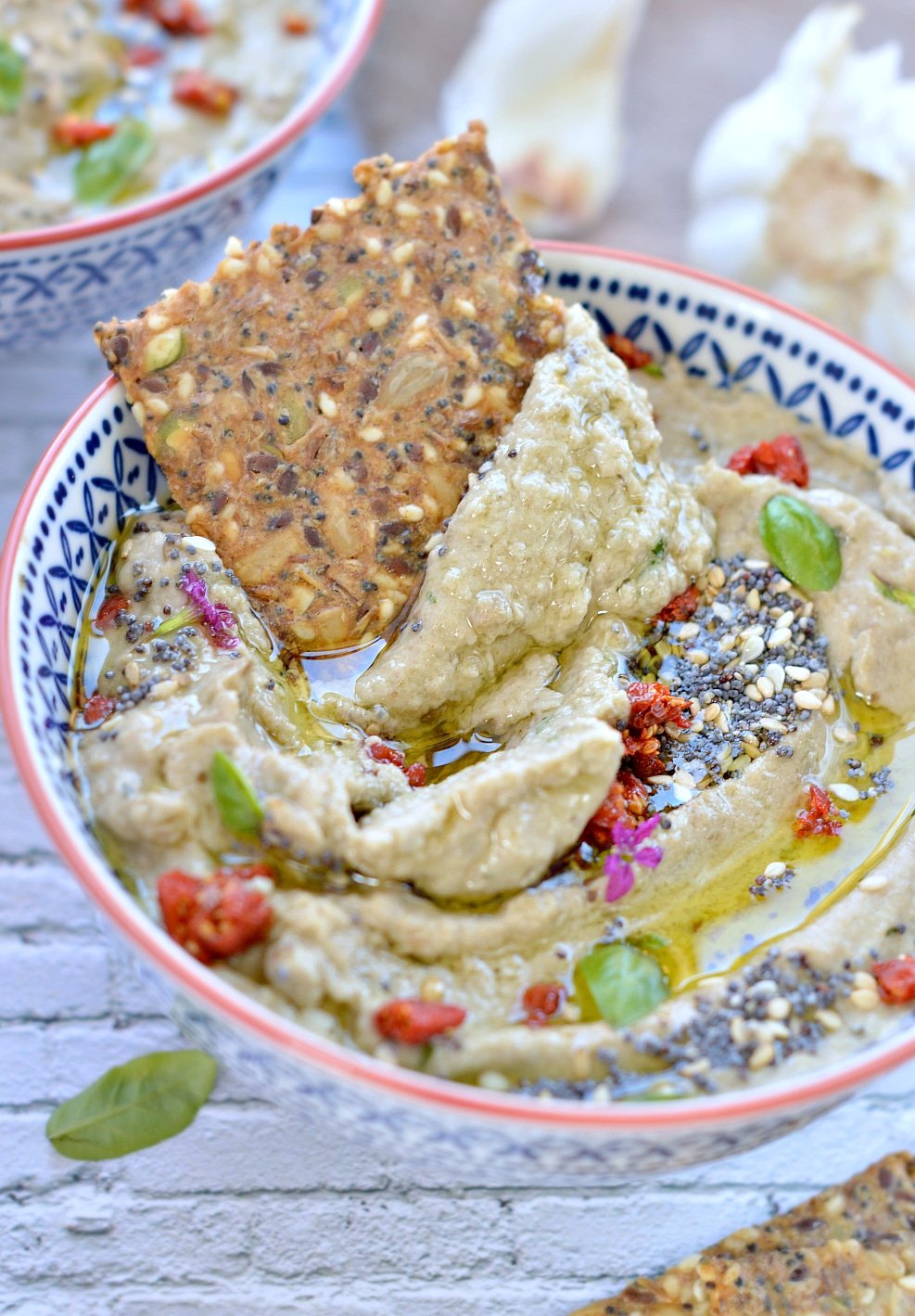 What's Baba Ganoush?
Baba Ganoush is a classic Mediterranean dip made with roasted eggplants, lemon juice, and a combination of herbs and spices.
It's often sever as a meze or starter along with hummus, flatbread, roasted chickpeas, and falafels.
Hummus vs Baba Ganoush
Hummus and Baba Ganoush are often found on the same platters. While they look somewhat similar, they are made with different ingredients.
The base of a Baba Ganoush is eggplants while hummus is made of chickpeas.
Why You'll Love This Recipe
The roasted eggplant combined with tahini paste and garlic had a delicious Mediterranean flavor to this keto baba ganoush.
Healthy
Keto-Friendly
Egg-Free
Dairy-Free
Vegan
Gluten-Free
Nut-Free
How To Make Baba Ganoush
Making this baba ganoush is super easy. Once you've gathered the ingredients and broiled the eggplant, it only takes a few minutes to put it together.
Ingredients
Eggplant – eggplants are a low-carb vegetable with only 5.5 grams of net carbs when roasted.
Garlic – prefer fresh organic garlic rather than garlic powder. Mince the garlic with a knife and crush it under the blade by pressing the garlic chunks.
Lemon Juice – you can either use freshly squeezed lemon juice (use my method for squeezing the most juice out of a lemon) or ready-to-use lemon juice.
Tahini Paste – tahini paste is made from crushed sesame seeds. It's a very healthy ingredient.
Extra Virgin Olive Oil
Salt
Ground Cumin
Fresh Basil Leaves – or any of your favorite fresh herbs like cilantro. Finely chop the herbs.
Sesame Seeds – black or white.
Poppy Seeds
Goji Berries – Goji berries are Chinese berries, sometimes described as a superfruit. However, these claims are notoriously unsubstantiated and unproven.
Cooking The Eggplants
The first step in making a delicious baba ganoush is to properly cook the eggplants.
To do so, start by pricking their skin with a fork to make many tiny holes that will help the flesh cook.
Then, slice the eggplants lengthwise and place them face down on a baking sheet lined with lightly oiled parchment paper.
Cover the eggplants with aluminum foil and let them bake for 10 to 15 minutes at 350°F (180°C).
The skin of the eggplants starts to blister and the flesh contracts.
Remove the foil and change the oven to be on the grilling mode for 5 to 10 minutes. During that time, keep flipping the eggplants so that both sides get a similar grilling time.
Remove the eggplants from the oven and let them cool down for a few minutes. You'd burn yourself if you tried getting their flesh at this stage.
Making The Creamy Eggplant Dip
When the eggplants have reduced in temperature, hold them with one hand and use a spoon to grate their flesh.
It should be very soft and easy to gather.
Place the flesh of the roasted eggplants in the bowl of a food processor and add the crushed garlic cloves, lemon juice, tahini paste, olive oil, salt, cumin, and fresh herbs.
Process the keto baba ganoush for about 30 seconds to form a creamy eggplant dip.
Adjust the taste of the dip with a touch of lemon juice, basil, or parsley to adapt it to your liking.
Transfer your baba ganoush to a mixing bowl.
Serving Baba Ganoush
Baba ganoush is even more delicious if you drizzle a little bit of olive oil on the top and sprinkle some sesame, poppy seeds, or pine nuts.
I like to serve this dip with homemade keto crackers, carrots, celery sticks, Coconut Flatbread, and some keto hummus.
You can also add low-carb appetizers to your platter like Smoked Cauliflower, Keto Buffalo Cauliflower, or Broccoli Cheese Balls.
Storage Instructions
You can store leftover baba ganoush in an airtight container in the fridge for up to 3 days.
It's also possible to freeze it in smaller containers if you made a large batch.
Defrost them in the fridge overnight before eating.
Frequently Asked Questions
Is Baba Ganoush Keto?
The classic baba ganoush recipe contains a few higher-carb vegetables such as onions, bell pepper, or tomatoes.
As a result, a single serving typically contains more than 10 grams of net carbs which is a bit more than the 3.4 grams of this recipe.
What Does Baba Ganoush Mean?
Bābā in Arabic means father (it has the same roots as Papa) and Ganush (or ġannūj) is probably the name of the person that made the recipe popular.
Can You Freeze Baba Ganoush?
Absolutely, this recipe can be made in large batches and stored in small containers in the freezer. Defrost them overnight in the fridge.
Is Baba Ganoush Vegan?
Classic Baba Ganoush is naturally vegan as it contains neither eggs nor dairy products.
This keto baba ganoush is also 100% vegan-friendly.
How Many Carbs In Baba Ganoush?
This baba ganoush recipe contains 3.4 grams of net carbs per serving.
How Many Calories In Baba Ganoush?
A typical serving of my baba ganoush contains 116 calories.
More Healthy Dip Recipes
If you like simple, healthy dips, you'll love the following recipe: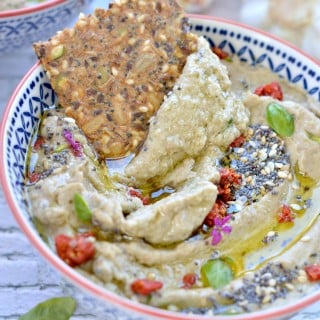 Baba Ganoush (Keto, Vegan)
This Baba Ganoush recipe is a creamy roasted eggplant dip easy low-carb appetizer inspired by the authentic baba ganoush recipe, a healthy dairy-free dip with an awesome combo of garlic, lemon, and roasted eggplant.
Nutrition Snapshot
Want My Kitchen Equipment?
Instructions
Preheat an oven to 350°F (180°C).

Prick the eggplant with a fork in several places and slice it in half lengthwise.

Place on a rack with the flesh facing down. Cover with foil and bake for 10-15 minutes until the skin blisters and the flesh softens.

Remove the foil, switch the oven to grill mode, and grill for 5-10 more minutes, turning frequently to grill both sides.

When baked, remove from the oven and transfer the eggplant to a chopping board or a plate.

Let them cool a little. Using a spoon remove the soft flesh from the baked eggplant leaving the skin aside.

Place the eggplant flesh in a bowl of a food processor with the S blade attachment.

Add the garlic cloves, lemon juice, tahini paste, olive oil, salt, cumin, and basil.

Process for 30 seconds to combine the ingredients and form a dip. Don't over-process the mixture to keep some bites of eggplants.

Taste and add more lemon juice or basil, if you like.

Transfer the mixture into a serving bowl and spread with the back of a spoon to form a shallow well.

Drizzle the olive oil over the top of the baba ganoush and sprinkle with sesame seeds, poppy seeds, and goji berries.

Store in the fridge for 2-3 hours before serving.

Store in an airtight container in the fridge for up to 3 days.
My Recipe Notes
Nutrition
Serving:
1
serving
Calories:
116
kcal
(6%)
Carbohydrates:
7
g
(2%)
Fiber:
3.6
g
(15%)
Net Carbs:
3.4
g
Protein:
2.6
g
(5%)
Fat:
9.1
g
(14%)
Saturated Fat:
1.3
g
(8%)
Polyunsaturated Fat:
2.8
g
Monounsaturated Fat:
4.7
g
Sodium:
63
mg
(3%)
Potassium:
265.4
mg
(8%)
Sugar:
3.4
g
(4%)
Vitamin A:
47.2
IU
(1%)
Vitamin C:
3.7
mg
(4%)
Calcium:
60.7
mg
(6%)
Iron:
1
mg
(6%)
Magnesium:
31.2
mg
(8%)
Zinc:
0.7
mg
(5%)
Posted In: