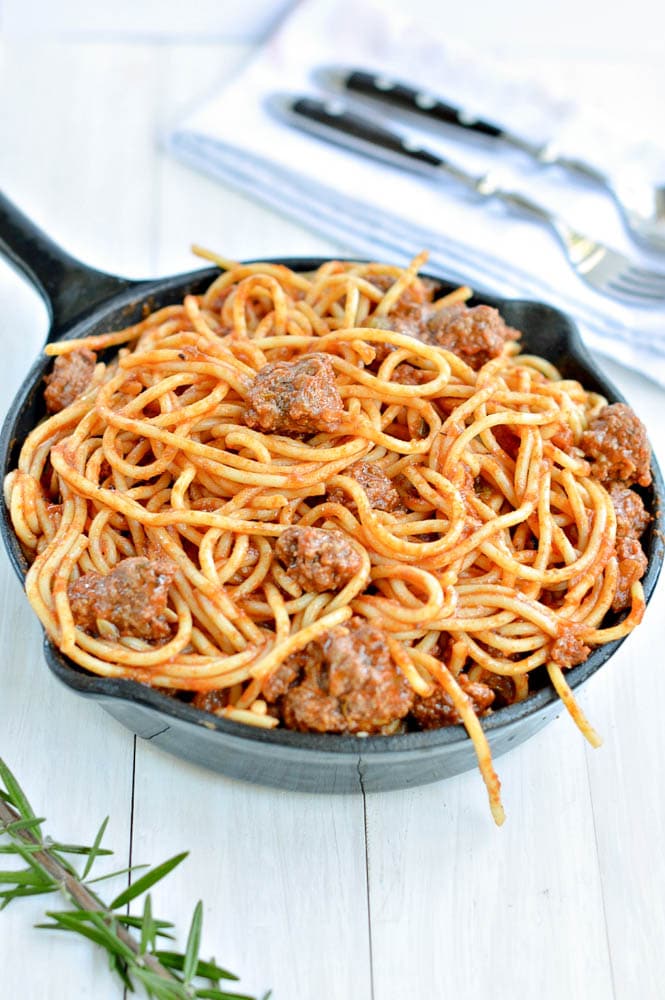 Keto spaghetti and meatballs are juicy beef chicken meatballs cooked in tomato sauce and serve with zero carbs wonder noodles. It's a delicious comforting keto dinner for all the pasta lovers.
Keto spaghetti and meatballs with wonder noodles – zero carbs noodles
The 2 magical ingredients that create a super tasty keto spaghetti and meatballs recipe with juicy beef meatballs are:
Zero carbs noodles – I love wonder noodles because they have zero net carbs or calories. In fact, those noodles are made of water, yam fiber, lime and oat fiber. Another options for this keto spaghetti recipe is to use shirataki noodles or homemade zucchini noodles
Diced chicken liver – the meatballs are hand-shaped with a mix of minced beef and finely diced chicken liver. If it's the chicken liver that makes you doubt about this recipe, don't! Give it a try. As the sauce is simmered for a while and the liver is finely diced it doesn't taste like liver at all. It simply makes the meatballs super tender and they melt into your mouth.
I learnt this recipe from an Italian friend so it's not something I created on my own. I would actually never have thought that I would eat chicken liver before she made me this recipe.
I used keto zero carb spaghetti to make this keto spaghetti and meatballs recipe but spiralizing zucchini into zucchini noodles will work well too. I love wonder noodles as they contain no carbs, no calories and the texture is firmer than regular keto noodles.
Made this recipe ? Share a picture with me on instagram.
XOXO Carine
keto spaghetti and meatballs
These keto spaghetti and meatballs are using wonder noodles, they have zero net carbs and zero calories.
4 people
Print The Recipe
2 tablespoons Extra virgin olive oil
3 Garlic clove crushed
1 large Onion finely diced
14 oz ground beef (400g)
5 oz chicken liver finely diced (150g) - or more ground beef
1/2 cup Grated Parmesan
1/2 tablespoon Dried oregano
1/2 tablespoon dried marjoram
1/2 teaspoon salt
1/4 cup Beef broth
14 oz Canned Diced Tomatoes (400 g), no added sugar
7 oz uncooked wonder noodles - zero net carbs, zero calories keto noodles (200g)
To serve
2 tablespoons Grated Parmesan per plate
In a bowl, mix the minced beef with finely diced chicken liver (or ground chicken if you don't like liver), grated parmesan, dried herbs and salt.

Shape meatballs with your hands and form 20 meatballs.

In a large saucepan, under medium heat warm olive oil.

Add the crushed garlic and diced onion, reduce to low heat and cook for 2 minutes until golden and fragrant.

Add the meatballs into the saucepan and fry the meat for 2-3 minutes on all sides.

Add the beef broth to de glaze and stir in the can of diced tomatoes,

Cover and simmer 20 minutes or until the liquid slightly thickens and reduces.

Adjust with salt and pepper to taste.

Meanwhile cook the wonder noodles following your packing instructions. If you can't find these noodles you can make your own zucchini noodles with a spiralizer or try shirataki spaghetti

When the keto noodles are cooked, serve 1/4 cooked noodles per plate (or more, they have zero carbs so they won't impact carb count but they will add fiber). Top with 1/4 of the whole meatball sauce.

Serve with 1/4 cup of gratded parmesan.
Storage
You can freeze the leftovers in an airtight container or store 2 days in the fridge.

Defrost the day before eating and rewarm in the microwave or saucepan.
Net carb per serve: 6.4 grams using zero carb pasta. If you are using zucchini noodles, they will add 2g net carbs per (3.5 oz/100 g)
Nutrition Facts
keto spaghetti and meatballs
Amount Per Serving (1 serve)
Calories 365 Calories from Fat 166
% Daily Value*
Fat 18.4g28%
Carbohydrates 9.2g3%
Fiber 2.8g12%
Sugar 4.4g5%
Protein 40g80%
Net Carbs 6.4g
* Percent Daily Values are based on a 2000 calorie diet.