Keto Spaghetti And Meatballs With Zero-Carb Noodles
Keto spaghetti and meatballs are juicy beef, and chicken meatballs cooked in tomato sauce and serve with zero-carb Wonder Noodles.
It's a delicious, comforting keto dinner for all pasta lovers.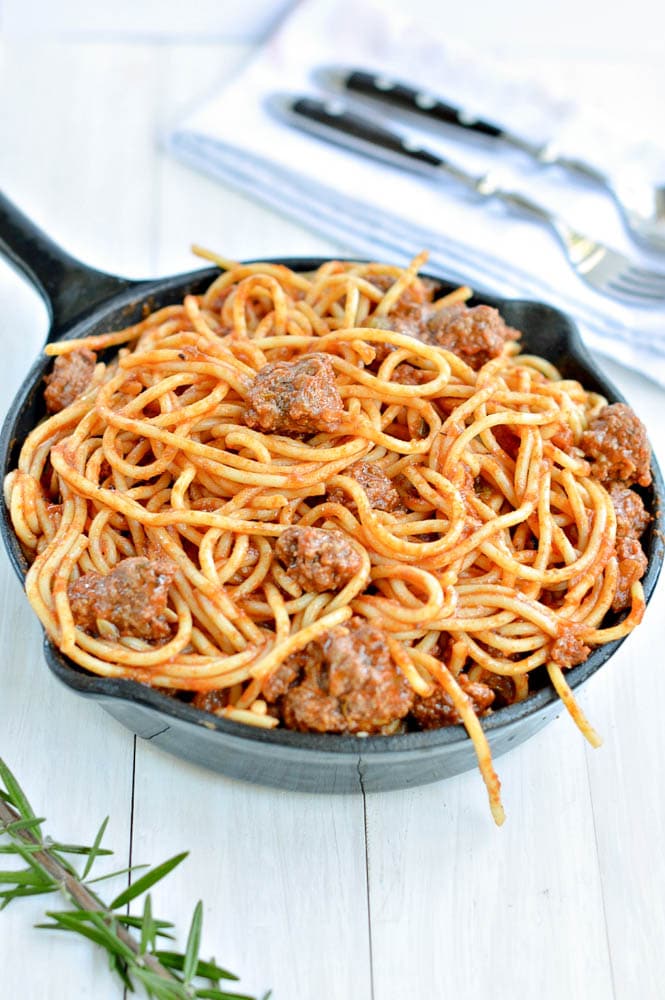 Is Spaghetti Keto-Friendly?
Let's break that down, first the noodles, then the sauce.
How Many Carbs Are In Spaghetti Noodles?
Regular Spaghetti noodles are made with milled wheat. As a result, they contain about 30 grams of net carbs per 100 grams.
It is not keto-friendly at all! You would reach your daily macro with just 3 ounces of spaghetti, and that's with no sauce at all!
That's why I am using zero-carb noodles, a keto-friendly spaghetti in this recipe. Read more about that below!
Is Spaghetti Sauce Keto?
There is a great number of spaghetti sauce recipes out there.
I am a big fan of the Bolognese sauce, and this recipe is inspired by the traditional Spaghetti Bolognese recipe.
A traditional Bolognese sauce has about 5 to 8 grams of net carbs per 100 grams. Which again is not particularly keto-friendly.
So keep on reading to learn how I make a keto-friendly spaghetti sauce!
Why You'll Love This Recipe
This keto spaghetti recipe is perfect because it's:
Gluten-Free
Paleo
Low-Carb
Keto-Friendly
0-carb Spaghetti
6g Net Carbs Sauce
How To Make Keto Spaghetti And Meatballs
I learned this recipe from an Italian friend, so it has some deep traditional roots.
Key Ingredients
The two magical ingredients that create a super tasty keto spaghetti and meatballs recipe with juicy beef meatballs are:
Zero-Carb Noodles. I love Wonder Noodles because they have zero net carbs or calories. In fact, these keto spaghetti noodles are made of water, yam fiber, lime, and oat fiber. Another option for this keto spaghetti recipe is to use shirataki noodles or homemade zucchini noodles, also known as zoodles.
Diced chicken liver. The meatballs are hand-shaped with a mix of minced beef and finely-diced chicken liver. If it's the chicken liver that makes you doubt this recipe, don't! Give it a try. As the keto spaghetti sauce simmers for a while, and because the liver is finely diced, it doesn't taste like liver at all. It simply makes the meatballs super tender, and they melt in your mouth.
I would never have thought that I would eat chicken liver before she made me this recipe.
Making The Keto Meatballs
The keto meatballs are one of the secrets of this recipe. To make them, slice the chicken liver finely and mix it with ground beef, Parmesan, herbs, and salt.
Then, shape and cook 20 meatballs with onions and garlic.
Deglaze with beef broth to add a delicious taste!
For a slightly different meatball taste, try my Gluten-Free Meatballs.
Making The Zero Carb Pasta
The zero-carb keto pasta is very easy to cook! They essentially behave like regular spaghetti.
Tip: add a pinch of salt to the boiling water!
Serving The Keto Spaghetti And Meatballs
To serve this delicious keto dish, put a quarter of the spaghetti in a bowl with a quarter of the meatball and sauce.
Add some grated Parmesan on top for a true Italian taste!
Storage Instructions
Like regular spaghetti, this keto spaghetti can easily be stored in an airtight container in the fridge for two to three days.
You can also freeze leftovers in an airtight container for up to three months.
Defrost the day before eating and rewarm in the microwave or saucepan.
Frequently Asked Questions
Can You Eat Spaghetti On Keto?
No, not regular spaghetti. Since classic spaghetti is made with wheat flour, it is way too high in carbs.
You have to use low-carb spaghetti and a meatball recipe that reduces the carbs like this one.
How Many Carbs Are In Keto Spaghetti And Meatballs?
This recipe has only 6.4 grams of net carbs per serving and only 365 calories.
So it is a great pasta recipe on your keto journey!
I use keto-friendly Zero-Carb spaghetti to make this keto spaghetti and meatballs recipe, but spiralizing zucchini into zucchini noodles would also work well.
I love Wonder Noodles as they contain no carbs, no calories, and the texture is firmer than regular keto noodles.
More Healthy Pasta Recipes
If you enjoy pasta dishes, try the following recipes!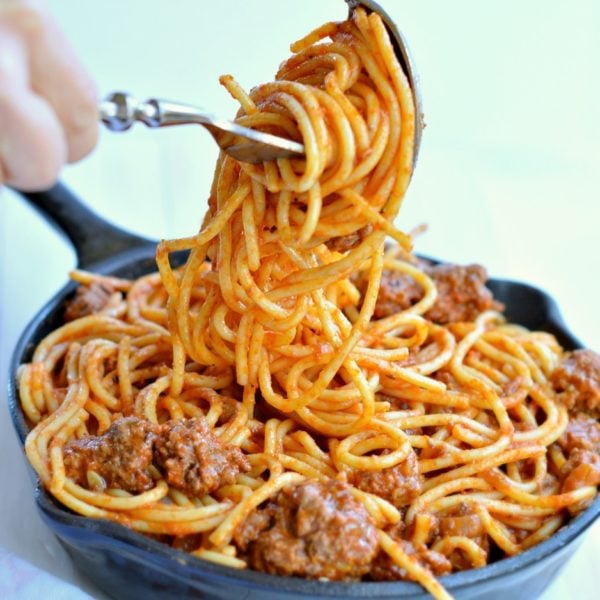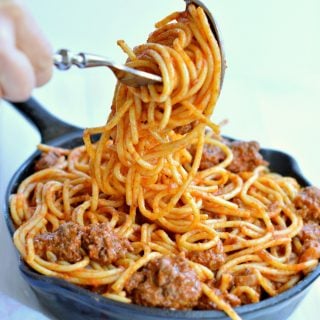 Keto Spaghetti and Meatballs
This Keto Spaghetti and Meatballs meal uses Wonder Noodles. They have zero net carbs and zero calories.
Ingredients
To serve
2

tablespoons

Shredded Parmesan

per plate
This recipe may contain Amazon or other affiliate links. As an Amazon Associate I earn from qualifying purchases.
Instructions
In a bowl, mix the minced beef with finely diced chicken liver (or ground chicken if you don't like liver), grated parmesan, dried herbs, and salt.

Shape meatballs with your hands and form 20 meatballs.

In a large saucepan, under medium heat, warm olive oil.

Add the crushed garlic and diced onion, reduce to low heat and cook for 2 minutes until golden and fragrant.

Add the meatballs into the saucepan and fry the meat for 2-3 minutes on all sides.

Add the beef broth to deglaze and stir in the can of diced tomatoes.

Cover and simmer for 20 minutes or until the liquid slightly thickens and reduces.

Adjust with salt and pepper to taste.

Meanwhile, cook the wonder noodles following your packing instructions. If you can't find these noodles, you can make your zucchini noodles with a spiralizer or try shirataki spaghetti.

When the keto noodles are cooked, serve 1/4 cooked noodles per plate (or more, they have zero carbs, so they won't impact carb count, but they will add fiber). Top with 1/4 of the whole meatball sauce.

Serve with 1/4 cup of grated parmesan.
Storage
You can freeze the leftovers in an airtight container or store them for 2 days in the fridge.

Defrost the day before eating and rewarm in the microwave or saucepan.
Notes
If you are using zucchini noodles, they will add 2 grams of net carbs per 3.5 oz (100 g)
Want My Kitchen Equipment?
Serving:
1
serving
Calories:
365
kcal
(18%)
Carbohydrates:
9.2
g
(3%)
Fiber:
2.8
g
(12%)
Net Carbs:
6.4
g
Protein:
40
g
(80%)
Fat:
18.4
g
(28%)
Sugar:
4.4
g
(5%)
Posted In: