Lemon Pepper Chicken Marinade
This Lemon Pepper Chicken Marinade is an easy recipe to add tangy lemon and spicy flavors to chicken breast or chicken tenderloins.
Plus, this chicken marinade is also gluten-free and dairy-free.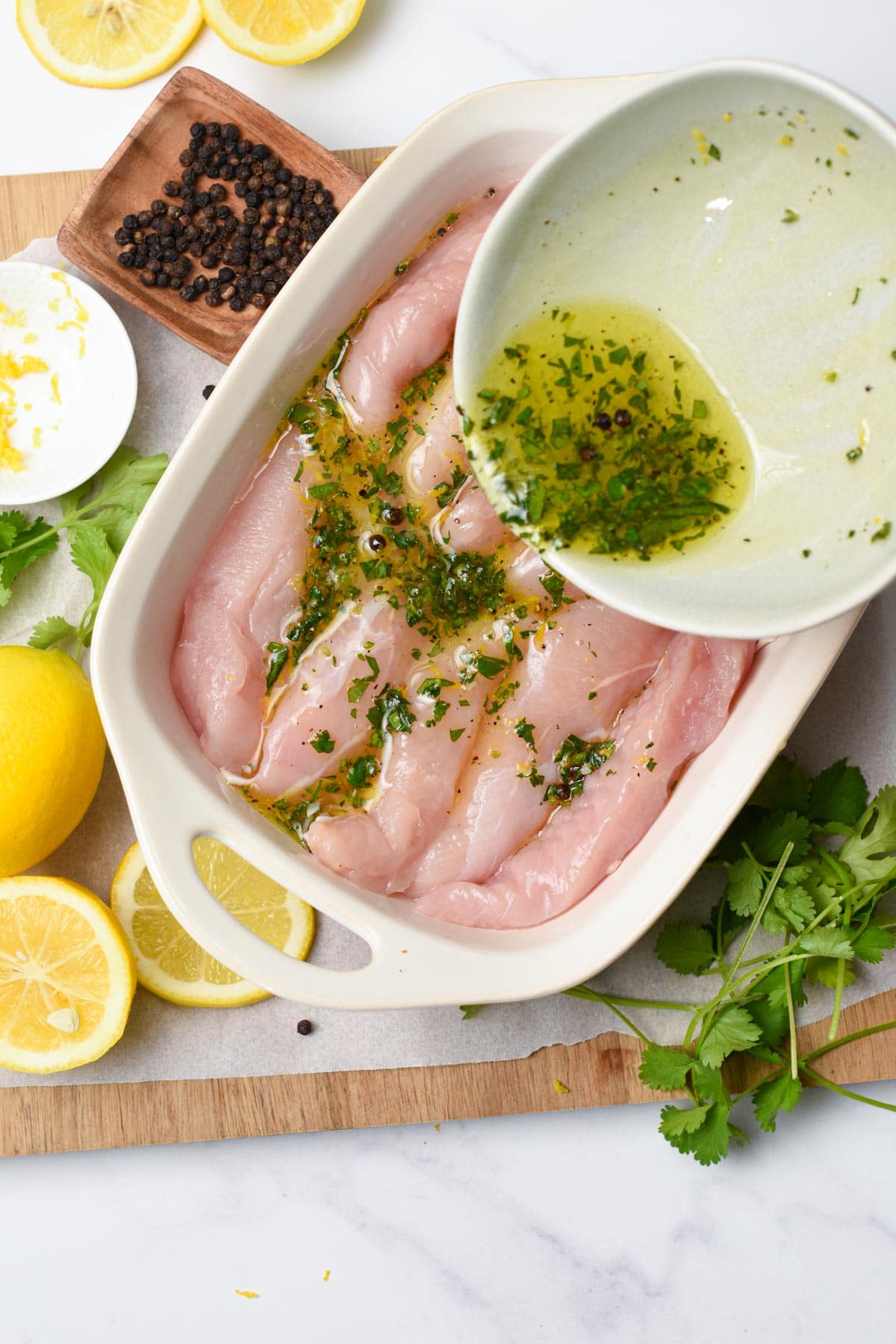 What's A Lemon Pepper Chicken Marinade?
Chicken is always better marinated.
A marinade not only adds flavor to the meat but also tenderizes the meat, making your chicken juicy and melt in your mouth.
This Lemon Pepper Chicken Marinade combines the tanginess of lemon with the flavors of pepper for perfect juicy meat.
It's similar to my Greek Chicken Marinade or my Chicken Marinade, with a zestier touch.
Why You'll Love This Recipe
This marinade recipe is amazing for its simplicity and taste, but it's also:
Gluten-Free
Low-Carb
Keto-Friendly
Ready In 10 Minutes
How To Make Lemon Pepper Chicken Marinade
It's very easy to make a garlic lemon chicken marinade in less than 10 minutes.
Key Ingredients
Let's see what you need.
Lemon Juice – Freshly squeezed lemon juice tastes better, but you can also buy ready-made juice. Follow my tips to squeeze a lemon without a juicer.
Olive Oil or avocado oil. Prefer an unrefined oil to keep as much flavor.
Fresh Chopped Herbs – Italian parsley or cilantro taste amazing with chicken, but you can also use rosemary or dill.
Cumin – it's optional, but it makes all the difference.
Lemon Zest from one fresh untreated lemon.
Preparation
Combine all the lemon pepper chicken marinade ingredients in a mixing bowl or glass mason jar.
Stir the jar well to combine. It takes about one minute to get the ingredients to blend.
Then add the meat to a shallow bowl or zip-lock bag and cover with the chicken marinade.
Rub the meat to evenly coat it with the chicken marinade, then zip the bag or film the bowl with sealed plastic wrap and place the dish in the refrigerator.
Marinade Timing
Over marinating meat makes the meat tough, especially when a marinade contains lemon juice.
So for the best flavor, don't exceed 12 hours but leave it for at least 3 hours in the fridge.
Oil Choice
A marinade should use healthy high-smoke point oil to add good healthy fat to your meal.
Also, high-smoke point oils handle high temperatures better, so whether you bake, fry, or air fry the chicken, the oil won't be bad for you and won't create harmful smoke.
The Best Oils Are
Avocado Oil
Olive Oil
Almond Oil
Grapeseed Oil
Variations
You can use the same recipe to create a range of lemon chicken marinade flavors.
Use rosemary as herb to make lemon rosemary chicken marinade.
Add 1/4 cup of Greek yogurt to make a Greek chicken marinade.
Cooking Time
After marinating the chicken, you have many options for cooking the meat.
To make an easy chicken dinner, you can bake or air fry the meat – the fastest options. Otherwise, you can grill on a barbecue or skillet.
Baked Chicken – line a baking sheet with parchment paper. Slightly spray oil on the paper and place the chicken on the sheet. Bake for 25 minutes in an oven preheated to 350°F (180°C), flipping the meat halfway.
Air Fried Chicken – Air-fry the chicken directly onto the grease air fryer basket for 12-16 minutes, flipping halfway.
Grilling Chicken – preheat a cast-iron skillet or barbecue, then add the marinated meat with kitchen tongs. Grill until the meat is brown and white in the center. The time depends on the thickness of the meat. Chicken breasts are thicker and take longer than tenderloins to cook through.
Serving
Chicken marinated in this Lemon Pepper Chicken Marinade tastes fantastic as a topping to a salad like my spinach strawberry salad or on top of a cobb salad.
It's also a great side to grilled vegetables like smoked cauliflower or a creamy casserole like a cauliflower casserole or green bean casserole.
Frequently Asked Questions
Below I listed the answer to your most common questions about this lemon chicken marinade recipe.
Should I Marinate Chicken?
It's optional to marinate chicken, but it helps tenderize the meat.
This lemon chicken marinade makes your chicken juicier and chewier and improves its flavors.
You can use this lemon marinade for any chicken pieces, like chicken tenders, skinless chicken breasts, chicken thighs, or chicken drumsticks.
It's a great marinade for
Grilling
Baking
Air frying
Roasting
Can I Freeze Marinade?
Yes, you can freeze the marinade itself in zip-lock bags or add the marinated chicken in the bags or container and freeze them together.
The freezing process stops the action of the lemon juice on the meat, so the meat will be perfect when you thaw it in the fridge the day before using it.
You can freeze it for up to 3 months.
Can I Marinade Vegetables With This Recipe?
Yes, absolutely this lemon pepper marinade goes well with summer vegetables like zucchini, eggplants, tomatoes, or cauliflower.
Can I Use Another Meat?
Yes, you can use this marinade with shrimp instead of chicken. You can also use it with beef, but make sure to cook your steak to the right level.
More Healthy Dinner Recipes
If you like simple, healthy dinners, you'll love these:
Lemon Pepper Chicken Marinade
This Lemon Pepper Chicken Marinade is a simple and delicious marinade for chicken tenderloins or chicken breast.
Ingredients
¼

cup

Lemon Juice

freshly squeezed

3

tablespoons

Olive Oil

¼

teaspoon

Onion Powder

or 3 freshly

3

Garlic Cloves

minced

½

teaspoon

Black Pepper

¼

teaspoon

Sea Salt

¼

teaspoon

Cumin

optional

1

tablespoon

Lemon Zest

grated
This recipe may contain Amazon or other affiliate links. As an Amazon Associate I earn from qualifying purchases.
Instructions
In a mixing bowl, whisk all ingredients together until well combined.

Add 8 oz chicken breast or chicken tenders. Rub in the marinade, cover the bowl with a piece of plastic wrap, and store in the fridge for at least 30 minutes or overnight – for a maximum of 12 hours.

Remove from marinade and grill the chicken on a skillet or air fry.

Use the chicken on top of a salad or as a side to grilled vegetables.
Want My Kitchen Equipment?
Serving:
1
serving
Calories:
101.8
kcal
(5%)
Carbohydrates:
2.4
g
(1%)
Fiber:
0.3
g
(1%)
Net Carbs:
2.1
g
Protein:
0.3
g
(1%)
Fat:
10.6
g
(16%)
Saturated Fat:
1.5
g
(9%)
Polyunsaturated Fat:
1.1
g
Monounsaturated Fat:
7.7
g
Sodium:
146.5
mg
(6%)
Potassium:
34.1
mg
(1%)
Sugar:
0.5
g
(1%)
Vitamin A:
4.8
IU
Vitamin C:
8.6
mg
(10%)
Calcium:
9.9
mg
(1%)
Iron:
0.2
mg
(1%)
Magnesium:
2.7
mg
(1%)
Zinc:
0.1
mg
(1%)
Posted In: