This Pork Chop Marinade brings your cut of pork to the next level!
Marinating pork chops makes the meat ultra flavorsome and tenderizes it for a perfect texture. No more dry pork recipes with this easy pork chop marinade!
If you've tried my 4-Ingredient Oven Baked Pork Chops Recipe you might be wondering if you should marinate pork loin chops.
You don't have to. Some cuts are already very juicy such as any bone-in pork chops.
However, some other cuts can be dryer, especially the ones coming from two different parts, like loin chops. That's why the latter is always better for grilling than stew or slow cooker recipe.
This Pork Chop Marinade goes with any pork cut and matches any cooking style. You can make oven-baked pork chops, grilled pork chops, or pan-fried!
Let's see how to make this simple marinade for pork chops in a few minutes.
How To Make Pork Chops Marinade
All you need to make this easy pork marinade recipe are the following.
Ingredients
Boneless Pork Chops – It can be any part of pork: cutlets with bone, sirloin, etc.
Extra Virgin Olive Oil – Or use high-smoke point oils like avocado oil or sesame oil if you plan to bake pork chops at 400°F (200°C) or more.
Honey or brown sugar or even sugar-free version of these sweeteners to keep the marinade low-carb. This is my secret ingredient to make the meat slightly sweet.
Soy Sauce
Apple Cider Vinegar or lemon juice. You can also use balsamic vinegar.
Dijon Mustard
Garlic
Oregano
Black Pepper and Salt
Preparing The Marinade
The marinade will make the pork meat tender and delicious.
First, mix all the pork chop marinade ingredients in a bowl: oil, honey, soy sauce, apple cider vinegar, Dijon mustard, garlic, and oregano.
Feel free to play with aromatic herbs and use different herbs you love, like dried thyme, rosemary, or dried marjoram.
All these Italian-style herbs go well with pork chops.
Marinating Pork
You have two options for the best pork chop marinade.
You can lay the pork chops in a dish where the marinade will easily cover the meat. It means a not-too-wide dish.
If so, pour marinade on the chops, film the dish with plastic wrap, and refrigerate for 2 to 24 hours.
My favorite way to make marinades is to use plastic bags. The meat gets fully covered and squished in the bag absorbing all of the flavors.
Place pork chops in the bag with the marinade and seal the bag and leave it in the refrigerator.
Pork Chops Cooking Temperature
Now that the meat has been marinated remove it from the bag, and discard the marinade.
The marinade has been in contact with raw meat and can be harmful and carry bacteria so don't reuse it.
The best way to control pork cooking is to use a meat thermometer and check the internal temperature of the meat.
Keep in mind that for pork chops, the best internal temperature is 145°F-150°F (63°-65°C), not more or the meat will be very dry.
Also, as a general rule, pork needs to cook for 8 minutes per 1/2 inch thickness. So for a 1-inch pork chop it's 8 minutes per side.
| Thickness | At 400°F (200°C) | At 350°F (180°C) |
| --- | --- | --- |
| 1/2 inch | 8 minutes | 12 minutes |
| 1 inch | 16 minutes | 24 minutes |
| 1.5 inches | 24 minutes | 36 minutes |
| 2 inches | 32 minutes | 48 minutes |
| 2.5 inches | 40 minutes | 60 minutes |
Temperature For Other Pork Cuts
This pork chop marinade will marinade ribs or tenderloins very well too. However, their cooking temperature varies.
Here are the pork's internal temperatures based on the level of cooking you want to achieve.
145°F – 150°F – extra-juicy medium-rare pork. This is the best temperature for pork chops, pork tenderloin and pork loin.
150°F – 155°F – medium rare ribs
155°F – 160°F – medium well – ribs, pork cutlets
160°F – well – perfect for ground pork
Pork Cooking Methods
You can cook pork chops in many different ways.
Oven-Baked Pork Chops
I have a lovely oven-roasting pork chop recipe you can try.
It's ready in under 30 minutes for a delicious result.
Sear-Roasting Pork Chops
This method consists of cooking pork chops in a skillet and then in the oven.
In a large non-stick saucepan, heat one tablespoon of olive oil.
Add the pork chops and sear the meat for four minutes on both sides.
This browns the meat on the outside while the center stays uncooked. Preheat the oven to 400°F (200°C).
Transfer the pork to a baking dish and bake for 12 minutes until the internal temperature reaches 145°F (63°C). Insert the meat thermometer in the thickest part of the meat.
Frying Pork Chops
In a large non-stick pan warm one tablespoon of olive oil and one tablespoon of butter.
Add pork chops and cook for 4 to 5 minutes on each side, until brown and no pink juice is released.
Also, check the meat's internal temperature. When it reaches 145°F (63°C), stop frying and serve.
Grilling
Warm a BBQ over high heat and grease the griddle with olive oil.
Add the pork and cook uncovered for 4 to 5 minutes on both sides until brown and the internal temperature matches the rules above.
Serving Suggestions
You can serve these delicious juicy pork chops with may side dishes from vegetables to salads.
My favorite roasted vegetable recipes with pork chop recipes are:
If you'd rather have a salad recipe, try the following:
Or some
Allergy Swaps
If there are some ingredients, you can't use in this marinade. I listed some options below.
Apple Cider Vinegar – You can use lemon juice instead or rice vinegar for an Asian pork chop marinade.
Gluten-Free – Replace the soy sauce with tamari sauce.
Honey – Any liquid sweetener like maple syrup, agave syrup, or sugar-free syrup will work.
Frequently Asked Questions
Below are the answers to your most common questions about pork marinade.
Can I Freeze Marinated Pork?
Yes, you can freeze the pork in its marinade in zip-lock bags.
Make sure you label the bag with the cooking date, so you know when you prepared the batch, as this last for one month in the freezer.
Thaw in the fridge the day before, remove from bag and discard the marinade.
Can I Reuse Pork Marinade?
No, excess marinade carries the same risks as raw meat. It can carry bacteria, and it's not safe to eat or reuse to marinate something else.
Should I Wash My Meat Before Marinating?
No, the USDA doesn't recommend rinsing the meat before cooking or marinating it, as this will spread bacteria in your kitchen.
The bacteria on the meat will be killed by the cooking process.
More Marinade Recipes
I love marinating meat, here's some more marinade recipe inspiration for you.
Have you tried this pork chop marinade recipe? Share a comment or review below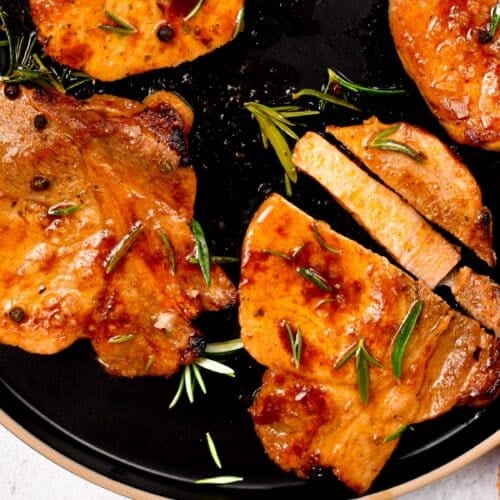 Pork Chop Marinade
This Pork Chop Marinade brings your cuts of pork to the next level! In fact, marinating pork chops makes the meat ultra-flavorsome, and it also tenderizes it. No more dry pork recipes with this easy pork chop marinade.
Serving Size:
1
serving (no meat)
Ingredients
4

Pork Chops

1 inch thick

3

tablespoons

Olive Oil

1

tablespoon

Honey

or brown sugar

¼

cup

Soy Sauce

1

tablespoon

Lemon Juice

or apple cider vinegar

1

teaspoon

Dijon Mustard

or hot sauce

1

Garlic

crushed

1

teaspoon

Dried Oregano

1

tablespoon

Dried Paprika
This recipe may contain Amazon or other affiliate links. As an Amazon Associate I earn from qualifying purchases.
Instructions
In a small bowl, whisk all the marinade ingredients and place them in a zip-lock bag.

Add the pork chops to the bag, close it tight, and massage gently to cover the meat with the pork marinade. Refrigerate the bag for 2 to 24 hours in the fridge.
Serving Size:
1
serving (no meat)
Serving:
1
serving (no meat)
Calories:
64.6
kcal
(3%)
Carbohydrates:
7
g
(2%)
Fiber:
1
g
(4%)
Net Carbs:
6
g
Protein:
1.9
g
(4%)
Fat:
3.8
g
(6%)
Saturated Fat:
0.5
g
(3%)
Polyunsaturated Fat:
0.5
g
Monounsaturated Fat:
2.6
g
Sodium:
825.5
mg
(36%)
Potassium:
88.4
mg
(3%)
Sugar:
4.9
g
(5%)
Vitamin A:
871.6
IU
(17%)
Vitamin C:
1.7
mg
(2%)
Calcium:
17.6
mg
(2%)
Iron:
1
mg
(6%)
Magnesium:
11.4
mg
(3%)
Zinc:
0.2
mg
(1%)
Posted In: