This bacon-wrapped asparagus recipe is the best side dish or party dish for any occasion! Nobody can resist roasted asparagus and juicy bacon with a pinch of Parmesan cheese!
So keep reading to learn how to make this easy side dish that everyone loves!
Is Asparagus Healthy?
Yes, asparagus is a very healthy vegetable. It's keto-friendly, low-carb, gluten-free, rich in fiber and many nutrients.
Asparagus is one of the forgotten vegetables. Probably because most people never tried juicy bacon-wrapped asparagus!
Believe me, the first time you serve this to your party or Christmas table, people will start loving their greens! And it's great news because asparagus is:
High in anti-inflammatory nutrients like vitamin C, manganese, and selenium.
A very low-carb keto-approved vegetable – with only 1.8 grams of net carbs per 100 grams. It's one of the lowest-carb vegetables.
Low-calorie – only 20 kcal per 100 grams, so you can indulge with that piece of bacon around it! It's a tasty way to adds-up to your 5-a-day!
Interesting Facts About Asparagus
Because food should be fun, here are some interesting facts about this vegetable!
It exists in three main colors: green, purple, and white.
It is made of 93% water.
It has diuretic properties (and makes your pee smell funny though not everyone has the genes to detect the smell).
How To Make Bacon Wrapped Asparagus
Below is an easy-to-follow step-by-step method to make this delicious side dish or party food in roughly 15 minutes.
Ingredients
The ingredients to make these asparagus are the following:
Asparagus – a great keto-friendly vegetable. Make sure to pick green, fresh asparagus, not canned ones.
Bacon – prefer organic free-range thick cut bacon.
Olive Oil – to cook them perfectly.
Parmesan – Parmesan cheese is a keto-friendly cheese that brings a delicious taste and flavor to savory food.
Black Pepper
Trim the fresh asparagus spears
For this recipe, you must use a fresh green asparagus bundle. Don't use canned or frozen asparagus.
Fresh asparagus stalks have a tough woody end that must be removed.
To trim them, you can:
Method 1: cut it off
Lay the bundle of asparagus on a chopping board and hold the entire bundle tight. Then, using a large sharp knife, cut off the 1 1/2 inches bottom part of the asparagus spears.
Discard all the bottom woody parts and keep the top part of making this roasted bacon-wrapped asparagus recipe.
Method 2: Snap it!
You can also trim the woody end of the asparagus one by one. It takes a little more time, but if you don't have a sharp knife, it will do well. To do so:
Pick up one spear and hold each end with one hand.
Bend the vegetable spear down until it snaps.
Discard the bottom part and keep the top part.
Step 1: Preparing The Asparagus
Wash the asparagus under cold water, and pat dry with a towel, or the oil won't stick well in the next step.
Then, place the asparagus onto a plate and lightly spray some olive oil or light-flavored oil onto each spear.
Season with black pepper and salt if you want to, but since bacon is already salty, I recommend a pinch of garlic powder.
Step 2: Wrapping Them In Bacon
There are two ways of wrapping asparagus in bacon. You can wrap the asparagus:
In a bundle of 4 or 6 spears – this is a great option to serve as a side dish.
Individually – this is the best option if you want to serve them as party food. Also, this method entirely wraps the spears, keeping the vegetable moist, tender, and the bacon crispy.
Depending on the option you choose, the amount of bacon you will add is different. For one single spear, use only half a bacon slice.
Cut the bacon strip lengthwise in half to form two long skinny slices of bacon.
Then, grab one asparagus spear and wrap the half piece of bacon around the spear, starting from the bottom up to the top, swirling around the spear.
Cooking Roasted Asparagus
In this recipe, we cook the bacon-wrapped asparagus in the oven or stove. The timing will be different if you are making bacon-wrapped asparagus on the BBQ grill or on a skillet.
First, cover a large baking tray or pan with foil. This tray will recover the oil released by the bacon and prevent your oven from getting dirty.
Then, add a wire rack into the tray and lay each wrapped vegetable spear onto the rack leaving 1/2 inch between each spear.
Using a cooling rack is the best way to keep your vegetable crisp and remove excess fat that could make the vegetable too oily.
Bake at 400°F (200°C) for 15 minutes or until the bacon is crispy.
Recipe Variations
You know I am French, and I always have a special French twist to add to my dish! My tips to make this simple recipe even better add:
A pinch of garlic powder or use garlic oil to prepare your vegetable! We like to add garlic everywhere I know, but trust me, garlic and bacon are the best combos of flavor. You won't regret it! Garlic is keto-friendly.
A handful of finely grated Parmesan or fresh gruyere on top of your asparagus! Add this after 12 minutes of baking and keep baking for 3 minutes until cheese just melts and bubbles on top of the grilled bacon. The melted cheese on top of bacon is the most delicious addition to this simple dish.
Finely chopped Italian parsley.
Chili flakes – are the best way to add some spicy flavor.
Brown Sugar or maple syrup – for a slightly caramelized coating
Plus, nobody will disagree with more cheese on grilled juicy bacon!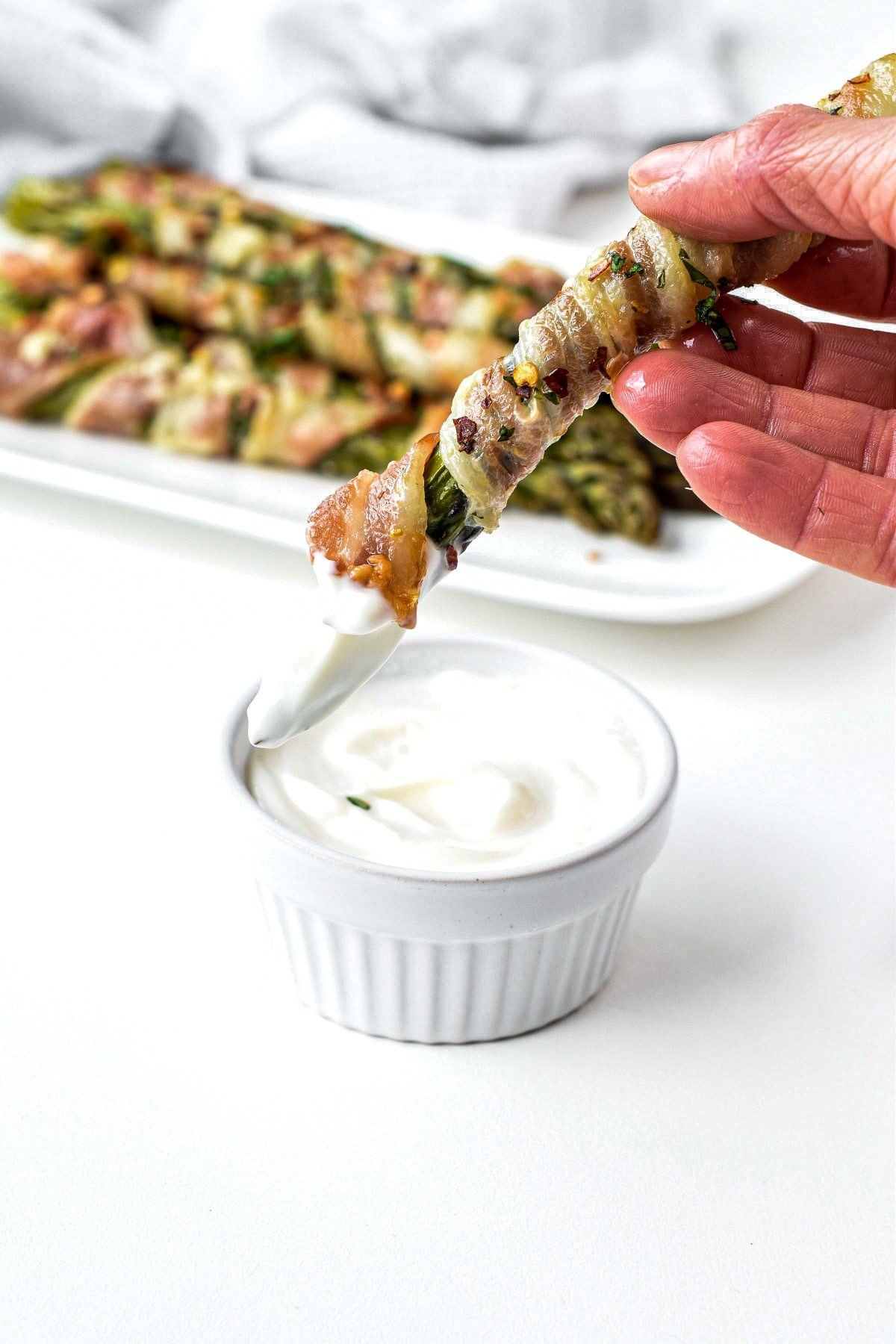 Frequently Asked Questions
How Should I Cook Bacon-Wrapped Asparagus?
There are other ways of cooking these asparagus wrapped in bacon. You can bake asparagus in your:
Oven, as mentioned above.
BBQ grill.
Air fryer.
My favorite option is to make roasted asparagus simply because they cook faster and the result is less dry.
How Should I Serve Bacon Asparagus?
The best way to serve this recipe is as a side dish or appetizer. You can serve them along with:
Can I Make Air Fryer Bacon Wrapped Asparagus?
Absolutely! They are delicious in the air fryer.
Use the same instructions as the oven method, but check the cooking after 10 minutes, they should be ready.

More Recipes With Bacon
Bacon makes everything better, especially vegetables! Below I listed my best keto recipe using bacon and vegetable:
Have you made this recipe? Share your review or feedback below, or join me on Pinterest for more keto recipe inspiration.
Bacon Wrapped Asparagus
Bacon-Wrapped Asparagus is an easy side dish baked in the oven to share with friends and family.
Serving Size:
4
servings (5 asparagus per serving)
Nutrition Snapshot
Want My Kitchen Equipment?
Instructions
Preheat oven to 400°F (200°C).

Before you start, cut in half the bacon slices lengthwise to form 2 long skinny strips of bacon for each slice. Thus, you should make 20 long strips of bacon from your 10 initial slices.

Lay a bundle of 4-5 asparagus on a chopping board and hold the entire bundle tight. Then, using a large sharp knife, cut off the 1 ½-inch bottom part of the asparagus spears. Discard all the bottom woody parts and keep the top parts to make this roasted bacon-wrapped asparagus recipe. Repeat these steps until all the asparaguses have been trimmed.

Wash quickly under cold water. Pat dry with a towel.

Place the asparagus onto a cooling rack (the same one you would use to cool down cookies) and lightly spray some olive oil or garlic oil all over.

Season with pepper and salt if desired – watch out for salt; bacon is very salty.

Grab one asparagus spear and wrap the half piece of bacon around the spear from bottom to top, swirling around the spear. Look at my picture above in this post for details.

Return the wrapped asparagus onto the cooling rack, and repeat this step until all spears are wrapped in half slice of bacon. Don't overlap the spears. Leave some space between each.

Place the cooling rack onto a large baking tray covered with foil or baking paper. This tray will gather the fat coming out from the bacon and foil/paper make it easier to clean the tray. See my picture above in the post for details.

Place the baking tray with the cooling rack on it into the oven and bake for 12 minutes.

Remove tray from the oven, sprinkle grated Parmesan on top of each spear, return to the oven for 3 minutes, or until cheese is melted, asparaguses are soft but still crunchy.

Serve immediately as a side dish (5 asparagus per serving) or party food with fresh chopped parsley, chili flakes, or avocado oil mayonnaise to dip in.
My Recipe Notes
Nutrition
Serving Size:
4
servings (5 asparagus per serving)
Serving:
4
servings (5 asparagus per serving)
Calories:
36.1
kcal
(2%)
Carbohydrates:
0.8
g
Fiber:
0.3
g
(1%)
Net Carbs:
0.5
g
Protein:
1.5
g
(3%)
Fat:
3.1
g
(5%)
Saturated Fat:
1.1
g
(7%)
Cholesterol:
5.3
mg
(2%)
Sodium:
58.1
mg
(3%)
Potassium:
46.2
mg
(1%)
Sugar:
0.3
g
Vitamin A:
130
IU
(3%)
Vitamin C:
0.9
mg
(1%)
Calcium:
12.2
mg
(1%)
Iron:
0.4
mg
(2%)
Posted In: