Keto creamy brussel sprouts with mustard sauce. Crispy baked brussel sprouts covered with a creamy shallots mustard sauce.
Brussel sprouts with mustard sauce – easy 30 minutes dinner
I love Brussel sprouts ! My mum always made Brussel sprouts with mustard sauce as a kid. This recipe is totally inspired by her French recipe. I used almost the same ingredient except from 2 changes I made to make the recipe keto and paleo friendly. It is an easy two step recipe:
1- Roast Brussels sprouts in the oven. I have got a large baking tray – I can arrange 1 kg Brussels sprout on it, season then bake all at once. You can also season the Brussels sprouts in a bowl, split the batch in two tray, and roast on two different level in the oven.
2- Make the creamy mustard sauce for Brussels Sprouts. My sauce is 100% dairy free, gluten and paleo.
All you need to make this creamy dijon Mustard sauce is:
French Dijon mustard. I use the authentic French Maille mustard. I highly recommend this one as it is strong and spicy. The american Dijon mustard is sweet and won't create the same delicious flavors
Apple cider vinegar. It is a great way to remove the bitterness of Brussels Sprouts while adding a balance of flavors in the dish. My mum add a LOT. French love their Brussels Sprouts a bit more acid, she could add up to 3 tablespoons. I am only using one or the kids won't eat.
Olive oil. Any vegetable oil works well but olive oil is a very healthy oil
Shallots. The secret of a delicious mustard sauce is shallots! Really, that makes the WHOLE difference.
Sugar free maple syrup. This is optional but it had a lovely sweet touch to the dish.
Cream – use coconut cream if vegan
Xanthan gum
Vegetable stock. I used reduced salt vegetable stock in this recipe. Any stock works well, feel free to use your favorite.
3 – Combine the sauce with the roasted Brussels Sprouts. Bake 10 more minutes to thicken and serve or freeze for later dinner!
How to serve, store your Brussel Sprouts ?
This is the perfect side dish to any grilled meat, steak or Thanksgiving turkey. If you love your brussel sprouts cheesy I recommend you add 1 cup of grated cheese into the sauce! Another idea is to add fried bacon bites into the roasted sprouts for extra flavor.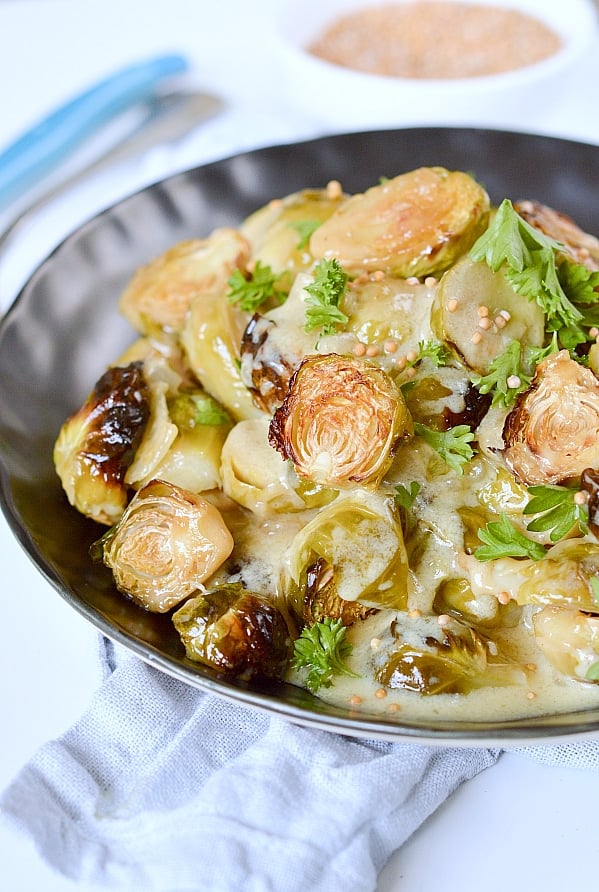 Enjoy the lovely Brussel sprouts with mustard sauce recipe.
xoxo Carine
Brussel sprouts with mustard sauce
Roasted Brussel sprouts with mustard sauce. Crispy baked brussel sprouts covered with a creamy shallots mustard sauce
6 people
Print The Recipe
Creamy Dijon Mustard sauce
1 tablespoon Extra virgin olive oil
2 minced shallots (1/2 cup)
1 teaspoons Xanthan gum (or arrowroot flour if not keto)
1 tablespoon Apple cider vinegar
1 tablespoon Sugar-free flavored maple syrup -optional or maple syrup if not keto
3 tablespoons Dijon Mustard
1/2 cup heavy cream or canned coconut cream
3/4 cup Vegetable Stock
To serve - optional
1 tablespoon mustard seeds
2 tablespoons fresh parsley
Zero carbs Adds on
1 cup fried bacon bites
1 cup Grated Cheese
Subcribe to my Mailing List To never miss a recipe!
Preheat oven to 200C (400F).

Slice each sprout in half lengthwise and trim the stem side of the Brussels sprouts. Discard the loose outer leaves that fall off or keep them to make Brussel sprouts chips later.

Place the halved Brussels sprouts on a large baking tray. Drizzle olive oil, salt and toss the Brussels sprouts with your hands to cover the olive oil all over the sprouts. If your baking tray is too small to fit the whole batch, toss the Brussels sprouts in a bowl and then divide the batch in two baking tray. Bake on two different levels in the oven.

Bake 25 minutes, stirring halfway with a wooden spoon to ensure the sprouts are roasted on all sides.

Meanwhile prepare the creamy mustard sauce.

In a medium saucepan, under medium heat warm olive oil. Add minced shallots and fry until fragrant and translucent - about 2-3 minutes.

Whisk in apple cider vinegar, maple syrup, Dijon mustard, cream and vegetable stock, xanthan gum and bring to a light boil, whisking constantly to prevent the sauce from sticking or the gum would create lumps.

When it's boiling, reduce to low heat, cover and simmer 5-6 minutes, stirring often to thicken the sauce.

Remove the crispy roasted Brussel Sprouts from the oven and pour 3/4 of the hot mustard sauce on the baked sprouts. Stir with a wooden spoon to evenly cover the sprouts with the sauce. Set aside 1/4 of the mustard sauce to drizzle on plate when serving!

Return in the oven for 10-12 minutes or until sauce thickens slightly and sprouts are cooked through.

Serve immediately, drizzle the extra mustard sauce on top and serve as a side dish with grilled tofu, or gluten-free wholegrain pasta.
Storage/freeze: store up to 4 days in the fridge or freeze well in an airtight plastic container. Defrost in the fridge the day before and rewarm in the microwave or stove. Net carbs: 6.5 g per serve
Nutrition Facts
Brussel sprouts with mustard sauce
Amount Per Serving (1 serve)
Calories 297 Calories from Fat 196
% Daily Value*
Fat 21.8g34%
Carbohydrates 8g3%
Fiber 1.5g6%
Sugar 5.9g7%
Protein 1.1g2%
Net Carbs 6.5g
* Percent Daily Values are based on a 2000 calorie diet.