These cheesy zucchini balls are delicious keto appetizers or snack with only 1.6 g net carb per serve.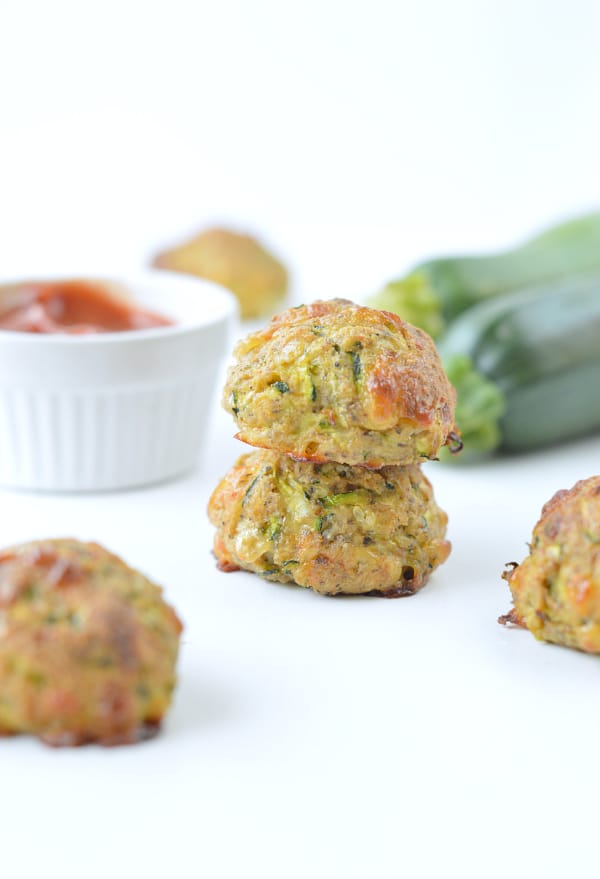 Baked keto zucchini Balls an easy healthy appetizer
Those baked keto zucchini balls are perfect snacks or appetizer with a delicious cheesy texture and garlic flavor. They are very easy to make using only few simple ingredients:
Zucchini – keep skin on to add fiber and decrease net carbs
Almond flour or almond meal
Psyllium husk
Eggs
Hard grated cheese – grated mozzarella is my favorite as it gives the bet cheesy texture to those zucchini bites. Other tasty cheese are mature cheddar and emmental
Garlic
Paprika
Oregano
Cumin
How to enjoy your zucchini bites ?
They are delicious warm appetizers or snack even better if dipped into homemade guacamole or sour cream. You can also serve them cold into kids lunchbox. My kids are big fan of those and bring them school many times per month. They dip them into my keto sugar free ketchup recipe.
I very much inspired this recipe from my spinach balls recipe. This time I added some dried italian herbs and garlic in the batter. The texture is very soft, cheesy, with a crispy outside and crunchy zucchini bites all around the balls.
A quick make ahead keto appetizer
It takes less than 20 minutes to prepare those zucchini balls and they freeze very well. Consequently. they are very handy make ahead appetizers for the holiday season or game night. lus, you can create a large range of flavor playing with spices and cheese to surprise your guest every time!
More keto party food
I hope you guys enjoy this new keto appetizer recipe. If so I recommend you try those others low carb party food to pair with thse zucchini bites.
Don't forget to share your creation with me on Instagram!
xoxo Carine
Zucchini Balls Baked
Keto baked Zucchini Bites are healthy cheesy zucchini appetizers or snacks to share with friends.
Prep Time: 15 mins
Cook Time: 15 mins
Total Time: 30 mins
18 zucchini balls
Print The Recipe
Keto version
1 1/2 cup grated zucchini packed, squeeze to remove all juice
3 large beaten eggs
3 garlic clove , finely crushed
1 cup almond flour (115 g)
2 tablespoon psyllium husk (12 g)
1 tablespoon dried oregano or dried parsley, or italian mix
1/2 teaspoon cumin
1/2 tablespoon paprika
1 cup grated mozzarella cheese or cheddar
1 teaspoon salt
Classic version - not keto
Homemade Sugar free ketchup to dip
Preheat oven to 370 F (200 C).

Wash the zucchini and remove the ends, keep the skin on finely grate using a manual grater.

Squeeze the grated zucchini in a clean towel to extract all the zucchini juice then pack the dried grated zucchini into a measuring cup. Measure 1 1/2 cup, set aside in a bowl.

Stir in the beten eggs, crushed garlic, almond flour, psyllium husk, dried herbs, cumin, paprika, salt and grated mozzarella cheese.

Combine with a spoon then knead with your hands, suqeezing the batter to ensure that all the ingredients comes together. It should take 1 minute of sueezing/kneading until it form a consistent batter.

Form 18 zucchini balls, golf size balls rolling the batter within your hands.

Place each balls onto a baking sheet covered with parchment paper. If your parchement paper tend to stick to food, brush a teaspoon of olive oil on top to avoid the zuchini balls to stick on the paper.

Bake for 20-30 minutes or until the outside is golden and crispy.

Serve immediately with dip of your choice like my homemade sugar free ketchup or simple guacamole recipe or sour cream.
Storage
Store up to 3 days in the fridge in an airtight container

Freeze the baked zucchini bites in an airtight container leaving haf thumb space between each balls to make sure they don't stick to each other.

Rewarm in hot oven 150C (300 F) on a cookie sheet covered with parchement paper. Bake for 8-10 minutes or until hot in the middle and crispy outside. No need to defrost before rewarming.
Net carbs : 1.6 g per keto balls. Nutrition panel is for the keto recipe version Herbs: feel free to use dried mint if preferred. If you don't like mint the recipe works without herbs or replace by your favorite herb like parsley, cilantro, dill or basil. Cheese options: this recipe works well with any hard grated cheese like cheddar, Colby cheese, emmental or mozzarella. Low fat cheese works as well. Use your favorite cheese flavor.
Nutrition Facts
Zucchini Balls Baked
Amount Per Serving (1 keto ball)
Calories 62 Calories from Fat 18
% Daily Value*
Fat 2g3%
Carbohydrates 2.7g1%
Fiber 1.1g5%
Protein 4.1g8%
Net Carbs 1.6g
* Percent Daily Values are based on a 2000 calorie diet.
Nutrition panel is for one keto zucchini ball . The recipe makes about 16 zucchini balls.