Stuffed Mushrooms With Cream Cheese
These Stuffed Mushrooms With Cream Cheese are the best low-carb, vegetarian party food for the holiday season.
They are delicious baked mushrooms filled with garlic and herb cream cheese and topped with grilled cheese.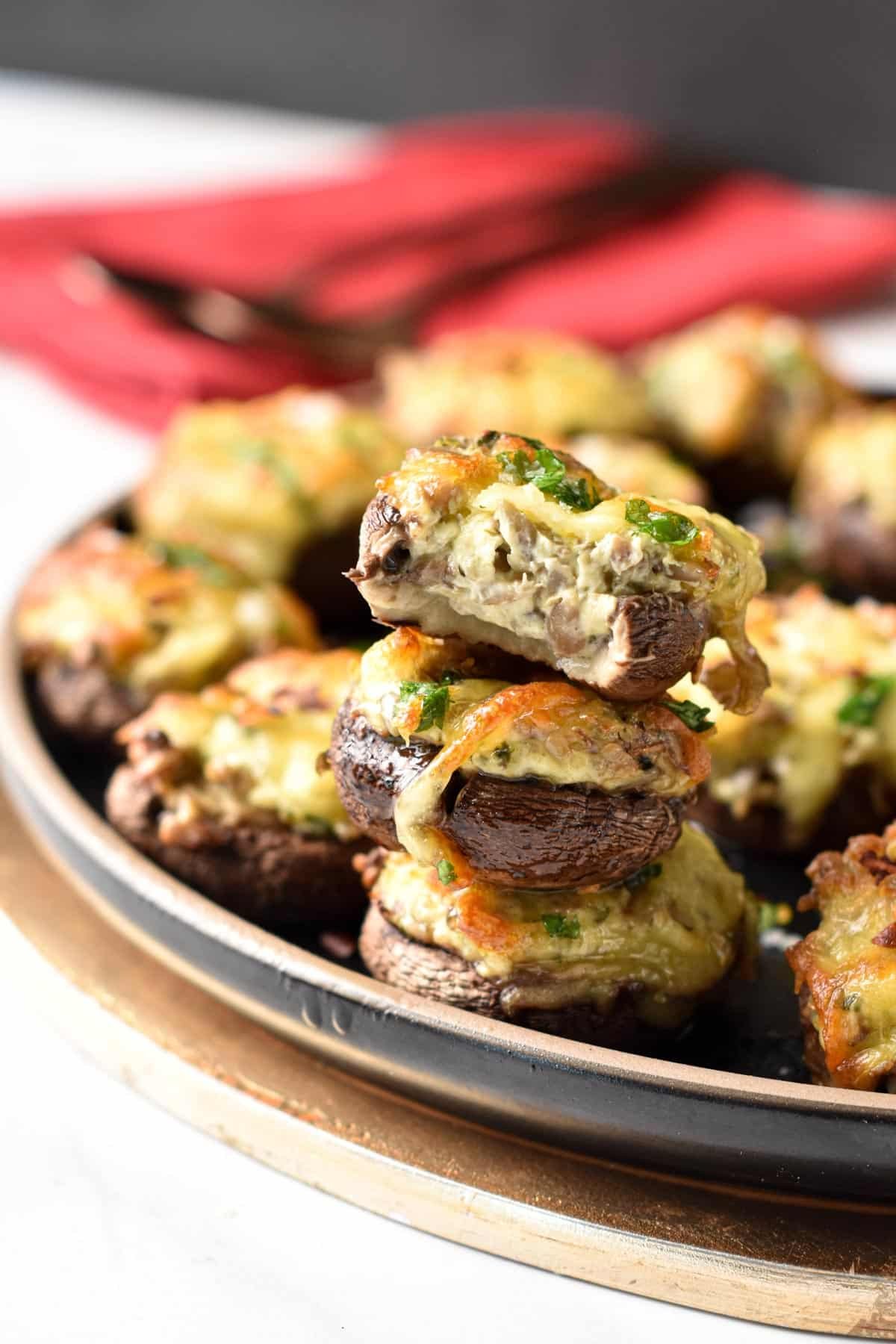 It's almost Christmas, and everybody is looking for vegetarian appetizers. I love mushrooms because it's not only a great low-carb vegetable but also a good source of proteins, so they keep you full quickly.
Plus, when you fill these mushrooms with extra proteins from Parmesan, cream cheese, and mozzarella, they turn into tasty cheesy bites.
I challenge all mushroom haters to try this because you won't believe how good this is.
Let me share how to make these easy healthy appetizers for Christmas.
How To Make Stuffed Mushrooms With Cream Cheese
This is a very simple recipe gathering only a few simple ingredients.
Ingredients
All you need to make these stuffed mushrooms are:
Button Mushrooms – Medium-sized mushrooms are the best. If they are too large, it makes too large bites. If they are too small, they are difficult to fill. Feel free to use white button mushrooms or brown button mushrooms.
Olive Oil or avocado oil
Butter or ghee or coconut oil
Garlic Cloves
Sunflower Seeds
Lemon Juice
Freshly Chopped Parsley
Grated Parmesan
Shredded Mozzarella
Cleaning The Mushrooms
First, clean the mushrooms with a damp towel or damp paper towel.
Rub the surface of the mushrooms and remove any dirt or dust.
I don't recommend washing the mushrooms under water, or they get soggy when baked.
Next, remove the stem and use a teaspoon to gently remove the inside of the mushroom.
The best way to do so, without breaking the mushroom cap, is to hold the mushroom cap fully in the palm of your hand.
Then, use the other hand to gently rotate the teaspoon inside the feet and scrape out the flesh.
Don't go too far, or it will break the top. Then, place all the mushrooms stem-side-up on a large baking sheet covered with parchment paper.
Prepare The Mushrooms Stuffing
Place all the vegetable flesh that you scrape out onto a chopping board.
Then use a sharp knife to chop the mushrooms finely. Warm olive oil and butter in a large non-stick pan.
Add sunflower seeds to the pan and cook for about 1 minute, stirring occasionally, until fragrant and toasted.
Now, stir in the chopped mushroom and cook for another 2 to 3 minutes until the vegetables have softened and reduced in size.
When the mixture starts to dry out, add the lemon juice. It will create a large sizzling in the pan, and that's great. Stir, then remove the pan from the heat.
Making The Cream Cheese Stuffing
In a large mixing bowl, add the cream cheese, Parmesan cheese, crushed garlic, chopped parsley, and cooked mushrooms.
Stir with a spoon or fork to press the cream cheese into the warm vegetable mix and create a consistent stuffing paste.
Assembling The Stuffed Mushrooms
Preheat the oven to 400°F (200°C).
Grab one mushroom in your hand and using a teaspoon scoop out the some cream cheese filling.
Add the filling into each mushroom cap until no more is left, and return the mushroom to the baking sheet stem side up.
Repeat until all mushrooms have been filled. Sprinkle mozzarella cheese on top of the mushrooms.
Bake on the center rack of the oven for about 15 minutes at 400°F (200°C). Switch to broil mode for the last 2 minutes to broil the cheese on top.
Remove from the oven. It's normal if the mushrooms release water under their cap.
Place the stuffed mushrooms with cream cheese on a serving plate.
Serving
Serve these mushrooms as an appetizer or holiday side dish with some delicious spices on top, like:
Chili Flakes
Drizzle of garlic infused olive oil
Sea Salt flakes
Chopped Fresh Parsley
Ground Pepper
Storage Instructions
Store leftovers in an airtight container in the fridge for up to 5 days. Freeze for up to 3 months in a sealed box.
Allergy Swaps
Below are some ideas to swap ingredients to which you might be allergic.
Sunflower Seeds – You can replace the seeds with chopped nuts or pumpkin seeds or skip them if you don't like seeds. The recipe works without seeds. It only adds a lovely crunchy texture and boosts the healthy fat and protein.
Dairy-Free – Feel free to use dairy-free butter or coconut oil and pick dairy-free cheese alternatives at the store to make vegan stuffed mushrooms.
Lemon Juice – You can skip the lemon juice or use apple cider vinegar or red wine vinegar.
Frequently Asked Questions
Below are the answers to your most common questions about this recipe.
Can I Make This Recipe Ahead?
Yes, you can fill the mushrooms up to one day before. Place in an airtight box and bake the next day just before serving.
Can I Use Portobello Mushrooms?
You can use bigger mushrooms and serve this recipe as a low-carb vegetarian meal.
Did you try this stuffed mushrooms with cream cheese recipe? Share a comment or review below.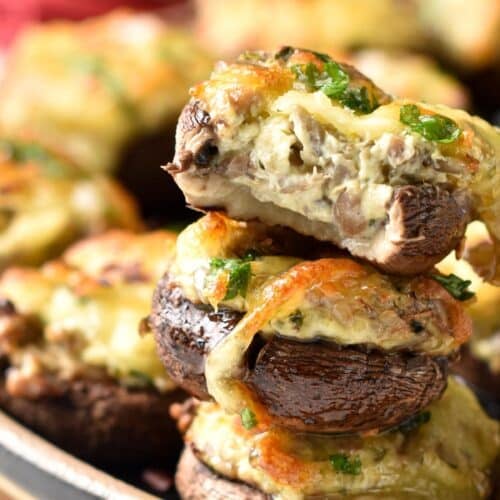 Stuffed Mushrooms With Cream Cheese
These Stuffed Mushrooms With Cream Cheese are delicious party appetizers or holiday finger food that all the family will enjoy
Serving Size:
1
serve (1 mushroom)
Nutrition Snapshot
Instructions
Preheat oven to 200°C (400°F) Line a baking sheet with slightly oiled parchment paper and set aside

Use a piece of damp kitchen towel or damp paper towel to rub the mushroom and remove any dirt.

Cut the mushroom stem with a sharp knife, then using a small spoon, scrape out the inside of the musrhoom cap, be careful as the mushroom break easily. Hold the cap fully in your hand palm and rotate gently the teaspoon to remove steam.

Place each mushroom, stem-side up on the baking sheet

Place the mushrooms steams on a chopping board

Using a sharp knife, finely chop mushroom steams in tiny pieces. Set aside.

In a non stick saucepan, warm olive oil and butter. Add sunflower seeds and cook 1 minute until fragrant

Stir in finely chopped mushroom steam, garlic, salt and pepper. Stir and cook until the mushroom reduce in size and soften – about 3-4 minutes

Transfer the cooked mixture into a large mixing bowl, add in cream cheese, freshly chopped parsley and freshly grated Parmesan cheese. Season with pepper and salt if needed.

Use a fork to press the cream cheese onto the warm ingredients and stir until it form a consistent paste

Use a spoon to fill each mushroom with the cream cheese filling

Place each filled mushrooms back to the baking sheet, stem-side up

Sprinkle mozzarella on top of each mushrooms and bake in the center rack of the oven until cheese is melted and grilled

Bake for about 15 minutes – switching to broil mode for the last 2 minutes to broil cheese.

Serve warm with extra freshly chopped parsley, chili flakes and sea salt flakes on top
My Recipe Notes
Nutrition
Serving Size:
1
serve (1 mushroom)
Serving:
1
serve (1 mushroom)
Calories:
100.3
kcal
(5%)
Carbohydrates:
1.1
g
Fiber:
0.2
g
(1%)
Net Carbs:
0.9
g
Protein:
8.6
g
(17%)
Fat:
6.8
g
(10%)
Saturated Fat:
2.7
g
(17%)
Polyunsaturated Fat:
1
g
Monounsaturated Fat:
2.4
g
Trans Fat:
0.03
g
Cholesterol:
42.9
mg
(14%)
Sodium:
97.4
mg
(4%)
Potassium:
114.4
mg
(3%)
Sugar:
0.3
g
Vitamin A:
185.5
IU
(4%)
Vitamin B12:
0.3
µg
(5%)
Vitamin C:
1.2
mg
(1%)
Vitamin D:
0.02
µg
Calcium:
45.8
mg
(5%)
Iron:
0.5
mg
(3%)
Magnesium:
17.3
mg
(4%)
Zinc:
0.8
mg
(5%)
Posted In: