A vegetarian keto frittata recipe with spinach, cheddar, mushrooms, capsicum and feta cheese! This is the perfect keto breakfast to meal prep your week with easy  egg baked breakfast recipe.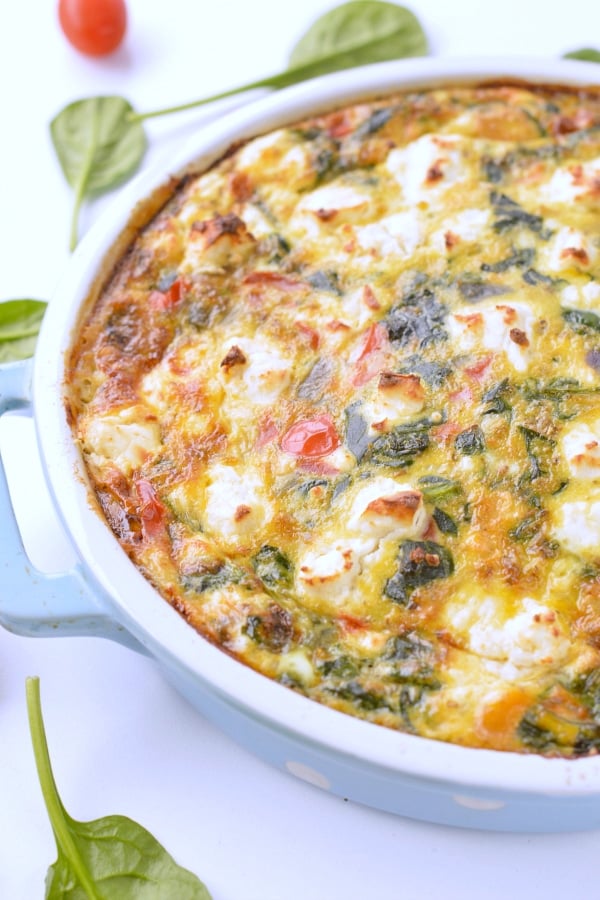 How to make keto frittata recipe with spinach?
I am not sharing many savory recipes on my blog simply because I am more of a sweet tooth and a baking lover. But today I thought it will be great to show you what I eat very often as a dinner – apart from wraps – you know how much I love to wrap everything from my fridge in my coconut flour flatbread for a quick dinner right ? But let's be real I don't eat sandwich or wraps everyday. I also love a quick and easy tasty meal like this spinach frittata feta goat cheese on top! Yum.  And good news, this spinach frittata is keto, low carb and gluten free as there is no flour involved and only low carb vegetables in this recipes.
All you need to make this delicious low carb spinach frittata is:
Spinach – fresh or frozen it is up to you, I provided both measurements in the recipe card below
Eggs – of course, that's the base of this meal so you can't swap eggs !
Mushrooms – if you don't like mushrooms, you can use some bacon strips or cubes of ham
Capsicum 
Unsweetened almond milk – I love to whip my eggs into almond milk to give an extra fluffy texture to my frittata by heavy cream is a great option too
Feta goat cheese – or if you can find soft French style goat cheese that will taste even better
Grated cheddar – or emmental for a French twist
Spices – I love to combine dried Oregano, garlic powder, salt and pepper. Feel free to play with the spices. Others that are very good are a pinch of ground nutmeg, paprika or cumin
Easy 30-minute dinner or breakfast
What I love the most about this keto spinach frittata is that it makes both a delicious light dinner or a quick protein breakfast. It also freeze really well in airtight container up to 1 month. I always defrost my food the day before in the fridge and rewarm my frittata in hot oven for 5 or 8 minutes on a non stick tefal pan. Set up your oven around 150C and rewarm until it crisps on top. Microwaving is also an option but it makes the frittata very chewy and watery if it has been frozen, so I don't enjoy it much.
Enjoy this 30-minute meal and let me know if you want to see more savory recipes on the blog!
Made this keto frittata recipe yet? Share a picture with us on my facebook support group, here we connect and answer all our question to thrive on keto!
xoxo Carine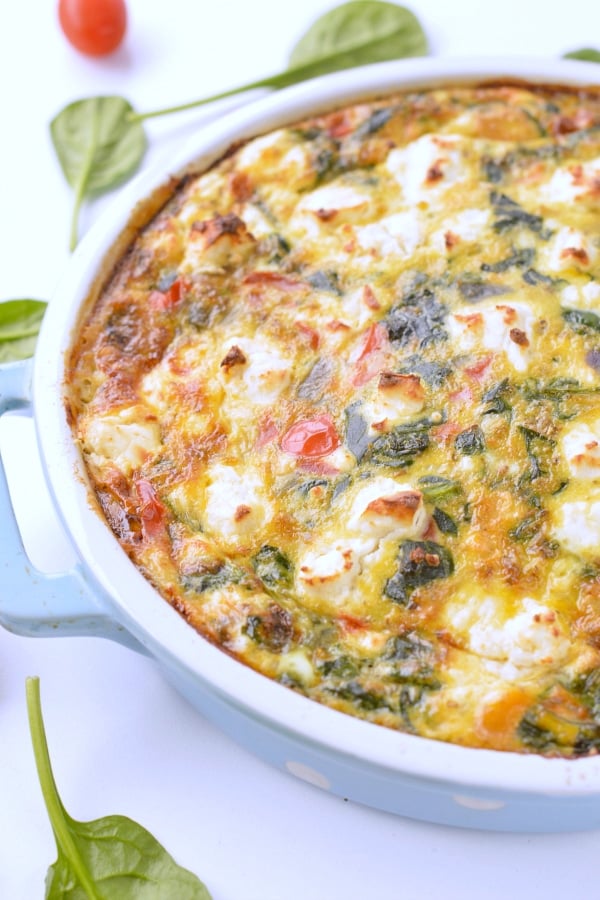 Keto spinach frittata
Keto spinach frittata with feta, mushrooms, capsicum and eggs.
6 people
Print The Recipe
Vegetables
2 tablespoon Extra virgin olive oil
1/4 cup Onion , diced
1 cup button mushrooms , sliced
1/2 cup Red Capsicum , seeded, diced
6 cups Fresh Spinach Leaves ,cleaned, feet removed, roughly chopped (300g,10.5 oz)or or 10 oz frozen spinach
Egg batter
8 large Egg
1/3 cup Unsweetened almond milk or heavy cream
1/4 teaspoon Garlic powder
1/4 teaspoon salt - adjust to taste
1 teaspoon Dried oregano
a pinch Pepper - optionnal
Cheese Toppings
1 cup Grated Cheddar , grated or grated emmental
1/3 cup feta cubed, optional
Prepare the egg batter
In a large mixing bowl, whisk together eggs, unsweetened almond milk, garlic powder, salt, dried oregano, salt and pepper. I used a hand whisk and this process took me 1 minute, don't over whisk. Simply whisk enough to break eggs and combine with milk and spices. Set aside in the fridge.
Saute the vegetables
Under medium heat, warm olive oil into a large non stick pan. 

Stir in the diced onion and cook for 1- 2 minutes until fragrant and transparent.

Stir in diced capsicum and sliced mushrooms. Saute the vegetables for 2-3 minutes until roasted, fragrant and mushrooms have released their water.

Pile the chopped spinach in the pan, cover with a lid, reduce to low heat and cook, stirring every 30 seconds until the spinach leaves wilt. It will significantly decrease in volume as spinach leaves will release their water. 

Remove lid, stir and cook for an extra 1-2 minute to evaporate the water from the spinach. You don't want to add water in the frittata or it won't firm up in the oven. Note: If your pan is too small, you can simply add the spinach in two parts, repeat the cooking process two times. 

Transfer the sauteed vegetables into the baking dish. If there's vegetable juice in the pan, discard, don't add in the baking dish.

Pour egg mixture on top of the cooked vegetables. Add grated cheese, then give a quick swirl with a spoon to evenly combine the egg batter, cheese and vegetables.

Crumble the goat cheese all over the top.

Bake in the middle of the oven for 20 minutes or until the filling is set. Check if cooked through by cutting a tiny bit in the center of the frittata. If not set, bake longer.

Serve hot with green salad on side.
Frozen spinach can be used and you will need 10.5 oz.  
Nutrition Facts
Keto spinach frittata
Amount Per Serving (1 slice)
Calories 254.7 Calories from Fat 175
% Daily Value*
Fat 19.4g30%
Saturated Fat 8g50%
Cholesterol 275.2mg92%
Sodium 445.1mg19%
Potassium 364.7mg10%
Carbohydrates 4.4g1%
Fiber 1.3g5%
Sugar 2g2%
Protein 15.9g32%
Vitamin A 3785.7IU76%
Vitamin C 25.1mg30%
Calcium 265.9mg27%
Iron 2.4mg13%
Net Carbs 3.1g
* Percent Daily Values are based on a 2000 calorie diet.