This Keto Frittata recipe is the best creamy, custardy mushroom and spinach frittata recipe stuffed with three kinds of cheese!
The perfect family breakfast, brunch, or light dinner with only 3.5 grams of net carbs per serving!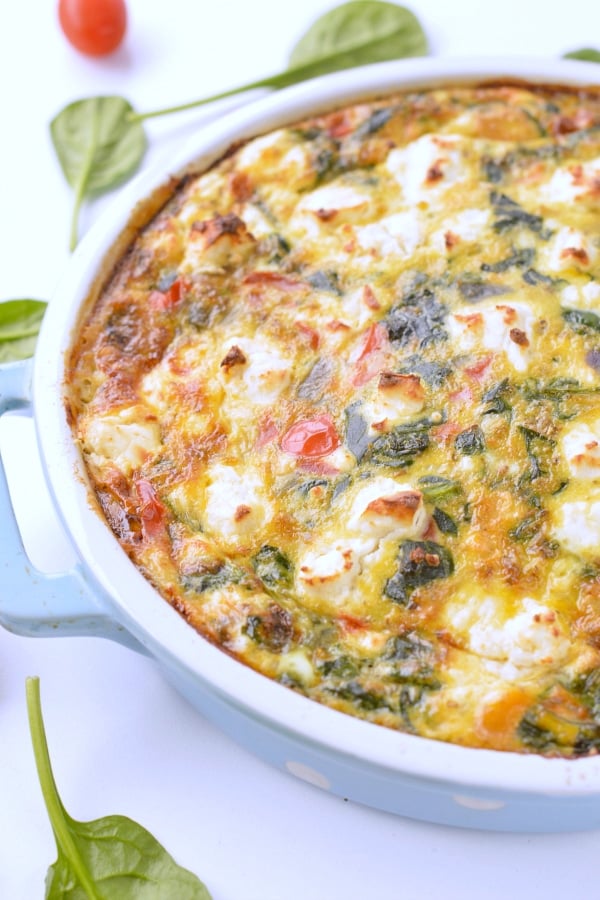 You can eat lots of vegetables on your keto journey as long as you focus on low-carb vegetables. The keto diet is not (only) about bacon and butter!
Actually, you can have delicious keto vegetarian dishes like this keto vegetarian frittata in your weekly meal plan rotation to boost your body with vitamins and minerals.
You'll love this keto spinach mushrooms frittata recipe as a keto breakfast! It has all you need to start the day: fat, protein, vitamins without the unnecessary carbs.
It's a great swap for regular fried eggs on your keto journey and perfects to meal prep your keto week!
What's A Keto Frittata?
Keto Frittata recipes are the easiest and most convenient healthy breakfasts. They are very similar to breakfast casseroles.
It is a one-pan dish baked in the oven and perfect to feed a crowd in less than 30 minutes.
You can create a range of vegetarian frittata recipes using different vegetables anytime.
Here I am going to share the best vegetarian frittata!
This low-carb frittata recipe with spinach and mushrooms is the most flavorsome breakfast frittata for vegetarians!
It's packed with not only vegetables, and it is also a high-protein breakfast to keep you full until lunchtime.
Let me show you how you can make an easy frittata vegetarian in a few simple steps.
How To Make Keto Frittata
To make a fluffy, custardy spinach and egg frittata, you first need to stir-fry the vegetables in olive oil.
This not only adds flavor but also removes any vegetable juice from the spinach and mushrooms that could make your frittata runny.
Ingredients
First, set up all your ingredients on the kitchen countertop. You will need:
Large eggs – I am using free-range eggs. Yes, eggs are keto-friendly.
Heavy cream – or unsweetened almond milk for a dairy-free option. Heavy cream is one of the keto cream options.
Salt
Pepper
Shredded parmesan
Dried oregano – or fresh herbs of choice like finely chopped Italian parsley.
Fresh spinach – I am using fresh baby spinach leaves. The small leaves are easier to cook. If you are using fresh large spinach leaves, simply chop them before cooking.
Onion
Olive oil or butter – to stir fry the vegetables.
Red pepper – this is optional, and if you simply want to make a mushroom spinach frittata baked in the oven, remove it from the recipe.
Feta Cheese – I am using goat feta cheese, but any soft goat cheese works well
Preparing The Egg Mixture
First, prepare the egg mixture for your spinach and feta frittata.
In a large bowl, whisk all the egg batter ingredients until well combined. Don't over whisk; just whisk as for an omelette batter.
Set it aside while you are preparing the vegetables for your spinach mushroom frittata keto recipe.
Stir-frying The Vegetables
Next, heat olive oil over medium in a large non-stick saucepan or cast-iron skillet. I really mean large pan because fresh spinach needs a lot of room even if it shrinks down when cooked.
Start by sautéing onions and garlic, then stir fry the sliced button mushrooms and diced red bell pepper if used. If you don't like red bell pepper, simply remove it from the recipe.
Stir fry the vegetables for 2 minutes until mushrooms release their juice and season with salt and pepper.
Next, add the baby spinach and cook with a lid on the pan.
This will help the spinach shrink down and cook fast. Remove the lid every 30 seconds, give a good stir and keep cooking until the spinach is wilted and the roasted vegetables released their juices.
Assembling the dish
Transfer the cooked vegetables using a slotted spoon onto a 10-inch round baking dish or a 9-inch x 9-inch square baking dish.
The slotted spoon drains the vegetables from their juice and prevents a runny frittata.
Next, pour the egg mixture on top of the vegetable. Finally, sprinkle the shredded cheddar evenly over the dish. To make a mushroom and spinach frittata with goat cheese, as seen in my picture, crumble goat cheese all over the pan.
Goat cheese is a keto-friendly cheese, and it adds the most delicious creamy texture and flavor to your spinach mushroom frittata recipe.
Serving Keto Frittata
This frittata is even better served with a dollop of sour cream on top. It adds a tangy, fresh, and creamy touch to the dish.
Storage Instructions
The best part about this keto spinach mushroom frittata recipe is:
Ready in 30 minutes of preparation.
Feeds the entire family with a protein-packed breakfast full of healthy greens.
Stores and freezes well to meal prep a week of breakfast. You can thaw this spinach mushroom goat cheese frittata recipe the day before in the fridge and rewarm in a preheated oven at 250°F (120°C) until warm or microwave.
Keep in mind that if you use a microwave, it makes the frittata texture very chewy and runny, especially if it had been frozen before.
So, I highly recommend you rewarm leftovers in the oven.
Frequently Asked Questions
Can I use frozen spinach in this frittata recipe?
You can use frozen spinach to make this keto frittata spinach recipe.
Obviously, they will release a lot of liquid in the pan, and you will have to cook the vegetable a little bit longer to evaporate the extra liquid.
Another option is to thaw the frozen spinach for a few hours before preparing this spinach feta frittata keto recipe.
Is Feta Keto-Friendly?
Yes, feta is a keto-friendly cheese with zero carbs per 100 grams and as much as 8 grams of fat to help you reach your macro.
Allergy Swaps
Mushrooms
Mushrooms are great keto low-carb vegetables packed with protein.
However, if you are allergic or don't like mushrooms and don't mind adding meat to this recipe, replace it with the same amount of bacon pieces.
A spinach and bacon frittata tastes amazing with goat cheese on top.
More Keto Breakfast Recipes
If you've enjoyed this recipe for breakfast, you'll love these:
Made this keto frittata with fresh spinach recipe yet? Leave a comment or rating below!
xoxo Carine
Keto Frittata
This Keto Frittata is an easy spinach and mushroom breakfast with goat cheese made in the oven. The perfect keto vegetarian breakfast for any day of the week.
Ingredients
Vegetables
2

tablespoons

Extra Virgin Olive Oil

or butter

¼

cup

Onion

diced

1

cup

Button Mushrooms

sliced or diced bacon if not vegetarian

¼

cup

Red Bell Pepper

seeded, diced

6

cups

Fresh Spinach Leaves

,cleaned, feet removed, roughly chopped (300g,10.5 oz)or or 10 oz frozen spinach
Egg batter
8

large

Eggs

⅓

cup

Heavy Cream

⅓

cup

Shredded Parmesan

¼

teaspoon

Garlic Powder

¼

teaspoon

Salt

1

teaspoon

Dried Oregano

optional

⅛

teaspoon

Ground pepper
This recipe may contain Amazon or other affiliate links. As an Amazon Associate I earn from qualifying purchases.
Instructions
Preheat oven to 400°F (200°C). Spray olive oil into a 1.5-liter glass or ceramic baking dish. Set aside.
Prepare the egg batter
In a large mixing bowl, whisk together eggs, heavy cream, shredded parmesan, garlic powder, salt, dried oregano, salt, and pepper. I used a hand whisk, and this process took me 1 minute, don't over whisk. Simply whisk enough to break eggs and combine with milk and spices. Set aside in the fridge.
Saute the vegetables
Under medium heat, warm olive oil into a large non-stick pan.

Stir in the diced onion and cook for 1- 2 minutes until fragrant and transparent.

Stir in diced red bell pepper and sliced mushrooms. Sauté the vegetables for 2-3 minutes until fragrant and mushrooms have released their water.

Pile the chopped spinach in the pan, cover with a lid, reduce to low heat, and cook, stirring every 30 seconds until the spinach leaves wilt. It will significantly decrease in volume as spinach leaves will release their water.

Remove the lid, stir and cook for an extra 1-2 minutes to evaporate the water from the spinach. You don't want to add water to the frittata, or it won't firm up in the oven. Note: If your pan is too small, you can add the spinach in two parts, repeat the cooking process two times.

Use a slotted spoon to transfer the sautéed vegetables into a 9-inch x 9-inch baking dish. This avoids transferring any remaining vegetable juice from the pan.

Pour the previous egg mixture on top of the cooked vegetables.

Add shredded cheddar and crumble some goat cheese all over the top of the pan

Bake in the oven's middle rack for 30-35 minutes or until the filling is set. Check if cooked through by cutting a tiny bit in the center of the frittata. If not set, bake longer.

Serve hot with a green salad on the side.
Storage
Store in the fridge in the baking dish for up to 3 days or freeze. Rewarm in the oven or microwave

You can freeze frittata slices in a sealed container, thaw in the fridge the day before.
Notes
Frozen spinach can be used, and you will need 10.5 oz. Mushrooms: you can replace mushrooms with bacon pieces if not vegetarian.
Want My Kitchen Equipment?
Serving:
1
slice
Calories:
320.5
kcal
(16%)
Carbohydrates:
4.6
g
(2%)
Fiber:
1.2
g
(5%)
Net Carbs:
3.4
g
Protein:
18.2
g
(36%)
Fat:
25.7
g
(40%)
Saturated Fat:
12
g
(75%)
Cholesterol:
298.2
mg
(99%)
Sodium:
516.8
mg
(22%)
Potassium:
368.4
mg
(11%)
Sugar:
1.8
g
(2%)
Vitamin A:
3833.8
IU
(77%)
Vitamin C:
17.2
mg
(21%)
Calcium:
319.4
mg
(32%)
Iron:
2.4
mg
(13%)

Posted In: