Pesto Eggs are fried eggs cooked in pesto, a viral Tiktok breakfast recipe trend that tastes absolutely amazing on toasted sourdough or plain for a low-carb breakfast.
I love pesto and eggs even more, so when both are combined together, the result is absolutely fantastic.
Plus, pesto is a low-carb spread, so this pesto egg recipe is 100% keto-friendly and loaded with healthy omega-3 and omega-6 fatty acids from olive oil.
What Are Pesto Eggs?
Pesto eggs are fried eggs cooked in basil pesto.
They were introduced on Tiktok last year as a very tasty breakfast to enjoy a low-carb breakfast that also contains healthy fats from olive oil.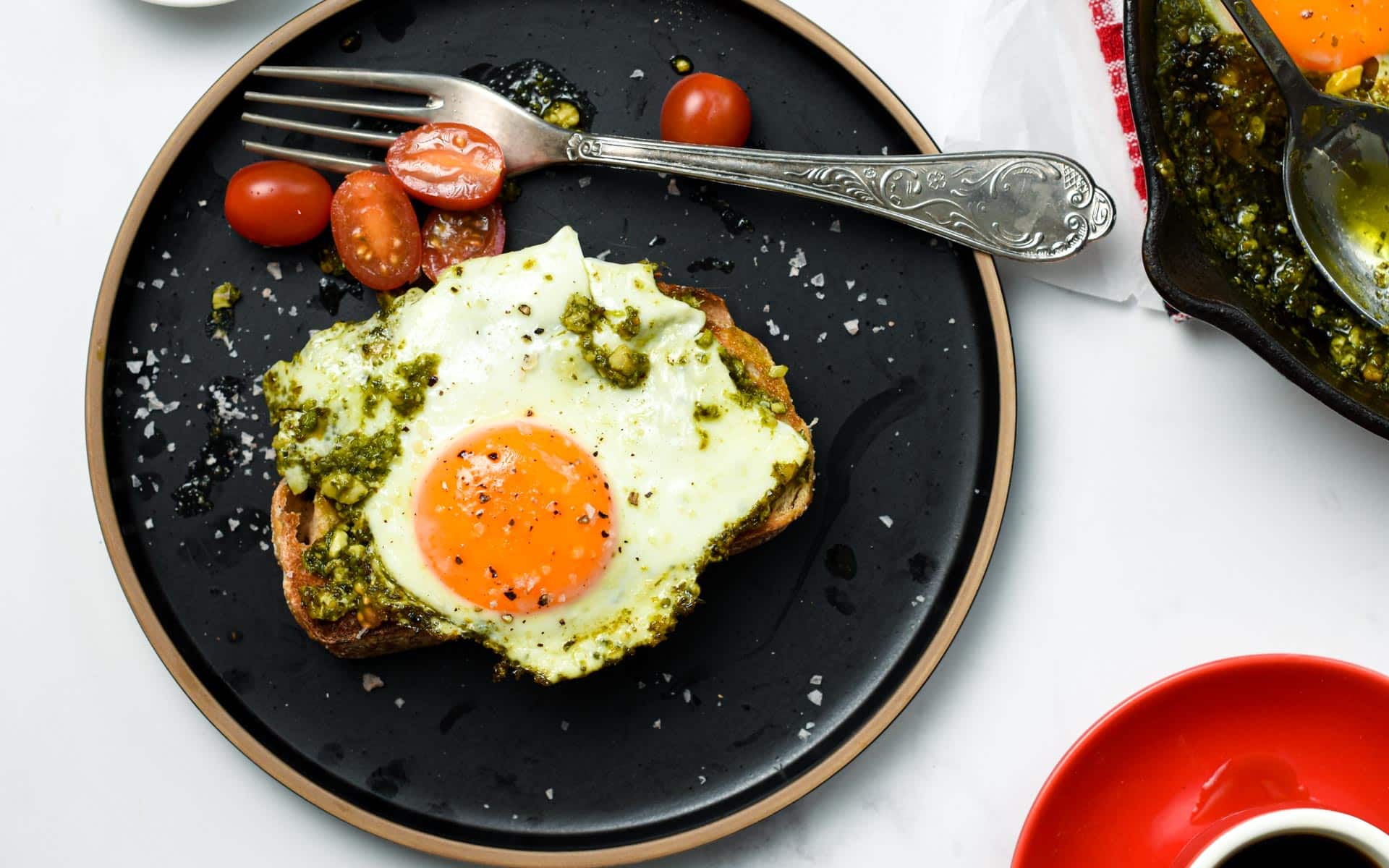 How To Make Pesto Eggs
All you need to make delicious crispy fried eggs in pesto are two simple ingredients and a non-stick frying pan.
Ingredients
Pesto – You can use homemade pesto, like my spinach pesto recipe, or use store-bought pesto. Some store-bought pestos are dairy-free if you are looking for a paleo option.
Large Eggs – I always buy free-range eggs as they taste better, but they also have a nicer color.
Instructions
Warm two tablespoons of pesto in a non-stick skillet over medium-high heat. You don't need to add butter to the pan as the oil of the pesto will be enough.
When the pesto is warm, crack the eggs in the pan and cover them with a lid.
Cook until the egg whites are set and the edges of the eggs are crispy.
Remove from heat and serve plain or on top of sourdough bread.
Serving
These pesto eggs are amazing on their own with a simple:
Pinch of Pepper, chili flakes or red pepper flakes, and garlic powder.
Fresh feta cheese or ricotta cheese and a few leaves of fresh basil.
Grated Parmesan cheese or even cheddar cheese.
A drizzle of Hot Sauce.
But you can also serve the eggs on a toast of your favorite bread, it can be sourdough bread or keto bread recipe, keto English muffins, or a slice of paleo cassava bread recipe.
Start by toasting the bread in a bread toaster until warm and crispy.
Then, spread some cold spread on your bread like:
Finally, top the slice with pesto and fried egg.
Frequently Asked Questions
Below are your most frequent questions about this recipe.
Can I Use Dairy-Free Pesto?
Absolutely, you can use a plant-based pesto recipe made without cheese.
They contain the same amount of olive oil which is the main ingredient to make this pesto egg recipe perfect.
Can I Make Scrambled Eggs With This Recipe?
Absolutely, instead of cracking the eggs in the pan, crack them in a bowl.
Beat the eggs and pour over the warm pesto and scramble following my keto scrambled eggs recipe for more detailed instructions.
Can I Halve The Recipe?
Yes, you can make only one egg at a time.
Which Pan Works The Best?
The best is to use a non-stick pan or cast iron well seasoned to avoid the eggs sticking to the pan.
More Egg Recipes
Below I listed some more egg recipes for you to try including omelettes, quiches, or frittatas.
Have you made these fried pesto eggs for breakfast? Share a comment or review below.
Pesto Eggs
Pesto Eggs are fried eggs cooked in pesto, a viral TikTok recipe trend that tastes absolutely amazing on toasted sourdough or plain for breakfast.
Nutrition
Want My Kitchen Equipment?
Instructions
In a large non-stick skillet, warm the pesto and spread it evenly in the pan to oil all the surface.

Crack the eggs in the pan, cover, and cook until the egg whites are set.

Spread plain or spread some of the warm pesto onto sourdough bread.

Serve fried eggs on top of the bread with a pinch of chili flakes, tomatoes, or grated Parmesan cheese. Adjust the salt carefully as pesto is already salty, so taste your meal before adding salt.
My Recipe Notes
Nutrition Facts
Pesto Eggs
Amount Per Serving (1 serving)
Calories 288.8
Calories from Fat 198
% Daily Value*
Fat 22g34%
Cholesterol 377.8mg126%
Sodium 800.6mg35%
Potassium 259.1mg7%
Carbohydrates 5.5g2%
Protein 16.3g33%
Net Carbs 4.6g
Vitamin A 1464.3IU29%
Vitamin B12 0.9µg15%
Vitamin C 11.6mg14%
Vitamin D 2µg13%
Calcium 170.7mg17%
Iron 2.4mg13%
Magnesium 19.4mg5%
Zinc 1.5mg10%
* Percent Daily Values are based on a 2000 calorie diet.