Classic French Spinach Quiche (From a Lorraine Chef)
This Spinach Quiche is an easy healthy dinner made with a simple pie crust filled with garlicky spinach and creamy egg filling.
This quiche recipe has a dairy-free and low-carb option if you are after something even healthier.
There's no secret that, as a French person from the Lorrain region, I have a love and passion for quiche recipes and omelettes!
Crustless zucchini pie, quiche Lorraine, quiche Florentine all these delicious healthy dinner ideas are popular French dinners that I have been eating as a kid.
This is my recipe for making the best spinach quiche ever!
What's A Spinach Quiche?
Quiches are classic French tarts made with a pastry crust and filled with savory custard, cheese, and vegetables.
The classic Quiche Lorraine is made with lardons and bacon, while the Quiche Florentine has spinach and mushrooms.
It's a delicious meal that can be enjoyed for lunch, dinner, or breakfast, warm or cold.
How To Make Spinach Quiche
First, like for any quiche, you need to make a quiche crust. A quiche crust is very easy to make, and you have many options based on your health goals.
You can make a:
3-Ingredient Pie Crust – this is the most classic quiche crust made of flour, butter, and water. This recipe is perfect for a classic quiche recipe and easy to make dairy-free using dairy-free butter.
Keto Quiche Crust – this almond flour pie crust is perfect for anyone on a low-carb diet looking for a quiche with fewer carbs and gluten-free.
Coconut flour pie crust – this is another grain-free, gluten-free crust option that also decreases the carbs of the recipe.
You can also use a store-bought crust of your choice.
So when it comes to crust recipes, always pick the one that fits your preference.
Then, prebake the pricked crust and finally add the spinach filling.
Spinach Filling Ingredients
For the spinach quiche filling you will need:
Baby Spinach – You can use baby spinach leaves, fresh spinach, or frozen spinach. I prefer the former because it's sweeter, milder, and finer.
Onions – While you can use yellow or red onions, I prefer to use yellow onions in this recipe.
Garlic – Fresh crushed garlic cloves or garlic powder.
Olive Oil – I like to use extra-virgin olive oil.
Salt and Pepper
Eggs – I use large free-range eggs. Check out my Air Fryer Hard Boiled Eggs.
Milk of Choice – Any dairy-free milk like almond milk work really well.
Heavy Cream – Cream or more milk. The more cream, the thicker the custard.
Parsley
Gruyere Cheese – this is my favorite cheese for quiches. It delivers the best flavor but, feel free to use any other hard grated cheese you love like Emmental, cheddar, mozzarella, or parmesan.
Making The Crust
First, make the 3-ingredient pie crust, keto pie crust, or buy a crust from your grocery store.
Preheat the oven to 350°F (180°C). Grease a 10″ pie pan with oil or butter. Fill the prepared 10-inch quiche pan with the quiche crust recipe you choose to make.
Always prick the crust all over its bottom using a fork and cover the bottom with pie weights or dry beans to prevent the crust from puffing up.
Prebake the crust at 350°F (180°C) for about 15 minutes until light golden color forms.
Cooking The Quiche Spinach Filling
Meanwhile, in an non-stick large skillet warm olive oil and cook the onion until fragrant and light in color.
Now, add the garlic and spinach leaves and cover for 1 to 2 minutes on low-medium heat until the spinach reduces in size and wilt.
Remove the lid and stir to cook the spinach until wilted and the liquid at the bottom of the pan has evaporated.
If some liquid remains at the bottom, it's fine, but don't add this into the quiche or the crust will soften too much.
Use a slotted spoon to transfer the cooked spinach into the pre-baked crust.
Making The Egg Mixture
In a mixing bowl, beat eggs with milk, heavy cream, parsley, salt, and pepper.
Pour the egg mixture over the spinach onto the pie crust.
Sprinkle the freshly grated cheese on top of the spinach egg mixture.
Place the quiche in the center rack of the oven and bake for 15 to 25 minutes or until the egg mixture is set and the cheese is bubbly and melted.
Serving Spinach Quiche
Remove the quiche from the oven and cool down 5 minutes before slicing.
Slice and serve hot with a green salad on the side or some of the toppings below:
Black Pepper
Salt
Chili Flakes
Fresh chopped herbs like Italian parsley
Hot Sauce
Storage Instructions
This spinach quiche recipe can be stored for up to 3 days refrigerated.
You can wrap the cold quiche in its pie pan with plastic wrap, then pop in the fridge and slice when needed.
Rewarming The Quiche
Quiche can be served cold in summer, but most of the time people prefer to rewarm quiche.
To keep the crust crispy and not soggy, it's better to reheat the quiche in:
Oven at 350°F (180°C) on a baking sheet until warm in the middle and the crust is crispy.
Air Fryer. Place the quiche slice directly on the air fryer basket and air fry at 300°F (150°C) for 5 minutes until warm and crispy.
Allergy Swaps
Below I listed some swaps you can make to adapt this quiche recipe to your food allergies:
Gluten-Free – Use my almond flour pie crust and make the filling from this recipe. All the filling ingredients are gluten-free.
Dairy-Free – Use dairy-free milk as a swap for dairy milk and heavy cream, and pick your favorite dairy-free cheese.
Keto Option – This spinach quiche filling is keto-friendly as spinach is very low in carbs. To make a low-carb crust, use my keto quiche crust recipe.
Frequently Asked Questions
Can I Use Frozen Spinach?
Yes, you can use frozen spinach and cook the frozen spinach in the non-stick pan without thawing the spinach.
It will release more liquid in the pan so you will need to cook them longer to evaporate the liquid.
Make sure you squeeze out the liquid from the spinach before adding it to the quiche crust.
Can I Use Frozen Pie Crust?
Yes, you can use a store-bought pie crust fresh or frozen and prebaked, following the pie instruction.
Note that this recipe filling is for a 10-inch pie crust. If your is smaller, you may have too much filling.
Can I Freeze Spinach Quiche?
Absolutely yes, and it's a great way to meal prep a week of healthy high-protein breakfast.
Thaw the day before or rewarm the frozen quiche in preheated oven 350°F (180°C) until cooked.
Can I Make A Crustless Spinach Quiche?
Yes, you can make this recipe crustless, but it won't hold in slices properly.
Is heavy cream better than milk in quiche?
I like to use a combination of milk and cream to have a perfect texture.
What is spinach quiche made of?
Classic spinach quiche filling is made of spinach, eggs, milk, cream, and cheese.
More Pie And Quiche Recipes
If you like healthy quiches and pies for brunch, you'll love these:
Have you made this quiche spinach recipe? Share a comment or review below to tell me how much you love it.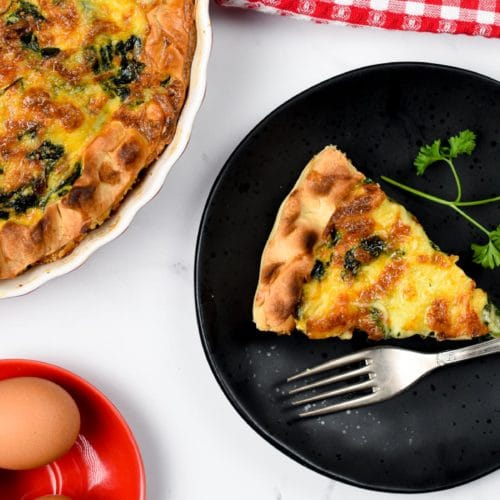 Spinach Quiche (by a true Lorraine Chef)
This Spinach Quiche is an easy healthy dinner recipe perfect to feed the whole family with a vegetarian cozy dinner packed with nutrients.
Yield:
servings (10″quiche)
Nutrition Snapshot
Want My Kitchen Equipment?
Instructions
Preheat the oven to 350°F (180°C). Grease a 10-inch (26 cm) quiche pan with butter. Set aside.

Fill a greased 10" quiche pan with the crust you choose. For the almond flour crust, prick and pre-bake crust for 15 minutes at 350°F (180°C).
Spinach Quiche Filling
Warm olive oil or butter on medium heat in a large non-stick frying pan.

Add onion and cook for 2-3 minutes or until translucent. Stir in crushed garlic, spinach leaves (or frozen spinach cubes), cover with lid, reduce to low-medium heat and cook until spinach decreases in volume – about 1 minute.

Uncover, sprinkle salt and keep cooking until all the spinach water has evaporated.

Use a slotted spoon to remove the cooked spinach from the pan, make sure you squeeze slightly to avoid adding water to the crust, and transfer the cooked spinach and onion into the pre-baked quiche crust.

Use a fork to evenly spread the spinach all over the pan.

In another bowl, beat eggs, cream, almond milk, parsley, salt, and pepper with a fork.

Pour the egg batter onto the spinach to fill the crust.

Sprinkle grated gruyere all over the top of the quiche.

Bake for

minutes

to 25 minutes or until the egg filling is set and the cheese is melted and grilled

If the sides of your crust brown too fast, cover with a piece of foil!
Storage
Store the leftover quiche in the fridge, in an airtight container, or in the quiche pan, wrapping the top with plastic wrap. Lasts for up to 4 days.

Freeze the quiche individually in slices, either wrapped in plastic wrap, silicone bags, or airtight containers.
How to rewarm the quiche?
To rewarm the quiche, place each quiche slice onto a baking tray and place in a warm oven at 325°F (160°C). Bake for 10 minutes or until hot and crispy.
My Recipe Notes
Nutrition
Yield:
servings (10″quiche)
Serving:
1
serving
Calories:
201.9
kcal
(10%)
Carbohydrates:
3.1
g
(1%)
Fiber:
1.2
g
(5%)
Net Carbs:
1.9
g
Protein:
14.7
g
(29%)
Fat:
14.7
g
(23%)
Saturated Fat:
6.7
g
(42%)
Polyunsaturated Fat:
1.6
g
Monounsaturated Fat:
5.4
g
Trans Fat:
0.1
g
Cholesterol:
181.4
mg
(60%)
Sodium:
400.1
mg
(17%)
Potassium:
396.6
mg
(11%)
Sugar:
0.9
g
(1%)
Vitamin A:
5136.1
IU
(103%)
Vitamin B12:
0.7
µg
(12%)
Vitamin C:
14.6
mg
(18%)
Vitamin D:
1
µg
(7%)
Calcium:
276.7
mg
(28%)
Iron:
2.2
mg
(12%)
Magnesium:
54.7
mg
(14%)
Zinc:
1.7
mg
(11%)
Posted In: