When life give you sweet potato you make a healthy Sweet Potato Crust quiche, right? This Sweet potato crust quiche with spinach quiche is an healthy and easy version of the classic spinach quiche. A Gluten free, paleo, whole 30 approved.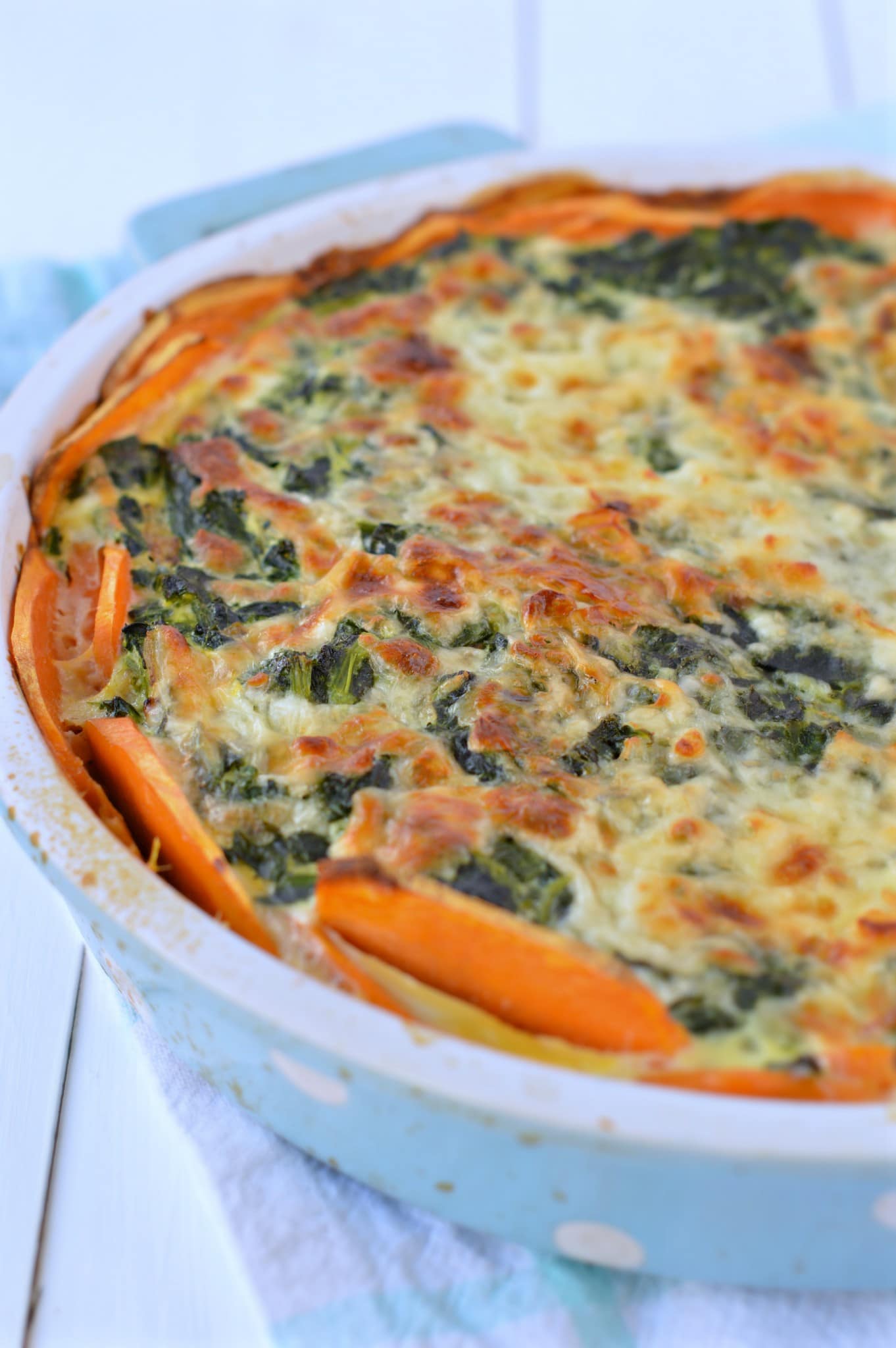 I mean, I could also have made my sweet potato tots recipe – the one Emma loves so much or my comforting sweet potato shepherd pie with lentils. But not tonight. I am too tired to cook more than 15 minutes.
Sweet potato crust quiche: paleo, gluten free
So Sweet potato crust it is ! Obviously I made a spinach quiche. Haha you know how much I am obsessed with spinach. I am probably the biggest recipe blog with spinach recipes and clean food recipes . This sweet potato crust quiche is an healthier and faster version of the classic spinach quiche I usually do. The best part of this recipe is that you don't need pastry crust.  Simply few sweet potato slices layered in a round baking dish. I already hear you. Does this crust hold very well together ? The answer is YES. It does  hold very well together to serve in a plate. Just have a look at my plate. Does this looks yummy?
Obviously it does not hold well in your hands. It is not a great quiche for finger food night. Whatever it makes a perfect healthy dinner, tasty, fun and cute! My goal, in any recipe I make, is to use less refined ingredients, less carbs and flour in favor of nutritious and simple ingredients. When it comes to quiche, I usually love to make crust less quiche because it is the fastest way to make quiche for dinner. I already shared many crustless quiche recipe on the blog. My capsicum feta thyme crustless quiche was the first crustless quiche I shared on the blog 4 years ago. It was mum recipe. It is one of your favorite with the my muffin tray zucchini pesto crustless quiche. 
Today I am looking for something different, still quick and tasty. That is the reason why I tried to use sweet potato slices as a crust. I wasn't sure if it will hold together to serve quiche portion but I was very surprise on how it works perfectly! I did not spend much time arranging the sweet potatoes slices on the pan. I simply spread them on the bottom of the pan in a thin layer and ensure that the bottom was fully covered with the sweet potatoes slices leaving no holes. It is very important to slice the sweet potato with a mandoline to have the same thickness for each slices. If you have got too thick slices, they will require more time to bake resulting in half cooked sweet potato slices.  I used this simple mandoline Vegetable Slicer to slice the sweet potatoes
.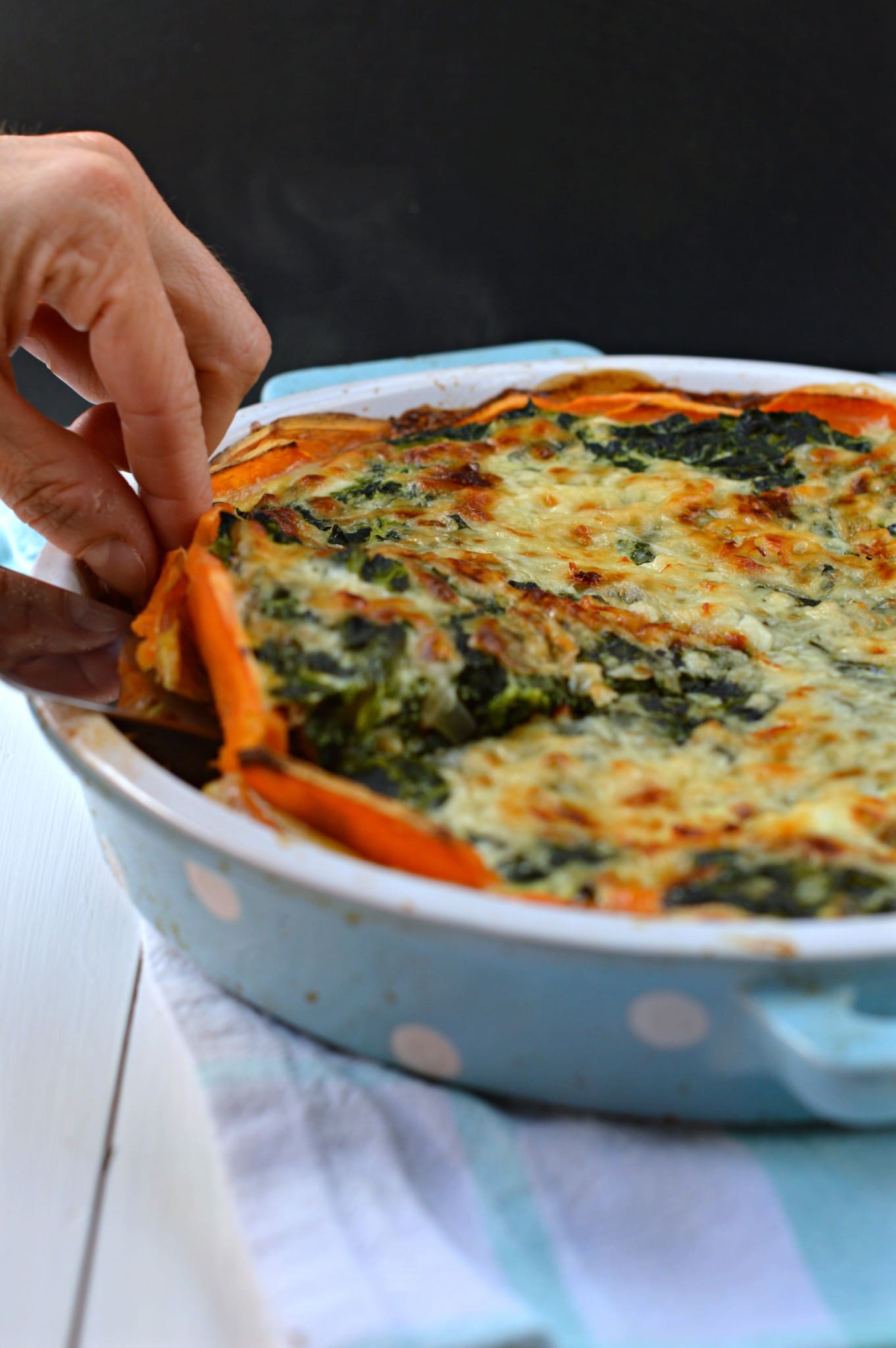 The filling is similar to a regular spinach quiche. I quickly fry my spinach in olive oil with minced garlic and onion.  The egg mixture use almond milk, eggs, salt and nutmeg.  I love to add a handful of grated cheese on the top of the quiche. However a great dairy free option is to add 2 tablespoons of almond meal.  I hope you love the idea of this sweet potato crust for your next quiche. All my family enjoy this recipe and my husband even packed some leftover at work for lunch. He rewarm the leftover in the microwave for 1 minute.

Watch the Sweet Potato Crust Spinach Quiche and make it now !
Print Recipe
Sweet potato crust quiche | Healthy Spinach Quiche
Healthy Sweet Potato Crust Quiche with Spinach. A Crustless Paleo Spinach Quiche Recipe perfect to incorporate into your whole30 plan. Dairy free as well !
Ingredients
2

sweet potatoes

medium size orange, peeled, finely sliced

1

tablespoon

olive oil

2

garlic clove

finely chopped

1

large brown onion

finely chopped

14

oz

frozen blanched whole leaves spinach

(400 g)

1/4

teaspoon

ground pepper

optional

1/2

teaspoon

salt
QUICHE EGG BATTER
4

eggs

3/4

cup

coconut milk or almond milk

or milk of your choice (200 ml)

1/4

teaspoon

ground nutmeg

1/4

cup

grated cheese

edam, cheddar, feta
Instructions
Preheat oven to 360 F (180 C).

Grease a 9.5 inches (24 cm) round quiche ceramic dish with butter or coconut oil. I used this kind of

Round Quiche Dish, 9.5 by 1.5-Inch, border

. Set aside.

In a frying pan, under medium heat warm the olive oil.

Add garlic and onion. Fry until fragrant and golden brown. Stir often to avoid the spices to burn.

Add the frozen spinach cover and reduce to low heat. Cook until the spinach are cooked through, soft and tender - about 15 minutes. Adjust with salt and pepper regarding taste.

Meanwhile peel the sweet potatoes then use a

mandoline Vegetable Slicer

to finely slice the sweet potatoes.

Arrange the slices on the pan making sure that you cover all the bottom leaving no empty space. For the border, cut in half the sweet potatoes slices to create a 'flat' bottom it will hold better and create a beautiful crust border.

Prebake the sweet potato crust at 180C for 15 minutes. This is optional, you can also add the spinach and egg filling directly and bake your quiche - make sure you cover the dish with a piece of foil to ensure the quiche is cooking at the same speed. I prefer to prebake the crust to avoid foil - up to you.

Spread the cooked spinach all over the pre baked sweet potatoes crust. Set aside.

In a medium mixing bowl beat the eggs, almond milk and nutmeg. Adjust with salt and pepper if desired,.

Pour the egg mixture onto the quiche..

Add an handful of grated cheese on the top of the quiche, if desired. If paleo, sprinkle almond meal on top instead of cheese, it give a delicious crisp on top.

Bake for 25-30 minutes or until the sweet potatoes are soft and the cheese is grilled.

Serve immediately.
Notes
Pan: Don't use a loose bottom pan or the egg mixture will run away from the dish. Storage: Store well in the fridge for up to 4 days. Simply leave the quiche in the pan and wrap with plastic film to avoid the quiche to dry out. Remove in the microwave or hot oven until hot. Dairy free option: Replace cheese by 2 tablespoons of almond meal. Sprinkle on top and bake until crispy.
Nutrition
Serving:
1
slice
|
Calories:
131
kcal
|
Carbohydrates:
10.3
g
|
Protein:
7.5
g
|
Fat:
7.3
g
|
Fiber:
3.3
g
|
Sugar:
5.4
g