Are you looking for a delicious easy sweet potato recipe ? This sweet potato crust quiche is the one to try.  Like a crustless spinach quiche with a thin sweet potato crust, an easy spinach quiche made lighter with no carb loaded crust ! 100 % gluten free, paleo, whole 30 approved.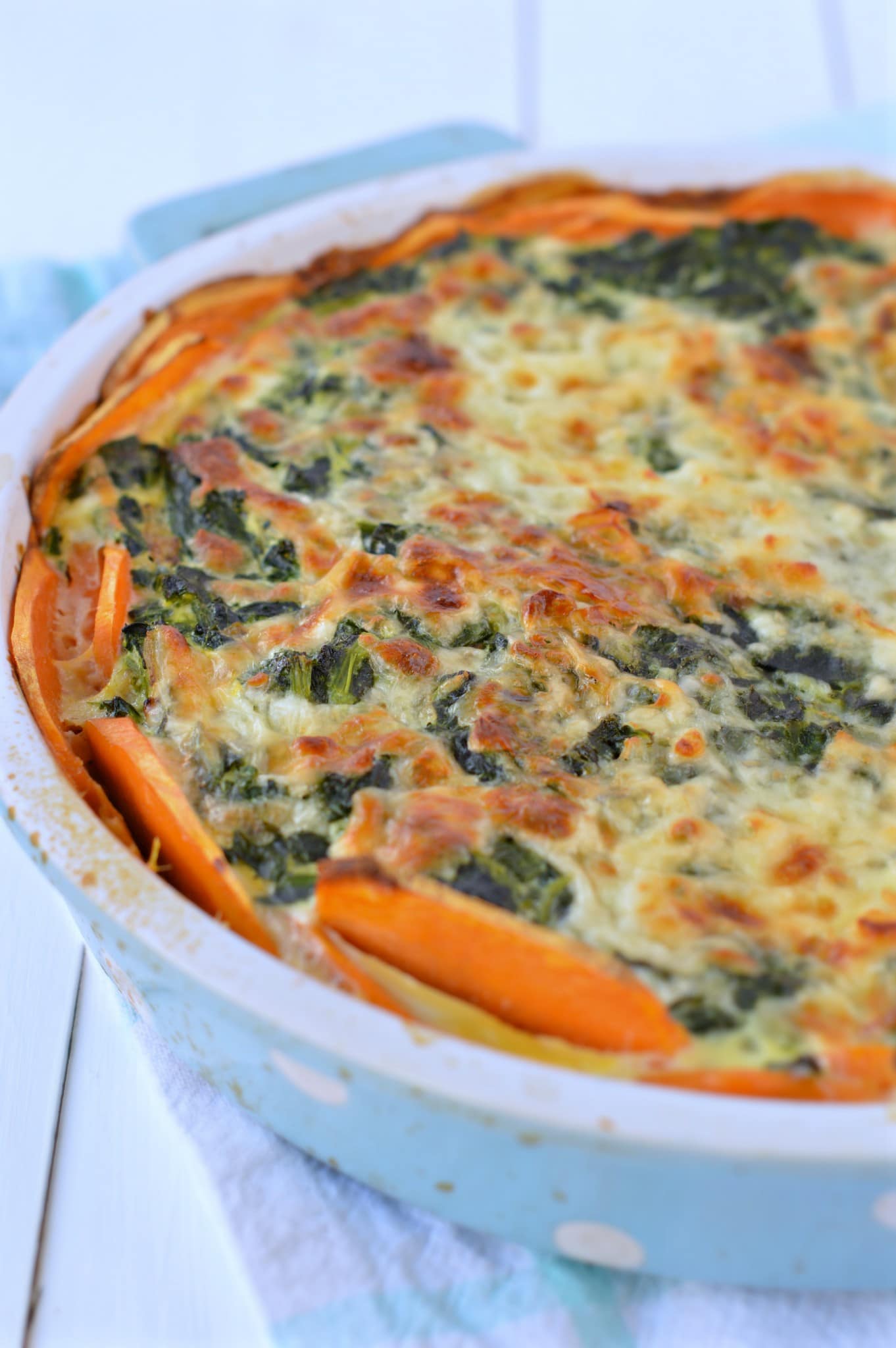 What is a sweet potato crust quiche ?
A sweet potato crust quiche is a healthier and faster version of your favorite quiche. It is made with thin slice of peeled orange sweet potatoes meaning you don't have to prepare a pastry crust. A sweet potato crust contains less carbs, less fat and healthy nutrient from sweet potatoes. Plus, it is an easy spinach quiche recipe made in less than 20 minutes for a quick healthy dinner.
An easy healthy spinach quiche with fresh spinach
We all love a healthy spinach quiche with fresh spinach right? If you crave a delicious spinach quiche tonight but don't feel like baking the crust this sweet potato crust quiche is a life-saver.
Taste like a crustless spinach quiche with thin layer of sweet potatoes
Obviously this sweet potato crust must be eaten in your plate. While it is easy to slice and serve in a place, it does not hold well in your hands. It is more similar to a crustless spinach quiche in which you would have had some sweet potatoes. It makes a very easy healthy dinner that everyone love.  All you need to make this simple sweet potato crust quiche or easy spinach quiche crustless are:
Orange sweet potatoes – peeled, thinly sliced
Spinach – fresh or frozen
Eggs
Dairy free milk or regular milk as you like
Cheese – optional if you are on paleo diet you can omit the cheese on top
Sweet potato quiche : less carbs
Did you know that 100 grams of orange sweet potatoes contains only 17 grams net carbs ? While it may seems a lot for someone on keto diet, it is a very low carbs vegetable for anyone looking to decrease their carbs. It should be remind that a regular pastry crust made of white wheat flour contains around 40 g net carbs. So this sweet potato crust quiche is a good starts to half your carbs by 50% in an easy spinach quiche recipe. Of course it is recommended to use a round tart dish in ceramic  to make this quiche recipe. It is easier to slice and serve.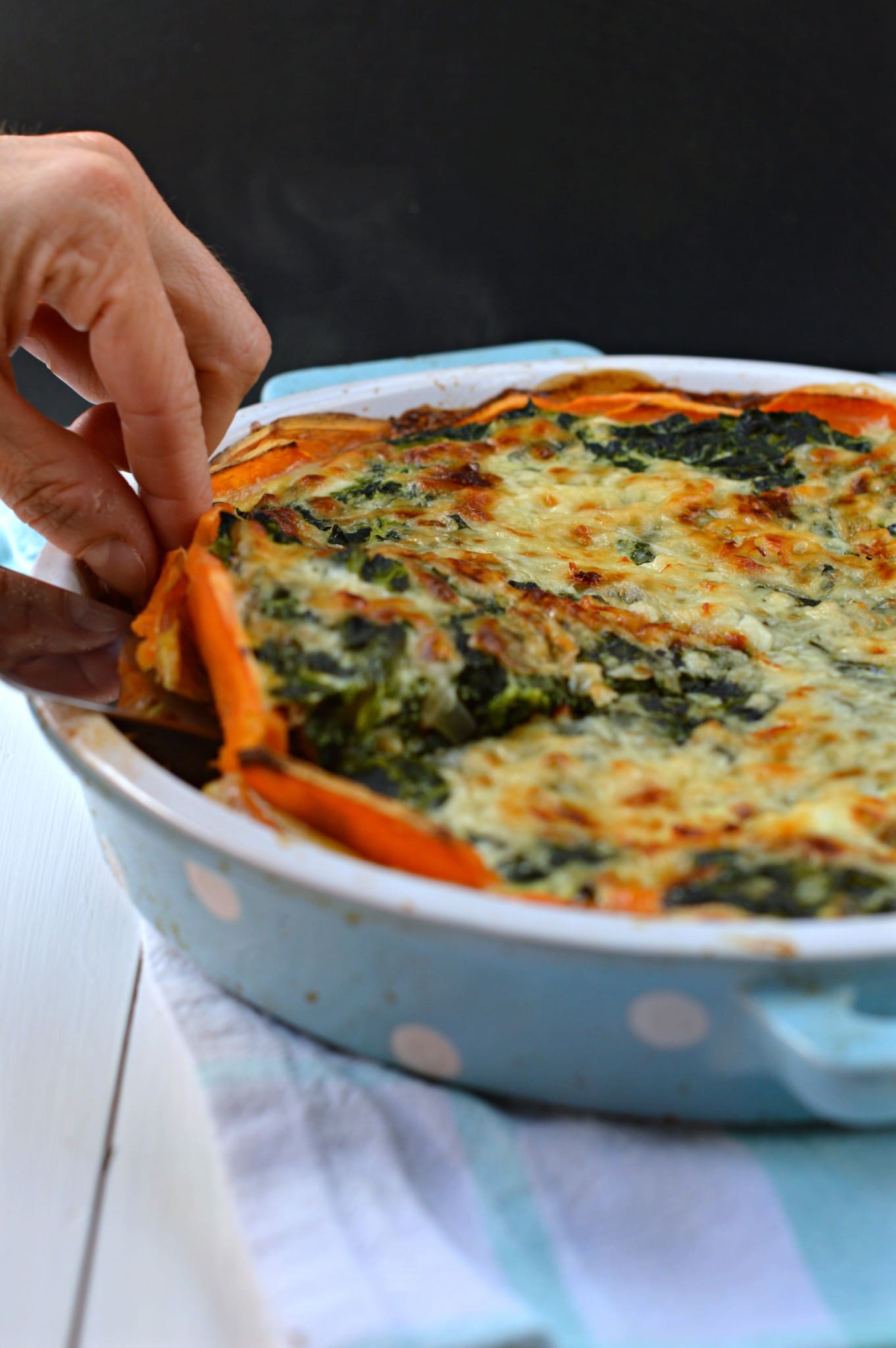 How to store your spinach quiche ?
This sweet potato crust quiche is an easy sweet potato recipe to make-ahead and reheat the next day. You can store your recipe in an airtight container in the fridge for 3 days. First option, reheat in the microwave for 2 minutes. Otherwise, bring back to the oven at 350F (180 C) for 8-10  minutes. Finally, you can freeze your quiche in single portion or whole and defrost in the fridge the day before serving and reheat in the oven.
More easy sweet potato recipe
If you love sweet potato recipe I recommend you try my easy sweet potato egg bake or sweet potato tots. 
  xoxo Carine
Sweet potato crust quiche | Healthy Spinach Quiche
Healthy Sweet Potato Crust Quiche with Spinach. A Crustless Paleo Spinach Quiche Recipe perfect to incorporate into your whole30 plan. Dairy free as well !
6 people
Print The Recipe
2 Sweet Potatoes medium size orange, peeled, finely sliced
1 tablespoon Extra virgin olive oil
2 Garlic clove finely chopped
1 Onion finely chopped
14 oz Frozen Spinach (400 g)
1/4 teaspoon Ground Pepper optional
1/2 teaspoon salt
QUICHE EGG BATTER
4 Egg
3/4 cup Unsweetened coconut milk or milk of your choice (200 ml)
1/4 teaspoon Ground nutmeg
1/4 cup Grated Cheese edam, cheddar, feta
Preheat oven to 360 F (180 C).

Grease a 9.5 inches (24 cm) round quiche ceramic dish with butter or coconut oil. I used this kind of Round Quiche Dish, 9.5 by 1.5-Inch, border. Set aside.

In a frying pan, under medium heat warm the olive oil.

Add garlic and onion. Fry until fragrant and golden brown. Stir often to avoid the spices to burn.

Add the frozen spinach cover and reduce to low heat. Cook until the spinach are cooked through, soft and tender - about 15 minutes. Adjust with salt and pepper to taste.

Meanwhile peel the sweet potatoes then use a mandoline Vegetable Slicer to finely slice the sweet potatoes. 

Arrange the slices on the pan making sure that you cover all the bottom leaving no empty space. For the border, cut in half the sweet potatoes slices to create a 'flat' bottom it will hold better and create a beautiful crust border.

Prebake the sweet potato crust at 180C for 15 minutes. This is optional, you can also add the spinach and egg filling directly and bake your quiche - make sure you cover the dish with a piece of foil to ensure the quiche is cooking at the same speed. I prefer to prebake the crust to avoid foil - up to you.

Spread the cooked spinach all over the pre baked sweet potatoes crust. Set aside.

In a medium mixing bowl beat the eggs, almond milk and nutmeg. Adjust with salt and pepper if desired,.

Pour the egg mixture onto the quiche..

Add an handful of grated cheese on the top of the quiche, if desired. If paleo, sprinkle almond meal on top instead of cheese, it give a delicious crisp on top.

Bake for 25-30 minutes or until the sweet potatoes are soft and the cheese is grilled.

Serve immediately.
Pan: Don't use a loose bottom pan or the egg mixture will run away from the dish. Storage: Store well in the fridge for up to 4 days. Simply leave the quiche in the pan and wrap with plastic film to avoid the quiche to dry out. Remove in the microwave or hot oven until hot. Dairy free option: Replace cheese by 2 tablespoons of almond meal. Sprinkle on top and bake until crispy.
Nutrition Facts
Sweet potato crust quiche | Healthy Spinach Quiche
Amount Per Serving (1 slice)
Calories 131 Calories from Fat 66
% Daily Value*
Fat 7.3g11%
Carbohydrates 10.3g3%
Fiber 3.3g14%
Sugar 5.4g6%
Protein 7.5g15%
Net Carbs 7g
* Percent Daily Values are based on a 2000 calorie diet.