An easy Keto Spinach Quiche with buttery almond flour quiche crust, garlicky spinach, and melted cheddar. A cafe-style keto breakfast ready in 30 minutes and perfect for breaking your morning fast or for bringing to a brunch with friends.
I know what you think – who makes a keto quiche when you can simply enjoy a crustless keto quiche.
Well, I am French and quiche is a traditional French tart and it is hard for me to give up on my favorite cultural food. It's not that I don't enjoy crustless quiches, but who can resist a buttery, flakey quiche crust?
This is the best part of a quiche, right? The combination of the cheesy egg filling with the flakey pastry. Enough said, let's come back to this recipe that I promise is amazing.
I'll tell you all you need to know to make this cafe-style recipe.
Are quiches keto?
I am pretty sure you wonder if you can eat a quiche on your keto journey. Well, most keto quiche fillings are usually quite keto-friendly as they are made of eggs and cream.
Then if the other additions are low carb enough, such as bacon, spinach, asparagus or broccoli, you can eat the filling alright. But, when it comes to the crust, it's a no-go.
Are you new to Keto?
Receive my Keto Quick Start email series to learn all about the Keto diet and kick start your keto journey!
Most store-bought quiche crusts from the bakery or grocery stores are made of wheat flour and therefore contain a huge amount of carbs that will kick you out of ketosis.
How to make a keto spinach quiche recipe?
Making the crust
First, you need to prepare the quiche crust. Here I am using an almond flour quiche crust which is my favorite keto option for baking quiches since it's buttery, flakey, and golden in color.
It is pretty easy to make low-carb crusts, but if it's the first time you bake yours, I recommend you read my detailed article about how to make the BEST keto quiche crust recipe.
This will guide you step-by-step and also provide different recipe options for people with nut allergies.
This said, let me sum up the 5 basic ingredients you need to combine, no food processor needed, to make this almond flour quiche crust:
Almond flour – use ultra-fine, blanched for best results, not almond meal.
Eggs
Butter – or coconut oil, but butter tastes more like a classic French quiche Lorraine.
Salt
Garlic powder – or onion powder.

Press-in, refrigerate and pre-bake
This quiche uses a press-in crust. It means you don't have to roll the dough, simply press it all over the quiche pan until fully covered and no holes appear.
Don't forget to prick the crust to prevent bubbles from forming under the crust while baking. Then, refrigerate the entire pan for 10 minutes to set the crust. Finally, prebake for 7 minutes at 350F (180C).

Spinach egg filling
To make a flavorsome spinach quiche, it is important to stir fry the spinach in olive oil or butter along with:
Garlic
Onion
Parsley
Salt
This is a quick 5-minute step that adds a lot of flavor to your spinach quiche, and it's pretty convenient to evaporate any water from the spinach, especially if you are using frozen spinach!
In fact, spinach contains a lot of water, and if you use fresh spinach in a quiche recipe, it will release a significant volume of water and soften the crust.
That's why it is recommended to stir-fry spinach before adding to your pre-baked quiche crust. Next, spread the cooked spinach evenly onto the pre-baked crust. If there is water in the pan, leave it out.
Finally, beat eggs, almond milk, and cream in a bowl and pour over the spinach. Sprinkle grated cheddar or Gruyere all over the pan and bake until filling is set.
Can I use this recipe to make other keto quiches?
Yes, you can make a different variation of this recipe using different fillings. Other low-carb vegetables that I recommend are:
Kale
Asparagus
Small broccoli florets
Fried bacon and onion
How to store and rewarm a keto quiche?
This keto spinach quiche is not different from other classic quiche recipes. Therefore it stores really well in the fridge for up to 4 days.
I store the quiche in its dish and wrap the top with cling wrap. To rewarm your quiche, place a slice of quiche on a baking tray and rewarm in the oven 325F (160C) for 10 minutes or until the crust crisps.
You can also freeze quiche slices in individual airtight containers or wrap them into plastic wrap.
Great news, you don't have to defrost the quiche slices. Pop them in the warm oven as mentioned above until hot and crispy, about 12 minutes.

Serve the quiche
This keto quiche can be served any time of the day as a make-ahead keto breakfast, fulfilling brunch to break your fast, or as a light dinner. The best side dishes to this quiche recipe are:
A dollop of sour cream
Lettuce

More keto spinach recipes
If you love spinach, I have a few other tasty keto spinach recipes for you to try: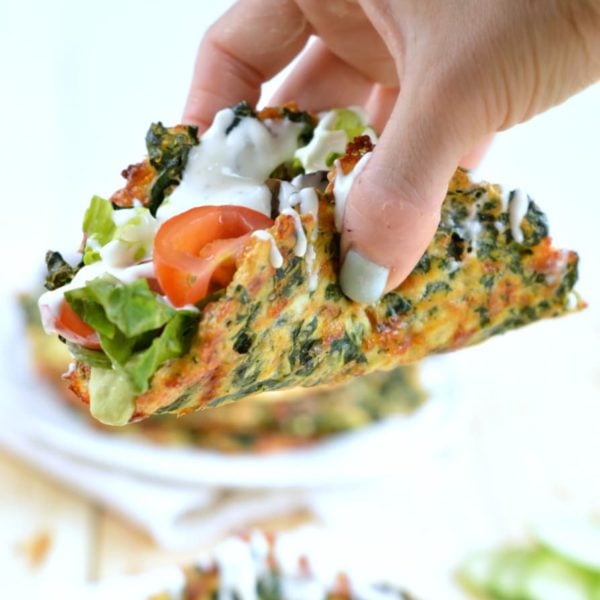 If you've made this keto quiche recipe and you want to share a picture with all the SweetAsHoney followers, join us on my Facebook Support Group. Here I also reply to all your questions regarding my recipes or the keto diet in general. I see you there!
XOXO Carine
Recipe Card
Keto Spinach Quiche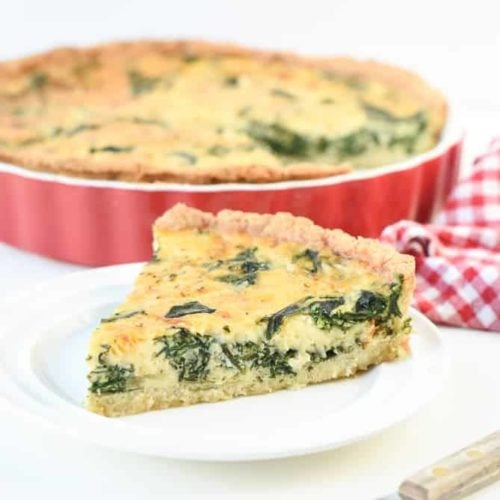 A flakey, buttery, almond flour quiche crust filled with a moist cheesy spinach egg filling.
Ingredients
Spinach filing
1

tablespoon

Extra Virgin Olive Oil

or butter

¼

cup

Onion

chopped

2

small

Garlic Cloves

crushed

14

oz

Fresh Spinach Leaves

or frozen spinach

½

teaspoon

Salt
Egg batter
6

large

Eggs

½

cup

Unsweetened Almond Milk

¼

cup

Heavy Cream

or canned coconut cream

½

teaspoon

Parsley

fresh or dried

5

ounces

Grated Cheddar

or hard grated cheese you like
Instructions
Make the quiche crust
Preheat oven to 350°F (180°C). Grease a 10-inch (26 cm) quiche pan with butter. Set aside.

In a large mixing bowl, combine the dry ingredients: almond flour, salt, and garlic powder.

Stir in melted butter and beaten egg at room temperature, or the butter may 'cook' the egg.

Combine with a spatula at first, then knead with your hand to form a thick dough.

Place the dough ball in the center of the greased quiche pan and press the dough to cover all the pan with an even thickness of the dough. Don't hesitate to take small pieces to patch holes or areas that are uncovered.

Smoothen the crust using a spatula or the back of a spoon.

Prick the crust all over using a fork and refrigerate the pan for

10 minutes

.

Remove the pan from the fridge and prebake the crust for

7

-

9 minutes

.
Spinach filling
Warm up olive oil or butter on medium heat in a frying pan.

Add onion and cook for 2-3 minutes or until translucent. Stir in crushed garlic, spinach leaves (or frozen spinach cubes), and cook until wilted.

Sprinkle salt and keep cooking until all the spinach water has evaporated.

Use a slotted spoon to remove the cooked spinach from the pan and transfer it to the pre-baked quiche crust.

Use a fork to evenly spread the spinach all over the pan.

In another bowl, beat eggs, cream, and almond milk with a fork.

Pour the egg batter onto the spinach to fill the crust. Cute tip: use a fork to bring back some pieces of spinach to the top of the egg batter so we can see the spinach leaves when the quiche is baked!

Sprinkle grated cheddar all over the top of the quiche.

Bake for

40 minutes

or until the egg filling is set and the cheese is melted.

If the sides of your crust brown too fast, cover with a piece of foil!
Storage
Store the leftover quiche in the fridge, in an airtight container, or in the quiche pan, wrapping the top with plastic wrap. Lasts for up to 4 days.

Freeze the quiche individually in slices, either wrapped in plastic wrap, silicone bags, or airtight containers.
How to rewarm the quiche?
To rewarm the quiche, place each quiche slice onto a baking tray and place in a warm oven at 325°F (160°C). Bake for 10 minutes or until hot and crispy.
Tools
Starting Keto
What Is Keto Diet?
Macro Calculator
Sweetener Converter
Keto Meal Plans
Keto Recipe Ebooks
Intermittent Fasting
Keto Fruits
Keto Vegetables
Keto FLours
Fighting Keto Flu
Keto Sweeteners
Nutrition Facts
Keto Spinach Quiche
Amount Per Serving (1 serving)
Calories 405
Calories from Fat 317
% Daily Value*
Fat 35.2g54%
Cholesterol 145mg48%
Sodium 438.2mg19%
Potassium 431.5mg12%
Carbohydrates 10.6g4%
Protein 16.4g33%
Vitamin A 5107.7IU102%
Vitamin C 14.5mg18%
Calcium 288.9mg29%
Iron 3.4mg19%
Net Carbs 4.4g
* Percent Daily Values are based on a 2000 calorie diet.