Keto French Onion Soup is a low-carb version of the traditional classic French onion soup recipe.
Sweet caramelized onion simmered into a beef broth with cheesy keto bread croutons topped with Swiss cheese.
Is French Onion Soup Keto-Friendly?
If you wonder, is French onion soup keto-friendly? Well, no! A traditional French onion soup is not keto-approved.
Below I listed all the ingredients and reasons why you shouldn't eat a traditional French onion soup on keto:
Sugar. a classic French onion soup requires onions that are caramelized in sugar. Sugar is your worst enemy on keto since it is pure carbs. Only 10 grams is 10 grams of net carbs!
White wheat flour. this is used to help thicken the soup, and like sugar, flour is pure carbs, so not for you on keto!
White wine. White wine is used to deglaze the onions. You can have some dry white wine on keto if used in moderation, but unfortunately, the classic French onion soup uses quite a good amount, which brings the carbs very high.
Croutons. A classic French onion soup is always topped with lots of toasted French bread. Again, regular bread is not keto-friendly as it is made with wheat flour, high in carbs.
So, as you can see, you can't eat a classic onion soup recipe.
But let me show you how French onion soup and keto can work together!
Why You'll Love This Recipe
This Keto French Onion Soup is delicious, it tastes just like the classic recipe, but it's also:
Gluten-Free
Nut-Free
Egg-Free
Low-Carb
Keto-Friendly
Ready In Under 30 Minutes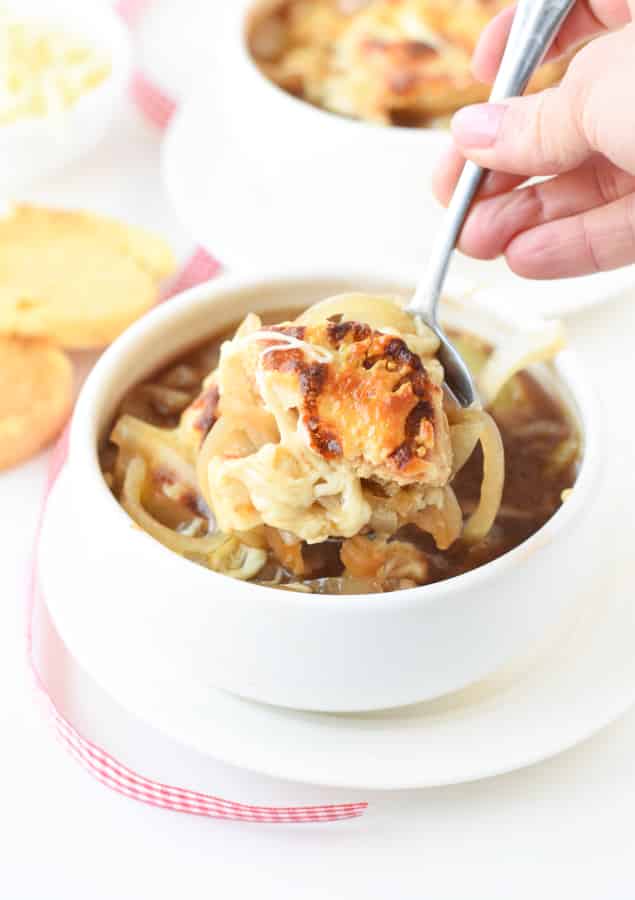 How To Make Keto French Onion Soup
There are a few necessary tweaks to make an onion soup keto-friendly.
Let me show you how to select the ingredients to make a keto low-carb French onion soup.
Soup Ingredients
White onion. Onions are naturally high in carbs, so I use fewer onions in my keto version of the French onion soup. Still, a good enough amount to bring texture and flavor. Don't use red onions. They are higher in carbs, and the soup would be very sweet.
Erythritol. It's the swap to sugar, and it is a 100% keto-friendly keto sweetener that can caramelize onion just as well without adding any carbs.
Beef bone broth. Also known as keto beef stock sometimes, it's 100% keto-friendly, so you are safe here. If you want to make a vegetarian French onion soup, swap beef bone broth for vegetable broth.
Xanthan gum. This is your thickening agent. It contains barely any carbs and replaces high-carb flour found in the traditional French recipe.
White wine. Not all white wines are keto-friendly. You must use dry white wine like Sauvignon blanc. I also reduced the amount in this recipe to keep the net carbs per serving under control while having the tangy wine flavor.
Bay leaves. The secret French herb to any good French onion soup and many French dishes.
Thyme
Salt. Optional if your beef broth is already high in salt.
Preparing The Soup Broth
It is super easy to make an onion soup. First, heat the butter, add finely sliced white onion, and cook for 20-25 minutes until soft, brown, and fragrant.
Then, add erythritol and salt to caramelize the onion. Finally, deglaze the onions with dry white wine and beef broth.
Choosing The Croutons
The best part of French onion soup is these crunchy croutons and broiled bubbly cheese on top!
You don't want to miss this even on keto so let me share my tricks to making quick keto croutons to add on top of your soup.
A traditional French onion soup is not topped with small bread croutons but with a thin French baguette slice.
French people eat baguettes daily, and the slice of baguette on top of the onion soup is most of the time a stale baguette that has hardened on the kitchen countertop.
Then, we slice thin pieces of hard baguette and toast it in a bread toaster or oven to get it very hard and crispy.
Finally, we spread fresh butter on the bread and rub a fresh garlic glove to flavor it.
This is then added on top of the onion soup and grated cheese: usually Emmental, Gruyere, or Swiss cheese, and broil in the oven.
Making Keto Croutons
Of course, you can't eat regular French bread or croutons on a keto diet. But I have a few solutions for you to mimic crispy croutons into your soup.
Make A Quick Keto Microwave Bread
My favorite option is to make my 90-second keto microwave bread recipe in a tall cylinder coffee mug. This keto recipe mimics the baguette shape.
Then, release the bread cylinder and slice it into thin bread slices. The slices will be very soft so bring them into a bread toaster on high until crispy.
Then, spread butter on the toasted bread slices and rub fresh garlic on the bread – onions and garlic are delicious, don't skip!
Finally, top your keto onion soup bowl with a slice of this keto crouton recipe, add cheese and broil!
Et voila! You made a keto French onion soup.
If someone asks you if you can eat French onion soup on a keto diet, you can proudly answer yes, and serve this yummy recipe!
Using store-bought crouton alternatives
If you don't feel like baking, use some of the options below to mimic croutons into your keto soup:
Pork rinds: that's the closest alternative to croutons, and it contains zero carbs, so it's a great addition to your keto meal.
Toasted seeds: like sunflower or pumpkin seeds.
Parmesan crisp
Storing French Onion Soup
Onion soup stores very well in the fridge for up to 5 days in a sealed container.
You can rewarm the soup in a saucepan or microwave. Then, broil in the oven with shredded cheese.
Frequently Asked Questions
How Much Keto French Onion Soup Can I Eat?
This recipe serves 8 bowls. The serving size is 1 cup of soup and 1 slice of keto crouton and cheese.
The entire low-carb onion soup bowl, including bread slices, contains 7.8 grams of net carbs or 6.1 grams of net carbs without the keto bread.
Can I Replace The Wine?
Yes, you can use Worcestershire Sauce instead. But keep in mind that all the alcohol from the wine evaporates as the soup cooks.
Can I Skip The Xanthan Gum?
Yes, you don't have to use xanthan gum it's not absolutely necessary. The texture will be slightly more watery, but it'll be delicious.
Enjoy the lovely Keto French recipe, and don't forget to leave me a comment below if you made it and review it!
You can also follow me on Pinterest for more keto inspiration.
Keto French Onion Soup
This Keto French Onion Soup is the keto and gluten-free version of the popular French onion soup.
Yield:
people (1 cup = 1 serving)
Serving Size:
1
soup (1 cup)
Nutrition Snapshot
Want My Kitchen Equipment?
Instructions
In a large pot, heat butter and onions over medium heat.

Cook onion until they soften- about 2 minutes, then add salt and erythritol.

Reduce to medium/low heat and continue cooking/stirring the onion until they become fragrant and golden brown. This takes about 20-25 minutes. Make sure you stir often to avoid burning the onion.

Sprinkle the xanthan gum all over the cooked onion, add beef stock, low-carb white wine if used (or more beef broth if preferred), dried thyme, and bay leaves. Cover and simmer for 30 minutes.
Keto bread crouton
Cook your keto bread in the microwave following the recipe here. Release the bread cylinder from the mug, cool for 1 minute to steam out (this also avoids burning yourself), then cut into 4 even slices. You can repeat this bread recipe to make 4 more croutons if you intend to serve 8 soup bowls.

Bring each bread slice into a bread toaster on high and toast until crispy on both sides. Set aside on a plate to cool.

Preheat oven to 350°F (180°C). When the oven is hot, turn to broil mode.

Remove bay leaves from the soup and discard.
Serve the soup
Ladle soup into 8 oven-proof soup bowls – 1 cup is 1 serving.

Brush some butter on top of each slice of toasted keto bread. Rub a fresh garlic glove on the bread slices to flavor the bread.

Place 1 toasted bread slice on top of each bowl.

Cover the top of each soup bowl with 1/3 cup of grated French gruyere.

Broil in the oven until the cheese is brown.
Storage
Store leftover soup in an airtight sealed container in the fridge for 3-4 days.
Notes
The net carbs in the nutrition panel below don't include the slice of 90-second bread recipe on top of the soup. Add 1.6 grams of net carbs per slice, if the lookbread is cut into 4 slices or 1 gram if you cut the bread into 6 slices.
Follow my bread recipe here and bake it in a tall coffee mug to create keto croutons that looks like French baguette slices.
My Recipe Notes
Nutrition
Serving Size:
1
soup (1 cup)
Yield:
people (1 cup = 1 serving)
Serving:
1
soup (1 cup)
Calories:
202.7
kcal
(10%)
Carbohydrates:
7.4
g
(2%)
Fiber:
1.3
g
(5%)
Net Carbs:
6.1
g
Protein:
10.3
g
(21%)
Fat:
14.2
g
(22%)
Saturated Fat:
8.5
g
(53%)
Cholesterol:
42.3
mg
(14%)
Sodium:
881.6
mg
(38%)
Potassium:
227.8
mg
(7%)
Sugar:
3.2
g
(4%)
Vitamin A:
409.6
IU
(8%)
Vitamin C:
5.4
mg
(7%)
Calcium:
278.6
mg
(28%)
Iron:
0.6
mg
(3%)
Posted In: