This 4-Ingredient Potato Soup is an easy creamy potato soup ready in less than 30 minutes.
Plus, the recipe is gluten-free and dairy-free so 100% vegan-friendly.
My kids love creamy thick soup, and since potatoes are their favorite vegetable, this best potato soup recipe is always a hit in winter.
How To Make This 4-Ingredient Potato Soup Recipe
What I love about this potato soup recipe are the four basic ingredients that make it perfect for busy nights.
Ingredients
To make the soup, you will need the following:
Coconut Oil or Butter – I prefer coconut oil to keep the soup dairy-free, but butter or olive oil are other delicious options.
Yukon Gold Potatoes – While you can use any potatoes to make soup, high starch potatoes – the ones usually used for mashed potatoes recipes – are the best. These potato varieties make the soup texture creamier and thicker. You can also use russet potatoes.
Vegetable Broth – We used reduced salt vegetable broth.
Almond Milk – Use unsweetened almond milk, cashew cream, or soy cream. If you eat dairy, you can also pick heavy cream.
Cooking The Potatoes
First, wash the potatoes, peel the potatoes, and cut them roughly into chunks. The size doesn't matter much, but the bigger, the longer it takes to cook.
Next, in a large pot, warm the coconut oil or dairy-free butter and melt. Add the potato cubes, stir, and cook for 1 to 2 minutes just to flavor the potatoes with the coconut oil.
Now, add vegetable stock to cover the potatoes and bring it to a boil. Reduce to medium heat, and simmer for 20 to 30 minutes or until the potatoes are fork-tender.
If you can insert a fork or knife into the potato chunks with no resistance, they are ready.
Stop the heat, remove the lid, and steam them out for 5 minutes.
Then, stir in cream, and using an immersion blender, blend the soup until thick and creamy.
Adjusting The Texture
If the soup is too thick for your liking, add more vegetable stock or simply cold water to thin it out.
You can add up to 1 cup depending on how thin you like your soup. We didn't add extra liquid since we like a thick creamy texture in our potato soup.
Flavoring
Of course, even if this soup is an easy 4-ingredient potato soup, it doesn't mean you can't add some ingredients to add more flavor to it.
For example, in the beginning, you can stir-fry potatoes with onion in coconut oil to add flavor to the soup.
Add about 1 small white onion, peeled and finely diced.
Or, in the end, add some of the spices below:
Onion Powder
Garlic Powder
Ground Pepper
Salt
Thyme, Rosemary, or Chives
Serving The Soup
Potato soup is a comforting white soup that goes so well with:
Green Onions
Sour Cream
Cheddar Cheese
Croutons
Bacon Bits, if not vegetarian
You can then serve it as a side dish to:
Storage Instructions
This potato soup can be stored in the fridge for up to 4 days in a sealed container.
You can freeze potato soup as well in an airtight container and thaw it in the fridge the day before.
To rewarm the soup, place the soup straight from the freezer in a saucepan over medium-high heat and cook until warm.
Or rewarm in a microwave-safe bowl.
Allergy Swaps
Below are some options to make this soup using alternative ingredients if the ones listed are not suitable for you:
Coconut-Free – Replace the coconut oil with olive oil or butter.
Low-Carb – Potatoes are not low-carb, but some varieties, like Lotatoes are potatoes grown with half the carbs of white potatoes. Pick a variety that is low in starch to cut the carb down.
Cream – You can use almond milk or any non-dairy milk you like instead.
Frequently Asked Questions
I listed some answers to your most frequent questions about this easy potato soup recipe:
Is Potato Soup Healthy?
Potatoes have a bad reputation because they are high in starch.
But they are actually very good for you, packed with nutrients, in particular iron.
Potatoes are great for growing kids, vegans, or vegetarians as they add vitamins like B6, C, potassium, and manganese.
Are Potatoes Keto?
No, potatoes are not keto-friendly because they contain about 15 grams of net carbs per 100 grams.
But on a low-carb diet, you can include some potatoes on your plate, like the Lotato variety that contains 10 grams of net carbs per 100 grams which is close to the popular low-carb vegetable broccoli.
Can I Swap Potatoes For Sweet Potatoes?
The soup will also work very well with orange-skin sweet potatoes.
More Healthy Soup Recipes
If you like easy soup recipes, below are some more healthy soup recipes for you to try.
Have you made this 4-ingredient potato soup? Share a comment or review below to connect with me.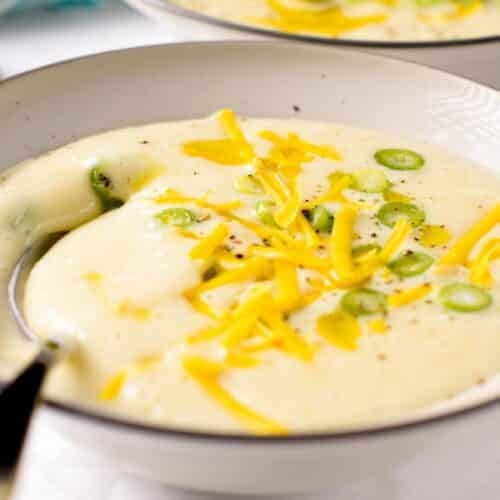 4-Ingredient Potato Soup
This 4-Ingredient Potato Soup is an easy creamy potato soup ready in less than 30 minutes. Plus, the recipe is gluten-free, and dairy-free so 100% vegan-friendly.
Ingredients
To serve per bowl
1

tablespoon

Grated Cheddar

(note 4)

1

teaspoon

Parsley

freshly chopped

1

tablespoon

Sour Cream

(note 5)
This recipe may contain Amazon or other affiliate links. As an Amazon Associate I earn from qualifying purchases.
Instructions
Peel and cut the potatoes into medium-size 1-inch cubes (2.5cm).

In a large non-stick pot, over medium heat, melt the coconut oil, then add the potato cubes, and cook for 2-3 minutes until fragrant.

Add the vegetable broth, cover with a lid and simmer on low-medium heat for 20-25 minutes or until the potato cubes softened. Check by inserting a pick in the center of the potato, if it comes through it's cooked.

Remove from heat, remove the lid and wait 10 minutes to steam out.

Add cream and any of the optional ingredients if desired like salt, pepper, onion powder, or garlic powder.

Blend with an immersion blender until smooth and creamy. If too thick to your liking, thin it out by adding cold water or cold broth, add by 1/4 cup, and stop when the consistency fits your liking.

Serve with a tablespoon of sour cream or grated cheddar and fresh herbs on the top.
Storage
Cool down and store in an airtight container in the fridge for up to 4 days. You can freeze the soup for up to 3 months and thaw it in the fridge the day before.
Notes
Note 1: You can also use butter or olive oil. Note 2: Waxy potatoes high in starch like Russet or Yukon gold taste better in potato soups, but any other varieties can be used like red potatoes or low-carb lotatoes. Note 3: We used dairy-free cream, like cashew cream or soy cream, but you can also use heavy cream, half-half, almond milk, or coconut cream if you love coconut flavor. Note 4 & Note 5: You can use vegan cheese and vegan sour cream to keep the soup dairy-free.
Want My Kitchen Equipment?
Serving:
1
serving
Calories:
304.2
kcal
(15%)
Carbohydrates:
30.1
g
(10%)
Fiber:
3.4
g
(14%)
Net Carbs:
26.7
g
Protein:
4.7
g
(9%)
Fat:
19.1
g
(29%)
Saturated Fat:
12
g
(75%)
Polyunsaturated Fat:
0.9
g
Monounsaturated Fat:
4.8
g
Trans Fat:
0.2
g
Cholesterol:
57.5
mg
(19%)
Sodium:
880.5
mg
(38%)
Potassium:
686.1
mg
(20%)
Sugar:
3.8
g
(4%)
Vitamin A:
1065
IU
(21%)
Vitamin B12:
0.1
µg
(2%)
Vitamin C:
30.1
mg
(36%)
Vitamin D:
0.6
µg
(4%)
Calcium:
58.4
mg
(6%)
Iron:
1.3
mg
(7%)
Magnesium:
38.8
mg
(10%)
Zinc:
0.6
mg
(4%)
Posted In: