A delicious Keto Pumpkin Soup with a creamy, velvety texture and only 6.8 grams of net carbs per bowl.
Plus, this keto soup is also gluten-free, and dairy-free options are provided for keto vegan food lovers.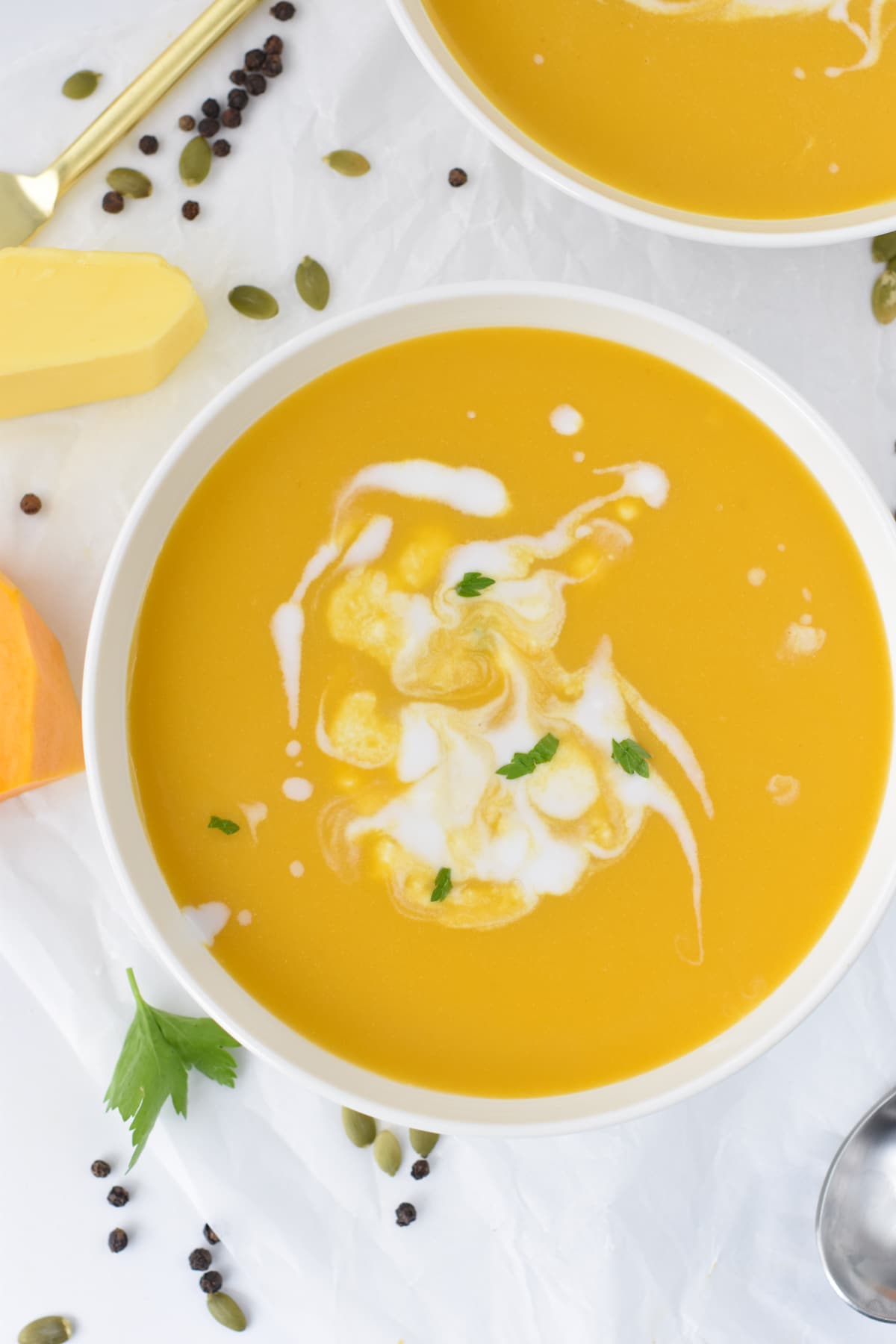 Can I Eat Pumpkin On Keto?
Yes, you can have some pumpkin on a keto diet as pumpkin contains only 7 grams of net carbs per 100 grams.
As an element of comparison, broccoli, a popular keto vegetable, contains 6 grams of net carbs per 100 grams.
If you keep the intake of pumpkin low enough to fit your daily macro, you will stay in ketosis.
So embrace all the keto pumpkin recipes and enjoy all the fall flavors with this keto pumpkin soup, keto pumpkin pie, or my keto-friendly pumpkin spice latte this fall!
How To Make Keto Pumpkin Soup
The trick to making a keto pumpkin soup is to keep the amount of pumpkin, fresh or canned, as low as possible.
But, you still want the pumpkin soup to be velvety and not too runny or watery, so the secret is to add some creamy additions.
Ingredients
Let me explain, but first, this is what you need to start this low-carb keto pumpkin soup recipe:
Fresh pumpkin – deseeded, peeled, and weighted after being peeled. You can also replace the fresh pumpkin with the same amount of pure canned pumpkin puree, but I prefer the fresh pumpkin flavor in soups. Plus, in this pumpkin soup recipe, we roast the pumpkin in the pan, which adds extra flavor, and you can't achieve this with canned pumpkin.
Olive oil
Onion powder– again, to keep the carbs low, we recommend avoiding onion and adding the flavor with a powder. It decreases carbs.
Garlic powder
Salt
Pepper
Cream of choice – I love coconut cream with pumpkin. The combination is absolutely fantastic, plus it's dairy-free and keeps the soup keto vegan approved. But heavy cream or half/half are also working well.
Almond milk or coconut milk.
Vegetable stock
Butter – this is optional, but adding a dollop of butter into your hot bowl of pumpkin soup creates the most decadent cream of pumpkin! Skip if you eat dairy-free or replace it with a drizzle of olive oil. Butter is keto-friendly, learn which dairy products are keto.
Preparing The Ingredients
First, peel and deseed the pumpkin and weigh the amount called by the recipe.
Then, warm olive oil in a non-stick saucepan over medium heat and add the pumpkin cubes with spices: garlic powder, onion powder, salt, and roast until fragrant – about 2 minutes.
Cooking The Soup
Finally, pour the vegetable stock, cover the saucepan with a lid, and reduce to low-medium heat.
Bring to a boil and cook for 15 to 20 minutes or until the pumpkin is fork-tender.
Remove from the heat and use an immersion blender to blend and create a velvety pumpkin soup.
Now, add the heavy cream and almond milk or canned coconut cream.
For an ultra-creamy keto pumpkin soup and the butter!
Serve hot to enjoy real pumpkin flavors.
Keto Soup Serving Ideas
This keto pumpkin soup is light and contains only 166 kcal per bowl of 1 cup.
So to keep you full, add some toppings or sides that will also help you boost your fat macros like:
Shredded Parmesan
Toasted Pumpkin Seeds
A drizzle of Cream
Sour Cream
Crushed Pork Rinds
Storage
Like any other soup, this keto soup with pumpkin freezes very well for later.
I recommend freezing individual servings in airtight containers so you can thaw one serving at a time in the fridge the day before.
Then, rewarm the soup in the microwave, in a microwave-safe bowl, or a non-stick saucepan over medium heat.
Fall Keto Recipes
If you love pumpkin in the Fall, there's no reason you should give up on some delicious keto pumpkin recipes this fall.
So let me draw a simple 1-day fall keto meal plan to inspire you! All the recipes below are easy to make and available on the blog.
For a fall keto breakfast, try my keto pumpkin muffins or my keto pumpkin pancakes.
Then, as a fall morning tea snack, make yourself a cup of comforting keto pumpkin spice latte.
For lunch, serve a bowl of this keto pumpkin soup with a keto bread roll on the side or some garlic bread.
Then snack on a piece of keto pumpkin bread, and finally, for dinner, make my keto spaghetti squash alfredo casserole.
Here you go, a full day of fall pumpkin flavor to enjoy on your keto diet!
Frequently Asked Questions
I've listed below the answers to the most common questions about this recipe.
How Much Soup Can I Eat?
A standard serving of this keto soup is 1 cup/ 250 ml, and it brings you 166 kcal and 6.8 grams net carbs. Depending on how much carbs you eat a day on your keto low-carb journey, you can increase serving to match your keto macros.
More Soup Recipes
You can enjoy so many delicious soups on your low-carb diet.
Below I listed my favorite other soup recipes for you to try this fall and winter.
Have you made this keto pumpkin soup recipe? Share a comment or review below to connect with me,
Keto Pumpkin Soup
An easy creamy keto pumpkin soup recipe to enjoy all the fall pumpkin flavors with minimal carbs.
Serving Size:
1
serving (1 cup)
Nutrition Snapshot
Want My Kitchen Equipment?
Instructions
Peel and deseed the pumpkin. Then, cut it into chunks and weigh the amount required by the recipe.

Warm olive oil over medium heat in a non-stick saucepan.

Add pumpkin chunks and dry spices: garlic powder, onion powder, and salt. Stir and cook for 1 minute, until spices are roasted and fragrant.

Add vegetable broth into the saucepan, cover, and bring to a boil. Reduce to lo heat and simmer for 15-20 minutes until the pumpkin is fork-tender.

Remove saucepan from heat, remove the lid and let steam out for 10 minutes, then blend with an immersion blender until smooth.

Stir in almond milk, heavy cream, and butter. Stir until butter is fully melted and serve.

Serve 1 cup per person with keto toppings you love, like zero-carb pork rinds, parmesan, toasted pumpkin seeds, a drizzle of olive oil, or cream.
Storage
Store in the fridge in an airtight container for up to 4 days or freeze and thaw in the fridge the day before eating.
My Recipe Notes
Nutrition
Serving Size:
1
serving (1 cup)
Serving:
1
serving (1 cup)
Calories:
166.7
kcal
(8%)
Carbohydrates:
9.4
g
(3%)
Fiber:
2.6
g
(11%)
Net Carbs:
6.8
g
Protein:
1.4
g
(3%)
Fat:
14.6
g
(22%)
Saturated Fat:
7.6
g
(48%)
Polyunsaturated Fat:
0.9
g
Monounsaturated Fat:
5.3
g
Trans Fat:
0.3
g
Cholesterol:
34.4
mg
(11%)
Sodium:
1130.6
mg
(49%)
Potassium:
190
mg
(5%)
Sugar:
4.1
g
(5%)
Vitamin A:
13921.3
IU
(278%)
Vitamin B12:
0.1
µg
(2%)
Vitamin C:
3.7
mg
(4%)
Vitamin D:
0.2
µg
(1%)
Calcium:
63.1
mg
(6%)
Iron:
1.2
mg
(7%)
Magnesium:
20.9
mg
(5%)
Zinc:
0.2
mg
(1%)
Posted In: