This souffle omelette is the perfect weekend breakfast, a light, fluffy omelette with crispy edges and filled with herbs and cheese.
Plus, this is a healthy breakfast packed with protein to keep you full for hours, and it takes less than 15 minutes to make.
A soufflé omelette is one of these easy fancy breakfasts we should all try once in our lives.
Much easier than you think to make, these fluffy eggs are simply cooked in a skillet. It's a lot simpler than a classic egg souffle.
I used to make an egg souffle recipe with my mum for dinner. It's a bit of an art form and takes a while to bake to achieve that fantastic puff.
So my easy way to enjoy fluffy puffed eggs is to make a souffle omelette. It's a no-fail breakfast, healthy and beautiful. Everyone is impressed by the look of this omelette.
What Is A Soufflé Omelette?
Soufflé in French means puff or blow. Therefore, a soufflé omelette is a thick, fluffy omelette recipe puffed with air from the beaten egg whites that adds air to the batter.
It tastes like a cheese souffle, unlike a unlike a souffle that is baked, a Souffle Omelette is cooked in a skillet.
You can fill the souffle omelette with any of your favorite omelette fillings or keep it plain.
History
The recipe was invented in the late 19th centrury by Anne Boutiaut Poulard, a professional cook running the famous Mont-Saint-Michel restaurant called La Mère Poulard (literally: the mother Poulard).
The Mont-Saint-Michel is a postcard-favorite place located in Normandy, at the mouth of the Couesnon River.
The village is on a tidal island, and therefore is inaccessible at high tide since the access road is completely submerged.
Because of this, La Mère Poulard needed a way to offer a dish that was easy to prepare to visitors arriving in unexpected numbers at unexpected times.
She invented the Souffle Omelette, known in France as the Omelette de la mère Poulard.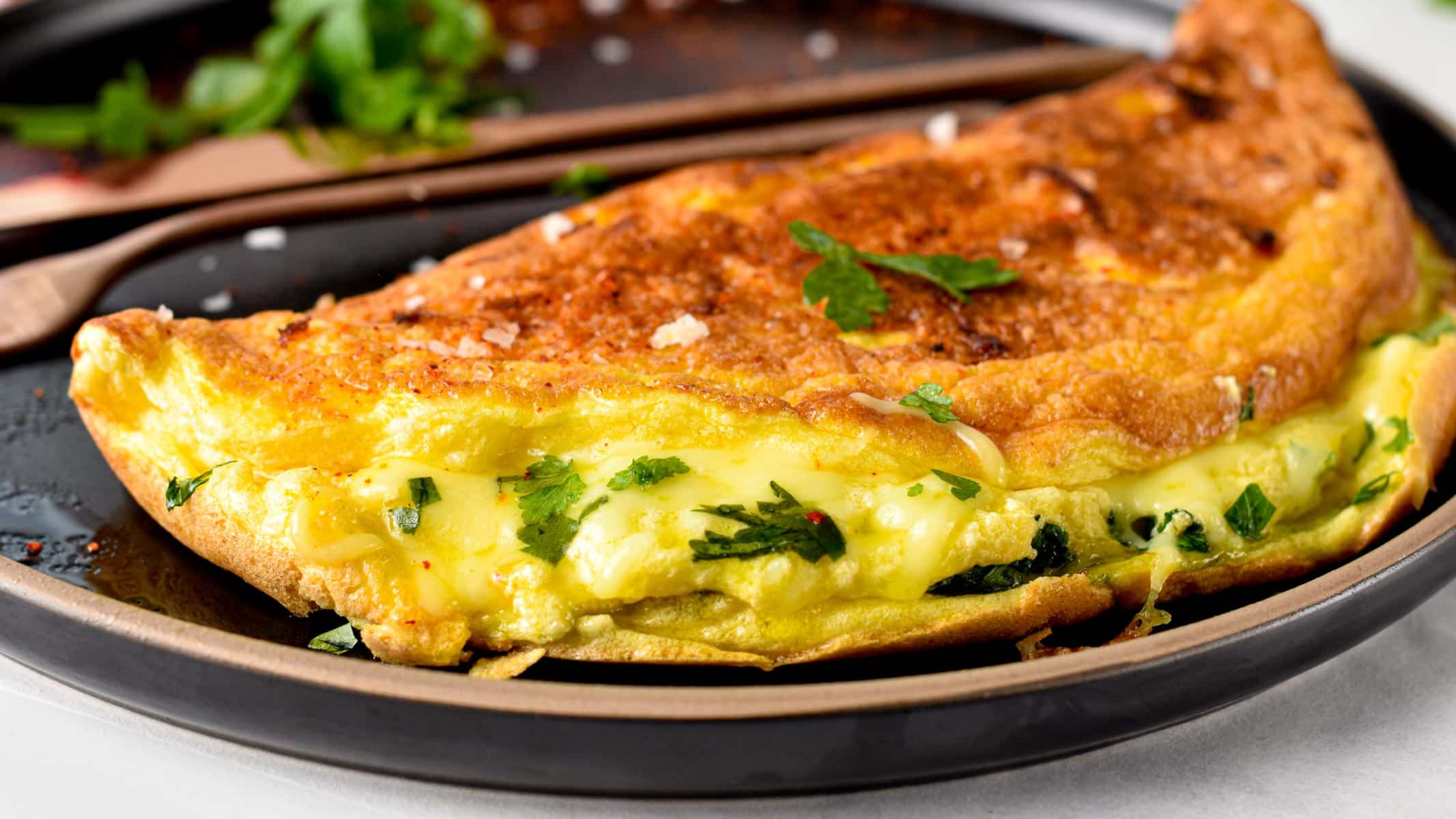 How To Make A Fluffy Soufflé Omelette
It's not complicated to whip up this omelette for breakfast.
Of course, it's more work than a classic omelette recipe because you need to beat the egg whites into a stiff peak.
As a result, it involves more kitchen tools and dishware to wash. But honestly, the taste and flavor of this light, airy omelette are worth all the extra minutes spent in the kitchen.
Soufflé Omelette Ingredients
This is all you need to make a fluffy omelette:
Eggs – Split the egg whites and egg yolks and keep them separated into different bowls.
Butter – Prefer grass-fed unsalted butter.
Olive Oil – I like to use a locally-sourced extra-virgin olive oil.
Then, you can choose to add flavors to the omelette.
Sweet Souffle Omelette
For a sweet souffle omelette (yes, that's a thing, and it tastes truly amazing), add the following:
2 teaspoons of sugar
1/2 teaspoon of cinnamon
Fluffy Cheese Omelette
For a savory version or a fluffy cheese omelette, as shared in the pictures, add:
Garlic Powder
Salt and Pepper
Freshly Grated Cheese like mozzarella or cheddar cheese or Parmesan cheese
Freshly Chopped Parsley – or other herbs like chives, dill, or cilantro.
Extra Omelette Fillings
You can also add some more fillings to the omelette. The ones listed below must be cooked prior to adding it to the omelette.
Add them just before folding the soufflé omelette.
Spinach and Mushrooms
Red Bell Pepper
Ham or Bacon
Souffle Omelette Batter
Before you start, choose the right amount of eggs to use, I like to use three eggs for a fluffy omelette for one, but you can reduce to two eggs for a smaller omelette.
Now that you selected the right eggs and separated the egg whites from the egg yolks in two large cold bowls, it's time to mix egg yolks with egg white.
First, use a fork to gently whisk the egg yolk mixture. Set aside.
Next, whip the egg whites into a stiff peak using a hand mixer or stand mixer with the whisk attachment.
Then, gently fold half the stiff peak egg whites into the bowl with the egg yolk. Use a rubber spatula to gently stir the fluffy egg whites into the egg yolks.
When no more pieces of egg whites can be seen, add any omelette filling you like – a pinch of salt, pepper and cheese if used.
Finally, stir in the remaining stiffed egg whites until the omelette mixture is yellow and airy – no white parts can be spotted.
Cooking Souffle Omelette
Souffle omelette are cooked in a skillet, over the stove.
Warm olive oil and butter in a large 10″ nonstick skillet. Tilt the pan to spread fat all over the surface.
Pour the fluffy egg mixture into the pan and use a rubber spatula to spread the fluffy mixture all over the pan.
Cover the pan with a lid, and cook the omelette over medium heat for 2 minutes or until the sides are crispy and dry. You should be able to slide a flat tool under the omelette easily, but the centre of the omelette is still half-cooked.
Sprinkle herbs or more cheese on one-half of the fluffy eggs if desired.
Flip the omelette in half, uncover and cook a few more minutes until the centre is set and the eggs ultra fluffy.
Tips To Make A Fluffy Omelette
They are one rule to making a light, fluffy omelette – care about your egg whites! They are the reason why the omelette looks so thick and puffy.
Use Large Fresh Eggs
The first step of a fluffy omelette is the choice of eggs. Make sure they are large to get the most egg whites – they are the reason the omelette gets fluffy.
Also, room-temperature eggs have firm egg white they turn into a stiff peak faster and hold better than cold eggs – straight out from the fridge.
Take out the eggs 15 minutes before starting for the best results.
Use Cold Bowls
Next, separate the eggs into two large cold bowls. I like to use my stand mixer aluminum bowls because they are cold, no matter what.
But, if you don't have metal mixing bowl, refrigerate your bowl and beaters for 30 minutes before you whip the eggs.
Cold bowls make sure that you get successful stiff egg whites every time.
Don't Overbeat Egg Whites
Overbeaten egg whites split and release liquid.
Stop as soon as a stiff peak forms.
You can use an electric beater, or the whisk attachment of your stand mixer to whip the egg white until a firm stiff peak appears.
Serving
Serve the omelette quickly for the best fluffy texture. The souffle deflates as the eggs cool down.
This omelette is delicious served with extra spices like a pinch of:
Cayenne Pepper
Ground Black Pepper
Chili Flakes
Grated Parmesan
Freshly Chopped Italian Parsley
Serve with delicious omelette sides like toasted wholegrain bread and avocado and tomato slices, or vegetables on the sides including my:
Storage Instructions
This souffle omelette won't store very well and it's better to serve and eat immediately.
If you really have to store it, do it in an airtight container, but don't expect to have the same texture later.
Frequently Asked Questions
Below are my answers to your most common questions about this easy fluffy omelette recipe.
Why Won't My Egg Whites Stiffen?
Most of the time, egg whites stay at the soft peak stage because they are in contact with fat residues.
Egg yolks are high in fat, so if you didn't split the eggs nicely, you wouldn't get a stiff peak in egg whites.
Also, make sure your bowls are clean, without any greasy particles from a previous recipe, and preferably cold.
Does Milk Make The Omelette Fluffy?
No. Milk makes the omelette creamy, but it won't fluff the eggs.
You need egg whites making a stiff peak in the omelette batter to create fluffy eggs.
What's The Difference Between A Fluffy Omelette And A Souffle Omelette?
They are the same thing. They are the same recipe of light, fluffy eggs cooked in a pan.
Can I Cook A Souffle Omelette In The Oven?
Yes, you can preheat an oven-safe skillet in the oven at 350°F (180°C).
Then, when the skillet is warm and greased with melted butter and oil, spread the egg mixture, cover the pan with foil, and bake the omelette for 6 to 8 minutes until the sides crisp.
Uncover, add any filling on one half of the baked omelette, then fold in a half-circle shape and keep baking uncovered until cooked in the center.
What Is The Difference Between An Omelette And A Souffle Omelette?
A classic omelette is made from full beaten eggs. It's flat and, most of the time, filled with cheese, ham, or cooked vegetables.
On the other hand, a souffle omelette is made from whipped egg whites. The batter is airy, creating a puffy omelette.
Why Has My Souffle Omelette Deflated?
A souffle omelette must be served immediately.
The eggs lose their fluffy texture as they cool down because the air trapped in the omelette is released.
It's still delicious to eat, but it loses a lot of its traditional texture.
More Omelette Recipes
Below are more easy omelette recipes for you to try as an easy breakfast recipe.
Have you tried this souffle omelette? Share with me your favorite fillings below.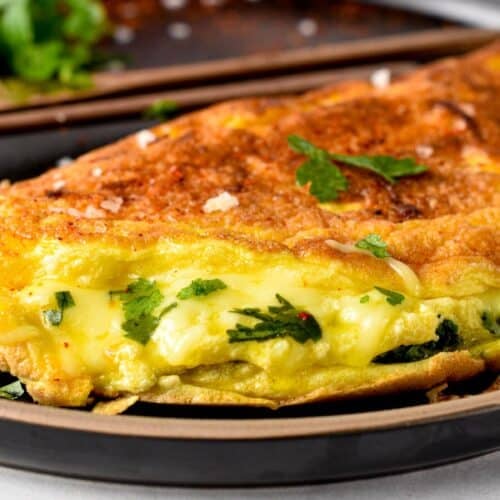 Soufflé Omelette
This Soufflé Omelette is the perfect weekend breakfast, a light, fluffy omelette with crispy edges and filled with herbs and cheese. This healthy breakfast is packed with protein to keep you full for hours and takes under 15 minutes to make.
Ingredients
3

large

Eggs

1

teaspoon

Butter

1

teaspoon

Olive Oil

¼

teaspoon

Salt

¼

teaspoon

Garlic Powder

⅓

cup

Grated Mozzarella

1

tablespoon

Parsley

chopped
Optional – for extra cheesy omelette
This recipe may contain Amazon or other affiliate links. As an Amazon Associate I earn from qualifying purchases.
Instructions
Prepare a medium bowl and a large bowl – like the bowl of your stand mixer.

Separate the egg yolks from the egg whites, and place the egg yolks in the medium bowl and the egg whites in a large bowl.

Using the whisk attachment or an electric beater, whisk the egg whites with salt until they are glossy and a stiff peak forms.

Add half of the egg whites into the bowl with the egg yolk and use a silicone spatula to gently stir until it looks fluffy with a light yellow color and no more liquid egg white can be seen.

Now, add the cheese, garlic, pepper, and parsley and stir a few times to incorporate.

Add the remaining egg whites and gently stir, as in the step before, until well incorporated.

Warm a 10-inch non-stick pan over medium-high heat with butter and oil.

When the butter has melted and sizzles, pour the souffle omelette mixture into the pan and spread it in a circular motion all over the pan using a silicone spatula.

Reduce to medium heat, cover with a lid and cook for 1-2 minutes.

Check the omelette regularly, and when the sides are dry, uncover and add some extra cheese on half of the omelette (if used, for ultra-cheesy one).

Use a spatula to lift one side of the omelette and fold it in half.

Keep cooking until cheese is melted and the center is cooked through and puffy.

Serve with extra freshly chopped herbs.
Want My Kitchen Equipment?
Serving:
1
omelette
Calories:
401.6
kcal
(20%)
Carbohydrates:
2.7
g
(1%)
Fiber:
0.2
g
(1%)
Net Carbs:
2.5
g
Protein:
27.5
g
(55%)
Fat:
30.7
g
(47%)
Saturated Fat:
12.7
g
(79%)
Polyunsaturated Fat:
3.7
g
Monounsaturated Fat:
11.9
g
Trans Fat:
0.2
g
Cholesterol:
598.2
mg
(199%)
Sodium:
1063.4
mg
(46%)
Potassium:
267.8
mg
(8%)
Sugar:
1
g
(1%)
Vitamin A:
1524.3
IU
(30%)
Vitamin B12:
2.2
µg
(37%)
Vitamin C:
5.3
mg
(6%)
Vitamin D:
3.1
µg
(21%)
Calcium:
280.2
mg
(28%)
Iron:
3.1
mg
(17%)
Magnesium:
28.2
mg
(7%)
Zinc:
3.1
mg
(21%)
Posted In: