This Greek Omelette is a delicious omelette filled with Greek flavors from red onion, Olives, feta, tomatoes, and sundried tomatoes.
It's a quick and easy breakfast or light dinner to bring Meditareean flavors to your table.
I am totally in love with omelettes for breakfast.
They are a perfect fulfilling breakfast that you can make in less than 20 minutes and are so versatile as you can basically fill them with anything.
So if you are looking for a change to breakfast keto scrambled eggs or jammy eggs, try this Greek omelet.
It will guarantee the best start of the day, packed with flavors, proteins, and vitamins.
What's A Greek Omelette?
A Greek Omelette is a classic omelet cooked in olive oil and filled with the most classic Greek ingredients, including feta cheese, tomatoes, basil, olives, and sundried tomatoes.
Greek food and the Mediterranean diet have long been ranked as the healthiest diet you can find, often beating the low-carb keto diet!
How To Make Greek Omelette
It's very easy to make a Greek omelet using only a few ingredients.
Let me share my way of making an omelette Greek-style
Ingredients
Eggs – I like to use large, free-range eggs. They have a better flavor and great colors.
Olive Oil – Use extra-virgin olive oil for Greek omelette, instead of a mix of butter and olive oil. The extra virgin olive oil enhances the Mediterranean flavors of the meal.
Crumbled Feta Cheese – I have a preference for goat's milk feta, but it also works perfectly with sheep milk feta.
Kalamata Olives – Kalamata olives are large and have a pronounced and sweet olive flavor.
Red Onions – While you can use regular onions, red onions are by far tastier.
Sundried Tomatoes – Sundried tomatoes bring a delicious taste to this recipe.
Salt and Black Pepper
Beating Eggs
First, beat the eggs with salt and pepper in a shallow bowl using a small whisk or fork.
Set it aside in the fridge while preparing the omelette filling
Greek Omelet Filling
Next, warm a non-stick pan with half the amount of olive oil.
Add sliced red onion and cook until fragrant which takes about 1 to 2 minutes.
Then, stir in crushed garlic, olives, and sundried tomatoes and give a stir. Cook the filling for 30 seconds just until warm and fragrant.
Set aside on a plate and cover with foil to keep the filling warm.
Cooking The Omelette
Rub the pan with a piece of absorbent paper to remove pieces of filling.
Pour the remaining olive oil and bring over medium-high heat to warm.
Add the whisked eggs and tilt the pan to spread and cook.
When the omelette starts to dry out, and the sides are crispy and cooked, cover half the side of the omelette with half crumbled feta cheese.
Add the red onion mixture on top, then chopped tomato, basil, and feta cheese left.
Gently fold in half and keep cooking until the eggs are set, and the filling is warm.
Serve with extra freshly chopped basil, salt, pepper, and chili flakes.
Serving
This loaded Greek omelette is a light dinner or fulfilling breakfast delicious served on its own or with some light sides like:
Allergy Swaps
If you have some allergy to any of the ingredients listed in the recipe, I am providing some easy swaps for you below.
Dairy-Free – You can use any dairy-free cheese alternative instead of feta or skip it and add a pinch of nutritional yeast for a boost of cheese flavor.
Onion-Free – You can skip onion in the recipe or replace it with shallots.
Frequently Asked Questions
Below are the answers to your most frequent questions about this Greek Omelette recipe:
Can I Skip Sundried Tomatoes?
Yes, you can skip the sundried tomatoes or replace them with roasted bell pepper.
Since they are often sold in oil, drain and pat dry before adding to the recipe to avoid too much oil.
Can I Add Other Cheese?
Yes, for a melted cheese option, try Parmesan cheese or hard grated mozzarella.
You can use it in combination with feta or on its own as a feta replacement.
Can I Use Different Olives?
Green olives or black olives taste great as well but kalamata olives or sweeter, soft, and less bitter, or strong in flavor which is the perfect choice for any Greek-style recipe.
More Omelette Recipes
If you are an omelette lover for breakfast, try some of the other omelette recipes below:
Did you try this Greek Omelette recipe? Share a comment or review below to let me know how it goes.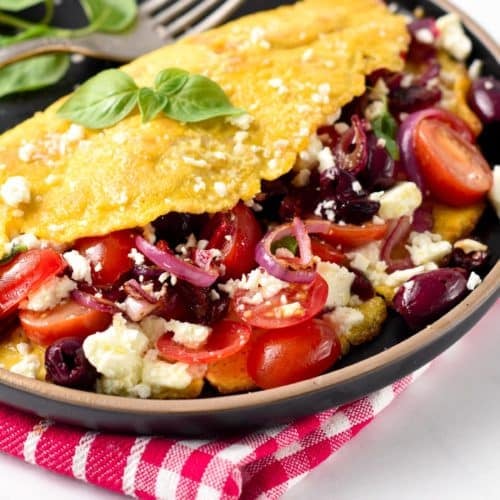 Greek Omelette
This Greek Omelette is a delicious omelette filled with Greek flavors from kalamata Olives, feta, tomatoes and sundried tomatoes
Ingredients
2

large

Eggs

beaten

¼

teaspoon

Salt

divided

⅛

teaspoon

Ground Pepper

6

teaspoons

Olive Oil

divided

½

small

Red Onion

finely sliced

1

small

Garlic Clove

crushed

2

tablespoons

Sundried Tomatoes

drained from oil, finely chopped

5

Kalamata Olives

or more to taste

¼

cup

Feta

crumbled

6

Cherry Tomatoes

halved

2-3

fresh

Basil Leaves
This recipe may contain Amazon or other affiliate links. As an Amazon Associate I earn from qualifying purchases.
Instructions
Crack and beat the eggs in a small bowl. Season with salt and pepper and set aside in the fridge while cooking the vegetables.

Heat a non-stick skillet over medium heat, and warm 3 teaspoon olive oil. When hot, add red onion slices, stir and cook for about 1-2 minutes, until fragrant.

Stir in crushed garlic, olives, and sundried tomatoes. Stir and cook for 30 seconds to flavor with onions. Take off the skillet and set it aside on a plate. Cover with a piece of foil to keep warm.

Slightly clean pan rubbing a piece of kitchen paper on the surface – no need to clean with water.

Add the remaining olive oil to the pan, warm over medium-high heat, and spread it evenly into the pan, tilting the pan in a rotating motion.

Reduce to medium-low heat, add beaten eggs and tilt the pan again to spread the egg mixture all over the pan.

When the sides of the omelette are set and start to dry out, lift them with a spatula to let the uncooked eggs from the middle run under and cook.

Once the middle of the omelette starts to set, sprinkle half crumbled feta cheese on one half of the omelette and top with cooked red onion mixture. Add remaining feta cheese on top.

Finally, add fresh chopped basil halved cherry tomatoes, or a pinch of chili flakes to taste.

Fold the omelette in half, reduce to low heat and keep cooking until warm.

Gently slide on a plate and adjust seasoning, adding more salt and pepper.
Want My Kitchen Equipment?
Serving:
1
omelette
Calories:
555.3
kcal
(28%)
Carbohydrates:
19
g
(6%)
Fiber:
3.7
g
(15%)
Net Carbs:
15.3
g
Protein:
21.4
g
(43%)
Fat:
45.1
g
(69%)
Saturated Fat:
11.9
g
(74%)
Polyunsaturated Fat:
5.1
g
Monounsaturated Fat:
25.3
g
Trans Fat:
0.04
g
Cholesterol:
405.4
mg
(135%)
Sodium:
1488.1
mg
(65%)
Potassium:
836.9
mg
(24%)
Sugar:
9.2
g
(10%)
Vitamin A:
1471.3
IU
(29%)
Vitamin B12:
1.5
µg
(25%)
Vitamin C:
32.5
mg
(39%)
Vitamin D:
2.1
µg
(14%)
Calcium:
296.8
mg
(30%)
Iron:
4.1
mg
(23%)
Magnesium:
57.9
mg
(14%)
Zinc:
2.9
mg
(19%)
Posted In: