This Spinach Caprese Salad is a baby spinach salad with tomato and mozzarella topped with a delicious balsamic sauce and fresh basil.
It's an easy vegetarian salad perfect as a light, low-carb dinner or side to grilling.
Bring out all the Italian flavors on your table with this healthy spinach salad Caprese-style!
Caprese salads are usually made with tomato slices and fresh mozzarella. Here's a spinach version to add a bunch of greens to your plates.
What's A Caprese Salad?
A traditional Caprese salad is an authentic Italian salad recipe served on a large flat plate where tomato slices are layered with fresh mozzarella slices and topped with fresh basil.
Usually, the salad dressing is made with balsamic vinegar or balsamic reduction, which is a thick sweet balsamic glaze.
Is Caprese Salad Healthy?
Caprese salad is a healthy low-carb salad recipe made with high-protein cheese and vitamins, low-calorie vegetables, tomatoes, and basil.
Why You'll Love This Recipe
This recipe is fantastic because it's fresh and tasty, but it's also:
Gluten-Free
Egg-Free
Nut-Free
Vegetarian
Low-Carb
Ready In 10 Minutes
How To Make Spinach Caprese Salad
It's very easy to make this Caprese salad with spinach.
Ingredients
All you need are:
Baby Spinach Leaves – don't use large spinach leaves that tend to be thicker and much crunchier. Baby spinach has a milder and sweeter taste.
Fresh Mozzarella Cheese – prefer mini mozzarella balls to make them easier to cut and prettier on the plate. Mini mozzarella balls are also called Perlini (smallest balls), Ciliegine (small), Bocconcini (medium size), or Ovoline (medium-large).
Cherry Tomatoes – there are many variants of cherry tomatoes. Pick a bright red, ripe type.
Fresh Basil Leaves – basil is essential for this recipe, don't swap it for any other fresh herb.
Sea Salt
Balsamic Reduction – learn how to make your own balsamic vinaigrette below.
Making The Spinach Caprese Salad
First, place the baby spinach leaves into a salad bowl or large serving plate.
Then, cut the baby tomatoes in halves and place them on top of the spinach leaves in the large bowl. Top up the slices of tomato with basil leaves
Finally, cut the pearl mozzarella balls into bite-sized pieces and add them on top.
Just before serving, make the dressing you love. There's an option below, the most classic option being a balsamic reduction.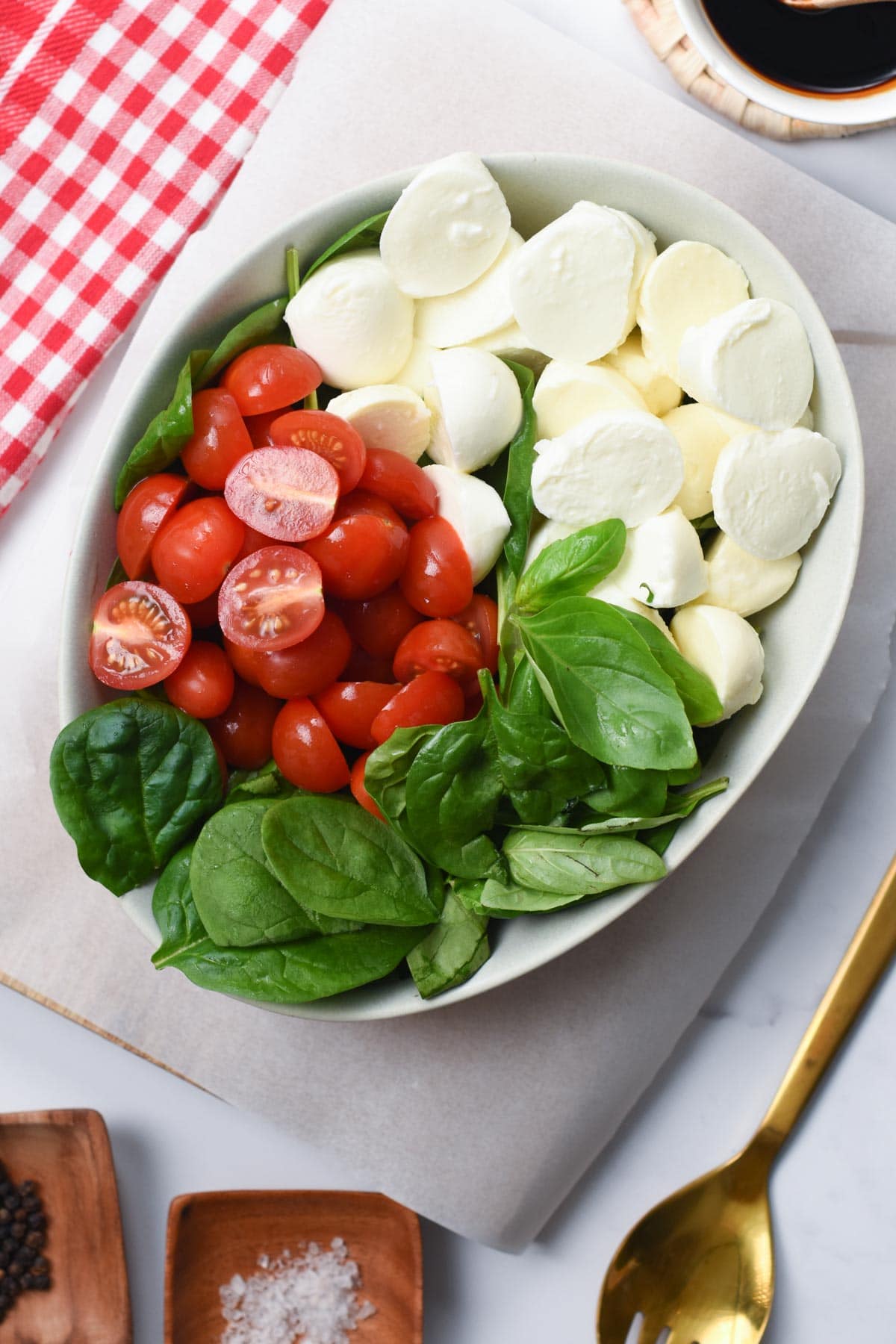 Spinach Caprese Salad Dressing
A Caprese salad is always served with a balsamic vinegar dressing made of:
Extra Virgin Olive Oil
Balsamic Vinegar
Liquid Sweetener like honey – if you want to make a balsamic reduction, but totally optional if you want to skip the added sugar, just combine the two above ingredients.
Other Salad Dressing Options
You can use a balsamic salad dressing for this Caprese spinach salad or just add a drizzle of reduced balsamic vinegar.
Other delicious salad dressing recipes are:
Add-Ons
Of course, you can add some delicious other ingredients into this spinach salad like:
Red onion and a sprinkle of garlic powder for extra crunch and a mildly sweet flavor.
Grilled chicken for extra protein – my baked lemon pepper chicken tenders are a great option to add a touch of tangy lemon flavor to the salad.
Bacon and black pepper.
Pine nuts or any nuts.
Avocado
Serving With Caprese Salad
The best is to serve your salad as a side dish to meat like a cooked steak or chicken breast, but you can also serve it with a pizza or pasta.
Allergy Swaps
If you are allergic to the following ingredients, there are some substitutions you can make.
Mozzarella – you can use dairy-free mozzarella for this recipe or other cheese you love like parmesan, goat cheese, or feta.
Olive Oil – Any salad oil can be used for the dressing, like almond oil or avocado oil.
Storage
Serve the Caprese salad immediately or store it in the fridge in an airtight container for up to 24 hours before serving.
Always add the dressing just before serving to avoid wilted spinach leaves.
More Salad Recipes
Below I listed some more healthy summer salad recipes for you to try.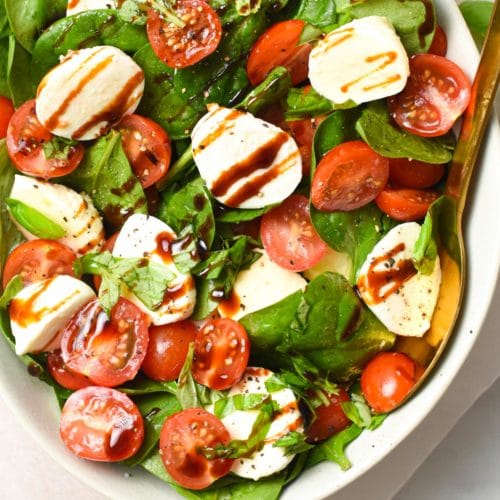 Spinach Caprese Salad
An easy Spinach Caprese Salad with delicious balsamic dressing for a light dinner or side to summer grilling
Nutrition Snapshot
Want My Kitchen Equipment?
Instructions
Start by preparing the dressing. In a saucepan, under medium heat, bring the balsamic vinegar and sweetener to a light boil. Heat for 10 minutes or until it has reduced to 1/3 cup and thickened. Set aside in a bowl to cool down.

In a small bowl, add the baby spinach leaves.

Top up with halved grape tomatoes, halves of fresh mozzarella basil, and chopped basil leaves.

Now that the balsamic reduction has cool down, stir in olive oil, salt, and pepper.

Drizzle dressing on top of the salad just before serving and stir to flavor the salad.
My Recipe Notes
Nutrition
Serving:
1
serve
Calories:
486.7
kcal
(24%)
Carbohydrates:
17
g
(6%)
Fiber:
1.3
g
(5%)
Net Carbs:
15.7
g
Protein:
22
g
(44%)
Fat:
38
g
(58%)
Saturated Fat:
9.9
g
(62%)
Polyunsaturated Fat:
1.5
g
Monounsaturated Fat:
9.9
g
Cholesterol:
40.8
mg
(14%)
Sodium:
284.1
mg
(12%)
Potassium:
363.1
mg
(10%)
Sugar:
13.1
g
(15%)
Vitamin A:
3712.7
IU
(74%)
Vitamin C:
15.3
mg
(19%)
Calcium:
464.9
mg
(46%)
Iron:
1.6
mg
(9%)
Magnesium:
41
mg
(10%)
Zinc:
0.3
mg
(2%)
Posted In: