Buffalo Chicken Pizza Recipe (Keto Option!)
This Buffalo Chicken Pizza is a delicious quick and easy homemade pizza for chicken lovers!
If you love everything buffalo sauce, then this chicken buffalo pizza is for you!
What's Buffalo Chicken?
Buffalo chicken is a very popular recipe of cooked chicken coated with hot buffalo sauce and melted butter.
It's typically made by coating chicken wings with a vinegar-based pepper hot sauce and cooking them on a grill to caramelize.
Buffalo chicken wings are sometimes associated with southern cuisine, but it actually originates from Buffalo, New York where buffalo wings are served with creamy ranch dressing.
Why You'll Love This Recipe
Pizza is the most common weekend dinner and it doesn't have to be complicated.
This delicious buffalo chicken pizza is a family dinner that can be ready in less than 20 minutes and will make everyone happy.
The recipe is gluten-free, low in carbs (when using one of my proposed crusts), healthy, and easy to freeze!
How To Make Buffalo Chicken Pizza
This recipe is very simple to make once you have the crust ready.
Ingredients
All you need to make this buffalo pizza recipe are:
Pizza Crust – read my paragraph below about how to choose a great pizza crust.
Cream Cheese or yogurt – both are healthy, wholesome, low-carb dairy products.
Melted Butter – prefer unsalted grass-fed butter for the best taste.
Buffalo Sauce – Frank's Buffalo Sauce or any of your favorite hot sauces would work here.
Cooked Chicken Strips – you can either buy a pre-cooked rotisserie chicken or cook your own chicken.
Dill – you can also use parsley, but dill is the best here.
Garlic Powder
Onion Powder
Shredded Mozzarella – I always prefer to shred Mozzarella myself to avoid caking agents.
Salt and Pepper
Parsley or spring onion
Making The Pizza Dough
There are many options to make your homemade pizza dough depending on your food allergy and health goals.
You can of course you can use a store-bought pizza crust the ideal size is a 10-inch base for this recipe.
Otherwise, I recommend trying some of my low-carb pizza crust options below to make a diabetic-friendly chicken pizza. All the crusts below are gluten-free and keto-friendly.
So whatever your goals are, choose the crust recipe that suits you and prepare the crust first.
You can also find easy vegan crusts like this vegan pizza dough.
Marinating The Chicken
Next, prepare the buffalo chicken. You can use a whole chicken breast and grill or frying olive oil.
Then, cool it down at room temperature for 10 minutes and cut it into chicken strips.
Finally, marinate the cooked chicken in a mixture of melted butter and buffalo sauce. Set it aside in the fridge while you roll the pizza dough.
Rolling The Pizza Dough
Now, roll the pizza dough on a floured surface into a 10-inch disc.
If you used my low-carb pizza crust, follow the rolling tips in the recipe or prebaking instructions if required.
Place the pizza dough onto a pizza ring, pizza pan, or pizza stone. Set it aside.
Preparing The Pizza Base
For this chicken buffalo pizza, the base is made of Greek yogurt.
You can also use softened cream cheese as a base. Place the cream cheese in a bowl and microwave it for 30 seconds to soften.
Season the cream cheese with garlic powder, dried dill, onion powder, salt, and pepper.
Spread the cream cheese or yogurt onto the pizza base leaving the sides free from filling.
Top the base with the marinated cooked chicken strips.
Finally, add hard shredded mozzarella all over the meat.
Bake the pizza in the center rack of the oven for 15 minutes or until the cheese is bubbly, completely melted, and grilled on the top.
Serving
Serve your chicken buffalo pizza with extra dollops of yogurt, fresh herbs like parsley or spring onion, and a drizzle of buffalo sauce.
You can also sprinkle some fresh Mozzarella Cheese if you want.
Add-ons
You can add some vegetables to your pizza to change its flavor, the best are:
Red Pepper
Red Onion
Sliced Mushroom
Baby Spinach Leaves
Storage Instructions
You can store leftover pizza in the fridge for up to 2 days. Make sure the leftovers are in an airtight container or wrapped in plastic wrap or foil to prevent it from drying.
You can freeze the pizza slices for later. Freeze them in zip-lock bags for up to 3 months.
Rewarming Chicken Pizza
You can rewarm this pizza very quickly and you don't need to thaw the pizza to do so.
Air Fryer
Preheat the air fryer to 400°F (200°C). Cover the basket with a piece of parchment paper to prevent the cheese from sticking to the basket when melting.
Air fry the buffalo chicken pizza slices for 8 minutes.
Oven
You can also rewarm the pizza in the oven.
Cover a baking sheet with parchment paper, place the frozen pizza on the sheet, and bake at 350°F (180°C) for 10 minutes.
Frequently Asked Questions
Below I listed some answers to your most common question about this pizza.
Can I Make This Pizza Dairy-free?
You can make a dairy-free chicken pizza by using dairy-free cream cheese or dairy-free coconut yogurt in the pizza base.
Then, for the buffalo sauce, use dairy-free butter or coconut oil.
Finally, top up the pizza with dairy-free mozzarella.
Can I Make A Keto Buffalo Chicken Pizza Version?
Yes, this recipe can be made keto-friendly. Make sure that you use one of my keto pizza crust recipes.
Apart from that, all the ingredients in this chicken pizza recipe are 100% keto-friendly and low-carb.
Can I Use Rotisserie Chicken?
Absolutely. Actually, it's a great option to make a quick and cheap chicken buffalo pizza as you won't have to cook the chicken breast and wait for them to cool down before adding in the marinade.
Can I Use Shredded Chicken?
Yes, shredded chicken is pre-cooked and makes it much easier.
Pick unflavored shredded chicken so they get all their taste from the buffalo sauce.
How Can I Make Healthy Chicken Buffalo Pizza?
If you want a lighter version of this pizza, do some healthy swaps:
Coconut Flour Pizza Crust – it's a gluten-free pizza crust, gut-friendly, low-carb and lower calories.
Yogurt instead of cream cheese for fewer calories and more proteins that are fulfilling.
Olive oil instead of butter for your marinade so you up the healthy fats and decrease saturated fats.
Halve the cheese on top of the pizza to decrease calories.
More Pizza Recipes
Below I listed some more pizza recipes for you to try:
Have you made this chicken buffalo pizza recipe? Share a comment or review below to let me know how much you love it.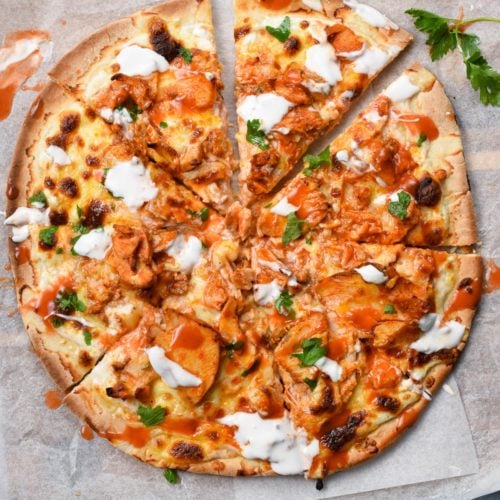 Buffalo Chicken Pizza
This Buffalo Chicken Pizza is a delicious quick and easy homemade pizza for chicken lovers with the zing of hot sauce.
Ingredients
Pizza Base
2

oz

Cream Cheese

or yogurt

¼

teaspoon

Dried Dill

½

teaspoon

Garlic Powder

¼

teaspoon

Onion Powder

1

pinch

Salt
Toppings
4

ounces

Shredded Mozzarella
Serving
1

teaspoon

Green Onion

or chopped parsley

1

tablespoon

Greek Yogurt
This recipe may contain Amazon or other affiliate links. As an Amazon Associate I earn from qualifying purchases.
Instructions
Preheat the oven to 400°F (200°C). Line a baking sheet with oiled parchment paper.

In a bowl, mix buffalo sauce and melted butter. Stir the cooked chicken pieces in the marinade. Set aside in the fridge while making the pizza dough.

Prepare the pizza crust recipe you like – see my low-carb pizza crust option for inspiration. Roll the pizza dough into a 10-inch disc and place it on a pizza rack.

In a small bowl, prepare the cream cheese pizza base by melting the cream cheese in the microwave for 30 seconds then stir with onion powder, garlic powder, salt, and dried dill.

Spread the cream cheese all over the pizza base.

Add the pieces of cooked marinated chicken, then shredded mozzarella.

Bake for 15 minutes or until the cheese is bubbly and grilled.

Serve with drops of Greek yogurt, more buffalo sauce, and fresh herbs of choice.
Want My Kitchen Equipment?
Serving:
1
serving
Calories:
146.6
kcal
(7%)
Carbohydrates:
7.8
g
(3%)
Fiber:
4.1
g
(17%)
Net Carbs:
3.7
g
Protein:
6.5
g
(13%)
Fat:
9
g
(14%)
Saturated Fat:
3.8
g
(24%)
Polyunsaturated Fat:
0.7
g
Monounsaturated Fat:
2.5
g
Trans Fat:
0.1
g
Cholesterol:
21
mg
(7%)
Sodium:
365.8
mg
(16%)
Potassium:
31.8
mg
(1%)
Sugar:
2.1
g
(2%)
Vitamin A:
263.8
IU
(5%)
Vitamin B12:
0.3
µg
(5%)
Vitamin C:
0.1
mg
Vitamin D:
0.1
µg
(1%)
Calcium:
82.7
mg
(8%)
Iron:
0.1
mg
(1%)
Magnesium:
4.6
mg
(1%)
Zinc:
0.5
mg
(3%)
Posted In: