This omelette recipe is an easy 2-egg omelette for an easy, high-protein single-serve breakfast ready in 10 minutes.
If you love eggs for breakfast, this is the best omelette to start the day and feel full for hours.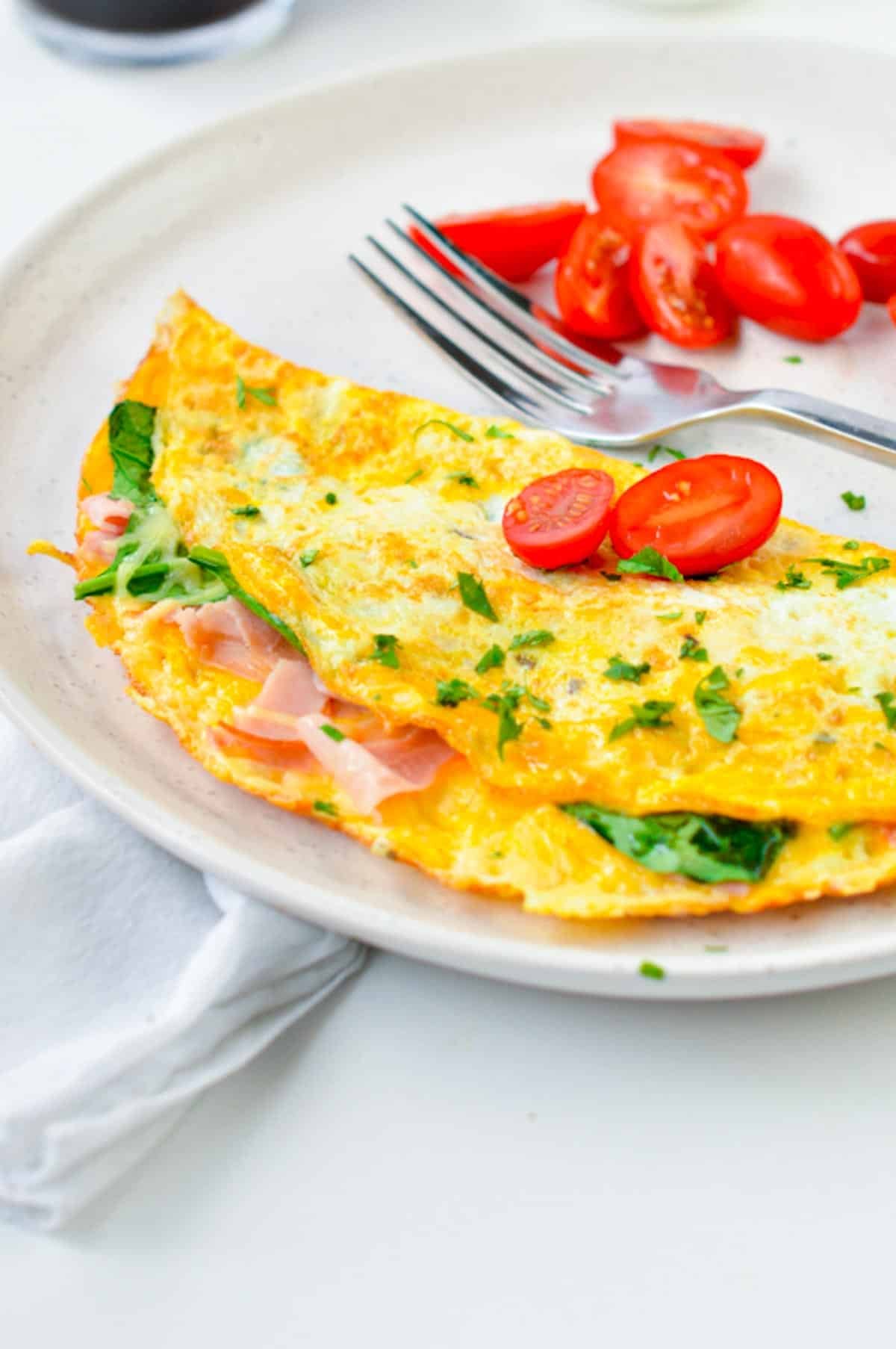 Learn how to make the best light and fluffy omelette recipe from someone who's made thousands of them.
Omelettes are probably the most common way to eat eggs in France and many Western Europe countries.
Omelets are often made as a light dinner rather than breakfast. But if you also love savory breakfasts with eggs, this classic omelette recipe comes in handy on busy mornings.
It takes under 10 minutes to make a tasty omelette, and it's so versatile as you can add so many fillings and flavors to it and make all kinds of omelettes.
But first, let me share with you how to make the most basic omelet for one.
What Is A Classic Omelette?
There are three main types of omelettes.
First, the classic omelette, the one most Americans and Europeans love for breakfast.
Then, the fluffy omelette, also called souffle omelette, made from fluffy egg whites and egg yolks.
And finally, the French omelette. It's a bit more complicated to make and more suitable for chefs and restaurant-style breakfasts.
But whatever option you choose, what all these omelettes have in common is that they are like large egg pancakes, made from a beaten egg mixture seasoned with salt and pepper.
A classic basic omelette recipe uses no cream, milk, or cheese.
It's served folded in half, in a half-moon shape, and sometimes served with fillings like cheese, diced ham, mushrooms, or spinach.
How To Make A Classic Omelette
If you've never made an omelette, don't be shy and give it a go. It's the easiest healthy breakfast ever, and the whole family will love it.
Ingredients
Here's what you need for a classic omelette recipe, just four ingredients.
Eggs – Large fresh eggs have the best yellow color. Plus, when eggs are fresh, their whites and yolks combine very easily when beaten with a fork.
A Pinch of Salt and Pepper
Butter – Prefer grass-fed unsalted butter.
Olive Oil
Optional Ingredients
Now, it's up to you but you can add some more flavors to the omelette by adding some extra spices like a pinch of:
Garlic Powder
Pepper
Chili Flakes
Onion Powder
Dried Italian Herbs
Paprika or Cumin
Preparation
In a shallow bowl, crack the eggs, salt, and pepper, and use a fork to beat the eggs together.
You shouldn't see any more single egg white. It should be well combined but not fluffy either. Don't use any electric beater or blender to make an omelette!
Next, warm a 10-inch non-stick skillet over medium-low heat and add butter and oil.
When the butter is melted, tilt the pan to spread the warm fats all over the pan, then pour the egg mixture.
Tilt and rotate the pan to spread the egg mixture over its surface.
Cook the omelet for 2 to 3 minutes or until the sides of the omelette get dry and set, but the center still shows runny eggs.
Now, use a silicone spatula to lift the sides of the omelette and let the uncooked egg mixture from the middle run under the omelette and cook.
Once the middle of the omelette is almost set, it's time to add any filling you love to one half of the omelette. See my favorite omelette topping ideas below.
Finally, flip the omelette in half and keep cooking. Depending on how you like your omelette, you will need to cook it for 1 or 2 minutes.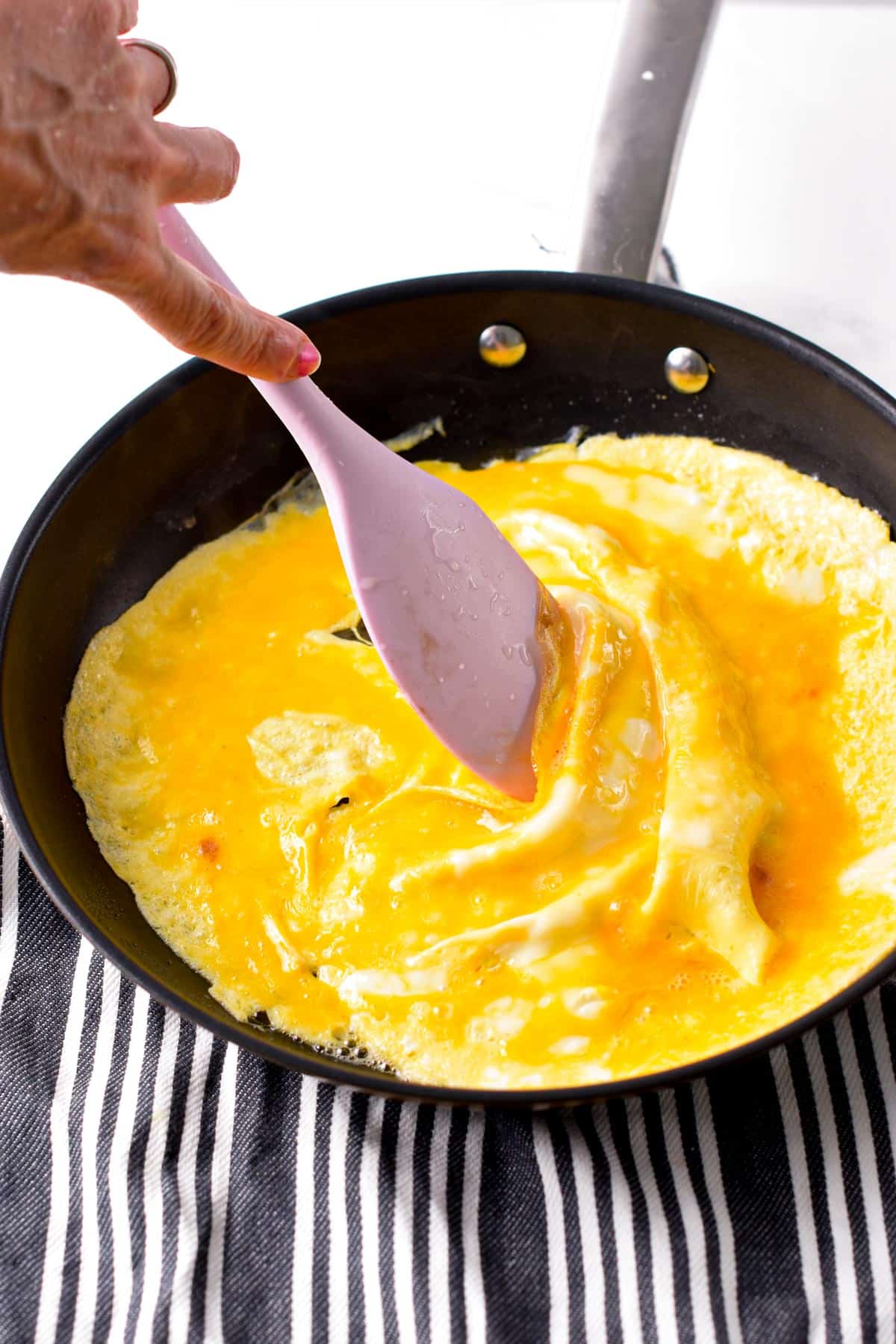 Omelette Fillings
If you like, you can add fillings to your omelette like:
Spinach Mushrooms – Cook them in olive oil over medium heat in a non-stick pan before adding.
Bell Peppers – cooked or raw, these veggies add colors and taste.
Diced Ham – or rasher bacon
Baby Spinach
Chopped Green Onions
Grated Cheese like Emmental, Feta, Goat Cheese, Parmesan cheese, or cheddar cheese. Add from 1/4 cup to 1/2 cup and let the cheese melt for an ultra-cheesy omelette.
Freshly Chopped Herbs – parsley and dill are the perfect pairings to cooked eggs.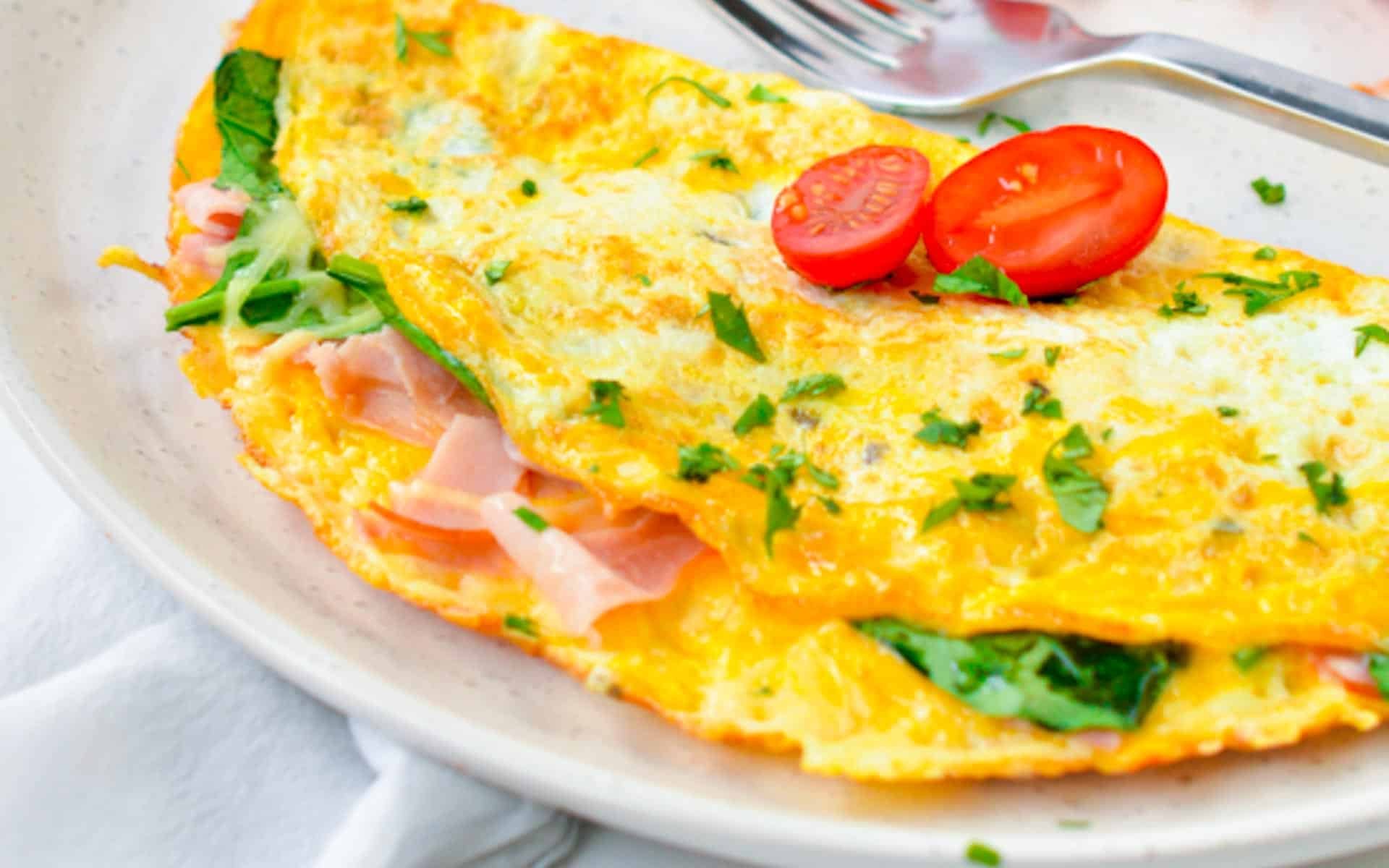 Serving
Slide the omelette on a plate and serve with extra fresh herbs on top. I also like to add some sauce on top like :
Drizzle Sriracha Sauce
Sour Cream
Hot Sauce
Best Sides To Omelets
The best sides to omelette are vegetables or bread. Here are some pairing side dishes to omelettes to inspire you:
Fresh Avocado Slices
Lettuce
Tomatoes
Baguette
Toasted Wholegrain Bread Slices
Allergy Swaps
If you are allergic to some of the ingredients or to some of the toppings, try some of the substitutions below.
Dairy-Free – You can replace the butter with more olive oil.
Olive Oil – Olive oil can be replaced with more butter or any oil like avocado oil, canola oil, or coconut oil.
Frequently Asked Questions
Below are my answers to your most common question about this omelette recipe.
Should An Omelette Have 2 Or 3 Eggs?
Generally, a 2-egg omelette makes for a fulling single-serving breakfast.
If you want to add an extra egg, the recipe takes a little longer to cook, and the texture is fluffier and thicker.
Do You Add Milk Or Water To An Omelette?
The classic Omelette recipe doesn't contain eggs; however, you can add one tablespoon of water per egg to make it fluffier. Never use milk, though.
What's The Difference Between Omelette And Omelet?
Omelettes and omelets are the very same thing.
Americans tend to prefer the latter spelling while British English more often use the Omelette spelling.
Can I Double Up On An Omelette Recipe?
You can make the recipe with four eggs, but I instead recommend making the same recipe twice.
If you were cooking the doubled-up egg mixture, the omelette would be thicker and take longer to cook.
When Should I Add The Cheese In An Omelette?
You can whisk in some cheese at the beginning when you beat eggs to add a cheesy flavor to the recipe.
Or, if you love stringy melted cheese, add the cheese in the cooked eggs on one half of the omelette.
Can I Freeze An Omelette?
Yes, omelette handle freezing surprisingly well.
They can be frozen in individual containers for up to 3 months. To do so, let the omelette cool, wrap it in cling wrap, place it in a zip-lock bag while pushing as much air out as possible.
Do I Need To Whisk The Eggs?
You don't need to whisk the eggs for a classic omelette. Only whisk eggs with a hand whisk if you want a fluffier omelette.
Have you tried this classic omelette recipe? Share a comment or review below.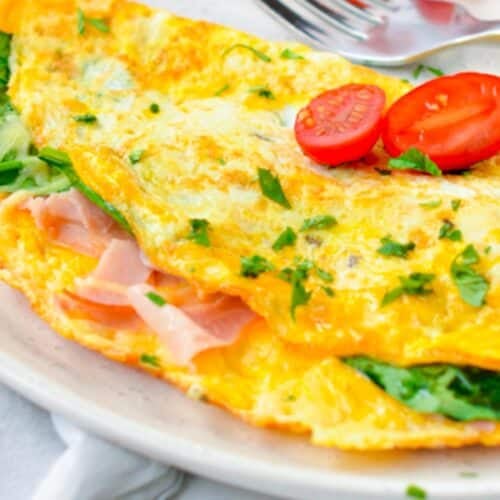 Omelette Recipe
This classic omelette recipe is an easy 3-egg omelette for an easy, high-protein single-serve breakfast ready in 10 minutes. If you love eggs for breakfast, this is the best omelette to start the day and feel full for hours.
Nutrition Snapshot
Want My Kitchen Equipment?
Ingredients
Optional Omelette Filling
Instructions
Crack the eggs in a bowl, and using a fork, beat the eggs with salt, pepper, and garlic powder if used. Set aside.

Heat a non-stick 10-inch skillet over medium heat and warm butter and olive oil. When hot, tilt the pan to spread the fat evenly on its surface.

Reduce the stove to medium heat and add the beaten eggs to the pan, tilting the pan to spread the egg mixture all over the pan.

Cook the omelette for 2-3 minutes or until the sides of the egg mixture start to dry. At this time, use a silicone spatula to lift a side and let the uncooked eggs from the middle of the omelette run under.

Keep cooking until the center is almost set, then sprinkle half the grated cheese, ham, baby spinach leaves, and the remaining cheese.

Fold in half and keep cooking until the cheese is melted.

Serve with fresh chopped parsley and cherry tomatoes.

Slide the omelette on a plate and add more salt and pepper if desired.
Notes
Note 1: Swap the ham with sundried tomatoes for a vegetarian omelette. Note 2: Baby spinach can be stir-fried in butter before adding to the omelette for a flavor boost.
My Recipe Notes
Nutrition
Serving:
1
omelette
Calories:
457.9
kcal
(23%)
Carbohydrates:
26.2
g
(9%)
Fiber:
4.2
g
(18%)
Net Carbs:
22
g
Protein:
30
g
(60%)
Fat:
26.6
g
(41%)
Saturated Fat:
5.8
g
(36%)
Polyunsaturated Fat:
3.8
g
Monounsaturated Fat:
15.6
g
Trans Fat:
0.04
g
Cholesterol:
378.5
mg
(126%)
Sodium:
1691.2
mg
(74%)
Potassium:
548.3
mg
(16%)
Sugar:
9.9
g
(11%)
Vitamin A:
1425.5
IU
(29%)
Vitamin B12:
1.6
µg
(27%)
Vitamin C:
5.5
mg
(7%)
Vitamin D:
2
µg
(13%)
Calcium:
492.1
mg
(49%)
Iron:
2.9
mg
(16%)
Magnesium:
64.5
mg
(16%)
Zinc:
3.9
mg
(26%)
Posted In: