Mexican Omelette (30g Proteins)
This Mexican Omelette is a high-protein vegetarian breakfast packed with 30 grams of protein to keep you fueled in the morning.
Plus, this high-protein omelette is also gluten-free and high-fiber for happy gut health.
I love omelette recipes as a post-workout breakfast. They are super fulfilling and packed with proteins to refuel your muscles quickly after a workout.
Plus, when loaded with wholesome ingredients, they add up all the nutrients and fiber you need to feel energized all day.
How To Make A Mexican Omelette
All you need to make this omelette are simple, wholesome ingredients.
Ingredients
Eggs – Use large free-range eggs for a better taste.
Olive Oil – I like my local extra-virgin olive oil. You can also use avocado oil.
Canned Cooked Black Beans – Black Beans are protein-loaded legumes that can be eaten straight out of their can since they are baked.
Canned Cooked Corn Kernel – Prefer organic corn kernels.
Red Onions – While you can use white onions, red onions will bring the best taste to this recipe.
Taco Seasoning – I always have a batch of my Taco Seasoning Recipe or my Low Sodium Taco Seasoning ready to add to any Mexican recipe.
Salt and Pepper
Cheddar Cheese – Or any other grated cheese such as Monterey Jack cheese, grated Mozzarella, grated Emmental, or Edam.
Preparation
First, crack the eggs in a shallow bowl and beat with salt and pepper using a fork.
Set it aside in the fridge while preparing the omelette filling.
Mexican Omelette Filling
Warm half the amount of olive oil in a non-stick frying pan.
Stir fry the diced red onion for a few minutes until fragrant and golden.
Then, stir in the homemade taco seasoning, black beans, and corn kernel, and cook for a few minutes until warm and fragrant.
Set aside on a plate. Cover the plate with foil to keep the omelette filling warm.
Cooking The Omelette
Use a piece of kitchen absorbent paper to rub the surface of the pan and clean it. No need to use soap or water.
Return the pan to medium heat, add the remaining olive oil, and heat the oil.
Tilt pan to spread the oil evenly over its surface.
Pour the egg mixture and tilt the pan to spread. Cook on medium-high heat for a few minutes until the eggs start to set and the middle dries out a bit.
Cover half of the omelette with two tablespoons of cheddar, onion, bean mixture, and remaining cheddar.
Fold in the omelette and keep cooking until the cheese is melted.
Serving The Omelette
This Mexican-style omelette is even better if served with:
A dollop of sour cream or dairy-free coconut yogurt.
Homemade keto salsa sauce.
Cherry tomatoes
Freshly chopped cilantro
Avocado
Storage Instructions
Unfortunately, omelettes don't store very well because their texture gets dry and chewy when rewarmed.
However, you can prepare the filling of your omelette the day before a quick and easy breakfast.
Pre-chop the vegetables and place all the beans, corn, and red onion in a sealed container in the fridge.
So the next day all you have to do is cooked the filling, crack, beat the eggs, fill and serve.
Allergy Swaps
Below I listed some easy swaps you can use to make this recipe suitable for you if you have any food allergies:
Bean-Free – Replace the black beans with ground beef or shredded rotisserie chicken.
Corn-Free – Replace the corn with diced yellow bell pepper.
Low-Carb Keto Option – Swap the corn for diced bell pepper and black beans for ground beef. The remaining ingredients of this omelette recipe are keto-friendly.
Dairy-Free – Skip the cheese or use a dairy-free cheddar brand.
Onion-Free – You can skip the red onion and use some scallions to serve the omelette and add a similar flavor.
Frequently Asked Questions
Below are you most frequent questions about this Mexican omelette recipe.
Can I Make Omelettes Ahead?
You can make ahead the filling and even cook the filling and store it in a sealed container in the fridge.
The next day, rewarm the filling in the microwave or in a warm pan.
Don't crack the eggs or beat them the day before. Always make the omelette just before serving.
Can I Use Butter Instead Of Olive Oil?
Yes, feel free to melt butter instead of olive oil to cook the omelette.
Olive oil has a better fat profile for your heart health. That's why it's my favorite choice for high-temperature cooking. Avocado oil is also a great option.
Is Mexican Omelette Healthy?
Yes, this omelette recipe is packed with proteins, fiber, and healthy fats.
To make it healthier, you can pick a low-fat cheese option to decrease saturated fat and replace the corn with bell pepper as some people don't digest corn very well.
Are Black Beans Keto?
No, black beans are relatively high in carbs, but when used in small amounts, they can fit a low-carb lifestyle as they also add healthy plant-based proteins and gut-friendly fibers.
Is Corn Keto?
No, it's not really keto-friendly. Corn is high in carbs and high in fiber.
You can always skip corn for yellow bell pepper.
More Omelette Recipes
I have so many other delicious healthy omelette recipes to share with you. Try some of the below as a high-protein breakfast:
More Egg Recipes
Below are more healthy egg-based breakfast recipes high in proteins:
Did you try this Mexican-style omelette recipe? Share a comment or review below to connect with me.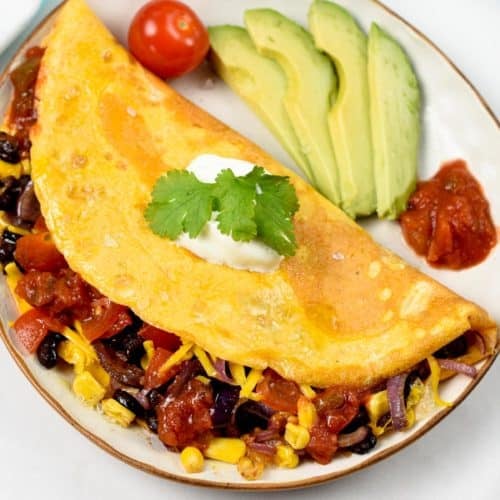 Mexican Omelette
This Mexican Omelette is a high-protein vegetarian breakfast packed with 30 grams of protein to keep you fuel in the morning. Plus, this high-protein loaded omelette is also gluten-free and high-fiber for a happy gut health.
Nutrition Snapshot
Want My Kitchen Equipment?
Instructions
Crack and beat the eggs in a small bowl. Season with salt and pepper and set aside in the fridge while cooking the vegetables.

Heat a non-stick skillet over medium heat, and warm 2 teaspoons of olive oil. When hot, add red onion slices, stir and cook for about 1-2 minutes, until fragrant.

Stir in crushed garlic, black beans, corn kernel, and taco seasoning. Stir and cook for 30 seconds to flavor with onions. Take off the skillet and set it aside on a plate. Cover with a piece of foil to keep warm.

Slightly clean pan rubbing a piece of kitchen paper on the surface – no need to clean with water.

Add the remaining olive oil to the pan, warm over medium-high heat, and spread it evenly into the pan, tilting the pan in a rotating motion.

Reduce to medium-low heat, add beaten eggs and tilt the pan again to spread the egg mixture all over the pan.

When the sides of the omelette are set and start to dry out, lift them with a spatula to let the uncooked eggs from the middle run under and cook.

Once the middle of the omelette starts to set, sprinkle half cheddar on one half of the omelette and top with cooked red onion black beans mixture. Add remaining cheese on top.

Finally, add freshly chopped cilantro and diced cherry tomatoes

Fold the omelette in half, reduce to low heat and keep cooking until warm.

Gently slide on a plate and adjust seasoning, adding more salt and pepper.

Serve topped with sour cream, sliced avocado, and salsa.
My Recipe Notes
Nutrition
Serving:
1
omelette
Calories:
457.9
kcal
(23%)
Carbohydrates:
26.2
g
(9%)
Fiber:
4.2
g
(18%)
Net Carbs:
22
g
Protein:
30
g
(60%)
Fat:
26.6
g
(41%)
Saturated Fat:
5.8
g
(36%)
Polyunsaturated Fat:
3.8
g
Monounsaturated Fat:
15.6
g
Trans Fat:
0.04
g
Cholesterol:
378.5
mg
(126%)
Sodium:
1691.2
mg
(74%)
Potassium:
548.3
mg
(16%)
Sugar:
9.9
g
(11%)
Vitamin A:
1425.5
IU
(29%)
Vitamin B12:
1.6
µg
(27%)
Vitamin C:
5.5
mg
(7%)
Vitamin D:
2
µg
(13%)
Calcium:
492.1
mg
(49%)
Iron:
2.9
mg
(16%)
Magnesium:
64.5
mg
(16%)
Zinc:
3.9
mg
(26%)
Posted In: