Single-Serve Baked Oatmeal
If you're looking for a delicious and healthy breakfast option that can be prepared in minutes, then look no further than this single-serve baked oatmeal recipe!
Packed with fiber, minerals, and protein, this baked oatmeal is perfect for jumpstarting your day or as a midday snack.
The best part? It's easy to make and can be customized with your favorite toppings and add-ins. So, grab your ingredients, and let's get baking!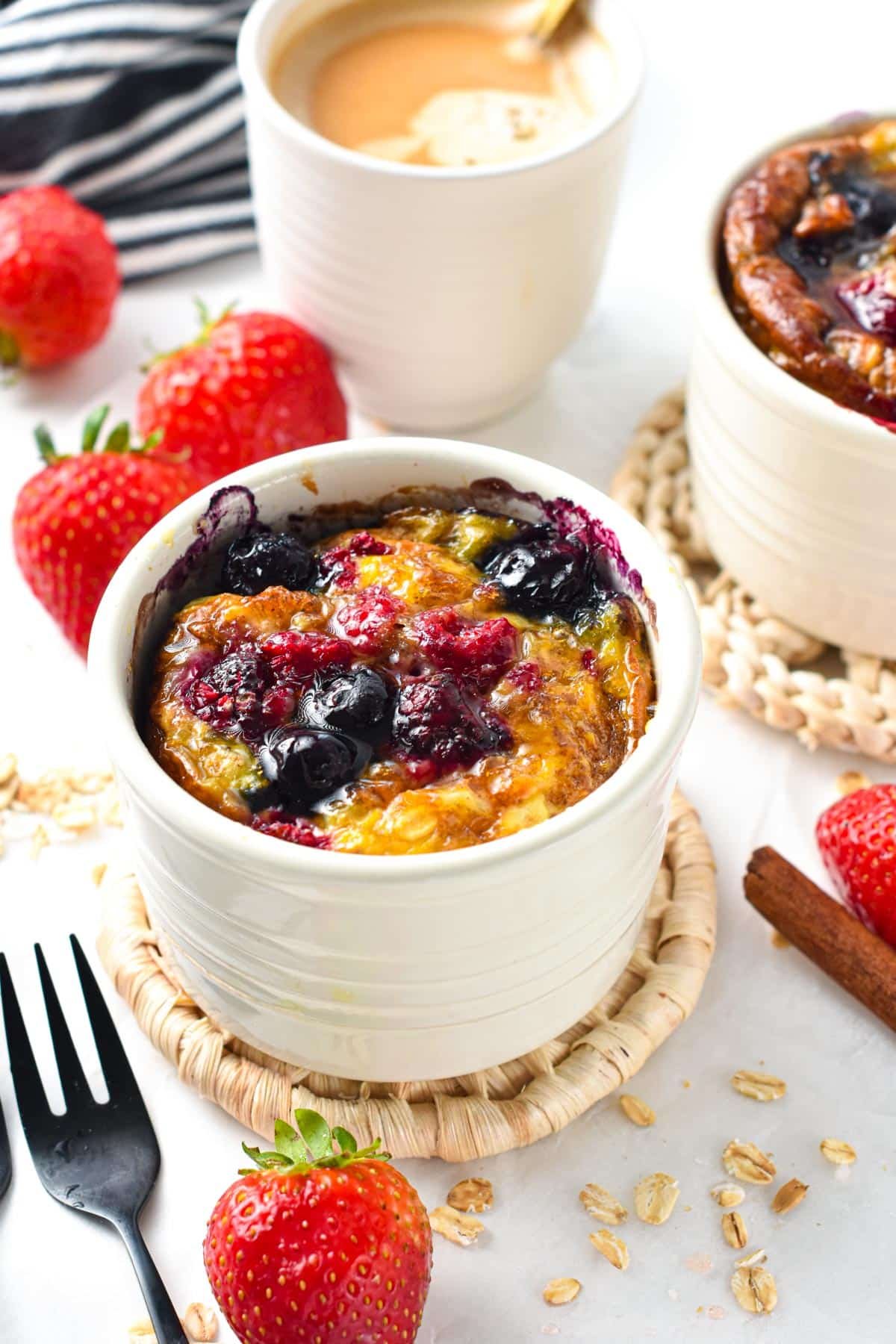 I have shared countless baked oatmeal flavors in the past, and I love them all. But, some days, you are on your own, and all you need is a single-serve baked oatmeal recipe.
This baked oatmeal for one, is perfect if you are after an easy healthy breakfast and classic baked oatmeal recipes are too big for you. Or, simply try the flavor and taste of baked oatmeal.
What's A Single-Serve Baked Oatmeal?
A single-serve baked oatmeal is a baked version of oatmeal for one person.
It's not the same as a blended baked oats recipe where the ingredients are blended in a blender before baking.
Both are single-serve oat recipes, but baked oatmeal is made from whole oats. It's creamier, not as firm and cake-like as baked oats, and has pieces of chunky oats in the batter.
How To Make Single-Serve Baked Oatmeal
This recipe is very easy to put together, and there's an option to make it allergy-friendly, see notes below.
Ingredients
All you need to make a single serving of baked oatmeal are:
Quick Cooking Oats – You can also use old-fashioned rolled oats or a combination of both. I prefer quick oats for the single-serving recipe because oatmeal taste closer to a single-serve cake.
Cinnamon
Baking Powder – This is optional, but it raises the oatmeal a bit and makes the recipe fluffier.
Maple Syrup or any refined sugar-free liquid sweetener you love, including coconut nectar, date syrup, or rice syrup.
Egg – You can make this baked oatmeal without eggs. See options below.
Milk of Choice – I like unsweetened almond milk, but soy milk, regular milk, or coconut milk works well.
Vanilla Extract
Berries to chocolate chips for flavors.
Pinch of Salt – optional.
Preparation
Preheat the oven to 350°F (180°C). Grease a small baking dish (mine is a 5-ounce oven-safe ramekin) with cooking oil spray.
You can use a wider dish, but the recipe bakes faster. Set aside.
In a mixing bowl, beat the egg with milk, vanilla extract, and maple syrup.
Stir in the oats, cinnamon, and baking powder.
Finally, mix in some berries or chocolate chips.
Pour the baked oatmeal batter into the prepared ramekin.
Bake on the center rack for 25 to 35 minutes or until the top is golden brown, set, and not jiggly in the center.
The baking time varies depending on the texture of the oatmeal you love. I like my oatmeal dry, so I slightly overbake mine.
Serving
Serve your baked oatmeal in the ramekin used for baking, don't unmold it.
This means you need to wait a few minutes before serving to avoid burning yourself, as the ramekin is hot.
Serve plain, or with a drizzle or a pinch of:
Nut Butter like peanut butter or almond butter
Maple Syrup
Chopped Nuts for some crunch
Pairing
This recipe is perfect when paired with breakfast classics: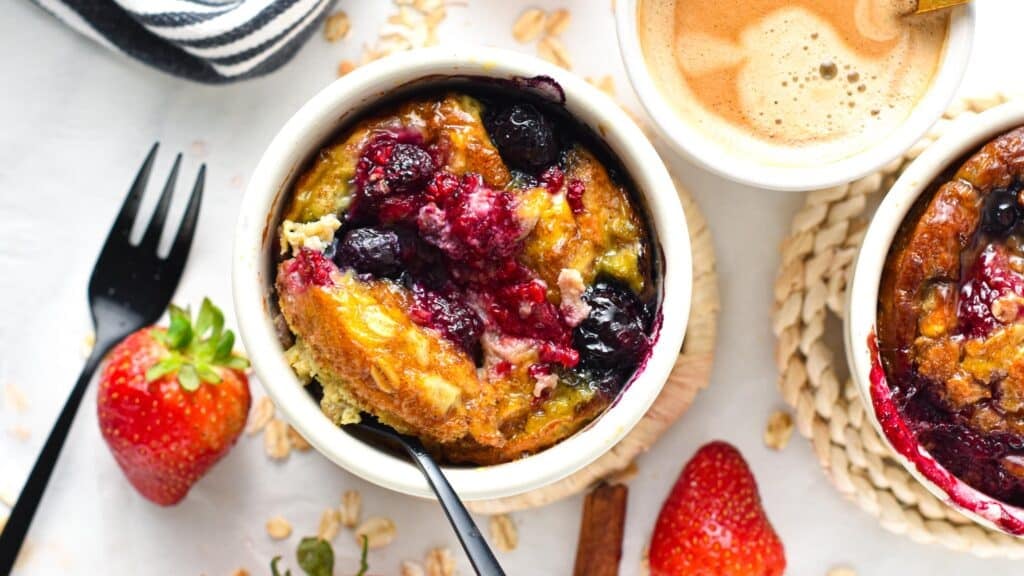 Baked Oatmeal Flavors
This recipe is extremely versatile and can be adapted to create a range of delicious breakfast flavors.
My favorite variations are:
Carrot Cake – Stir two tablespoons of grated carrots with one tablespoon of chopped walnuts and dried raisins.
White Chocolate Cranberries – Stir one tablespoon of each white chocolate chips and another one of dried cranberries.
Mixed Berries – Add two tablespoons of mixed berries to the batter. You can roll them in cornstarch before adding them to prevent the berries from sinking to the bottom of the ramekin.
Banana Bread – Replace the egg with 3 tablespoons of mashed banana and stir in 1 tablespoon of chopped pecan.
Protein Baked Oatmeal for one. Replace the egg with one tablespoon of protein powder, a tablespoon of chia seeds, and two extra tablespoons of milk.
Chocolate – Stir one tablespoon of cocoa powder and a teaspoon of chocolate chips.
Storage Instructions
You can double or triple the recipe to make more single-serve oatmeal and rewarm it the following days in the microwave.
Store the recipe, in the ramekin, with a piece of foil or plastic wrap on top of it to prevent the top from drying out. Place it in the fridge and keep it for up to 4 days.
Allergy Swaps
Below are some ingredient substitution ideas if you need them.
Egg-Free – There are many options to replace eggs in this baked oatmeal recipe. Try 3 tablespoons of mashed banana, unsweetened apple sauce, or a tablespoon of chia seeds.
Dairy-Free – The best dairy-free milk for this recipe is almond milk, oat milk, or coconut milk.
Vegan – Use both options above.
Gluten-Free – Use certified gluten-free oats and wheat-free baking powder
Nut-free – swap almond milk for soy milk, milk, or coconut milk
Sugar-free – you can skip sweeteners, or use mashed banana for natural sweetness
Frequently Asked Questions
Below are my answers to your most current questions about this recipe.
Why Does My Baked Oatmeal Taste Eggy?
Single-serve oatmeal contains one egg for a small portion.
It makes it a relatively large egg-to-oat ratio compared to large-batch oatmeal recipes. As a result, you can taste the egg.
You can fix that by replacing the egg with a flax egg – stirring one tablespoon of flax meal into three tablespoons of water. When the mixture is thick, use it as an egg replacer.

How Much Oat Should I Eat A Day?
There is no maximum amount of oats you should eat per day.
Like any food, you shouldn't overeat it. A balanced diet is about eating the rainbow and a variety of food.
A regular serving of oats for breakfast is from 1/3 cup to 1/2 cup. If you eat more oats, it can cause bloating because it's a high-fiber grain.
What is one serving of old-fashioned oats?
A serving of oats varies from 1/3 cup to 1/2 cup, depending on body size and workout activity.
If the oats are combined with other ingredients like eggs or milk, the recipe often calls for 1/3 cup as the mix of ingredients makes the recipe very filling with just 1/3 cup of oats.
Is Baked Oatmeal As Good For You As Regular Oatmeal?
Absolutely yes! Both use the exact same ingredients, except that baked oatmeal often uses an egg to add creaminess and proteins.
More Breakfast Oatmeal Recipes
If you like this baked oatmeal recipe, below are some more healthy breakfast recipes using oats:
Have you tried this baked oatmeal for one recipe? Share a comment or review below to share with me your favorite filling.
Single Serve Baked Oatmeal
This Single Serve Baked Oatmeal recipe is an easy healthy baked oatmeal recipe for one, perfect as a quick breakfast for oats lovers.
Ingredients
⅓

cup

Old-Fashioned Oats

1

large

Egg

¼

cup

Almond Milk

or any milk

1

tablespoon

Maple Syrup

½

teaspoon

Avocado Oil

or Melted Butter

½

teaspoon

Vanilla Extract

⅛

teaspoon

Cinnamon

⅛

teaspoon

Baking Powder

2

tablespoons

Mixed Berries
This recipe may contain Amazon or other affiliate links. As an Amazon Associate I earn from qualifying purchases.
Instructions
Preheat the oven to 350°F (180°C). Grease a 5-ounce oven-safe ramekin with cooking spray. Set aside.

In a small mixing bowl, beat egg with milk, vanilla extract, maple syrup, and avocado oil.

Stir in oats, baking powder, and cinnamon.

Stir in fresh berries or chocolate chips in the mixture and pour the mixture into the ramekin.

Bake in the center rack of the oven for 25-35 minutes – the longer you bake it, the drier the oatmeal will be. Stop when it reaches your favorite consistency and the center is set – not jiggly.

Cool down for a few minutes in the ramekin before serving to avoid burning yourself.
Serving
Serve in its ramekin, don't unmold.

Serve with a drizzle of peanut butter or maple syrup.
Storage
Store leftovers in the fridge and rewarm the next day in the microwave.
Serving:
1
serving
Calories:
285.7
kcal
(14%)
Carbohydrates:
38.4
g
(13%)
Fiber:
4.3
g
(18%)
Net Carbs:
34.1
g
Protein:
10.4
g
(21%)
Fat:
9.8
g
(15%)
Saturated Fat:
2.1
g
(13%)
Polyunsaturated Fat:
2.4
g
Monounsaturated Fat:
4.4
g
Trans Fat:
0.02
g
Cholesterol:
186
mg
(62%)
Sodium:
209.3
mg
(9%)
Potassium:
239.8
mg
(7%)
Sugar:
16.5
g
(18%)
Vitamin A:
291.2
IU
(6%)
Vitamin B12:
0.4
µg
(7%)
Vitamin C:
1.1
mg
(1%)
Vitamin D:
1
µg
(7%)
Calcium:
174.5
mg
(17%)
Iron:
2.2
mg
(12%)
Magnesium:
50.2
mg
(13%)
Zinc:
1.8
mg
(12%)
Posted In: