This blended baked oats recipe is an easy, healthy single-serve breakfast that truly tastes like dessert but packed with 15 grams of protein per serving.
If you are after a healthy breakfast that keeps you energized and full until lunchtime, that's the one to try.
We all love oatmeal with a cake-like texture for breakfast, right?
But to keep it healthy, try these blended baked oats.
It contains the same ingredients as your favorite oatmeal, but they are blended and baked to resemble a little single-serve cake.
Plus, this is an easy breakfast for kids who love cakes and oats for breakfast.
How To Make Blended Baked Oats
Blended baked oats have been everywhere on TikTok and, my kids are huge fans of this breakfast. I like that it's healthy, packed with fiber, protein, and refined sugar-free.
Plus, it doesn't take hours to make, just 2 minutes to blend, so it's perfect for busy mornings.
Ingredients
To make this healthy breakfast, you need:
Old-Fashioned Rolled Oats or quick oats
Milk of Choice like almond milk, oat milk, or soy milk.
Pure Maple Syrup or any refined sugar free liquid sweetener you love including honey, agave syrup, or sugar-free monk fruit syrup.
Egg
Plain Greek Yogurt – You can also use mashed banana, unsweetened apple sauce, or sweet potato puree to sneak some veggies into your breakfast.
Baking Powder
Vanilla Extract
Cinnamon
Chocolate Chips
Preparation
To make blended baked oatmeal, you need a blender. If your blender jug has a wide bottom, it's preferable to first blend the oats into oat flour. Then add the remaining ingredients.
But, for a narrow-jug or smoothie blender, you can simply add all ingredients at once.
Place the oats first, then milk, egg, Greek yogurt, baking powder, vanilla extract, and cinnamon in the jug.
Blend on low-medium speed until it forms a smooth batter.
You may have to stop the blender a few times, scrape down the sides of the jug with a silicone spatula as the liquid bursts around.
Baking Oats
Preheat the oven to 350°F (180°C).
Slightly grease oven-safe ramekins using a cooking oil spray. For a single-serving breakfast, perfect for adults or big kids, use an oven-safe 8-ounce ramekin.
For smaller kids, serve half the recipe and bake it into two smaller 4-ounce ramekins.
Pour the baked oat mixture into the prepared ramekin. Place the ramekin on the center rack of the oven and bake it for 20 to 25 minutes.
Baked oats are ready when the top is golden brown and rises above the ramekin. Depending on how you like the center of the oatmeal, bake it for less or longer.
For a moist, creamy, runnier center, bake the oatmeal for 15 to 20 minutes.
But, for a firm cake, bake 30 minutes or until a toothpick inserted in the center comes out clean.
Flavors
You can create a range of blended baked oat flavors depending on what you crave in the morning.
For example, you can stir some fruits, sweets, or nuts in the batter just before pouring in the ramekin.
Try stirring 2 to 3 tablespoons of:
Dark Chocolate Chips – Watch out! If they are heavy, they sink to the bottom of the baked oats. I recommend baking halfway, then sprinkle the chips on top of the ramekin before finishing the baking.
Blueberries – fresh or frozen
Chopped Nuts like walnuts or pecans
Shredded Carrots or zucchini – squeezed out from their juice
Unsweetened Shredded Coconut
Chocolate Flavor – Add cocoa powder.
Allergy Swaps
Below are some suggestions to swap some of the ingredients:
Egg-Free – You can replace the egg with three tablespoons of unsweetened applesauce. This is the best option to keep baked oats creamy and moist. You can also try a store-bought egg replacer or homemade flax egg. However, these two options make the recipe drier and more dense.
Dairy-Free – Use a dairy-free yogurt like soy yogurt, oat yogurt, or swap it for the same amount of mashed ripe bananas or applesauce.
Sugar-Free – Replace the maple syrup with monk fruit syrup and make sure the baking powder is wheat-free.
Serving Suggestions
Baked oats are absolutely delicious on their own.
Remove from the oven, and let the baked oats cool down for 10 minutes by placing the ramekins on a plate.
Serve lukewarm with some toppings like:
A dollop of Greek yogurt – to boost protein and add a fresh, creamy texture.
Chocolate chips – they melt on the top of the hot baked oats and taste amazing.
Shredded coconut
Chopped nuts – sliced almonds, chopped roasted peanuts
Nut-butters – like a drizzle of fresh drippy peanut butter or almond butter
Seed butter like sunflower seed butter or tahini
Storage Instructions
These blended baked oats taste better just after being baked. However, you can meal prep some baked, blended oats in the fridge for up to 48 hours.
Prebake the baked oats for 15 to 18 minutes. Then, let the oats cool down completely at room temperature before wrapping the top of the ramekin with a piece of foil.
Store the baked oats in the fridge for up to 2 days.
In the morning, feel free to rewarm in a microwave for 1 minute.
Frequently Asked Questions
Can I Add Protein Powder?
You can add protein powder, but you will need more milk or the recipe will be very dry. Add an extra three tablespoons of milk per tablespoon of protein powder added.
Also, protein powder is often sweetened and flavored, so you may want to cut down the vanilla, cinnamon, and maple syrup.
Can I Blend The Ingredients In A Food Processor?
A food processor doesn't work as well as a blender because the bowl is so wide. The oats won't blend into a fine flour.
However, you can achieve some decent result, but you will always have bigger pieces of oats left in the batter.
Can I Make Air Fryer Baked Oats?
You can air fry blended baked oats at 350°F (180°C) for 20 to 25 minutes or until golden brown on top and set in the center.
More Baked Oatmeal Recipes
If you like this recipe, you'll love these other baked oatmeal recipes.
Have you tried this baked oats recipe? Share a comment or review below!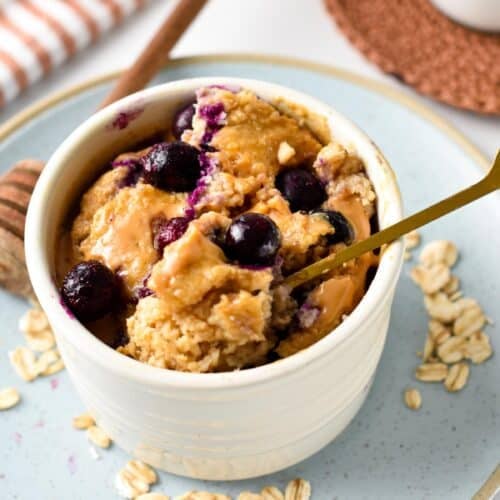 Blended Baked Oats
This blended baked oats recipe is an easy, healthy single-serve breakfast that truly tastes like dessert but is packed with 15 grams of protein per serving. If you are after a healthy breakfast that keeps you energized and full until lunchtime, that's the one to try.
Nutrition Snapshot
Want My Kitchen Equipment?
Instructions
Preheat the oven to 350°F (180°C). Grease an 8-ounce oven-safe ramekin with a cooking oil spray.

In a high-speed blender or NutriBullet, add the oats, milk, egg, maple syrup, Greek yogurt, and baking powder. Add cinnamon or vanilla now if desired.

Blend on low-medium speed until smooth. If it bursts out the sides of the jug, use a silicone spatula to scrape the sides and blend again until smooth.

Pour the mixture into the prepared ramekin.

Bake on the center rack for 20-25 minutes. The longer you bake the blended baked oats, the firmer the texture will be. Stop baking when the top has raised, is dry and firm, and the center is to your liking.

Cool down in the ramekin for 10 minutes before serving.

Serve with chocolate chips, a drizzle of nut butter, fresh berries, or plain.
Notes
Note 1: Any milk works in this recipe, including coconut milk, soy milk, and regular milk. Note 2: Replace the egg with three tablespoons of mashed ripe banana or unsweetened applesauce. Note 3: Any liquid sweetener can be used. Note 4: Use dairy-free yogurt or mashed banana (not if you also removed the egg, or it won't bind very well).
My Recipe Notes
Nutrition
Serving:
1
serving
Calories:
323.8
kcal
(16%)
Carbohydrates:
43.9
g
(15%)
Fiber:
4.6
g
(19%)
Net Carbs:
39.3
g
Protein:
15
g
(30%)
Fat:
8.8
g
(14%)
Saturated Fat:
2.4
g
(15%)
Polyunsaturated Fat:
2.3
g
Monounsaturated Fat:
3
g
Trans Fat:
0.02
g
Cholesterol:
187.7
mg
(63%)
Sodium:
275.2
mg
(12%)
Potassium:
268.9
mg
(8%)
Sugar:
14.3
g
(16%)
Vitamin A:
288.9
IU
(6%)
Vitamin B12:
0.4
µg
(7%)
Vitamin C:
0.02
mg
Vitamin D:
1
µg
(7%)
Calcium:
245.2
mg
(25%)
Iron:
2.8
mg
(16%)
Magnesium:
67.1
mg
(17%)
Zinc:
2.3
mg
(15%)
Posted In: