These Keto Cinnamon Rolls are easy keto breakfast pastries made of fathead dough, a low-carb cheese dough that create soft pastries with only 3 grams of net carbs per serving.
Bonus, these easy keto cinnamon rolls are also gluten-free, ready in 30 minutes to satisfy your sweet cravings with no guilt!
Keep reading to learn how to make these deliciously soft, sweet chewy keto breakfast treats!
What's Fathead Dough?
Fathead dough is a keto dough that mimics bread dough to create a range of keto baking recipes like pizza, bagels, or this keto cinnamon rolls recipe.
Fathead dough is always made of 4 basic ingredients:
Eggs
Cream cheese
Hard shredded mozzarella
Keto flours – it can be almond flour, coconut flour, husk, or a combination of some of these.
How To Make Keto Cinnamon Rolls
The best keto cinnamon rolls are soft, chewy, filled with a sweet cinnamon buttery filling, and topped with cream cheese maple glazing.
This fathead cinnamon rolls recipe has it all, plus it is ready in 20 minutes!
Ingredients
The first step to making delicious keto-friendly cinnamon rolls using fathead dough is to have your ingredients at room temperature.
It means you will take the ingredients below out of the fridge 20 minutes before you start the recipe.
Cream cheese – I recommend weighing the cream cheese for precision, and cutting it into small cubes to soften it faster.
Full-fat shredded mozzarella cheese- weigh the cheese in a small bowl for precision, don't use cups! It is not precise enough, and you often end up with too much cheese that makes fathead dough too sticky.
Almond flour – you can't use coconut flour in this recipe, or the rolls will be extremely dry.
Ground psyllium husk – this adds a lovely chew to the cinnamon rolls.
Baking powder
Apple cider vinegar – or lemon juice.
Erythritol or any keto crystal sweetener you like, e.g., allulose or xylitol.
Large egg – always bet the egg before you stir by hand. It makes it easier to incorporate. If you use a food processor, you can add the whole egg directly into the bowl.
Vanilla extract
Weighing Ingredients
How many of us end up with a super dry fathead dough or a fathead dough that melts in the oven?
This always happens because you didn't weigh the ingredients and used cups or tablespoons to measure them.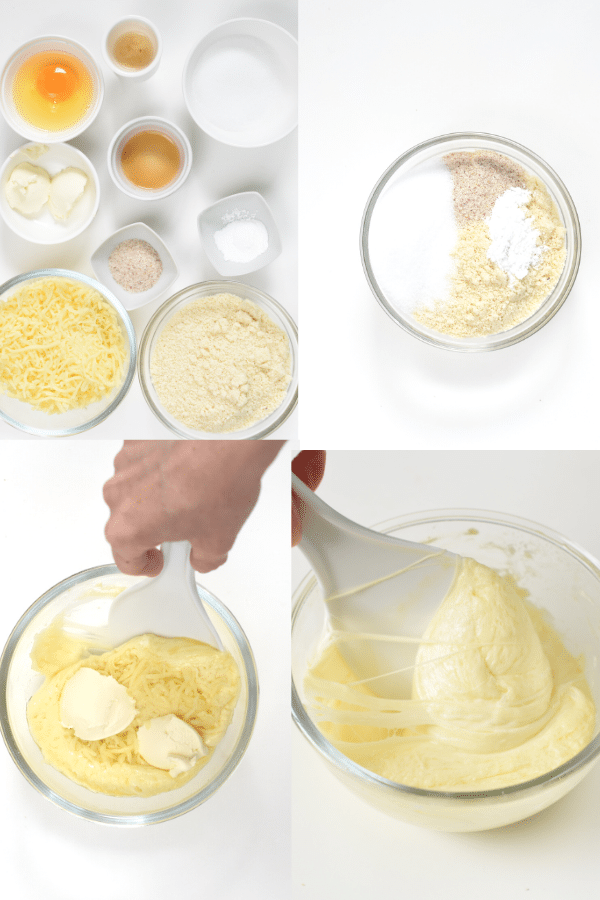 Stirring Dough
There are two ways to combine the stretchy mozzarella cream cheese mixture with the rest of the fathead dough ingredients.
First, you can combine the dry ingredients in a mixing bowl. Then, combine the melted cheese with dry ingredients and the beaten egg, vanilla, and apple cider vinegar.
Use a wooden spoon or silicone spatula first, and then when it starts to be difficult to stir, generously oil your hands and knead to form a smooth bowl.
Another option is to blend all the ingredients in a food processor using the S blade attachment. Then, grease your hand to remove the dough from the bowl.
Chilling
Once the dough is soft, not sticky, wrap the ball in plastic wrap and chill for 5 minutes. This makes it easier to roll the dough.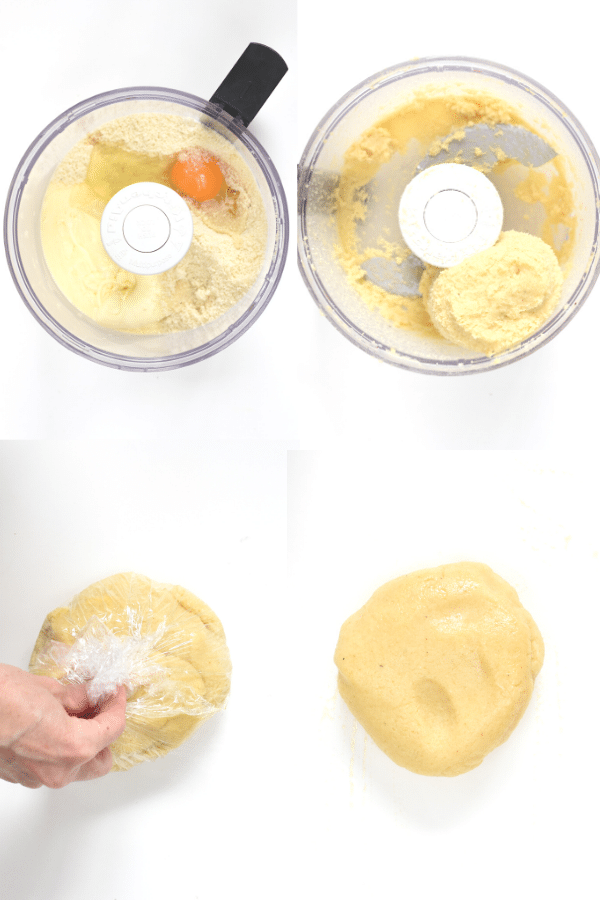 Cinnamon Filling
To make the filling, combine the ingredients below with a spoon into a small mixing bowl:
Softened butter – not melted butter!
Cinnamon
Brown sugar-free sweetener
You can also use regular keto crystal sweetener, but the brown erythritol adds a delicious caramel flavor to the filling.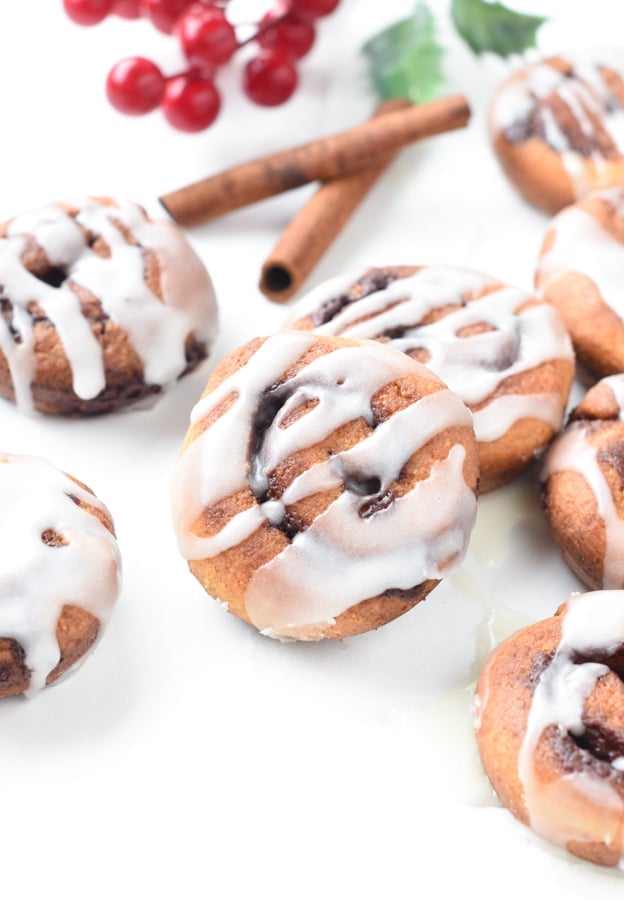 Cream Cheese Glazing
There's nothing better than a cream cheese maple glazing on top of lukewarm cinnamon rolls! All you need to make the glazing are:
Soft butter
Softened cream cheese
Maple extract or vanilla extract
Powdered erythritol
Beat all the cream cheese glaze ingredients in a large mixing bowl until smooth and fluffy.
Spread 1 + 1/2 tablespoon of cream cheese frosting per cinnamon roll just before eating to prevent the glazing from melting on the lukewarm rolls.
Rolling The Keto Cinnamon Roll Dough
Always roll fathead keto cinnamon rolls dough between two pieces of lightly greased sheets of parchment paper or silicone mats.
I like to use very large pieces of parchment paper, about 2.8 inches x 20 inches long.
First, place the dough ball in the center of the bottom piece of parchment paper.
Place the second piece of parchment paper on top. Gently press the dough ball to flatten roughly and start rolling.
Roll evenly into an 11-inch x 8-inch rectangle (29 cm x 20 cm).
My tip for rolling cinnamon roll fathead dough into a perfect rectangle shape is folding the parchment paper into a rectangle.
This way, you encase the dough into the desired rectangle shape, and when you roll it, the dough fits in.
Have a look at my picture below to see how I proceed.
Spreading Cinnamon Filling
Now that you have rolled the fathead dough into a rectangle, spread the butter cinnamon filling all over the dough.
Don't add filling on the lengthwise borders. This makes it easier to stick the cylinder together at the end.
Start rolling the dough from the widest side, roll tightly. When you reach the top, brush water or melted butter on the top of the dough to seal the roll.
Cutting The Rolls
This recipe makes 12 keto cinnamon rolls. If you roll the dough in the rectangle size provided above, then cut the dough into 12 even cylinders.
Each roll contains 3 grams of net carbs. For detailed nutritional information, scroll below the recipe card. It provides fat, protein, and calories as well.
First, cut the long cylinder in half. Then, cut each half in half again to end up with 4 even pieces.
Finally, cut each of these 4 cylinders into 4 rolls, using the same halving method for precision.
Baking And Serving
Bake the low-carb cinnamon rolls on a greased 12-hole muffin tray. They bake way faster, and the side crisps slightly, which is delicious. However, if you prefer, you can bake them on a greased baking dish.
Make sure your rolls don't touch each other, or they wouldn't bake evenly.
Cool the cinnamon rolls on a cooling rack while preparing the cream cheese icing.
Glazing
I always recommend glazing the individual rolls just before serving. This prevents the glazing from melting on the rolls if they are still lukewarm.
Plus, you can easily store the icing in a sealed container in the fridge for up to 4 days. Serve each cinnamon roll with 1 1/2 tablespoon of icing.
Storage Instructions
You can store these cinnamon rolls in the fridge in a sealed container for up to 3 days.
Otherwise, freeze in an airtight container and thaw the day before eating. The frosting can be frozen as well.
Troubleshooting
The most common issues we encounter with fathead dough are:
The dough is overly sticky – this happens if you add too much cream cheese or your egg is extra large. First, grease your hands to handle the fathead dough. Then, adjust the flour by adding 1 tablespoon of extra almond flour, up to 4 tablespoons, until the dough is soft and not sticky. Also, chill the dough wrapped in plastic wrap for 5 minutes to help to set the dough.
The dough is hard as a rock– unfortunately, you can't really fix that, but note that this happens if you over-melt the mozzarella in the microwave. The cheese burns and hardens. A good rule to know is, don't continue the recipe if you burnt the mozzarella in the first step. Discard and restart because this will ruin the fathead dough for sure. If you try adding too much cream cheese to counterbalance, the fathead dough will be wet.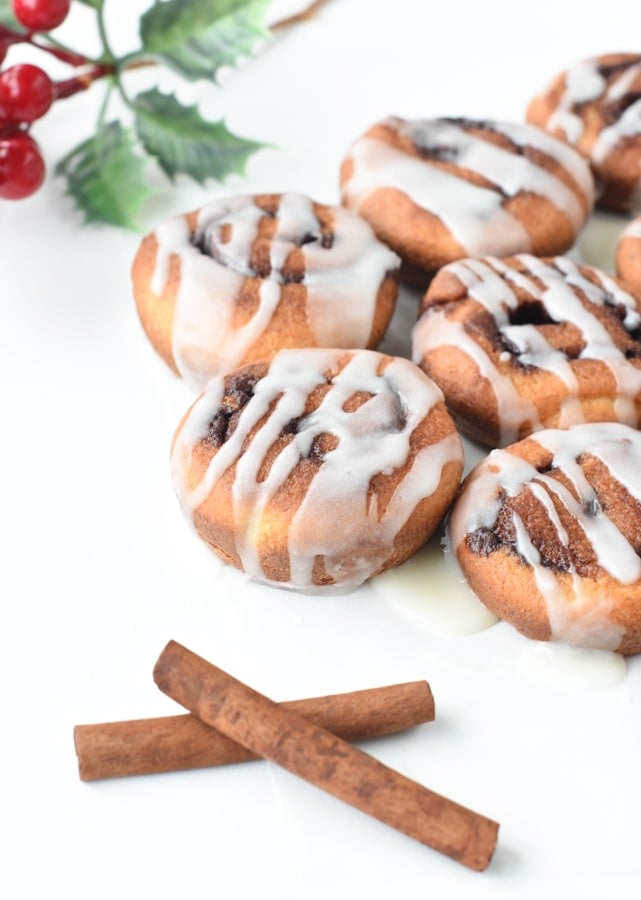 More Keto Breakfast Recipes
If you love a good keto pastry for breakfast or as a keto dessert, try some of the keto breakfast recipes below!
Made these keto cinnamon rolls with fathead? Share your feedback or questions below!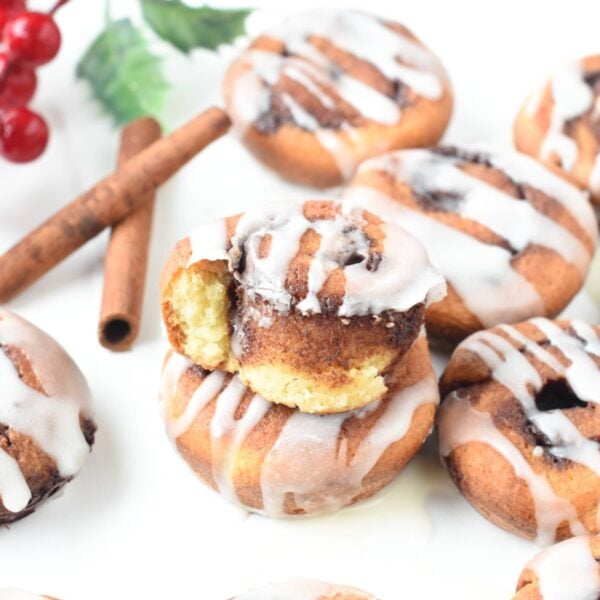 Keto Cinnamon Rolls
These easy keto cinnamon rolls are an easy low-carb pastry recipe made of fathead dough.
Ingredients
1 ¼

cup

Almond Flour

plus 1-2 tablespoons to adjust dough, if too sticky

2

teaspoons

Ground Psyllium Husk

1

teaspoon

Baking Powder

2

tablespoons

Erythritol

5.3

oz

Shredded Mozzarella

full-fat (1 1/4 cup)

1

oz

Cream Cheese

½

teaspoon

Vanilla Extract

1

large

Beaten Egg

at room temperature

1

teaspoon

Apple Cider Vinegar
This recipe may contain Amazon or other affiliate links. As an Amazon Associate I earn from qualifying purchases.
Instructions
Preheat oven to 350°F (180°C). Line a 12-hole muffin pan with butter or coconut oil.

In a small mixing bowl, combine the dry ingredients evenly: almond flour, psyllium husk, baking powder, and erythritol. Set aside.

In a microwave-safe mixing bowl, weigh the shredded mozzarella and cream cheese.

Microwave by 20-second bursts, stirring between each time until the cheese is fully melted. It usually takes 1 minute to get a soft, melty stretchy mixture. Otherwise, if you don't have a microwave, bring on a non-stick saucepan over low-medium heat and melt, stirring constantly with a wooden spoon or silicone spatula.

When the cheese is stretchy and melted, pour the dry ingredients and the vanilla, beaten egg, apple cider vinegar.

Stir with a wooden spoon or silicone spatula at first then, when it starts to be difficult to stir, generously oil your hands with coconut oil and knead for at least 1 minute until you obtain a soft dough. The dough dries out as you squeeze and knead, and it should be slightly sticky but not too much. If too wet or sticky, you can add 1 tablespoon extra almond flour at a time, kneading between each addition, don't excess 4 tablespoons. You can also add all these ingredients into a food processor and blend for 30 seconds until combined. Don't forget to grease your hands to remove the dough from the bowl, or it can stick to your fingers.

Form a dough ball, wrap in plastic wrap and chill 5-8 minutes max, not more or dough is hard to roll.
Filling
Meanwhile, prepare the filling.

In a small mixing bowl, beat butter, erythritol, and cinnamon until a paste forms. Set aside.

Unwrap the dough and place between too large pieces of parchment paper – about 2.8-inch/20 cm long each. You can lightly spray oil on the parchment paper sheets to prevent the dough from sticking to the paper.

Press the dough ball with your hand to roughly flatten, then start rolling with a rolling pin. Roll evenly into a rectangle of about 11.5 inches x 8 inches (29 cm x 20 cm). Watch my photo above in the post to see how to roll a perfect rectangle using parchment paper as a guide.

Remove the top piece of parchment paper.
Assemble the rolls
Spread the cinnamon butter all other the rolled dough, avoiding one extremity to make it easier to seal the roll later.

Starting rolling the dough on the long end, roll the dough up tightly. When you reach the top, spread a bit of water with a pastry brush to help the dough stick and seal the roll.

Cut into 12 even cinnamon rolls and place each roll on the greased muffin tray. Slightly press the top of each roll to flatten if desired.

Bake for 20-25 minutes or until golden brown on the sides.

Cool in a cooling rack for 45 minutes before adding the glazing or the glazing can melt.

Meanwhile, prepare the glazing
Glazing
In a small mixing bowl, beat cream cheese, butter, erythritol, and maple extract and fluffy and smooth.

Spread generously onto all the rolls, or individually 1 1/2 tablespoons per roll. You can store the remaining glazing in the fridge in an airtight box and use it when you serve the roll or as a keto fat bomb snack.
Notes
Sweetener swap: any keto crystal sweetener like allulose or xylitol works as a replacement for erythritol. Lactose-free cream cheese can be used as a substitute for regular cream cheese. Almond flour can be replaced with sesame flour or sunflower seed flour (careful, this turns the food green and a bit bitter) for a keto nut-free cinnamon roll recipe. You can't use coconut flour.
Want My Kitchen Equipment?
Serving:
1
roll
Calories:
292.4
kcal
(15%)
Carbohydrates:
5.4
g
(2%)
Fiber:
2.4
g
(10%)
Net Carbs:
3
g
Protein:
8.3
g
(17%)
Fat:
27.3
g
(42%)
Saturated Fat:
8.7
g
(54%)
Trans Fat:
0.1
g
Cholesterol:
70.9
mg
(24%)
Sodium:
339.5
mg
(15%)
Potassium:
62.4
mg
(2%)
Sugar:
1.3
g
(1%)
Vitamin A:
898.1
IU
(18%)
Vitamin C:
0.1
mg
Calcium:
163
mg
(16%)
Iron:
0.9
mg
(5%)
Posted In: