Low carb donuts are easy baked almond flour donuts – or keto glazed donuts – with chocolate peanut butter glazing.
Plus, this delicious sugar free donut recipe is also gluten free, paleo and dairy free.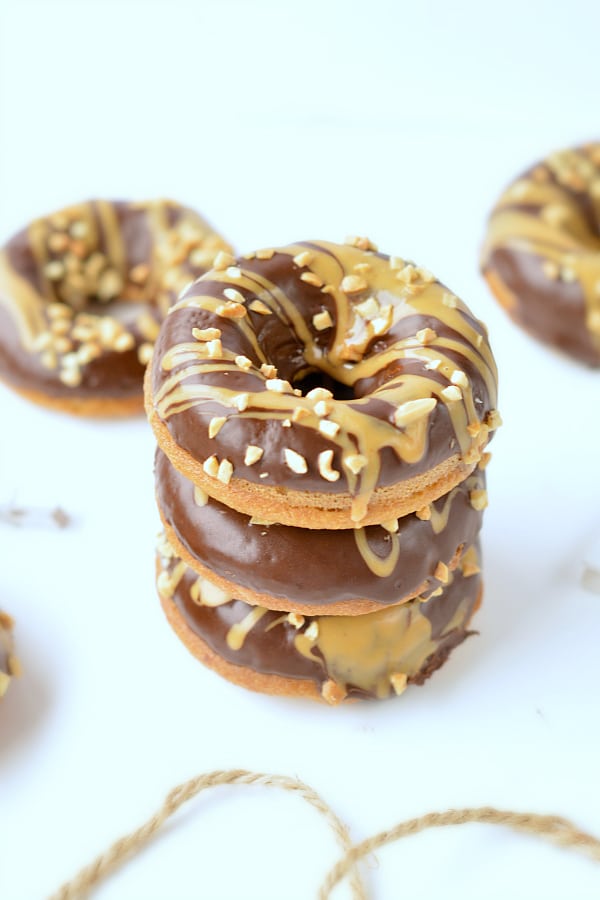 Low Carb donuts or baked almond flour donuts
I am craving donuts for ages and for once, the most difficult part wasn't to create a low carb donuts recipe but finding the right non stick donuts pan. Honestly, this was a struggle. I tried a silicone pan first, the donuts stuck so much to it that I had to throw away the pan with the donuts inside. Next, I bought an average-price one, same issue. So now that I finally got a non stick 6 holes donuts cavity pan (affiliate link) that doesn't ruin my recipes so I can share lovely pictures of my low carb donuts with you.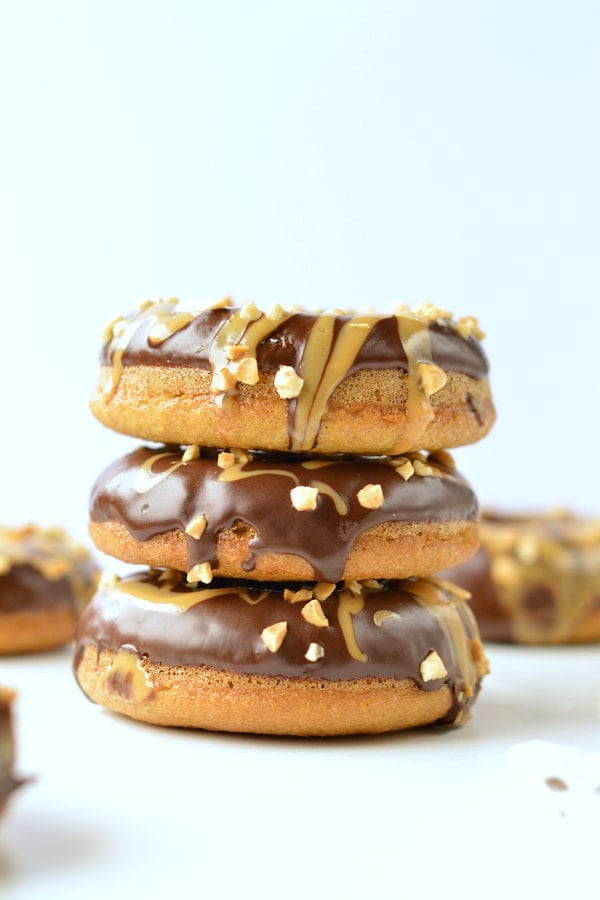 Sugar-free donuts for diabetics with 3.5 g net carbs per serve
These are easy-baked almond flour donuts or should I say keto glazed donuts as they are beautifully covered with a chocolate peanut butter glazing! You know how much I love the chocolate peanut butter combo right? Check out my Chocolate Peanut butter Chia pudding, chocolate peanut butter avocado cookies I never stop with this duo!
Whatever I call them, this is what you need to make them:
Almond meal or almond flour both work well
Coconut milk – I used package coconut milk but any sort of milk work as well like almond milk, cow milk.
Apple cider vinegar + baking soda – don't skip this combo please! This recipe is gluten free, and this is the combo of ingredients that will make your donuts raise well. Any vinegar could work but apple cider has the lighter flavor in sweet baking and amazing healthy properties.
Eggs – you know my husband is vegan, so I always try to make my recipes egg free, but sorry this particular one needs eggs!
Sugar-free crystal sweetener – I love to use erythritol from Lakanto, with or without Monk fruit. Both are low carb, keto approved and sugar-free sweeteners – check out my review of keto-friendly sweeteners for more details and to convert from any sweetner to any other!
Vanilla essence – just because there's never enough vanilla in donuts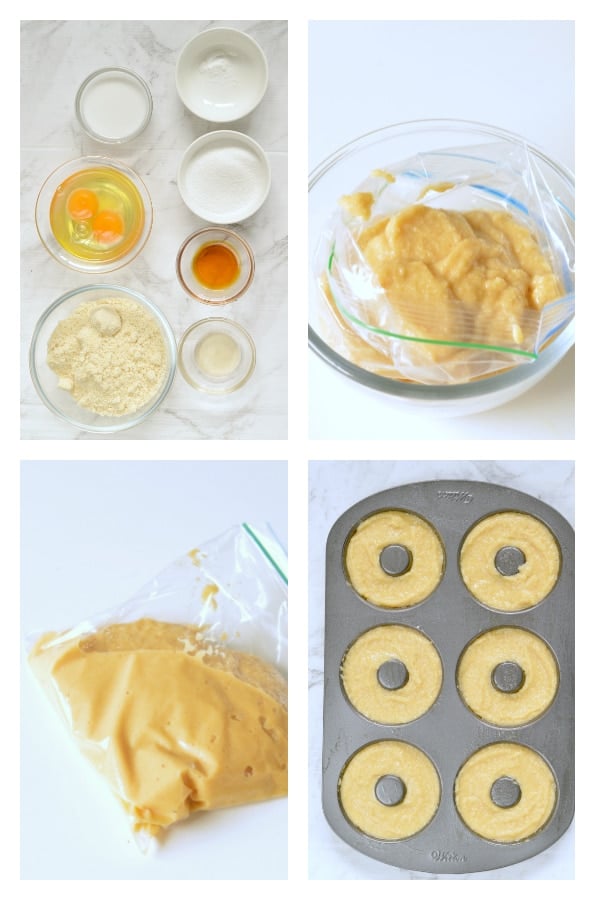 My tip to easily fill your donut pan with the batter is to transfer the donuts batter into a zip plastic bag, cut one of the corner and use as a piping bag! It avoids a lot of mess in the kitchen and you can throw away the bag, no cleaning! Lazy me!
Keto glazed donuts – chocolate peanut butter glazing
It's optional to glaze these low-carb donuts as they are already delicious on their own. However, that extra glaze takes them from delicious to amazing! I wouldn't skip this step, really. All you need to make these lovely sugar-free donuts for diabetics are the following 3 extra ingredients:
Peanut butter – I am using a tiny amount in the chocolate glazing, you can use any nut butter, if you are paleo use almond butter.
Sugar free dark Chocolate – I am using sugar free stevia sweetened dark chocolate but if not 100% sugar free you can use dark chocolate >85% cocoa for a healthy alternative
Coconut oil – or use refined coconut if you don't enjoy the coconut flavor of unrefined coconut oil. Other oils could work too but the glazing won't set as well.

Texture and storage
Baked donuts are as tasty as fried donuts – except it's much healthier for you! Even if keto is about eating fat, frying food is still not the best healthy way to cook food as it destroys the majority of nutrients. So these baked low-carb donuts are your healthy treat. Their texture will be very different depending on the temperature you store them.
In the pantry, they stay soft and airy. In the fridge, they get dense, bready and cold – of course. It's my favorite way to store them, in the fridge. I usually take them out the fridge 2 hours before eating, so they are cold but not too cold but still dense. It reminds me the Krispy Kream donuts I bought form the store years ago.
I hope you will enjoy this low-carb donut recipe. If you do, I will definitely be happy to create more of them. I already make a similar recipe with chocolate or pumpkin that my kids approved. Let me know!
xoxo Carine
Low-carb donuts Keto glazed with Chocolate Peanut Butter
Low-carb donuts easy baked almond flour. 100% keto glazed donuts, sugar-free with chocolate peanut butter glazing. Clean eating approved, paleo, dairy-free, gluten-free.
6 baked donuts
Print The Recipe
2 Egg
2 tablespoon Unsweetened coconut milk or milk of your choice
1 teaspoon Vanilla essence
1/2 teaspoon Baking soda
1/2 teaspoon Apple cider vinegar
1/4 cup Erythritol -erythritol or monk fruit
1 cup + 2 tablespoon Almond Flour or almond flour
Chocolate peanut butter glaze
NEW
My no-fail Keto Baking Recipe ebooks are now available
for a limited time, 50% OFF if you enter the code
INPLNCHOFFER
Preheat oven to fan bake 180C (360F).

Oil a non stick 6-cavity donuts pan with vegetable oil of your choice or coconut oil. Set aside.

In a medium mixing bowl, whisk together eggs, coconut milk, vanilla, baking soda and apple cider vinegar. You don't need to whisk long just 30 seconds to combine everything together and beat the eggs.

Stir in almond meal and sugar-free crystal sweetener. Combine until it forms a donuts dough - about 1 minute.

Fill each donut hole up to 3/4 to leave some space for the donuts to raise.

Bake for 12-15 minutes or until a skewer inserted in the center of donuts comes out clean and the top is set and golden/brown.

Cool down to room temperature on a rack, before adding the chocolate peanut butter glazing.
Glazing
In a small bowl, add sugar-free chocolate, peanut butter and coconut oil. Microwave by 30 seconds bursts, stir and repeat until the mixture is fully melted. It shouldn't take more than 1 minute.

Dip each donut upside down into the glazing - make sure you dip the side that was in contact with the donut pan.

Place each donut on a plate or cooling rack - side with no glazing sitting on the rack - to cool down. Tip: bring the plate 3 minutes into the freezer to set the top. It will also firm up the donut dough and they will taste denser like real Krispy cream donuts!

You can store them in the pantry, they remain soft or for a dense donuts as from the shop, store in the fridge in an airtight container up to 4 days.
Nutrition Facts
Low-carb donuts Keto glazed with Chocolate Peanut Butter
Amount Per Serving (1 donut)
Calories 205 Calories from Fat 143
% Daily Value*
Fat 15.9g24%
Carbohydrates 7.5g3%
Fiber 4g17%
Sugar 1.5g2%
Protein 8.2g16%
Net Carbs 3.5g
* Percent Daily Values are based on a 2000 calorie diet.