This Keto Churro Chaffle recipe makes delicious waffles in 5 minutes with a delicious crispy texture and sweet cinnamon coating like your favorite old-fashioned churros, minus the carbs.
This sweet chaffle recipe contains only 1.3 grams of net carbs per keto churro, and it's gluten-free!
What's A Keto Churro Chaffle?
A chaffle is similar to a keto waffle recipe, but it's made with cheese and egg and very little flour.
It's a keto version of the classic Liege Waffle.
A churro chaffle is a sweet version of your chaffle, sweetened with low-carb sweetener and flavored with vanilla and cinnamon.
It doesn't taste cheese at all because the recipe uses hard shredded mozzarella, a low-taste cheese that adds a crispy texture to your sweet chaffle as they cool down.
How To Make A Keto Churro
The easiest way to make keto churros is in a waffle maker – that's why we call them chaffle!
Ingredients
All you need to make a low-carb chaffle recipe are:
Egg – eggs are keto-friendly.
Shredded Hard Mozzarella Cheese – you can't use soft mozzarella in chaffle recipes. The texture will be too soft and watery. Both versions of mozzarella are keto-friendly.
Almond Flour – I recommend ultra-fine almond flour with a golden white color for the best texture. Almond meal works as well, but the color of the chaffles comes out darker, and the texture is slightly dryer. Both are keto-friendly flours.
Vanilla Extract
Cinnamon
Baking Powder
Erythritol or any keto sweetener you like.
Combining Ingredients
There's nothing easier than a chaffle recipe, and that's great because nobody like to wait to fix a sweet craving on a keto diet.
First, beat egg and vanilla, then stir in the shredded cheese, baking powder, ground cinnamon, erythritol, and almond flour.
Cooking
Preheat the mini waffle iron maker and spray oil on the iron plate.
Pour about two tablespoons of batter into the iron – I make three chaffles with this recipe.
Don't overfill the iron. Leave a 0.2-inch void around the batter so it can spread when you close the iron without overflowing outside the iron.
Cook for about 2-4 minutes or until golden brown. The cooking time depends on the power of the waffle maker and the size of your egg.
Cooling Down
Don't expect a chaffle to be crispy straight away after baking. It will be very soft when out of the iron, and that's fine!
Cool the waffle down for 5 minutes on a wire rack until it crisps and hardens.
Low-Carb Churro Coating
To mimic a real churro flavor and taste, I recommend adding a keto cinnamon-sugar coating.
To do so, brush both sides of the chaffle with melted butter or coconut oil.
Then, dip on each side in a bowl filled with your favorite keto granulated sweetener – like erythritol or allulose.
Sprinkle extra cinnamon on top for flavor if desired, and serve.
Serving Keto Churros
This keto churro recipe is delicious on its own but even better if dipped in:
Add-Ons
You can boost the chaffle nutrition profile by adding a teaspoon of your favorite :
Collagen powder
Protein powder
MCT oil to boost your fat macros
Storage
This recipe makes three chaffle, and great news, they store very well to meal prep some delicious keto sweet snacks or breakfast.
You can store the chaffles for up to 2-3 days in an airtight container in the fridge or freeze them in a sealed bag for up to 3 months.
Always thaw the chaffle at room temperature the day before and rewarm following the below instructions.
Frequently Asked Questions
Can I Make Nut-Free Chaffles?
You can replace the almond flour with the same amount of seed flour.
Sesame flour, sunflower seed flour, or pumpkin flour are keto nut-free flour alternatives.
However, they often darken food, turning it greenish, and bringing a bitter flavor.
Can I Make Egg-Free Chaffles?
I didn't have any success using a flaxseed egg in this recipe, so I don't recommend egg-free options for this chaffle recipe.
How To Reheat Chaffles?
You can reheat this chaffle recipe in the air fryer, oven, or bread toaster.
Set the temperature of your oven or air fryer to a max of 300°F (150°C) and air fry the chaffles for 2-3 minutes, often checking until crispy.
The coating may melt during the process, and you may have to brush the chaffle with melted butter again and dip it in erythritol to bring the churro texture back on the outside.
Can I Use Coconut Flour?
You swap the two tablespoons of almond flour with one teaspoon of coconut flour.
Coconut flour is highly liquid absorbent, and you need only a tiny amount to achieve the same texture as almond flour.
Note that coconut flour chaffles are dryer and taste a little bit like coconut.
More Keto Chaffle Recipes
I love baking chaffles and waffles for breakfast or a quick snack. Below are some more keto waffle recipe options for you to try.
Have you made this low-carb keto waffle recipe? Share a comment or review below to connect.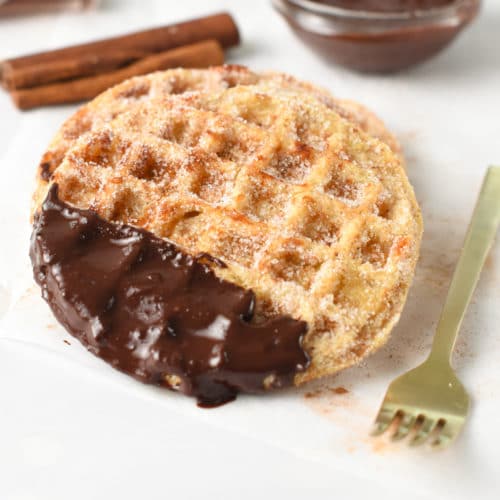 Keto Churro Chaffle
Keto Churro Chaffle is an easy sweet keto waffle with all the churros flavors minus the carbs.
Yield:
Chaffles (2 tablespoons each)
Nutrition Snapshot
Want My Kitchen Equipment?
Instructions
In a mixing bowl, beat the egg and vanilla extract.

Stir in the grated mozzarella, almond flour, cinnamon, erythritol, and baking powder.

Warm a mini dash waffle maker iron and lightly oil the iron with cooking spray.

When the iron is hot, pour 2 tablespoons of batter onto the waffle iron, spreading with a fork to cover most of the iron plate. Close and cook for 2-3 minutes or until golden and crispy.

Chaffles are always slightly soft when out of the iron. Cool them down on a wire rack for a few minutes to enjoy their best crispy texture.

Brush with melted butter on both sides and roll into erythritol to coat. Sprinkle extra cinnamon on top if desired.
Storage
Store in the fridge in an airtight container for up to 2 days or freeze for later. Rewarm in the oven or air fryer.
My Recipe Notes
Nutrition
Yield:
Chaffles (2 tablespoons each)
Serving:
1
chaffle
Calories:
142.3
kcal
(7%)
Carbohydrates:
1.9
g
(1%)
Fiber:
0.6
g
(3%)
Net Carbs:
1.3
g
Protein:
7.3
g
(15%)
Fat:
11.8
g
(18%)
Saturated Fat:
3.9
g
(24%)
Polyunsaturated Fat:
1.4
g
Monounsaturated Fat:
3.7
g
Trans Fat:
0.1
g
Cholesterol:
76.7
mg
(26%)
Sodium:
220.1
mg
(10%)
Potassium:
40.9
mg
(1%)
Sugar:
0.5
g
(1%)
Vitamin A:
383.6
IU
(8%)
Vitamin B12:
0.6
µg
(10%)
Vitamin C:
0.1
mg
Vitamin D:
0.4
µg
(3%)
Calcium:
136.1
mg
(14%)
Iron:
0.6
mg
(3%)
Magnesium:
6.1
mg
(2%)
Zinc:
0.8
mg
(5%)
Posted In: