This is the best keto waffle recipe ever! Fluffy keto waffles with cream cheese and almond flour, perfect for breakfast or a quick dessert with only 1.9 grams of net carbs per serving.
Bonus, these low-carb waffles with almond flour are also gluten-free and diabetes-friendly!
These are the best fluffy keto pancake waffle recipe I have ever made. I call them pancake waffles because it is inspired by my keto cream cheese blueberry pancake recipe.
I recently bought a dash mini waffle maker, and I was looking for a great keto waffle recipe, easy enough to whip mini waffle in less than 5 minutes in the morning.
This recipe comes to be the most fluffy, soft, and sweet keto mini waffle recipe. So
let me share my tips to recreate this easy recipe for keto waffles in your kitchen.
Are regular waffles keto?
No, regular waffles are made with high-carb wheat flour as well as sugar and milk that take net carbs per serving to more than 40 grams.
Is cream cheese keto?
Cream cheese is a keto-friendly dairy product, so it's an excellent ingredient to make keto-friendly waffles.
ⓧ
Are you new to Keto?
Receive my Keto Quick Start email series to learn all about the Keto diet and kick start your keto journey!
How to make keto waffles?
There are many ways to make keto waffles.
You can make keto cheese waffles with eggs and cheese like my keto chocolate chaffle recipe. But if you are craving a classic sweet Belgian waffle that is fluffy on the inside and slightly crispy on the border, I recommend this keto cream cheese waffle recipe instead.
I personally prefer cream cheese waffles over keto chaffle recipes. They are ultra-fluffy, soft, and taste like regular Belgian waffles you can eat in Europe, but sugar-free!
To watch this recipe a different way, check out my web story: making the keto cream cheese waffles!
Choice of ingredients
You only need a few basic ingredients to make keto waffles with almond flour and cream cheese.
Ultra-fine almond flour – almond meal works as well, but I don't like the gritty texture or dark spots it creates in keto baking recipes. Instead, I recommend ultra-fine golden-white almond flour. It creates the most delicious light and fluffy keto cakes and keto pancakes. For more on keto-friendly flours, read my Keto Flours Guide.
Large eggs – the size of eggs does matter. If they are too small, the batter will be too thick and dry.
Cream cheese – I like to chop cream cheese into cubes. It blends easily. Also, I recommend placing the cream cheese at room temperature for 20 minutes before making any keto recipes calling for cream cheese. It gives time for the cream cheese to soften, and it blends much better as well. In case you are wondering, Cream Cheese is a perfectly keto-friendly ingredient!
Vanilla extract
Erythritol – Learn more about keto-friendly sweeteners.
Baking powder
A high-speed blender
This almond flour waffle batter must be prepared in a high-speed blender to cream a smooth low-carb pancake waffle batter with no gritty flavor.
The blender is not optional, don't try to make this recipe without, or the waffles won't be fluffy and gritty.
Blend on high speed
These are the easiest keto waffles with almond flour! All you have to do is blend all the ingredients. The order doesn't matter, into a high-speed blender until smooth.
If some almond flour doesn't blend and sticks to the sides of the blender jug, stop the blender. Then, using a silicone spatula, scrape down the almond flour into the center of the jug.
Close the lid and blend again until all the ingredients are perfectly blended. You want to form a smooth, slightly thick golden yellow batter that resembles a pancake batter.
Let the batter rest
To make the best almond flour keto waffles that are fluffy, light, and slightly crispy on the edges, give your batter a 10-minute rest at room temperature. This gives you time to clean dishes and preheat your waffle iron.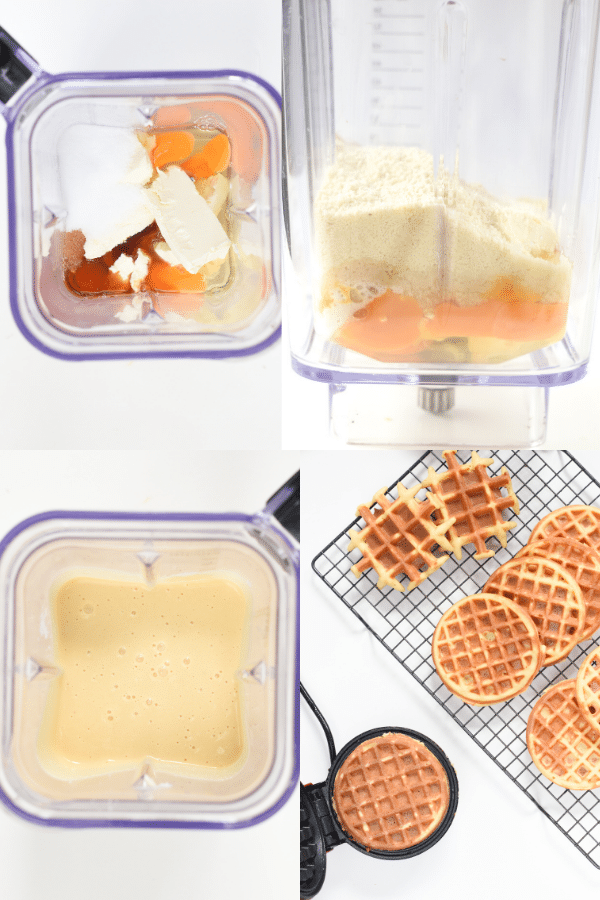 A mini dash waffle iron maker
I highly recommend a mini iron maker (affiliate link) to make keto waffle recipes. It is perfect for making single-serve waffles, controlling carbs, and quickly baking a delicious waffle for breakfast.
How to bake keto waffles in a mini waffle maker?
This is a keto recipe for mini waffle makers. It means that you can bake this keto waffle batter in a single-serve mini waffle iron. That said, these keto waffles with cream cheese bake perfectly in regular waffle makers as well.
However, keep in mind when using a mini waffle iron that your keto waffles will:
Bake slightly slower – mini waffle makers tend to lose more heat on the sides, and you usually need 1 extra minute of baking to reach the same texture as you will have in a regular waffle maker. The average baking time for keto diet waffle recipes is 3-4 minutes in a mini waffle iron maker.
Need only a tiny bit of oil on the iron – use a cooking spray or pastry brush to brush coconut oil or avocado oil on the irons. I noticed that you don't need to oil the mini waffle iron between each waffle you bake! Only re-oil the irons when they look dry after baking 3 or 4 waffles.
Overflow easily – always measure the batter carefully following the recipe recommendation.
Be soft just after baking – mini waffles are baked at a slightly lower temperature, and they need to cool down for a few minutes to get crispy.
How many mini waffles does this recipe make?
This keto cream cheese waffle recipe makes 13 mini waffles. Each waffle is made of 2 and a half tablespoons of waffle batter. It means that each waffle contains:
Net carbs: 1.9 grams
Proteins: 5.3 grams
Calories: 121 kcal
Fat: 10.2 grams

How does it compare to chaffle?
Keto cream cheese waffles don't use mozzarella cheese. As a result, they are lighter, fluffier, less crispy, and not as dry as sweet chaffle recipes.
In fact, chaffle recipes can get very dry and hard if overbaked, even just for 1 minute. This is because they use lots of cheese that hardens as the waffle cools down.
You won't get that weird texture with this keto cream cheese waffle with almond flour. Even if you are a beginner and slightly overbake these waffles, they will stay light and fluffy.
How to serve keto waffles?
You can use this keto waffle recipe to make a sweet or savory waffle.
Sweet keto waffles
Stack 2 or 3 mini waffles on a plate and top them with some of the keto toppings below:
Butter
Keto syrup – maple-flavored, vanilla, or chocolate flavors.
Keto fruits – raspberries, boysenberries.
Unsweetened whipped cream
Keto ice cream

Savory keto waffles
You can also use this mini waffle maker keto recipe to make savory waffles. If so, make sure you remove from the recipe the following ingredients:
Erythritol – this is a sweetener, don't add this if you intend to make savory keto waffles with this recipe.
Vanilla – swap for 1/2 teaspoon garlic powder or onion powder.
Then, use your savory cream cheese keto waffles to make a:
Keto breakfast sandwich – use 2 mini keto cream cheese waffles as sandwich bread slices and fill them with bacon, fried eggs, and avocado and cheese.
Keto taco waffle – fold the waffle in half and fill it with your favorite keto taco filling.
Keto pizza waffle – use one cooked waffle as a pizza base, top with tomato passata, ham, cheese, and pepperoni, and bake until cheese is melted.
How to store keto waffles?
Any keto waffle recipe can be frozen on a ziplock bag or airtight container. They also store very well in the fridge for up to 3 days in a sealed container.
Rewarm your keto waffles in a bread toaster or mini iron maker for a few seconds.
I don't recommend oven or air fryers to rewarm waffles. Even on low heat, these methods always dry out waffles. They lose all their fluffy soft texture.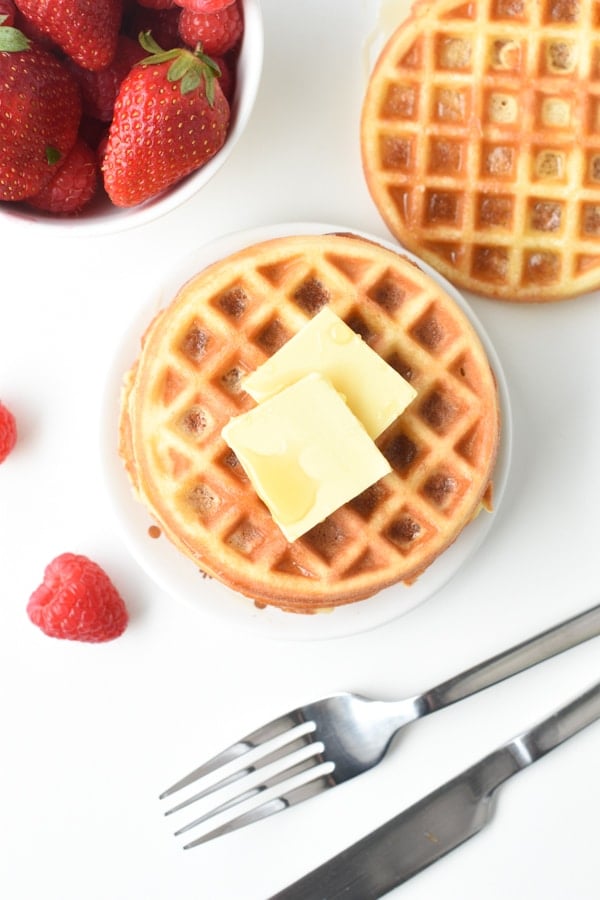 Can I use coconut flour?
I haven't tried this recipe with coconut flour. Keep in mind that you can never swap almond flour and coconut flour with a 1:1 ratio.
Coconut flour contains four times more fiber than almond flour. Consequently, it is way more liquid absorbent, and it dries out baked goods very quickly.
If you want to use coconut flour, always use a fourth of the amount of almond flour suggested in the recipe.
Can I make this recipe egg-free?
No, this keto waffle recipe won't work with egg replacer like flax eggs.
More keto recipes using a waffle maker
Below I listed my other favorite keto low carb waffles recipe, sweet or savory zucchini waffles with parmesan shredded cheese, both delicious for a quick keto breakfast.
Have you made this keto waffle recipe with almond flour and cream cheese? Share a review or comment below. I love to hear your feedback on my recipes and the delicious toppings you used on your waffles.
XOXO Carine
Recipe Card
Keto Cream Cheese Waffles
13
mini waffles (2 tbsp batter each)
Keto cream cheese waffles are easy fluffy almond flour waffles perfect for breakfast.
Instructions
Add all the ingredients into a blender.

Blend on high speed until creamy and smooth. If some batter sticks to the bottom or sides of the jug, stop the blender, and use a spatula to unstick the batter on the sides/bottom. Blend again for a few more seconds.

Pour the batter into a mixing bowl and let the batter rest for 3-5 minutes.

Preheat a mini waffle iron (or regular waffle iron) for at least 5 minutes or until the green light of your waffle iron tells you it is ready to be used.

Slightly oil the surface of the irons with a pastry brush and coconut oil or avocado oil. Don't overoil the iron!

Bake for about 3-4 minutes in a mini waffle iron. They cook 1 minute faster in my large waffle iron so play with time from 2 minutes 30 to 4 minutes to reach your favorite texture. Release the waffle from the waffle iron maker using a fork, transfer on a cooling rack and cool down for 2-3 minutes before serving.

Serve with sugar-free maple-flavored syrup and butter.
Storage
Store in the fridge for up to 3 days in an airtight container. Rewarm in an iron waffle maker or bread toaster.

You can freeze the cooked waffles in ziplock bags and defrost the day before. Rewarm either in an iron waffle maker or bread toaster.
The nutrition panel is for a mini waffle of 2 tablespoons of batter. Double the net carbs if you are making large waffles using 1/4 cup batter each.
My Recipe Notes
Tools
Starting Keto
What Is Keto Diet?
Macro Calculator
Sweetener Converter
Keto Meal Plans
Keto Recipe Ebooks
Intermittent Fasting
Keto Fruits
Keto Vegetables
Keto FLours
Fighting Keto Flu
Keto Sweeteners
Nutrition Facts
Keto Cream Cheese Waffles
Amount Per Serving (1 mini waffle (2 tbsp each))
Calories 121.4
Calories from Fat 92
% Daily Value*
Fat 10.2g16%
Cholesterol 67.4mg22%
Sodium 100.6mg4%
Potassium 38.3mg1%
Carbohydrates 3.1g1%
Protein 5.3g11%
Vitamin A 202.2IU4%
Calcium 59.7mg6%
Iron 0.8mg4%
Net Carbs 1.9g
* Percent Daily Values are based on a 2000 calorie diet.