If you love croissants and waffles, you'll love croffles! Croffles are crispy, flaky, buttery pastries made by cooking croissant dough in a waffle iron.
They are easy to make, delicious, and versatile. You can enjoy them plain, with powdered sugar, maple syrup, jam, Nutella or any other toppings you like.
You can even make them with a filling that cooks with the croffles.
In this post, I'll show you how to make croffles with store-bought croissant dough and a few simple steps. Let's get started!
You might have already tried some of my many waffles recipes, such as the delicious Liege Waffles, Gluten-Free Waffles, or Almond Flour Waffles. While I normally make my waffle batter, today I wanted to share something a little different.
Croffles are a real thing in France and Europe. As a French person, I am a big fan of liege waffles, and this new fun, easy waffle trend is too good not to share.
What Are Croffles?
Croffles are a combination of two words: croissant and waffles.
It was first invented by Irish Pastry chef Louise Lennox who had the idea of cooking an unbaked croissant dough in a waffle maker to make a croffle.
They are a delicious combination of the convenience of waffles, with their deep pockets useful for adding toppings, and the crustiness and crispiness of croissants.
How To Make Croffles
Making croffles is really easy as they only require two ingredients for the basic version.
Ingredients
Unbaked Croissant Dough – You can also use crescent dough or puff pastry dough that you shape into a croissant as seen in my pictures below. Note that crescent dough makes the best croffles with a fluffy inside like Liege waffles. On the other hand, puff pastry croffles are ultra crispy.
Powdered Sugar – or confectioner's sugar.
Making Croissants Shape
My favorite way to make croffle is to use my homemade puff pasty recipe or use crescent dough sheet.
However, my store was running out of crescent dough sheets so in the picture below I used thawed puff pastry sheet. It does work, but the croffles as not as fluffy!
First, roll the crescent dough on a floured surface.
Rolling
Then, cut the crescent dough sheets into triangles, as seen in the pictures below.
On the sides, you end up with half triangles, you can stick them together by pinching them to reform a whole isosceles triangle so you don't lose dough.
Now, you can stuff the croissant waffles or keep them plain.
If you stuff them, add the filling on the larger side of the triangle in a small area, leaving the sides free to prevent the filling from running out when the croissant is rolled.
Next, roll the croissant, starting on the larger side of the triangle, and rolling up to the top.
Use a bit of egg wash or water to stick the pointy top part of the triangle to the dough.
Coating
Finally, roll the croissant into powdered sugar before cooking.
This extra layer caramelizes the croffles and makes their outside ultra crispy.
Croffle From Unbaked Croissant
Another method to make croffle is to buy a ready-made frozen croissant.
Thaw the croissants at room temperature, then roll them into powdered sugar before cooking them in the waffle iron.
Cooking Croffles
Warm a waffle maker on high-heat and generously oil the plate with cooking spray.
When hot, add the croissant to the waffle maker, one croissant per plate.
I can fit two in my Tefal waffle iron. Close the waffle iron and cook the croffles for 3 minutes or until golden brown.
When golden brown and caramelized on the outside, they are ready to remove from the iron.
Don't overbake croffles, or they get ultra-hard and crispy.
Cool down for a few minutes on a cooling rack before serving.
Tips For The Best Croffles
Croffle can be made from:
Unbaked premade croissant dough cooked in a waffle iron. This is the best option to create flaky layers in the center of the croffles.
Frozen Crescent Roll Dough – Frozen unbaked croissants or frozen or fresh puff pastry. You must thaw the dough before cooking it in the waffle iron. The result is less fluffy with this option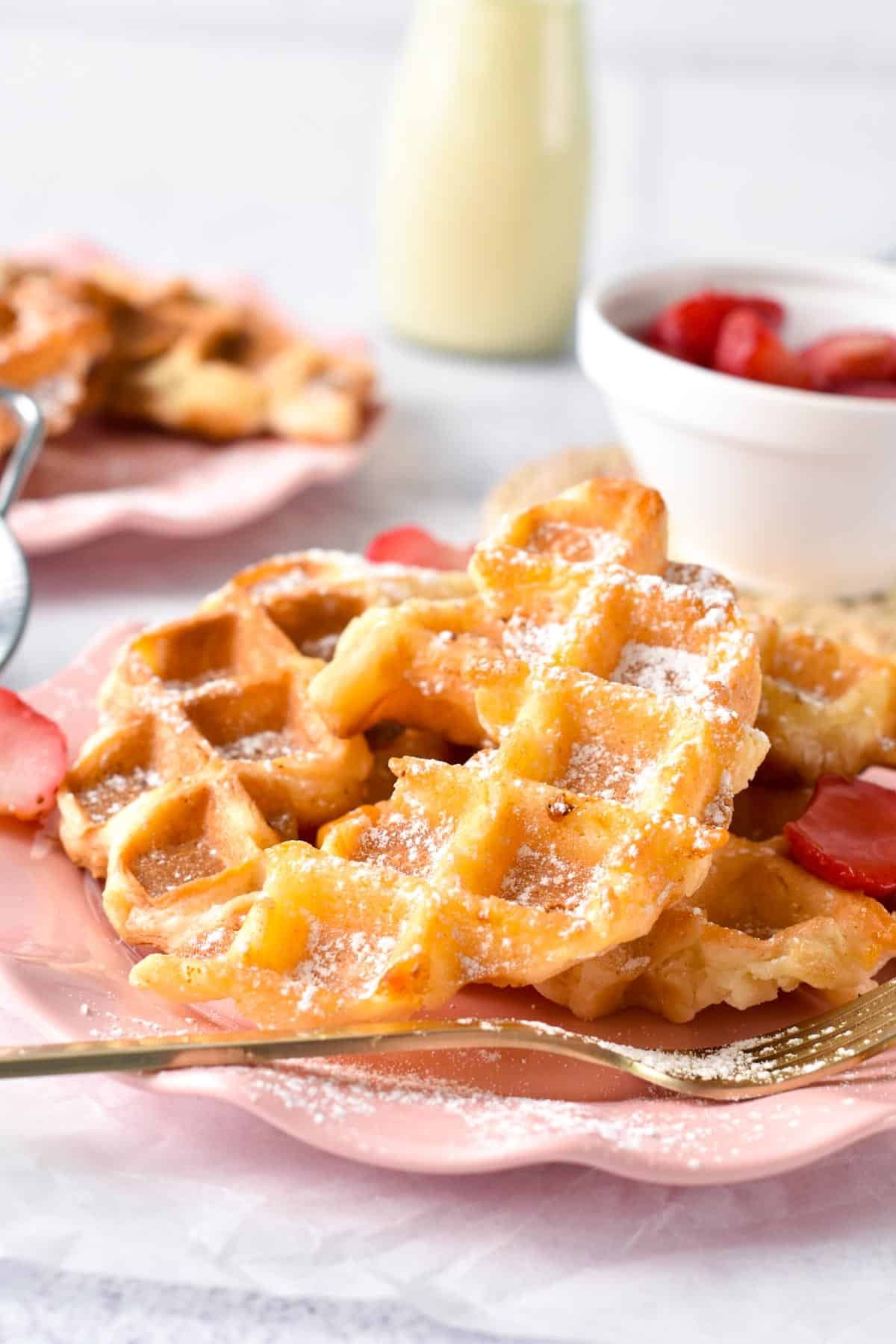 Filling Options
I like to fill croffle with thick fillings because they won't run out when baking in the waffle iron.
Sweet Fillings
Try the fillings below, but don't make too many layers of filling, or you won't be able to roll the dough into a croissant.
Homemade Nutella
Peanut Butter
Chocolate Chips or chocolate bars
Banana Slices
Apples
Ricotta
Cream Cheese
Jam
Avoid high-watery fruits like strawberries or syrup as a filling.
Savory Croffles
You can also make savory croffle, using plain puff pastry.
Add some delicious savory filling like:
Ham and Cheese
Pizza Croffle – spread pizza sauce, Italian herbs, and freshly grated cheese.
Tacos Croffles – add enchilada sauce, jalapenos slices, and grated cheddar cheese.
Chicken
Serving Suggestions
For dessert croffles, serve them with:
Dust of powdered sugar
Drizzle of maple syrup
Confetti sprinkles for a birthday party
Nut butters
Jam and preserves
Chocolate sauce
Whipped cream
Dust of cinnamon
Yogurt
Fresh fruit like apple or banana slices, or any fresh berries, like strawberries, blueberries, blackberries
The savory croffles are good with:
Warm cheese bechamel. This is delicious on a ham and cheese croffle.
Grated Parmesan and tomato paste for a pizza croffle.
Bacon and butter
Turkey
Breakfast Sausage
Salsa, guacamole, and sour cream for a Mexican croffle version
Storage Instructions
You can store leftover croffles in the fridge wrapped in foil or in an airtight container to keep them moist and fresh.
They last for three days in the refrigerator or can be frozen for up to one month for a ready-made breakfast.
You can rewarm frozen croffles in an air fryer or toaster oven. Bake them at 350°F (180°C) for 3 to 4 minutes on a baking sheet covered with parchment paper.
Serve warm for breakfast or as a sweet snack.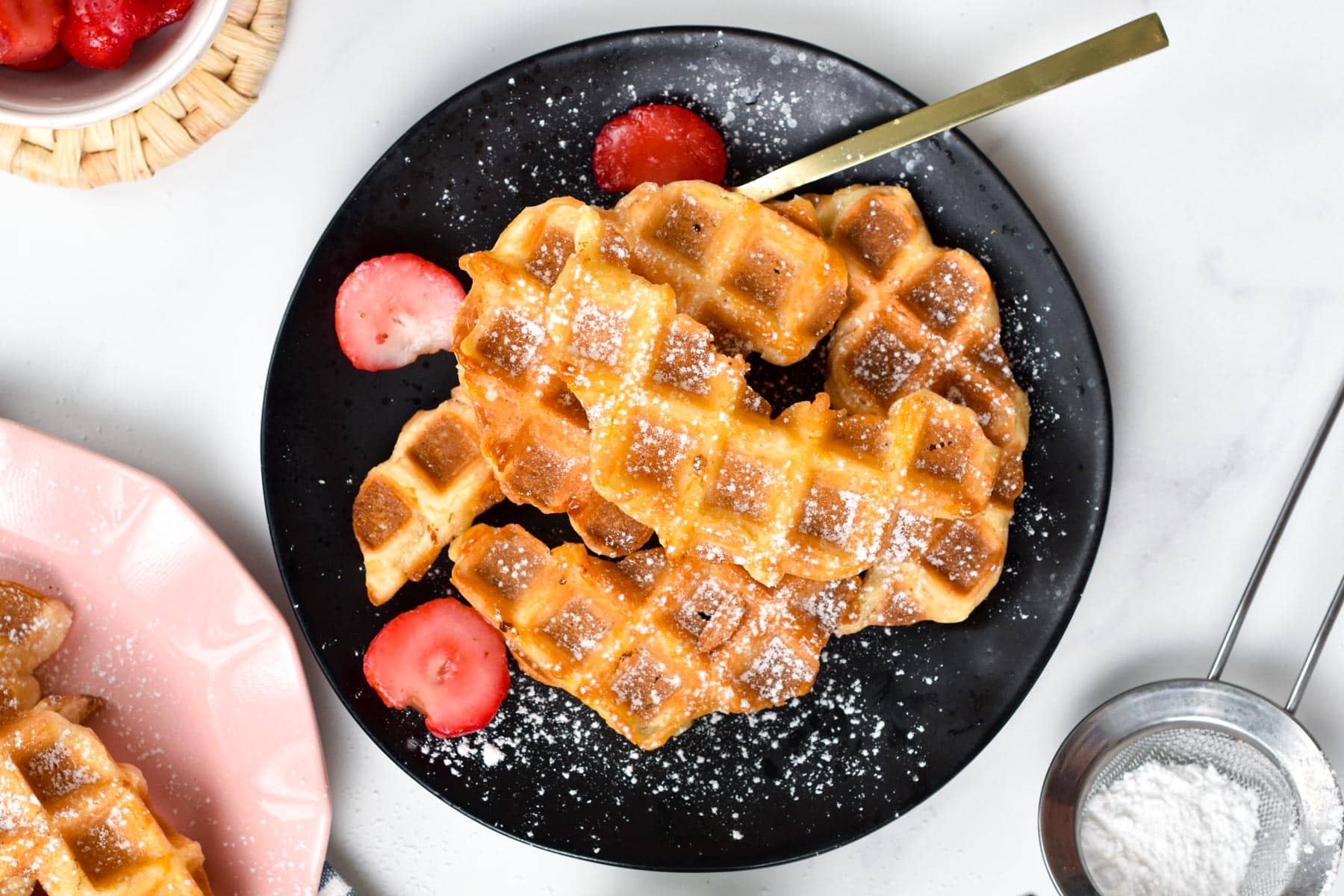 Allergy Swaps
Below are some options to make allergy-friendly croffles.
Gluten-Free – Use a gluten-free puff pastry sheet from the frozen section of your grocery store.
Vegan – Some puff pastry sheets are made without butter and are vegan-friendly.
Frequently Asked Questions
Below are my answers to your most frequent questions about this croffle recipe.
Are Croffle Healthy?
Not really healthy. They are fun, easy breakfast for croissant and waffle lovers.
Since croffle croissant waffles are made from puff pastry – butter and white flour – they are not considered healthy but more of a fun food to share on the weekend.
What Are Croffles Made Of?
Croffles are made from crescent dough, a raised puff pastry rolled in a crescent shape.
It's cooked in a waffle maker, which crisps the outside but keeps the center light and fluffy with flaky layers of dough.
Why Are Croffles So Popular?
Croffles are just so good. They combine two of the most popular breakfast food – French croissant dough and waffles.
They taste like a croissant in the center and crisp like a waffle. It's the best texture ever!
What Does Croffle Stand For?
Croffles are a mix of croissants and waffles. It means it's a baked good that combines both recipes in one.
What Is The Difference Between Croffles And Waffles?
Waffles are made from a liquid batter close to an old-fashioned pancake batter.
On the other hand, a croffle is made from croissant dough. It's a thick malleable yeasted leavened dough that makes the waffle fluffy, like Liege waffles and flaky like a croissant.
More Waffle Recipes
If you like this recipe, you'll love these other waffle recipes on your breakfast table.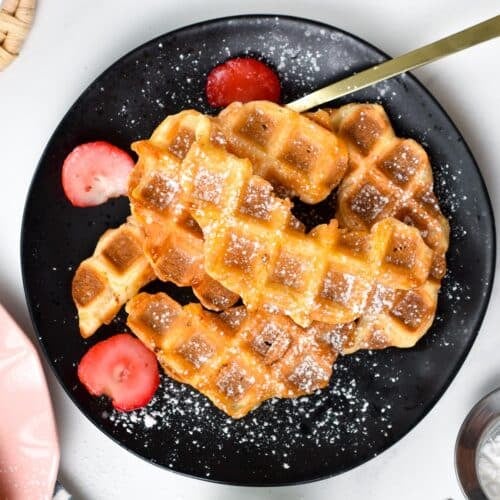 Croffles
These Croffles also called croissant waffles are buttery sweet crispy waffles made with just two ingredients. If you are a waffle and a croissant lover for breakfast, this recipe is a must-try.
Ingredients
Filling Ideas – optional
2-3

tablespoons

Chocolate Spread

3-4

slices

Banana
This recipe may contain Amazon or other affiliate links. As an Amazon Associate I earn from qualifying purchases.
Instructions
Make sure you use croissant dough for the best fluffy croffles with a flaky middle. Puff pastry sheets work too, but it's not a leavened dough as crescent dough, and as a result, this option won't make fluffy/flaky croffles.

Open the crescent dough and place it on a floured surface on a benchtop.

Use a small knife or pizza cutter to cut 6 triangles from the rectangle of dough – see the pictures above for visual help.

If you like to fill the croffles, spread 1-2 teaspoons of chocolate spread or peanut butter on the wide side of the triangle. Don't add on the edges of the triangle or the filling overflows and creates a messy caramel in the waffle iron.

If you want to add fruits, add small pieces of hard fruits like bananas and apples but not berries. They release too much liquid.

Roll the triangle of dough from the largest side to the smallest to form a crescent shape.

Warm a waffle iron on high heat. Spray the iron plates with a cooking spray.

Roll the crescent into powdered sugar and place it in the waffle iron.

Close the iron and cook the croffle for 2-3 minutes or until just golden brown. Don't overbake, or they get too crispy.
Want My Kitchen Equipment?
Serving:
1
Croffle
Calories:
57
kcal
(3%)
Carbohydrates:
9.8
g
(3%)
Fiber:
0.5
g
(2%)
Net Carbs:
9.3
g
Protein:
0.8
g
(2%)
Fat:
2.6
g
(4%)
Saturated Fat:
2.1
g
(13%)
Polyunsaturated Fat:
0.01
g
Monounsaturated Fat:
0.003
g
Sodium:
37.6
mg
(2%)
Potassium:
53.7
mg
(2%)
Sugar:
4.8
g
(5%)
Vitamin A:
5.3
IU
Vitamin B12:
0.02
µg
Vitamin C:
0.7
mg
(1%)
Calcium:
7.1
mg
(1%)
Iron:
0.4
mg
(2%)
Magnesium:
6.1
mg
(2%)
Zinc:
0.1
mg
(1%)
Posted In: